10 Best Makeup Artist-Approved Eyebrow Tweezers – 2023
For the much-awaited "hashtag: eyebrows on fleek" post on your social media platform.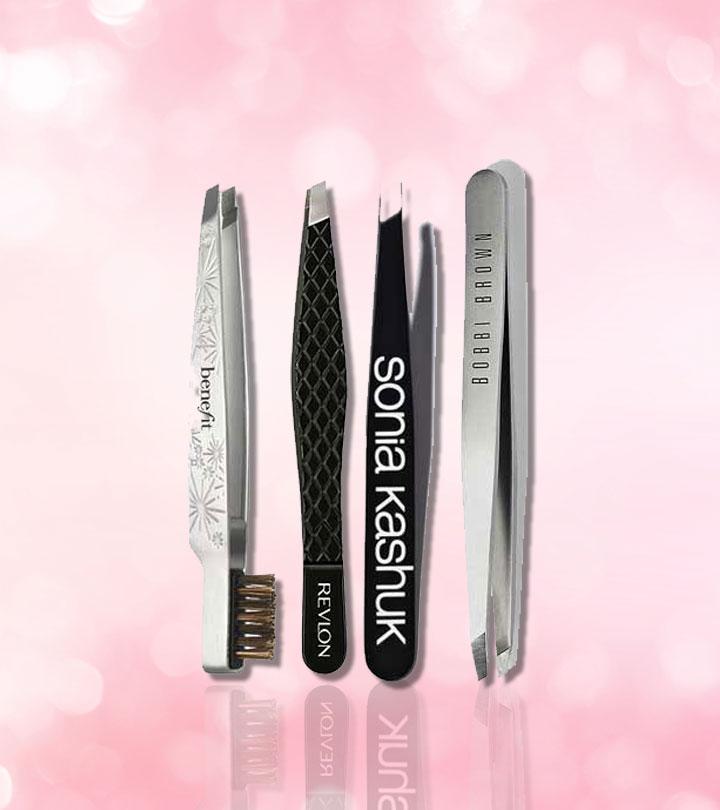 Achieving flawless eyebrows can be quite a task. Whether you want to shape your brow arches or pluck only the rouge hairs to give your brows a perfectly well-defined shape, having the best eyebrow tweezers can take your grooming game to the next level. A good pair of eyebrow tweezers is a staple tool that all ladies should have in their arsenal, so you can assure you look your best at all times. So, without further ado, take a glance at the best tweezers of this year, and there's no stopping you from getting the brows of your dreams.
10 Best Eyebrow Tweezers For YOU! To Quick Grooming At Home – 2023
Anastasia Beverly Hills Tweezer Review
If you're willing to invest in superior quality tweezers which would last you for a long time and effectively pluck out even the tiniest of eyebrow hairs, then Anastasia Beverly Hills's tweezers are the way to go. They are my holy grail and I always successfully manage to get rid of those pesky little hairs that are barely peeking out of the follicle with them. I highly recommend trying this one out despite the high price as this is long-staying and a premium quality plucker that you can rely on! According to reviews, the product grabs tiny hairs that are usually missed while using other tweezers.
Pros
Easy to use
Ultra-precision tips
Grabs even the smallest hairs
Sturdy
Long-lasting
Cons
None

Regine Switzerland Slant Tweezer
The Regine Switzerland Slant Tweezer comes with a 25-degree angle for shaping brows and grooming the face's delicate contours. The tip alignment and tension of the product are perfect for getting tamed and groomed brows. The interior tweezer tip is designed to prevent slippage and breakage of the hair and provide excellent control. You can effortlessly grip and pull the hair from the root every time even the finest hair with ease. It comes with a free tip guard to keep the tips perfectly aligned between uses. As per a reviewer's experience, the product gets rid of fine hair without causing damage to the skin. The tweezers go through a 40-step process and a final microscope test to ensure that the tips are rightly aligned for you to pull out hard-to-get-to hair with ease. Though priced slightly on the higher side, good eyebrows are worth the investment.
Pros
Durable
High-quality material
Tarnish-resistant
Non-slip grip
Precise application
Easy to use
Cons
None

Sephora Collection On The Mark Precision Tweezer Review
These are the perfect slanted tweezers for all you brow lovers. They feature a new and improved design that's thinner and offer more precision with an angled tweezing edge. The tweezers grab the tiniest hairs, and their perfectly calibrated tension offers a maximum grip with minimum force. I have been using these for a while now, and I love them! If you want a sleek and simple design with a high-quality feel, these are a must-have!
Pros
Easy to use
Handmade
Plucks with precision
Affordable
Cons
Rubis Classic Tweezer Review
The uniquely slanted tips of Rubis Classic Tweezer are rightly aligned to provide precise closure. This makes it simple to grasp the strands securely and remove them from sensitive areas like the chin, upper lip, and eyebrows. This multi-functional tweezer can also be used to apply individual false eyelashes. It is made of high-quality surgical stainless steel that offers flexibility. So you can easily pluck fine little hair at home and flaunt perfectly groomed brows.
Pros
Fine tips
Easy to use
Durable design
Offers precision
Affordable
Cons
None

Tweezerman Stainless Steel Slant Tweezer Review
This is a Best of Beauty winner chosen by Allure editors for ten years. I am impressed with the slant tips that provide expert brow shaping. These are perfectly aligned and slanted to grab every hair with the smoothest precision. Also, these are made of stainless steel and are highly durable and efficient. They are perfect for working in between or above the brows. So without any struggle, you can quickly pluck fine little hairs at home. Also, Tweezerman has great customer service! According to reviewers, the product is durable, precise, and easy to use.
Pros
Fine tips
Easy to use
Durable
True precision
Affordable
Cons
None

Revlon Expert Tweezer Slant Tip Review
These tweezers by Revlon are sharp and easily grab the tiniest eyebrow hairs. They have a matte finish, which allows for a non-slip grip. I like the classic design with "Revlon" printed at the corner and the various colors to choose from. Also, this slant-tip instrument sure is one of the finest on the market and will last you forever as they are very durable. These tweezers are best to get those celebrity-inspired eyebrows. If you're on a budget, these tweezers are the way to go. It offers easy handling for precise removal of hairs.
Pros
Easy to use
Made of stainless steel
Affordable
Firm grip
Cons
Majestic Bombay Fine Point Tweezers Review
The Majestic Bombay Fine Point Tweezer offers fast results. It comes with long, pointed, and perfectly aligned tips to help remove ingrown hair. These tweezers can hold false nails and lashes while you apply them. The thin stainless steel points aid in the extraction of individual hair roots. They do seem to be fairly sturdy, and offer a good grip. When you get the chance, grab one of these fine-tipped tweezers and groom your eyebrows.
Pros
Medically-graded material
Durable
Ergonomic grip
Cons
Zizzili Basics Tweezers are made from stainless steel and are perfect to use for both men and women. They are surgical-grade tweezers with sharp and precisely aligned thin slanted tips that provide the perfect angle to grip the hair. They are acid-proof and rust-proof, which makes them durable and long-lasting. They are ergonomically designed to efficiently remove unwanted hair from the root. These enhanced features allow the tweezers to provide brow definition, pluck chin hair, and remove nose hair. For better and safe usage, storing them in a first aid kit or purse is recommended. The product comes with a protective pouch and a grip guard, which keeps the tweezer tip in shape.
Pros
Made from stainless steel
Easy grip
Slanted tips
Quick and effective
Durable
Sturdy
Long-lasting
Cons
None

e.l.f. Slant Tweezer Review
The e.l.f. Slant Tweezer is a specially slanted tweezer that is ergonomically made for quick and precise hair removal. The tweezer's professional-grade stainless steel construction offers a firm grip that makes it simple to remove any unwanted hair, making them perfect beginner tweezers. The material is extremely long-lasting and effective. The design assists in easy handling, perfect grooming, and shaping your brows. According to a tester's experience, the tweezer is perfectly functional and affordable.
Pros
Durable
Precise application
Easy to use
Ergonomic grip
Cruelty-free
Vegan
Paraben-free
Phthalate-free
Triclosan-free
Triclocarban-free
Hydroquinone-free
Nonylphenol-free
Cons
None

Tweezerman Ingrown Hair/ Splintertweeze Review
These tweezers from Tweezerman have been my savior. They remove anything embedded under the skin with their long pointed precision tips. When it comes to ingrowns, these easily spring out the hair by grasping between both tips. They are also easy to clean. I highly recommend these for every household!
Pros
Remove ingrown hairs, thorns, glass, and splinters
Made of stainless steel
Durable
Easy to use
Tapered tips make removal rather pain-free
Cons
*Subject to Availability
Quick Tips To Tweeze Your Eyebrows Perfectly!
I do agree that plucking out eyebrows can be wildly satisfying for a lot of us, but I can't stress enough upon how you should never, I mean NEVER, over-pluck your brows. If you believe that once you start, you might take it a little too far, stop right there!
For those of you who are under control and need to get rid of a few stray hairs here and there, I've got some handy eyebrow techniques and tips.
The best time to pluck your eyebrows is usually right after a warm shower. If that's not possible, try holding a hot washcloth over your eyebrows, wait for the area to dry and then go in with your tweezers because it just is a little less painful.
You can also use some ice before or after the plucking process to keep the pain under control.
Always use sharp, salon-quality tweezers to reduce pain. (Using an old, crummy pair is a big no-no.)
Hold the skin taut and make it quick – the quicker it is, the less painful it will be.
Always tweeze in the direction of hair growth.
DO NOT OVER-PLUCK. Avoid this tweezing mistake at all costs.
Check out the tutorial on eyebrow tweezing for more details.
Why Trust StyleCraze?
The author of this article, Esha Saxena, loves experimenting with the latest beauty trends and makeup products. Her interest in makeup and beauty products has helped her curate the best eyebrow tweezers list. She conducted thorough research and recommended products based on reliable user feedback for this article. The tweezers mentioned here are easy-to-use, long-lasting, and help you take your grooming game to the next level.
Frequently Asked Questions
Are pointed tweezers better than slanted tweezers?
While slanted tips are easy to use and let you grab and remove fine hairs easily, pointed tip tweezers help with the precise removal of ingrown hair, glass fragments, or anything stuck just below the first layer of skin.
How often should I replace eyebrow tweezers?
Most good-quality tweezers can last half a lifetime when maintained and stored properly. If your tweezers become dull over time, you can get them sharpened. But, on average, they last for 4-6 years if used very casually.
Are tweezers good for hair removal?
Yes, tweezers can help pluck out facial hair from the follicles, which prevents its regrowth for the next six weeks.
How often should I pluck my eyebrows?
Depending on your hair growth, you can pluck your brows once a week to once a month.
Does plucking your eyebrows make them grow thicker?
No, there is no scientific proof stating that plucking eyebrows make them grow back thicker.
Recommended Articles:
Best High-Quality Drugstore Tweezers
Best Tweezers With Light: Your Easy Buying Guide
Best Eyebrow Trimming Scissors