12 Best Eyelash Extension Cleansers – 2023 Update
Use the user-approved cleansers to keep your false lashes clean and popping!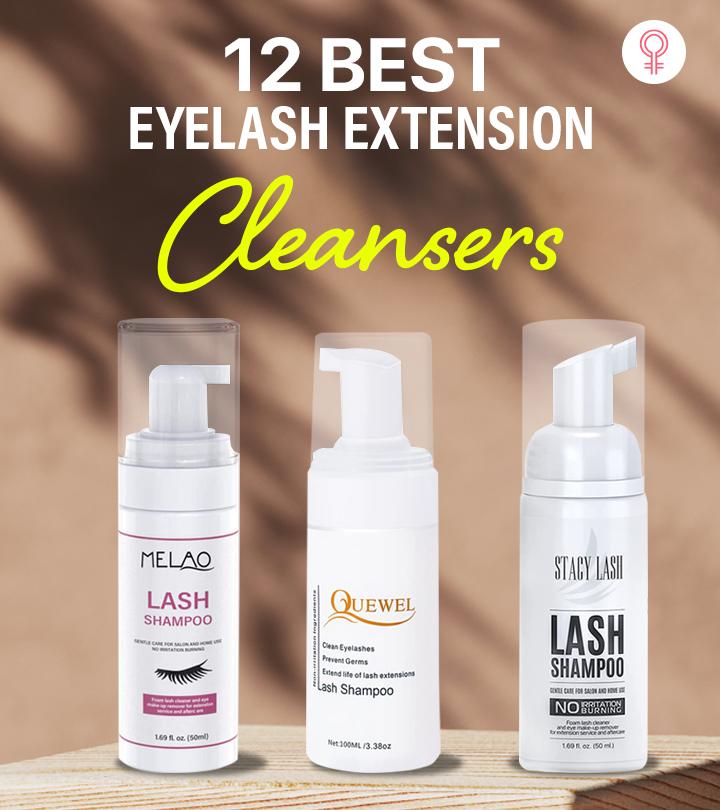 Eyelash extensions make your lashes look gorgeous, voluminous, and lengthy. And regular use of eye makeup products may damage your eyelashes and make them fall off easily. Thus, the best eyelash extension cleanser comes in handy. These cleansers are specially formulated to keep the lash extensions free from accumulated makeup and dirt. But selecting the right cleanser might be tricky. For a smoother selection, check out this article and browse through top products and our detailed buying guide. Keep scrolling for more.
12 Best Eyelash Extension Cleansers – 2023 Update
Keep your eyes irritation-free with the non-burning formula of Stacy Lash Lash Shampoo. This gentle lash extension and eye makeup cleanser is safe for home and salon use. It also cleans the natural lashes thoroughly for effective long life. The shampoo is free from all nasty chemicals and is safe to be used during touch-ups. The kit also includes a soft-bristle brush for hassle-free cleaning.
USP – Irritation-free
Pros
Cruelty-free
Oil-free
Paraben-free
Sulfate-free
Betaine-free
Fragrance-free
Cons
The bristles of the brush may come off easily
Price at the time of publication: $21.59
Keep your lash extension bond healthy with the Lyon Lash Lash Shampoo. The all-natural formula makes this shampoo safe for home and salon use. Its gentle and lightweight formula effectively removes dirt and makeup from the eyelids, but the foam cleanser maintains glue adhesion while removing impurities from the lashes. The kit also includes a mascara wand and cleaning brush for your ease.
USP – Ophthalmologist tested
Pros
Vegan
Cruelty-free
Irritation-free
Paraben-free
Chemical-free
Cons
Price at the time of publication: $15.99
The oil-free formula of the Arison Lashes Lash Shampoo is reviving, gentle, and non-irritating. The lash wash effectively removes oil and makeup from eyelashes while also keeping the eyelids healthy. The ingredients in the formula, such as, rose, aloe, tea tree, and other plant extracts prolong the life of the lashes. The formula makes the lashes more durable and reduces breakage.
USP – Prolongs the life of the lashes
Pros
Non-irritating formula
Reduces lash breakage
Paraben-free
Sulfate-free
Cons
Price at the time of publication: $6.99
Extend the life of lash extension with the Quewel Lash Shampoo. This professional-grade lash shampoo nourishes your eyelashes and prolongs their life span. It is formulated with naturally derived ingredients and can effectively remove dirt, oil, cosmetics residue, ensuring deep cleaning. The residue-free lash shampoo is ideal for home and professional use. It keeps the lashes healthy.
USP – Seals lash extension for longer wear
Pros
Hypoallergenic
Easy to rinse
No burning sensation
Cruelty-free
Dye-free
Sulfate-free
Cons
Overpowering chemical fragrance
Price at the time of publication: $14.99
Extend the life of lashes with the Beau Lashes Lash Shampoo. This shampoo is specially formulated to remove the makeup residue, dirt, and oil. The hypoallergenic, gentle formula is ideal for sensitive eyes, and it nourishes, condition your lashes. Additionally, the lash-safe shampoo is tested by lash artists and is best for home and salon use.
USP – Nourishing formula
Pros
Make the lashes last long
No burning sensation
Vegan
Cruelty-free
Color-free
Paraben-free
Fragrance-free
Safe for sensitive eyes
Cons
Price at the time of publication: $16.97
The refreshing Bryelee Eyelash Shampoo has a great deep cleansing formula that removes cosmetics residue, dirt, and impurities. This effective cleanser can clean natural and artificial extensions. It is rich in natural plant ingredients that make your lashes nourished and healthy. Its unique rose scent makes you feel refreshed.
USP – Non-irritating
Pros
Vegan
Cruelty-free
Paraben-free
Fragrance-free
Color-free
Oil-free
Sulfate-free
Cons
Price at the time of publication: $8.99
The soft, silky Estetist Eye Lash Shampoo is gentle and effectively cleanses natural lashes and extensions. It is highly effective in aftercare cleansing and eye makeup removal and is ideal for salon and home use. Additionally, this deep-cleansing lash shampoo is highly effective for sensitive skin. Moreover, the fast-acting shampoo comes with a soft brush for easy application.
USP – Natural formula
Pros
Gentle
Does not irritate
No burning sensation
Chemical-free
Cons
Price at the time of publication: $13.99
The We Love Eyes Eyelid Foaming Cleanser aids in cleaning up dirt, pollutants, and cosmetic residue. Both natural and synthetic extensions can be cleaned thoroughly with this cleanser. The formula is devoid of parabens, sulfates, retinol, artificial colors, dyes, fillers, or synthetic fragrances. The cleanser softly eliminates the dirt without drying out the lashes, thanks to its unique tea tree water.
Pros
Mild formula
Oil-free formula
Paraben-free
Sulfate-free
Artificial fragrance-free
Cons
None
Price at the time of publication: $22
Keep your eyelashes perfectly cleansed with the Mererke Pretty Lash Shampoo. It is a gentle, lightweight, and oil-free formula. This lash shampoo effectively removes the oil and dirt build-up and keeps the lashes clean and healthy without losing the adhesive bond. In addition, the shampoo keeps the eyelashes hydrated and extends the life of eyelashes.
USP – Gentle and lightweight formula
Pros
Vegan
Hypoallergenic
Moisturizing
Color-free
Fragrance-free
Oil-free
Cruelty-free
Cons
Price at the time of publication: $9.99
The nourishing LANBENA Lash Shampoo is designed to easily remove oil and makeup from the eyelashes while keeping the eyelids healthy and clean. It accelerates eyelid recovery while also perfectly refining and extending the life of the eyelash extensions. It is rich in non-irritating, non-burning, and allergic Roman chamomile extract, among other plant ingredients. The lash-friendly cleanser aids in the removal of grease and makeup from the lashes. It is ideal for simple and safe lash maintenance and for minimizing lash loss.
Pros
Refines the lashes
Non-burning formula
Removes stubborn makeup
Easy to maintain
Gluten-free
Paraben-free
Vegan
Cruelty-free
Cons
Price at the time of publication: $7.99
The all-in-one Lash Affair TLC Foaming Cleanser is an eyelash extension cleanser, foaming face cleanser, and a brilliant makeup remover, that is ideal for daily skin cleansing. The easy-to-use extension-friendly cleanser contains tea tree oil, along with a cutting-edge botanical formulation that helps prevent buildup and does not harm lash extensions. It is a mild, oil-free, and water-based eyelash cleanser that does not dry out the natural lashes or your skin.
USP – Unique botanical formulation
Pros
Botanical formula
Reduces buildup
Oil-free
Vegan
Cruelty-free
Sulfate-free
Cons
Price at the time of publication: $22
The Eyeeco Eyelid and Facial Cleanser eliminates debris and makeup from the face, eyelids, and eyelid extensions. The anti-bacterial tea tree oil aids in blemish reduction and makes skin feel fresh and healthy. The shea butter and chamomile are added to the cleanser to moisturize your skin and lashes. The cleanser is ideal for any lash type and the tea tree oil works as an anti-inflammatory ingredient to help prevent breakouts.
Pros
Organic formula
Non-irritating formula
Hydrating formula
Removes makeup buildup
Cons
Price at the time of publication: $18
Eyelash extension cleansers ensure healthy and thick lashes. But since the market is flooded with endless products, picking the suitable one becomes an ordeal. The following buying guide will make the task easier.
How To Select The Best Eyelash Extension Cleanser
There are chances that the gap between eyelash extension and lash line may collect the excessive oil. Oil-based cleansers may worsen them. Thus, oil-free cleansers prevent the lashes from clumping together, unwanted oil collection, and clogging pores. So, select an oil-free lash retention-friendly cleanser to keep your lash strands healthy.
Your eyes and the skin around them are the most sensitive areas on the face. So, the cleanser you are looking for must have a safe, gentle, and chemical-free formula that avoid causing redness, irritation, and damage.
Glycols used in regular cleansers can be considered as they work as a skin conditioning agent. But, glycol in lash extension cleanser can be damaging. It may damage the bond between our natural lashes and lash extension. It also dehydrates your lashes and makes them fall off permanently. So, select a glycol-free lash extension cleanser.
Sulfate may cause skin irritation, interrupt the skin's natural oil balance, or damage the eye or surrounding area. Hence, pick a sulfate-free lash extension cleanser.
Why Trust Stylecraze?
The author of this article, Srijani Roy Chowdhury, is a makeup enthusiast and loves writing comprehensive articles on the same. She went through the product specifications of various eyelash extension cleansers to provide you with the best picks. She also read hundreds of reviews to analyze the user feedback available on trusted e-commerce websites. Her recommended products are irritation-free and clean your lashes thoroughly.
Frequently Asked Questions
How long should I wait to use eyelash cleanser after getting lash extensions done?
You need to wait for 48 hours after fixing the lash extension. However, it would be best if you cleaned your lash extensions twice or thrice a week.
How to clean your lash extension?
Follow the below steps for the ideal cleansing of lash extension.
• Take an eyelash extension cleanser and a soft bristle brush.
• Wet your eyelashes with water.
• Now, apply a small amount of lash cleanser to the brush.
• Gently lather the foam to your lashes using the brush for a minimum of 5 seconds.
• Rinse thoroughly with clean water.
Why should you clean your lash extension?
Usually, eyelash extensions are added to your natural eyelashes away from the lash line. However, the gap between the lash line and lash extension may collect dust, debris, and excess oil from the skin. Thus, to keep them healthy, debris-free, and bacteria-free, you need to clean your lash extensions regularly.
What is an eyelash extension cleanser made of?
Eyelash extension cleansers are made of products that attract oil and dirt off your false lashes and keep them intact.
Should you wash your eyelash extensions every day?
Yes, you can wash your eyelash extension every day. If you wear eye makeup or have oily eyelids then it's better to wash your eyelash extension twice a day.
Can you use micellar water to clean eyelash extensions?
Micelles attract oil and other dirt substances off your face. So, yes, micellar water is a good product to clean your eyelash extensions.
What should you avoid when cleansing your eyelash extensions?
Avoid glycerine and oil products-based cleansers while cleaning your eyelash extensions.