18 Best Eyelash Serums For The Longest Lashes Ever – 2023
Let go of the chemicals and stick to these vitamin-based serums for the perfect eyelashes.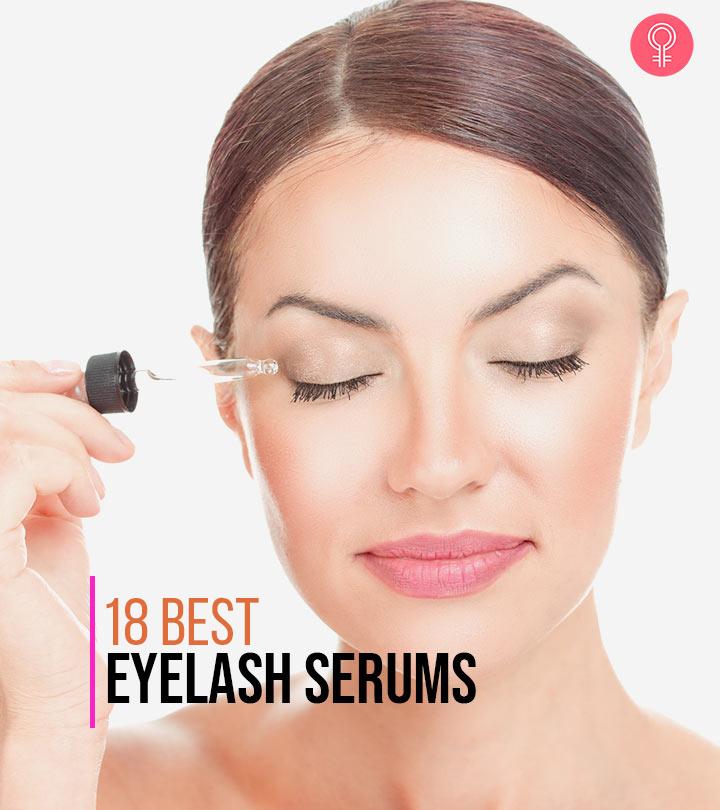 Thick eyelashes can take your eye-makeup game several notches high. But achieving that dramatic volume can make your lashes dry and brittle. That's where the best eyelash serums come in. These formulas condition the lashes and provide hydration to keep them healthy and nourished. They are enriched with vitamins and amino acids to protect your lashes from environmental aggressors and the harsh chemicals infused in beauty products like mascaras and primers. Eyelash serums promote hair growth by stimulating the follicles. Add them to your skin care regimen and use lash extensions and curlers without worries. In this article, we have curated a list of the eyelash serums that are the best options available in the market.
Pair them with a healthy diet and watch them work their magic to give you voluminous lashes. Swipe up to read more.
18 Best Eyelash Serums Available Right Now
This award-winning lash-enhancing serum by Grande Cosmetics is created with vitamins, peptides, and amino acids that give you longer and thicker lashes in just 4-6 weeks. It contains proline and vitamin E, which are essential for lash health. The hyaluronic acid in it protects the lashes and prevents damage. It conditions brittle lashes by hydrating them. This lash serum is a powerful blend of ginseng root, chamomile flowers, and bearberry leaves that strengthen the lash follicles. Thus, it makes your lashes stronger and more visible. This serum is water-based, so it can be used on lash extensions. It is tested by ophthalmologists, and people who wear contact lenses can safely use this cruelty-free product. The soft tip brush makes application easy and effortless. Go ahead and check out this YouTuber's video for more details about the product.
Pros
Strengthens the lashes
Adds length and volume to lashes
Suitable for contacts lens-wearers and lash extensions
Ophthalmologist-tested
Cruelty-free
Cons
Price at the time of publication: $68.0
RevitaLash Advanced Eyelash Conditioner is developed by physicians. It is clinically tested and dermatologically reviewed. This eyelash serum enhances and protects your lashes from breakage while improving their flexibility and shine. The proprietary blend of calendula, ginseng, and camellia extracts strengthen the lashes, while glycerin hydrates them. It also contains biotin, which is essential for the proper development of lashes.
Pros
Cruelty-free
Clinically tested
Hypoallergenic
Non-irritating
Vegan
Oil-free
Safe for use on eyelash extensions
Paraben-free
Phthalate-free
BHT-free
Gluten-free
Cons
Takes a few weeks to show results
Price at the time of publication: $55.0
The Nanolash Eyelash Serum claims to help you achieve 50% longer eyelashes in just one month and boost your lash volume up to 30%. It is infused with natural ingredients that penetrate the skin and work on the lash roots from within. The eyelash serum strengthens and stimulates the growth of the lashes without any irritation or allergic reactions. It creates a protective coat over the lashes to prevent brittleness and lash loss. The precise brush makes the application of the product simple and convenient. Use this serum regularly for denser, fuller, and thicker eyelashes.
Pros
Non-irritating
Safe for sensitive eyes
Easy to apply
Ophthalmologist-tested
Value for money
Cons
None
Price at the time of publication: $52
The Liaison The Lash Bond Eyelash Growth Serum is a nourishing formula made with peptides that stimulate weak bonds and repairs dull and brittle lashes. The peptides are rich in minerals that strengthen the lashes naturally and make them longer and voluminous. The formula shows effective results in just 14 days.
Pros
Cruelty-free
Shows quick results
Sulfate-free
Paraben-free
Fragrance-free
Silicone-free
Talc-free
Cons
Price at the time of publication: $29.99
Transform your short, sparse eyelashes with the Ultrax Labs Eyelash Surge. This clinically proven serum delivers results in a month. It stimulates lash growth as it is rich in vitamins and peptides. It gives you beautifully thick and long eyelashes.
Pros
Stimulates lash growth
Mess-free application
Strengthens the lashes
Lab-tested formula
Cons
Price at the time of publication: $44.99
This eyelash and eyebrow serum by Luxros is a blend of scientifically-advanced technology and natural botanicals that helps prevents lash breakage and brittleness. The botanical ingredients derived from natural sources improve the flexibility, moisture, and shine of your lashes. Thus, this formula is designed to give you healthier, longer, and thicker lashes.
Pros
Fast results
Easy to use
Contains natural ingredients
Cons
None
Price at the time of publication: $32.19
NYK1 Lash Force is an innovative serum that regenerates and stimulates lash and brow growth. It improves the length and thickness of your lashes and gives beautiful and healthy eyebrows. This award-winning serum is known for delivering rapid results. It is easy to apply and comes in an 8 ml bottle that lasts longer than average eyelash serums.
Pros
Long-lasting
Easy to apply
Safe formula
Rapid results
Covers bald spots naturally
Cons
Price at the time of publication: $65.98
Vichy LiftActiv Supreme Eyes And Lashes Serum fortifies your lashes and transforms the entire eye area by reducing the appearance of wrinkles and tightening the saggy skin around the eyes. It strengthens and conditions the lashes as it contains hyaluronic acid that hydrates and plumps them up. This serum also smoothens and illuminates the eye area so you look younger and healthier.
Pros
Paraben-free
Dermatologically and ophthalmologically tested
Suitable for sensitive eyes/skin and contact lens-wearers
Fragrance-free
Allergy-tested
Reduces fine lines and wrinkles
Cons
Price at the time of publication: $35.0
The VigorWell Advanced Eyelash Serum is an advanced formula that strengthens, lengthens, and magnifies the lashes. It is a non-irritating, natural formula that is gentle on the skin and safe for all skin types. It boosts the thickness of the lashes and adds luster to them, making them look healthy and longer naturally. It is a quick-drying formula suitable for everyday use.
Pros
Natural ingredients
Suitable for daily use
Shows results in 3-4 weeks
Safe for all skin types
Gentle formula
Cons
None
Price at the time of publication: $19.99
BeautyGARDEDamage Control Lash + Brow Fortifier has a proprietary formula that makes your lashes and brows thicker and stronger. This luxurious serum contains specific peptides and natural extracts from flowers, fruits, and nuts that promote hair growth. You can observe changes within 2 weeks of usage, and the full effect can be observed in a month.
Pros
Fragrance-free
Gluten-free
Paraben-free
Sulfate-free
Phthalate-free
Cruelty-free
Cons
May cause mild irritation
Price at the time of publication: $32.0
Pronexa Hairgenics Lavish Eyelash And Brow Serum is a hypoallergenic and cruelty-free serum. This dermatologically certified lash enhancer contains biotin and natural growth peptides that give you longer, fuller, and thicker eyelashes and brows. The proprietary blend of botanicals penetrates into the hair follicles and stimulates growth effectively.
Pros
Dermatologist-certified
Cruelty-free
Hypoallergenic
Cons
Full ingredient list not listed
Price at the time of publication: $19.99
The Silksence Eyelash & Brow Enhancing Serum is a non-irritating formula, gentle and safe for all skin types. It penetrates hair follicles, stimulating the growth of eyelashes and brows, showing results as quickly as 3-4 weeks. In addition, it strengthens and lengthens the lashes, giving you thicker-looking lashes instantly.
Pros
Easy to apply
Grows lashes and brows
Quick results
Suitable for all skin types
Gentle and safe formula
Cons
None
Price at the time of publication: $17.99
This nourishing serum promotes new eyelash growth and fortifies the existing ones. Its advanced formula works effectively and delivers visible results within 2 weeks! Its powerful ingredients include isoleucine, arginine, and aspartic acid that improve blood circulation and nutrient absorption. Thus, it leads to stronger, longer, and healthier lashes. This nutrient-rich serum also adds shine and volume to your lashes. This non-irritating serum is safe and easy to use.
Pros
Gentle formula
Easy to apply
Works quickly
Non-irritating
Suitable for all skin types
Cons
None
Price at the time of publication: $28.99
KRONA Advanced Eyelash Serum is one of the best eyelash serums currently available! It is made of high-quality organic ingredients that are safe and non-irritating. This dermatologically tested formula is highly recommended as it makes your lashes longer, fuller, and stronger in just 2 weeks. It works as an eyebrow serum as well.
Pros
Organic ingredients
Hypoallergenic
Dermatologically tested
Highly effective
Easy to use
Adds shine and luster to the lashes
Cons
None
Price at the time of publication: $19.99
Babe Lash Essential Eyelash Serum hydrates and strengthens your lashes. This leads to healthy-looking and beautifully thick lashes. This award-winning serum is made with natural ingredients that stimulate the hair follicles and growth. It can be used on lash extensions and shows visible results in 4 weeks.
Pros
Natural ingredients
Fast results
Available in 3 sizes
Conditions the lashes
Safe to use on lash extensions
Cons
May cause redness in the eyes
Price at the time of publication: $89.0
This serum is carefully formulated with high-quality ingredients such as biotin, vitamin E, castor oil, and CoQ10 that strengthen and protect the lashes. Thus, it restores dry, damaged, and brittle lashes. The advanced formula of this serum nourishes the follicles and promotes stronger and thicker brows and lashes by hydrating them. This leads to the appearance of thicker, fuller, and longer lashes and brows.
Pros
High-quality ingredients
Protects and repairs damaged lashes
Easy to use
Nourishes the lashes
Cons
Takes a long time to show visible results
Price at the time of publication: $25.99
The DIME Eyelash Boost Serum is formulated with peptides and collagen-rich amino acids that build keratin, the protein required for healthy and strong hair. It also contains niacinamide that has anti-oxidant and anti-inflammatory properties. It retains moisture and strengthens the lashes, making them longer and adding a healthy shine to them.
Pros
Vegan
Phthalate-free
Cruelty-free
Sustainable packaging
Clean ingredients
Cons
None
Price at the time of publication: $44
Terez & Honor Enhancing Eyelash & Brow lengthens and thickens your lashes and brows by stimulating the follicles for natural growth. This serum is formulated with nourishing vitamins that make your lashes healthier and stronger. Its irritation-free formula is gentle and safe on the eyes and skin. It also protects your lashes from further damage.
Pros
Gentle formula
Natural ingredients
Restores and improves the natural lash growth
Safe for contact lens-wearers
Cons
May cause an allergic reaction
Price at the time of publication: $23.79
Why Trust StyleCraze?
With the help of extensive research, we bring you a comprehensive list of the best eyelash serums. We have read many customer reviews and several product details to guarantee that the listed items are safe and effective for you. These eyelash serums work wonders for promoting the growth of your eyelashes. As a result, you achieve healthy-looking and gorgeous eyelashes.
Frequently Asked Questions
How long should you use eyelash serum?
Although you may see some lash improvements after using eyelash serum for two to three weeks, use it consistently for four to five weeks to achieve healthy and luscious long lashes.
How many times a day should you put on lash serum?
Apply lash serum two to three times a day or as directed by the manufacturer.
Does eyelash serum stop working after a while?
No. Eyelash serum strengthens and nourishes your lashes unless the product has gone bad or has expired.
Can you put on too much lash serum?
No. Do not apply too much lash serum to avoid damaging the product's potency. In addition, the excessive use of the product makes your eyes droopy and causes eye irritations.
How do I get the most out of my eyelash serum?
Apply the serum this way to make the most out of the product:
• Wash your face.
• Let the lashes dry entirely.
• Swipe the serum evenly on your lashes.
• Wait for five minutes to allow the serum to seep into the lashes.
Recommended Articles