18 Best Eyelash Serums Of 2021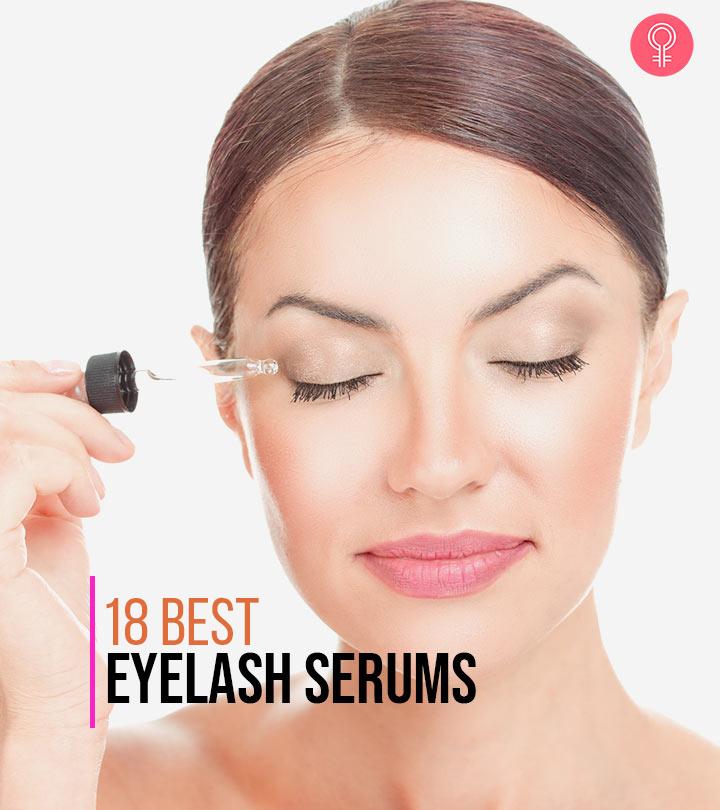 Thick, long, and voluminous eyelashes are coveted by everyone. There are numerous beauty products – such as mascaras, lash extensions, eyelash curlers, and primers – that can help you achieve that sultry look. However, extended use of these products also leads to dry, damaged, and brittle lashes. Moreover, eyelashes also show signs of aging and damage due to harsh chemical and environmental stressors. Apart from following a healthy diet, it is advised to use lash serums to provide hydration and nourishment to your lashes. They help in conditioning, fortifying, and strengthening your eyelashes. They also contain growth factors, vitamins, and amino acids that are essential for hair growth and follicle stimulation. Therefore, you can achieve healthy, longer, and stronger lashes by using lash enhancers and serums.
We have put together a list of the best eyelash serums available right now to help you make the right pick. Take a look!
18 Best Eyelash Serums Available Right Now
This award-winning lash-enhancing serum by Grande Cosmetics is created with vitamins, peptides, and amino acids that give you longer and thicker lashes in just 4-6 weeks. It contains proline and vitamin E, which are essential for lash health. The hyaluronic acid in it protects the lashes and prevents damage. It conditions brittle lashes by hydrating them. This lash serum is a powerful blend of ginseng root, chamomile flowers, and bearberry leaves that strengthen the lash follicles. Thus, it makes your lashes stronger and more visible. This serum is water-based, so it can be used on lash extensions. It is tested by ophthalmologists, and people who wear contact lenses can safely use this cruelty-free product. The soft tip brush makes application easy and effortless.
Pros
Strengthens the lashes
Adds length and volume to lashes
Suitable for contacts lens-wearers and lash extensions
Ophthalmologist-tested
Cruelty-free
Cons
RevitaLash Advanced Eyelash Conditioner is developed by physicians. It is clinically tested and dermatologically reviewed. This eyelash serum enhances and protects your lashes from breakage while improving their flexibility and shine. The proprietary blend of calendula, ginseng, and camellia extracts strengthen the lashes, while glycerin hydrates them. It also contains biotin, which is essential for the proper development of lashes.
Pros
Cruelty-free
Clinically tested
Hypoallergenic
Non-irritating
Vegan
Oil-free
Safe for use on eyelash extensions
Paraben-free
Phthalate-free
BHT-free
Gluten-free
Cons
Takes a few weeks to show results
The Nanolash Eyelash Serum claims to help you achieve 50% longer eyelashes in just one month and boost your lash volume up to 30%. It is infused with natural ingredients that penetrate the skin and work on the lash roots from within. The eyelash serum strengthens and stimulates the growth of the lashes without any irritation or allergic reactions. It creates a protective coat over the lashes to prevent brittleness and lash loss. The precise brush makes the application of the product simple and convenient. Use this serum regularly for denser, fuller, and thicker eyelashes.
Pros
Non-irritating
Safe for sensitive eyes
Easy to apply
Ophthalmologist-tested
Value for money
Cons
None
Chavelle Eyelash Growth Serum is formulated with collagen, hyaluronic acid, ginseng, and panthenol that nourish, strengthen, and condition your eyelashes. They protect the lashes from damage and premature loss. It makes your lashes look significantly healthier, denser, and longer. This product needs to be used daily for 4- 6 weeks to observe visible changes.
Pros
Natural ingredients
Cruelty-free
Paraben-free
Dermatologist-approved
Cons
Transform your short, sparse eyelashes with the Ultrax Labs Eyelash Surge. This clinically proven serum delivers results in a month. It stimulates lash growth as it is rich in vitamins and peptides. It gives you beautifully thick and long eyelashes.
Pros
Stimulates lash growth
Mess-free application
Strengthens the lashes
Lab-tested formula
Cons
This eyelash and eyebrow serum by Luxros is a blend of scientifically-advanced technology and natural botanicals that helps prevents lash breakage and brittleness. The botanical ingredients derived from natural sources improve the flexibility, moisture, and shine of your lashes. Thus, this formula is designed to give you healthier, longer, and thicker lashes.
Pros
Fast results
Easy to use
Contains natural ingredients
Cons
None
NYK1 Lash Force is an innovative serum that regenerates and stimulates lash and brow growth. It improves the length and thickness of your lashes and gives beautiful and healthy eyebrows. This award-winning serum is known for delivering rapid results. It is easy to apply and comes in an 8 ml bottle that lasts longer than average eyelash serums.
Pros
Long-lasting
Easy to apply
Safe formula
Rapid results
Covers bald spots naturally
Cons
Vichy LiftActiv Supreme Eyes And Lashes Serum fortifies your lashes and transforms the entire eye area by reducing the appearance of wrinkles and tightening the saggy skin around the eyes. It strengthens and conditions the lashes as it contains hyaluronic acid that hydrates and plumps them up. This serum also smoothens and illuminates the eye area so you look younger and healthier.
Pros
Paraben-free
Dermatologically and ophthalmologically tested
Suitable for sensitive eyes/skin and contact lens-wearers
Fragrance-free
Allergy-tested
Reduces fine lines and wrinkles
Cons
Rapidlash Eyelash Enhancing Serum has an innovative Hexatein 1 complex that is highly effective for lash growth. It fortifies and conditions the lashes so they look thicker and fuller. This serum moisturizes the lashes, and you can see the results within 4 weeks. It is easy to apply and is dermatologically tested.
Pros
Ophthalmologist- and dermatologist-tested
Cruelty-free
Quick results
Easy to apply
Cons
BeautyGARDEDamage Control Lash + Brow Fortifier has a proprietary formula that makes your lashes and brows thicker and stronger. This luxurious serum contains specific peptides and natural extracts from flowers, fruits, and nuts that promote hair growth. You can observe changes within 2 weeks of usage, and the full effect can be observed in a month.
Pros
Fragrance-free
Gluten-free
Paraben-free
Sulfate-free
Phthalate-free
Cruelty-free
Cons
May cause mild irritation
Pronexa Hairgenics Lavish Eyelash And Brow Serum is a hypoallergenic and cruelty-free serum. This dermatologically certified lash enhancer contains biotin and natural growth peptides that give you longer, fuller, and thicker eyelashes and brows. The proprietary blend of botanicals penetrates into the hair follicles and stimulates growth effectively.
Pros
Dermatologist-certified
Cruelty-free
Hypoallergenic
Cons
Full ingredient list not listed
EssyNaturals Eyelash Serum's formula is non-irritating, gentle, and safe for all skin types as it is made with natural ingredients that are nourishing. It boosts the growth of lashes and brows. Its advanced formula strengthens and lengthens your natural lashes. This multipurpose serum is effective and can also be used as a primer.
Pros
Nourishing formula
Natural ingredients
Clinically proven
Easy to apply
Works as a primer
Gentle formula
Cons
None
This nourishing serum promotes new eyelash growth and fortifies the existing ones. Its advanced formula works effectively and delivers visible results within 2 weeks! Its powerful ingredients include isoleucine, arginine, and aspartic acid that improve blood circulation and nutrient absorption. Thus, it leads to stronger, longer, and healthier lashes. This nutrient-rich serum also adds shine and volume to your lashes. This non-irritating serum is safe and easy to use.
Pros
Gentle formula
Easy to apply
Works quickly
Non-irritating
Suitable for all skin types
Cons
None
KRONA Advanced Eyelash Serum is one of the best eyelash serums currently available! It is made of high-quality organic ingredients that are safe and non-irritating. This dermatologically tested formula is highly recommended as it makes your lashes longer, fuller, and stronger in just 2 weeks. It works as an eyebrow serum as well.
Pros
Organic ingredients
Hypoallergenic
Dermatologically tested
Highly effective
Easy to use
Adds shine and luster to the lashes
Cons
None
Babe Lash Essential Eyelash Serum hydrates and strengthens your lashes. This leads to healthy-looking and beautifully thick lashes. This award-winning serum is made with natural ingredients that stimulate the hair follicles and growth. It can be used on lash extensions and shows visible results in 4 weeks.
Pros
Natural ingredients
Fast results
Available in 3 sizes
Conditions the lashes
Safe to use on lash extensions
Cons
May cause redness in the eyes
This serum is carefully formulated with high-quality ingredients such as biotin, vitamin E,
castor oil
, and CoQ10 that strengthen and protect the lashes. Thus, it restores dry, damaged, and brittle lashes. The advanced formula of this serum nourishes the follicles and promotes stronger and thicker brows and lashes by hydrating them. This leads to the appearance of thicker, fuller, and longer lashes and brows.
Pros
High-quality ingredients
Protects and repairs damaged lashes
Easy to use
Nourishes the lashes
Cons
Takes a long time to show visible results
B-COMB Eyelash Growth Serum contains a growth factor that activates the eyelash root cells and helps in their growth and repair. Its botanical blend is rich in nutrients that provide hydration and nourishment to the lashes to make them thicker, fuller, and healthier. Its formula also protects and restores damaged lashes. This hypoallergenic serum works quickly and efficiently. It is also reasonably priced.
Pros
Fast and effective results
Natural ingredients
Clinically tested
Hypoallergenic
High quality
Repairs and restores damaged lashes
Affordable
Cons
None
Terez & Honor Enhancing Eyelash & Brow lengthens and thickens your lashes and brows by stimulating the follicles for natural growth. This serum is formulated with nourishing vitamins that make your lashes healthier and stronger. Its irritation-free formula is gentle and safe on the eyes and skin. It also protects your lashes from further damage.
Pros
Gentle formula
Natural ingredients
Restores and improves the natural lash growth
Safe for contact lens-wearers
Cons
May cause an allergic reaction
That was our list of the best eyelash serums to pamper your lashes and brows. These serums help in boosting the growth of your natural lashes and give you longer, healthier, and fuller lashes. Grab one now to get the fluttery lashes of your dreams!
Recommended Articles