10 Best Eyeliner Brushes For Glamorous Eyes
Apply your eyeliner effortlessly and make different wing styles with these ergonomic brushes.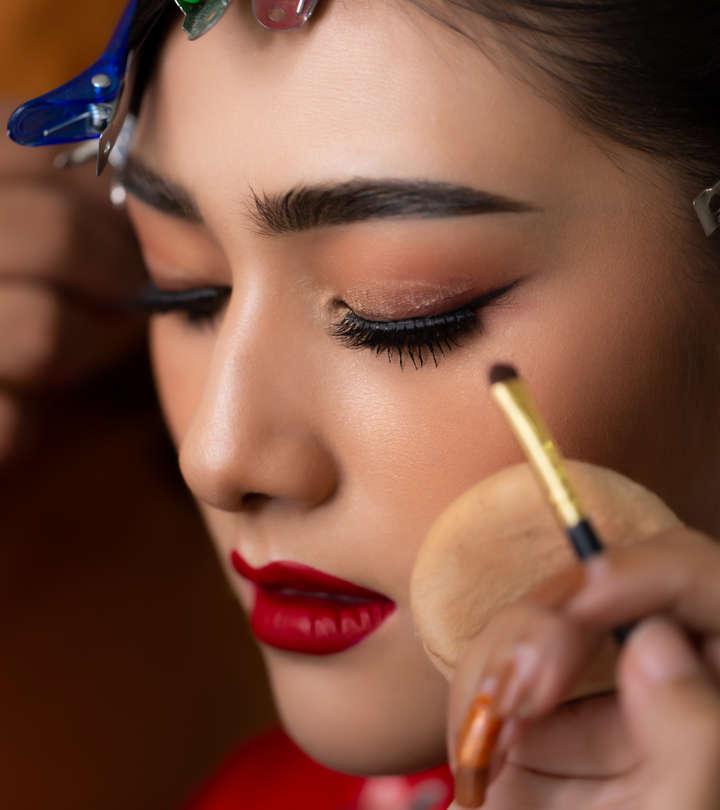 An eyeliner brush helps to get perfect winged or smoky eyes. These are thinly angled or finely pointed, which help to draw the lines neatly. But to achieve the precise application, you need to have the best eyeliner brush. The ideal brush helps to draw well-defined lines over your magnificent eyeshadow. In addition, they help to enhance your eyes. Drawing fine lines without crooked or shaky looks is possible only when you have a good-quality eyeliner brush.
Eyeliner brushes are the trickiest thing for eye makeup. A sturdy eyeliner brush supports you to make your eye makeup simple, easy, and effortless. But there are several kinds of eyeliner brushes available in the market. Picking the one which will help improve your overall eye look is necessary. For example, a slim brush is ideal for drawing lines, while dome-shaped is ideal for gel eyeliners. The angled ones are for more precise drawings. Similarly, flat-angled brushes are for drawing angled lines and flat tips to draw precise straight lines. Ensure that the bristles or tips of the brush are soft for smooth application. Hence, we have curated a list of the best eyeliner brushes to make your eyes elegant. Check them out below!
Glam Up Your Eye Game With The Top 10 Eyeliner Brushes
If doing up your eyes is a relatively new hobby, this is the best eyeliner brush, to begin with. It's easy to use, grip, and maneuver, with a flat and angled brush that helps you along the way. You can start with simple lines and then work your way into a more winged approach. What's great about this eyeliner brush is that the bristles are gentle enough for your skin but stiff enough to create precise lines. The EIGSHOW Angled Eyeliner Brush can be used with powders, gels, creams, or liquid. Whether it's a tightline, a cat eye, or a thicker, bolder statement, the copper tube on this synthetic brush allows for control and neatness while you apply the liner. The bristles are vegan and cruelty-free, which is always a plus point. However, Jackie Alves says that "With a brush this soft you'll want to make sure the eyeliner formula you choose is liquid or a thin consistency gel or the liner may be too thick for the brush to move easily through."
Pros
 100% synthetic bristles
 Offers attention to detail
 Ideal for thinly drawn cat eyes
 Value for money
Cons
 May not be stiff enough for high definition lines
Price at the time of publication: $11.99
Sigma Beauty is a make-up artist's favorite and is synonymous with quality, durability, and efficiency. So if you pick up the E11 Eyeliner Brush by Sigma, you can rest assured you'll nail that fine line across your eyelid. The fine taper tip makes the linework precise and even, and at the same time, ensures your skin is treated gently. It is made of exclusively synthetic, antimicrobial fibers engineered to hold gels, liquids, or powders well and effectively blend. The eyeliner brush stick is made of sustainably sourced wood and has 8 coats of paint and primer, making it scratch-resistant and easy to hold. Sigma's E11 Eyeliner Brush is the best eyeliner brush for artists who want their lines to flourish in different shapes and directions.
Pros
 Fine, tapered tip
 Ideal for smooth, detailed line work
 Works well with gel and liquid liners
 Lightweight
 Sustainably sourced wood
Cons
 Not suitable for eyebrow definition
 Not very firm
Price at the time of publication: $16
This beauty is the best eyeliner brush if you want to give the illusion of fuller eyelashes. This black eyeliner brush is so precise, it gets into those unreachable ridges of your eyelid and can create the perfect line across. If you like cat eyes, you can undoubtedly attain that look by dipping this eyeliner brush into powders, gels, and liquids of your choice. You won't even need a stencil, and you can draw it free-hand and get those sharp wings effortlessly on either side of your eyes. The narrow angled bristle head is made for tight, neat linework and is easy to maneuver, even for beginners. What's more, is that this eyeliner brush also doubles up as a handy brow brush so that you can define your brows with soft, thin strokes. The synthetic fibers used to make the bristles are tough and durable, and they don't stray or breakaway after every use.
Pros
 Cruelty-free
 Ideal for defined lines
 Can use for eyebrows
 Works well with gels, creams, and powders
Cons
 Bristles may stick together with gels or creams
Price at the time of publication: $11.97
Da Vinci's Professional series is a 'pro' favorite amongst make-up artists. The beauty of this cake eyeliner brush is that it does more than just a neat line or wing. It also can double up as a body paint applicator because it's so easy to draw with! Make-up artists love this little magic wand for how multifunctional it is! The wand is long and sturdy, making it easy to grip while you meticulously and patiently draw those lines. Made of sustainably sourced wood from Germany, this professional eye brush delivers on high quality and performance. The bristles are small and pointed, making it the best eyeliner brush for thin lines and details without any worry of smudging or faltering. Jackie Alves goes on to say "If you think you've got a good eyeliner game, this is your brush! great for definition and detail!"
Pros
 Synthetic bristles
 Great for linework and body art
 Handles made from sustainable wood
 Eco-conscious and sweatshop-free
Cons
 Bristles may not last long
Price at the time of publication: $13.95
If you're someone who's always on the go and wants to look fresh and well-turned-out at all times, the KOOBA Cosmetic eyeliner brush is a great travel companion. Its compact size is perfect for a mini make-up pouch in your purse, where you only carry your absolute essentials. The pointed bristle tip works flawlessly on your soft lid area, staying on point and making those lines exactly how you want them. The bristles are dense in volume, which makes them sturdy, but also soft, so they don't poke at your delicate eye area in the process. The wand is easy to control and feels so comfortable, and you can get your lines out in one big sweep. The bristles work well with gels, powders, and liquids and are easily washable. What's more, this eyeliner brush is hypoallergenic, so you can use it regularly, even daily, and not worry about skin irritations or allergies.
Pros
 Compact and easy to carry
 Precision application
 Washable and durable
 Hypoallergenic, cruelty-free, and vegan
Cons
 Bristles may stick together after usage
Price at the time of publication: $5.99
ENERGY has a wide range of make-up applicators, which boast great quality and performance. Their best eyeliner brush is the Winged Liner brush, which is a treat for eyeliner enthusiasts. Get that super crisp winged flick at the outer end of your eyelid with this ultra-thin slanted flat eyeliner brush. These cruelty-free synthetic bristles are so delicate, they'll reach even the toughest spots in your eye area that most brushes struggle to get. The line goes where it needs to go, with minimum fuss. The bristles are also soft and silky to touch. They are versatile in that they can be used with gels, powders, or liquids. The durable quality that ENERGY is known for can be seen with this sturdy little magic wand. Jackie Alves says "I've had great results with this brand. Definitely recommend this one."
Pros
 Blends well
 Durable bristles
 Great for winged liner and cat eyes
 Affordable
Cons
 Bristles textures may not suit all eye makeup
Price at the time of publication: $7.99
Having an angle and slant can help you get the perfect eye look you're hoping for, e.l.f. takes it to the next level. Not sure if the wand with an angled set of bristles will sit well with your shaky fingers? e.l.f. 's angled eyeliner brush is heaven-sent that is perfect for thick and thin lines. While other eyeliner brushes deliver on the slant, it isn't always quite the most comfortable position for your hands and wrists. With e.l.f.'s eyeliner brush, though, the entire tip of the brush (not the bristles) is angled. The finely-point bristles are great for detailed lining and spot marking. And you can hold the wand in a more relaxed way. This is the best eyeliner brush for beginners, and eye make-up enthusiasts.
Pros
 More absorbent
 Can be used with gels, creams, and powders
 Pointed and precise
 Great for beginners
 Value for money
Cons
 Bristles may not last long
Price at the time of publication: $8.58
When you are looking for head-to-toe eco-friendly cosmetic tools, Bdellium has the best eyeliner brush for you. With sustainably sourced bamboo handles, aluminum ferrules, and synthetic vegan bristles, this magic wand is a pleasant surprise, with a trick or two up its sleeve. Not only can this fine point eyeliner glide across your eyelid with accuracy, but it can also be used for contouring and highlighting. This multi-functional eyeliner brush can be used with gels, liquids, and powders. Whether your eye make-up aesthetic is classic, pin-up, cat eye, luxe, Egyptian, grunge, or everyday wear, you can rest assured that the Bdellium Tools Fine Point Eyeliner has you covered.
Pros
 Eco-friendly
 Suitable for all skin types
 Cruelty free and vegan
 Value for money
Cons
 The bristles may be too long
Price at the time of publication: $8
When we think of the best eyeliner brush, an all-in-one eye makeup applicator, we want precision, durability, versatility, and an excellent finish. The Vertex Angled Eyeliner Brush Slanted delivers on all of these aspects. The cruelty-free, vegan, hypoallergenic, AAA synthetic fiber brushes are made with top-quality latex-free hair, suitable for all skin types, including sensitive skin. This eyeliner brush is a favorite of estheticians and makeup artists for its ability to achieve complicated techniques and complex designs. It's the best eyeliner brush for filling in liquid pen stencil shapes. And the icing on the cake is how compact and lightweight the brush wand is, so much that you can pop one into your purse and line up on the go!
Pros
 Less prone to breakage
 Suitable for sensitive skin
 Vegan and cruelty-free
 Easy to carry
Cons
 Not suited for very thin lines
Price at the time of publication: $4.99
When you just want a no-fuss eyeliner brush for everyday use, something that works well with powders, gels, and liquids and is easy to grip and maneuver, make a beeline for the Simply Essentials Eyeliner Brush. This densely bristled wand is the best eyeliner brush for beginners because it provides high-definition, super-precise lines with minimal effort, and that's what our shaky beginner's hands need. And if you're an eye make-up newbie overall, this multi-functional eyeliner brush can also help you with applying concealer, highlights, contouring powders and liquids, and many colors. The bristles are sturdy, remain in place, and don't separate after multiple uses. So you can get started on your eye make-up routine with this 7.5" eyeliner brush and practice your way to that perfect cat eye in no time!
Pros
 Extra dense bristles
 Ideal for high-definition
 lean, even application
 Best eyeliner brush for beginners
Cons
 Not ideal for gel or cream liners
Price at the time of publication: $9.99
Now that you're all set with a list of the 10 best eyeliner brushes to add to your make-up kit, have a look at our buying guide for some handy tips!
How To Choose The Best Eyeliner Brush
Jackie Alves, Pro Makeup Artist and Beauty Educator says "One of my favorite tips for beginners or those that have a hard time seeing well, is to use an eyeliner pencil to feather a line right across the lash line. Then use one of the more stiff eyeliner brushes to smudge the line and create a smokey liner that's sure to help you feel more confident in creating that oh so beautiful definition."
Every eyeliner brush serves a specific function. So if you want to know which is the best eyeliner brush for your eye makeup needs, first, you need to be sure about what kind of eye makeup you want to use. For gel-based eyeliners, especially in those little pots, you want to use an eyeliner brush with a fine point. It could be angled or tapered. If you're going to contour in and around the eyelid, go for a flat brush and get that smoky eye effect. Get an angled brush for lines, thick or thin. And if you are looking for the best eyeliner brush that works with gels, creams, and powders, look for a multi-purpose flat line brush or angled brush. Check the packaging for specific functions.
Most brushes are made of natural or synthetic materials like nylon, polyester, or other synthetic materials. Natural brushes are great for powder-based products as they aid in blending and offer a ​​smooth, natural finish. Synthetic brushes are ideal for ​​cream and liquid products, as they offer precision.
Today, eyeliner brushes come in different price ranges and are anywhere between super cheap, luxurious, and expensive. Pick an eyeliner brush that suits your budget. But remember, just because it is costly doesn't always mean you are getting excellent quality.
How To Use Your Eyeliner Brush
 Step 1 – Prep the areaEnsure that you've applied all the eye shadow you want, and excess powder has been dusted or blown off.
 Step 2 – Choose the mediumPick between gel, powder or cream and use the corresponding brush. For a bold look, try a gel. For a soft, blended look, go for a powder.
 Step 3 – Dip your brushFor gels, pick up just enough to evenly cover the tip. For powders, tap the sticks a little to get rid of extra powder
 Step 4 – Draw it outDraw your lines! Patience is key. Take your time, don't be in a hurry. There are many videos online as well, if you feel like experimenting with new looks.
Tip: Try mirroring your lower lash line for some depth, and a crisper look!
How To Clean The Eyeliner Brush
Keeping your brushes clean is very important. Dirty brushes will irritate your skin if you use them without a wash. What you need is lukewarm water, and a gentle soap. Baby soap is fantastic for eyeliner brushes. It works for powder, and gel brushes.
 Wet the brush with lukewarm.
 Add a couple of drops of soap/cleanser to the palm of your hand.
 Gently massage the bristles into your palm, and allow the soap to lather up the brush.
 Rinse thoroughly.
 Gently squeeze out extra moisturize with your fingers or a small towel.
 Leave your brush to dry in the correct shape, at the edge of a table or shelf. Do not let the bristle bunch up   in  a towel.
Why Trust Stylecraze?
Chaitra Krishnan is a product writer and skin care enthusiast who enjoys providing the best recommendations. She has researched hundreds of online evaluations to compile a list of the best eyeliner brushes, which might give you a glammed-up glow. Each item on the list is thoroughly examined and presented with key characteristics, benefits, and drawbacks. The article also includes buying advice as well as answers to some frequently asked questions to assist you in selecting the finest eyeliner brushes.
Frequently Asked Questions
Are angled eyeliner brushes better?
Angled eyeliner brushes are loved for their versatility, because they can produce fine, defined lines but also triple up as contouring brushes for eye shadows and highlights, as well as brow definition!
Can we use eyeliner brushes for eyebrows?
Yes, some eyeliner brushes work wonderfully as eyebrow liners, and fillers.
How can I fix eyeliner brush bristles?
If you have frayed bristles that won't stand still, you can use hair gels or hairspray to condition them back into place. Leave them conditioned overnight, and then rinse thoroughly the next day.
How can I make my eyeliner neater?
• Always draw your eyeliner before doing base makeup, such as foundation and concealer.
• Use an eyeliner brush. It can be angled or pointed as per your preference.
• Use tape on the edge of the eyes for precision and easy cleanup.
• Always draw outlines first and then fill them in.·
• Use a concealer with the same eyeliner brush to clean the edges.
How do you use a flat eyeliner brush?
A flat eyeliner brush is used when you need a dramatic eyeliner look. The brush helps you achieve a thick and bold eye look. You begin applying the eyeliner from the middle to the end and then return to the front to finish the look.
What is an angled eyeliner brush used for?
An angled eyeliner brush is used to create thin, precise eyeliner looks. The angled end makes it very easy to draw a winged liner with such a brush.
How do you use a gel eyeliner brush?
Gel eyeliner brushes are bent and suitable for gel eyeliners only. First, dip the dense brush in the gel pot to pick some color. Then, make sure to angle your hand in a way that is parallel to the eyelid. Start from the inner corner and take it along the edge to complete the look.