The 13 Best Eyeliners For Beginners – Our Top Picks Of 2023
Ace your eye look with specially designed eyeliners for beginners that are easy to use.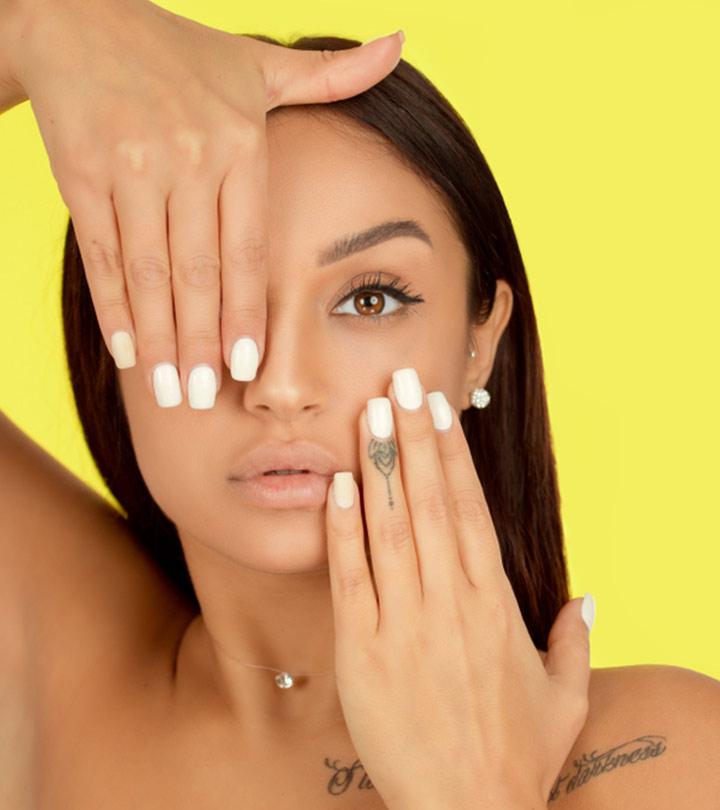 Our eyes attract a lot of attention, especially now that the rest of our faces are covered with masks. To nail the perfect eyeliner look, you must invest in the best eyeliners for beginners. While it may take you a while to nail the cat-eye or get the perfect wings (on both sides!), you can always start with the classic eye looks. You can try out different techniques with the best quality eyeliners.
The fashion world has a lot to offer, and the choices are endless. To help you navigate the market, we have listed the 13 best eyeliners for beginners. Scroll down to find out more about these products and choose your favorites.
13 Best Eyeliners For Beginners Worth Hoarding
If you're still mastering the art of using an eyeliner, the Epic Ink Liner from NYX Professional is a dependable one to begin with. It features an ultra-precise felt tip that is flexible and easy to use. Since this is a pen-style applicator, it is more convenient to practice styles that may seem intimidating. The body of the pen also renders a good grip for a precise eyeliner application. It has rich pigmentation and is fluid enough to ink your lids with a feather-light touch. All you have to do is press it to control the thickness of the strokes. Check out this YouTuber's review of the product if you require more details.
Pros
Intensely pigmented
Buildable coverage
Smudge-proof
Vegan formula
Cruelty-free
Cons
Price at the time of publication: $7.97
Nailing the winged eyeliner for the unschooled is not the easiest task. But when you lay your hands on The Flick Stick, there's no way you can go wrong. It is available in different sizes – 8 mm, 10 mm, and 12 mm so that you can create your desirable eye look. This eyeliner for beginners features a stamp at one end and a felt tip on the other. It is highly pigmented and lasts for almost 6-9 hours. The formula is enriched with candelilla wax and carnauba wax that help it dry quickly and stay put. You can also check this YouTube video for a complete idea about the product.
Pros
Highly pigmented
Available in different sizes
Easy to apply
Cruelty-free
Waterproof
Smudge-proof
Long-lasting
Vegan
Cons
May not be suitable for sensitive skin
Price at the time of publication: $14.98
The Maybelline Unstoppable eyeliner is ideal for beginners who intend to start with a pocket-friendly eyeliner. Lauded for its affordability, this eyeliner for beginners is cream-based and formulated to glide effortlessly without pulling or hurting the lids. The tip of the eyeliner is designed to stay sharp, thanks to its self-sharpening mechanism. You can maneuver this mechanical eye pencil for bold as well as thin precision lines. It also allows some playtime for a smudged look. Once you manually smudge the eyeliner, it stays put for longer periods. Waterproof, ophthalmologist-tested, and versatile — this eyeliner is made to flatter eyes of all shapes.
Pros
Smudge-proof
Waterproof
Ophthalmologist-tested
Suitable for sensitive eyes
Long-wear
Cons
Price at the time of publication: $5.86
If you've been relentlessly searching for a smokey eyeliner for beginners, your search can end right here. This creamy eyeliner pencil has everything you need to practice the smudged look. The soft eyeliner helps master all kinds of strokes, and comes with a built-in smudger for a flawless-looking smokey eye. For finer strokes, you can use the built-in sharpener for a pointed tip. It also adds more volume to your lashes when you apply it on the lash lines. Applying an eyeliner for beginners gets so much easier when you work with this eyeliner that stays put for up to 16 hours without demanding constant reapplications. If you want to know more about the results, take a look at this review on YouTube.
Pros
Glides on easily
Fade-proof
Stays up to 16 hours
Comes with a sharpener
Cons
It may not be highly-pigmented.
Price at the time of publication: $7.75
The Rimmel Scandaleyes gel eyeliner pencil is a perfect choice for makeup newbies who want precision but not the mess. Whether you're a fan of waterlining or commit to master lining your lids — nothing can stop you when you pick this pencil eyeliner for beginners. It has a creamy formula and is super soft, helping it slide on the lids, leaving behind intense strokes. When you have this eyeliner pencil in your bag, you can even hit a sunny beach with your liner on because it is heat, humidity, and waterproof.
Pros
Highly pigmented
Smudge-proof
Sweat-proof
Humidity-resistant
Ophthalmologist-tested
Safe for sensitive eyes
Cons
It may need frequent sharpening
Price at the time of publication: $3.99
This eyeliner from Kat Von D is among the most recommended eyeliners for beginners who look for grippy liner pens that lend a great deal of control for unsteady hands. This dramatic, graphic eyeliner features an ultra-precise brush tip that makes many eyeliner techniques easier to master. It is a long-wearing eyeliner that you can count on when you're having one of those days where you can't seem to catch a breath. Whether a pro or a rookie, this eyeliner can save your time and make lining the eyelids a cakewalk. Give it a little shake for an uninterrupted and pigmented flow to make a statement with your eye-makeup.
Pros
Precision brush tip
Waterproof formula
Smudge-resistant
Glide-on application
Cruelty-free
Vegan
Cons
Contains parabens
Slightly expensive
Price at the time of publication: $23.0
When on busy days, you wish to carry an eyeliner that is easy to use, the Palladio Wooden Eyeliner Pencil is the perfect solution. This eyeliner pencil helps achieve perfectly outlined eyes with its soft, smooth, and creamy formula. It is enriched with soybean oil and botanical extracts, skin-loving ingredients that help the liner glide on smoothly and make the application easier. You can also grab this versatile eyeliner for a no-liner look or double flick and also apply it as a base for a smokey eye look.
Pros
Vegan
True to color
Easy to apply
Highly pigmented
Light coverage
Gluten-free
Paraben-free
Cruelty-free
Leaping Bunny certified
Cons
May not suit sensitive skin
Price at the time of publication: $4.99
If you aspire to be a true beauty guru, you need a classic liquid liner like this one from MAC. This beautifully intense black liquid eyeliner has an ultra-smooth formulation that flows on your eyelids like no other. Once on your lids, it stays on without flaking or smudging unless you decide to wipe it off. The ergonomic applicator is designed to fit snugly between your fingers to make it easier to practice different styles. You'll find a range of irresistible shades in both matte and shimmer finishes if you're looking for a change from black.
Pros
Ophthalmologist-tested
Transfer-proof
Vibrant pigmentation
Long-wearing
Waterproof
Available in many color variants
Cons
Price at the time of publication: $22.0
Jillian Dempsey Khôl Eyeliner is a perfect dual-ended pencil to deliver rich color and a sultry touch to the eyes. It has a luxurious, ultra-pigmented formula that glides smoothly on your eyelids to create various makeup looks. It comes with a built-in soft smudger to help you ace the soft-focus look with a smudged effect. With plant-derived ingredients like organic shea butter, jojoba oil, marula oil, and other natural antioxidants, it ensures a super smooth application. The eyeliner is quick and easy to apply, letting you skip the mascara on days when you simply want an effortless eye makeup look.
Pros
Waterproof
Matte finish
Rich color payoff
Built-in smudger
Paraben-free
Sulfate-free
Phthalate-free
Petrochemical-free
Fragrance-free
Contains no GMOs
Contains no dyes
Cons
Not transfer-proof
Cannot be sharpened well
Price at the time of publication: $20.0
The blinc Liquid Eyeliner has a non-irritating formula that glides smoothly on the eyes, making it an excellent choice for those who have sensitive eyes and oily skin. It is a water-resistant formula that contours the eyes to give you the perfect look. It is fade-resistant and smudge-proof, with a creamy consistency that aids in eyeliner application. From neat lines to blurred, smokey style, it allows you to experiment with different looks.
Pros
Vegan
Highly pigmented
Fade-proof
Smudge-proof
Cruelty-free
Paraben-free
Sulfate-free
Gluten-free
Contains no fragrance
Ophthalmologist approved
Cons
Might flake off
Not long-lasting
Price at the time of publication: $24.0
If you love to match the color of your eyeliner with that of your outfit, the SHANY pencil set of 24 is what you need. You'll find a whole range of stunning colors in metallic, shimmery, and matte finishes for every occasion and every outfit. This eyeliner for beginners has a creamy texture that glides effortlessly both on the eyelids and the lips. SHANY does not test its products on animals, so you can color your lips and lids with any shade without feeling guilty. These powerful pencil eyeliners are worth setting your hands on if you want beautiful eyes on a budget.
Pros
Smooth application
Shades in both matte and metallic finish
Creamy formula
Cruelty-free
Pocket-friendly
Cons
Price at the time of publication: $17.95
The Almay All-Day Intense Gel Eyeliner is a clean makeup product for creating bold eye looks for beginners. The gentle, creamy gel formula of the eyeliner is easy to use on the waterline and is suitable for contact lens wearers. The intense gel color glides effortlessly onto the lids for a sleek application. It dries quickly and stays put without smudging and fading all day long. It is available in various shades to choose from, is travel-friendly, and is verified by the environmental working group (EWG). The product is also hypoallergenic and contains no fragrance.
Pros
Waterproof
Glides smoothly
Hypoallergenic
Long-wearing
Fade-proof
Paraben-free
Phthalate-free
SLS-free
Cruelty-free
Contains no fragrance
Suitable for sensitive eyes and delicate skin
Ophthalmologist tested
Cons
Price at the time of publication: $6.89
The Clinique Pretty Easy Liquid Eyelining Pen features an ultra-precise tip that is flexible and easy to use for beginners. When life throws a series of busy days at you, you need an easy-to-use, uncomplicated eyeliner like this one to look flawless no matter how busy you are. The liquid eyeliner pen makes it more convenient to ace different eye looks. Its body allows for a good grip for a smooth and sleek application. The pigment-rich formula glides effortlessly without pulling or hurting your eyelids and offers a pure and deep color. The eyeliner is versatile and can be used to create bold and subtle looks. It has a long-lasting effect that stays put for long periods.
Pros
Highly pigmented
Rich color
Neat application
Smudge-proof
Long wearing
User-friendly packaging
Cons
None
Accentuating the eye is an essential part of makeup to get that sultry and bold look. Eyeliners could give you that subtle pop of color that stands out and makes your eyes appear gorgeous. Choosing the best eyeliner for a beginner can be tricky. With countless options available, let us look at a few things to consider before buying eyeliners for beginners.
What To Consider When Buying Eyeliners For Beginners
Eye Color: Look for an eyeliner that goes well with the color of your eyes. Though there is no thumb rule for the same, it does work sometimes to emphasize the look. If you have brown eyes use a light brown shade to highlight your eyes. Blue-colored eyes go well with golden and rusty-colored eyeliners while green eyes work well with reddish tones. However, the standard black and brown shades should also always be a part of your eyeliner collection.
Skin-Friendly: Make sure the eyeliner you choose is skin-friendly. It should be safe to apply to your eyelids without adverse effects. Always go for an eyeliner that is dermatologically and ophthalmologically-tested. These eyeliners are hypoallergenic which won't cause any damage to your eyes.
User-Friendly: An eyeliner that glides easily should be your pick! A good eyeliner doesn't smudge easily. With an user-friendly eyeliner, you wouldn't mess up when applying even though you're a beginner.
Shape Of The Tip: The shape of the tip plays a huge role while applying eyeliner. This is especially important if you're a beginner with makeup. A sharp or fine tip would help you create clean designs on your eyes, be it a cat eye, winged shape, or fishtail liner.
Pigmentation: Pigments are a crucial factor to consider when choosing eyeliners. A highly pigmented eyeliner offers better coverage and is perfect for accentuating your eyes. Make sure the eyeliner is highly pigmented for better results.
Waterproof: Look for a waterproof eyeliner that stays long on your eyes and is smudge-free. A water-resistant eyeliner helps you easily apply the second layer without smudging. Waterproof eyeliners are ideal for beginners as they are less likely to mess up when applying the second layer of lining. These eyeliners perfectly stay on during hot, humid, and rainy days.
Skin Tone: Choose a shade that would complement your skin tone and outfit. Beginners with fair skin should prefer gray, brown, and green shades while medium skin tones should use maroon and bronze shades. Shimmers look great on dark skin tones.
While these are some of the best eyeliners for beginners that can make the eyeliner journey an easier one for you, a brief guide helps you make sure you're getting the best out of your eyeliner. Read on to find out.
How Do You Apply Eyeliner As A Beginner?
Connect the dots
What's specifically challenging for most eyeliner newbies is drawing a consistent line without wobbling. If you've tried and failed too many times and are on the verge of giving up, it is advisable to draw dots from one corner to the other corner of the eye. Once you have a series of dots that align well, all you have to do is connect the dots for a perfect line.
Minimal pressure
Many beginners make the mistake of applying too much pressure on the applicator to prevent the hand from shaking. However, what this does is that it distorts the applicator's tip, and it becomes almost impossible to draw sleek lines. As a beginner, it is best to apply minimal pressure and only exert more pressure when you're drawing bolder lines.
Let it glide
A good eyeliner for beginners is one that glides on without pulling or tugging. When your eyeliner resists free movement, it results in uneven lines and tiny unfilled spaces. When you choose a gel-based eyeliner or creamy pencil or retractable eyeliner, it's a smaller number of retrials. Liquid eyeliners are just as useful. Make it a point to use one that's flowy and avoid using old and semi-dried liquid eyeliners.
Flick it first
The winged look has a hard-to-master reputation. However, if you've ever tried going outside in, you must know how winging it can be a cinch. If you don't know what we're talking about, it's pretty simple. Start with the outer corner of the eye and draw a flick of a desirable length. Now that you have the flick in place, extend it by drawing a line or a series of dots from the outer corner to the inner corner and join them. The outcome is professional-grade winged eyeliner for beginners.
Try pressed powder
The real culprit that makes it difficult to apply the eyeliner is oily lids. For this, you can apply some pressed powder to your eyelids so that it absorbs the excess oil. This helps ensure that the eyeliner doesn't escape through the fine, thin lines on the lids.
Keep wet wipes handy
Let's be honest— it might take you a few tries to get your eyeliner right if you're a beginner. To be ready for this, keep a bunch of wet wipes around so that you can pull one out when you go wrong.
Why Trust StyleCraze?
Chaitra Krishnan is a fashion and makeup enthusiast with a passion for reviewing makeup products and keeping up with the latest trends in the beauty industry. On her quest to find the best eyeliners for beginners on the market, she researched multiple options and checked numerous user reviews online. The highly-rated products that make up this list are formulated for long-lasting, smudge-resistant wear, and easy application.
Frequently Asked Questions
Which eyeliner is the easiest to apply?
While this is a matter of personal preference, many beginners agree that pencils give them more control and make them less nervous about going wrong. While there are many brands that make the perfect eyeliner for beginners, you can apply any eyeliner quickly and effortlessly as long as it glides smoothly.
Is a gel-based eyeliner good for beginners?
Contrary to how many people believe that gel eyeliners can give a tough time to beginners, they're quite beginner-friendly. This popular belief might be a result of the fact that you have to use a separate brush for a gel-based eyeliner. However, gel eyeliners for beginners help make quick corrections and help have a relatively steadier hand when compared to liquid eyeliners.
Do you apply eyeliner before or after the foundation?
You can apply it either way. Apply foundation first and then eyeliner so that in the meantime your foundation is fully absorbed. This is the most common way to do it. However, some makeup enthusiasts hold a different view. According to them, you can also wear eye makeup before completing the base makeup so that if you have to do any corrections, you won't have to re-do the foundation and concealer.
Is it OK to wear eyeliner every day?
Yes, it is quite common and safe to wear eyeliner every day. Using eyeliner every day does not damage your eyes; however, avoid applying it very close to the water line to prevent it from going inside your eyes resulting in burning and irritation. Plus, make sure you remove the eyeliner thoroughly at the end of the day to prevent infections.
What goes first eyeliner or mascara?
A mascara is applied after the eyeliner. It is difficult to apply eyeliner on mascara-coated lashes as the eyelids become dry and stiff. So, it is better to apply eyeliner first to ensure its smooth application.
Related Articles
Best Waterproof Eyeliners You Absolutely Need This Year!
Best NYX Eyeliners That Even Beginners Can Get Right
Best Non-Smudging Eyeliners
Best Eyeliners In The World