12 Best Eyeliners For The Cat-Eye Look
Effortlessly nail the classic eye look at events and parties without trying too hard.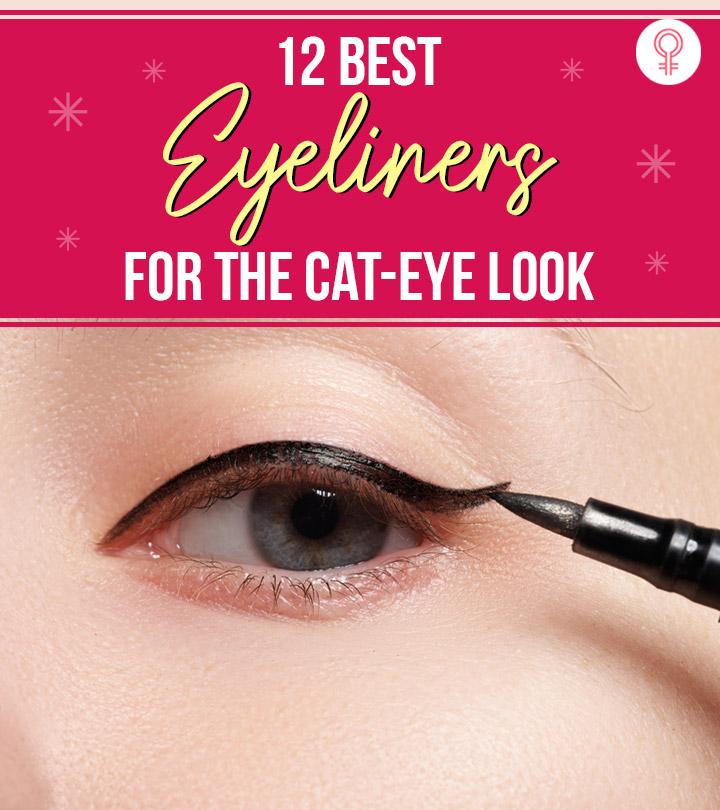 There is something about cat eyeliner that immediately draws attention to your eyes. Were you looking for the best eyeliner for the cat eye? Well, this is where all your wishes come true. Eyeliners, if put correctly, can make your eyes look bold and gorgeous. You might not be content with the shape of your eyes, but once there is a flick of bold color to frame your eyelid, nothing can keep you from looking absolutely gorgeous. We have a list of 12 eyeliner brands to help you with a flawless finish.
12 Best Eyeliners For A Cat Eye Look – 2023
To ace the perfect winged eyeliner or cat-eye look, try out The Flick Stick by Lovoir. It is available in three different sizes – 8mm, 10mm, and 12mm – so that you can create your desired eye look. It also comes with left and right eye stamps that make application easier. This eyeliner is highly pigmented and lasts almost 6-9 hours without fading. The formula is enriched with candelilla wax and carnauba wax that make the eyeliner dry quickly and keep it intact for long hours. If you need further convincing, check this YouTuber's review out.
Pros
Highly pigmented
Available in different sizes
Easy to apply
Cruelty-free
Waterproof
Smudge-proof
Long-lasting
Vegan
Cons
May dry out after a few uses
Price at the time of publication: $14.98
If you are a beginner, the iMethod Eyeliner Stamp is perfect for getting the flick right. This eyeliner comes in a set of two, and each has a fine liner on one side and a cat flick stamp on the other. The eyeliner stamps are inked, well-pigmented, and create symmetrical flicks. The pen can be used to fill in and shape the perfect cat-eye wing. This eyeliner does not need any touch-ups. However, if you have combination or oily skin, apply eye primer before applying this eyeliner. Check out the review of this product on YouTube to know why it is one of the best out there.
Pros
Compatible with every eye shape
Easy to use
Long-lasting
Smudge-proof
Waterproof
Easy to remove
Cons
May crack
Not suitable for sensitive skin
Price at the time of publication: $12.95
The L'Oreal Paris Infallible Flash Cat Eye is a regular felt-tip liner with a removable wing stencil. This stencil makes drawing a perfect winged cat eye a matter of a few seconds! If you are a pro, you can also use the felt-tip liner without the stencil. This versatile eyeliner has a waterproof and smudge-proof formula that lasts all day long without cracking or feeling uncomfortable. It is sweat-resistant and easy on sensitive eyes. It is available in two shades – black and brown.
Pros
Easy to use
Waterproof
Smudge-proof
Highly pigmented
Cons
Price at the time of publication: $7.22
The M.A.C Liquidlast Eyeliner offers long-lasting wear that effortlessly complements all looks. Whether you wish to have a dramatic cat-eye look or a soft-girl look, the liner is suitable for all occasions. The product contains an ultra-fine tip that supports a sharp, winged look with one stroke application. It is a high-quality product that is richly-pigmented and easy to remove as well.
Pros
Waterproof
Ophthalmologist-tested
Long-lasting
Transfer-resistant
Sharp tip
Cons
None
Price at the time of publication: $37.99
NYX Professional Makeup Epic Ink eyeliner helps you achieve the ideal, long-lasting cat eye look. It has a thin brush tip and a highly pigmented, waterproof formula that helps you create intense strokes effortlessly. The liner is vegan and cruelty-free. The flexible and super-precise tip of the liner makes it simple to use for beginners.
Pros
Long lasting
Ultra-pigmented
Vegan
Cruelty-free
Easy to use
Single stroke application
Cons
Price at the time of publication: $7.97
Inglot AMC Eyeliner Gel 77 is made from intense pigments that provide optimal coverage and vibrant colors with just one stroke. It sets with a long-wearing, smear-proof, and crease-proof finish thanks to a creamy and gentle formula. This water-resistant gel eyeliner is ideal for subtle daytime makeup as well as dramatic eye looks. It has a multipurpose formula that can be used for body art, as creamy eyeshadow, or as a base to enhance color and increase longevity of the eyeshadows.
Pros
High-intensity pigment
Long-lasting formula
Waterproof
Creamy texture
Easy to apply and remove
Cons
Price at the time of publication: $1310
The Stila Stay All Day Waterproof Liquid Eye Liner is a long-lasting matte finish liner that provides precise application for that perfect cat-eye look. It lasts all day long and applies without hitching, smearing, or tugging. The stunning finish of the liquid eyeliner produces elegantly defined eyes that make a lasting impact. The thin marker-like tip of the liner is perfect for creating delicate, precise lines or bold, dramatic strokes. It is water-resistant, smudge-proof, and transfer-proof.
Pros
Precise
Smooth application
Waterproof
Smudge-proof
Transfer-proof
Cons
Price at the time of publication: $23.0
The Too Faced Better Than Sex Waterproof Eyeliner surely deserves a space in your vanity. The product works nothing less than a magic wand and helps you achieve the perfect cat-eye look in seconds. It has a waterproof, non-fading, and smudge-proof formula that glides effortlessly and ensures a smooth, flawless line, free of any possible creases. It is intensely pigmented, thereby guaranteeing a sharp bold look.
Pros
Easy to apply
Highly-pigmented
Waterproof
Smudge-proof
Flake-proof
Long-lasting
Cons
None
Price at the time of publication: $24.0
The Faces Canada A Matte Made in Heaven Ink Eyeliner is the perfect choice for those who love to experiment with countless styles. The product includes a sharp tip, ideal for achieving that 'on fleek' look effortlessly. It is easy to apply and has a water-proof and quick-drying formula that guarantees a long-lasting appearance. The product is dermatologically tested and paraben-free, which also makes it an excellent choice for individuals with sensitive skin.
Pros
Intense color
Smudge-proof
Waterproof
Quick drying
Easy to use
Ophthalmologically-tested
Paraben-free
Cons
None
Price at the time of publication: $15.45
The e.l.f. Eyeliner Pen with FeltTip Applicator is available in a rich black shade that helps elevate your eyes in a jiffy. The eyeliner is ideal to revamp your daily look. It is easy to use and is curated with zero harmful chemicals, making it suitable for all skin types. It is vegan, cruelty-free, and affordable, ensuring you never hesitate to try different makeup looks.
Pros
Smudge-proof
Waterproof
Budge-proof
Smooth texture
Vegan
Cruelty-free
Paraben-free
Phthalates-free
Cons
None
Price at the time of publication: $7
The SUGAR Cosmetics Eye Warned You So! Double Matte Eyeliner is a must-have product to create the ideal cat-eye look, whether you are a makeup newbie or a professional. It is richly pigmented in a vibrant royal blue hue suitable for all occasions and will ensure you grab everyone's attention. The product offers a sweat-proof and water-resistant formula that allows you to flaunt the cat-eye look all day long without any reapplication. It is ophthalmologically and dermatologically tested, thereby being safe for individuals with sensitive eyes or contact lens wearers.
Pros
Highly-pigmented
Ophthalmologically-tested
Dermatologically-tested
Long-lasting
Sweat-proof
Transfer-resistant
Smooth matte finish
Cons
None
Price at the time of publication: $19
The Maybelline New York TattooStudio Gel Eyeliner Pencil delivers seamless strokes and intense pigmentation for long-lasting wear. With a 36-hour finish that can last all day long, this water-resistant eyeliner offers vibrant shades and precise definition. It provides a smooth finish and is sebum-resistant, fade-free, and smudge-free. The TattooStudio gel eyeliner range has the ideal shade for all your moods and will allow you to effortlessly achieve the look you want. You can watch this YouTube video for a detailed review of the eyeliner.
Pros
Very pigmented
36-hour finish
Long-lasting
Vibrant shades
Sebum-resistant
Fade-free
Cons
Price at the time of publication: $6.3
The classic cat eye gives you a perfect sense of drama and enhances your eye's shape. However, creating a symmetrical and well-placed cat-eye look can be difficult, especially if you are a beginner. To make the perfect cat eye, the key to perfecting this look is investing in the right eyeliner, be it an eyeliner stamp, stencils, liquid liners, or pencil. Here are a few features to consider to help you choose the best eyeliner for the perfect cat-eye look.
How To Choose The Best Eyeliners For The Cat-Eye Look
There are many eyeliner formulas, from liquids, gel, pencils, and sketches. If you are a pro at creating precise lines, go for gel or liquid formulas, as they come with built-in applicators to create thick or thin lines according to your needs. However, opt for an eyeliner sketch if you don't care about the width. They are the best for beginners as well as pros. They take little to no time and are long-lasting as well.
Another factor to consider when choosing an eyeliner is pigmentation. Highly pigmented eyeliner gives accurate and precise lines in just a single stroke. If your eyeliner is not that pigmented, you would have to go over the lines multiple times, which can cause smudging and uneven application.
The applicator of your eyeliner is a vital aspect to take care of. When choosing a liquid eyeliner, go for a flexible applicator that glides on the eyelids smoothly for a crisp and precise look. For sketch or pencil eyeliners, choose a thin applicator to create precise lines for the perfect cat-eye look.
An eyeliner is prone to wear out quickly, especially if you have watery eyes. This is because your eye area goes through many movements throughout the day and is also affected by external factors like sweat and humidity. This is why choosing an eyeliner that is waterproof and smudge-proof for a long-lasting crisp look is vital.
Make sure to opt for an eyeliner stamp design that you like. If you want your cat eye makeup to stand out, go for a rather quirky design like a moon, star, flower, etc. However, if you don't want to play around much, you can opt for a basic triangle-shaped stamp.
These are the 12 best eyeliners that will help you achieve an authentic cat-eye look. Check out the following section for some tips that you can follow to perfect the cat-eye look.
How To Create The Perfect Cat Eyes With An Eyeliner
Apply a neutral or light-colored eyeshadow starting from your lash line up to the crease.
To get a precise cat-eye shape, angle a makeup brush from your nose to the outer brow to find your endpoint.
Use your favorite eyeliner to make a dot just above your crease to mark the tip of your wing. Remember, the higher you place the dot, the thicker and more dramatic cat-eye look you will get.
Now, start drawing a line connecting the dot to the outer edge of your eye.
Then, connect the dot to the middle of your upper lash line. Slowly pull your eyeliner from the corner of your eye to the middle of your lid.
Fill the outline that you have made with your eyeliner.
Slowly pull the liner by drawing a line to connect the inner corner of your eye with your cat-eye.
You can thicken the line further to create a bold cat-eye look.
Once you are done with all these steps, finish with mascara.
Method Using Scotch Tape
Stick a piece of scotch tape along the outer corner of your eye at the angle that you want the cat-eye wing.
Draw a thin line from the inner to the outer corner of your eye.
Use the tape as a guide and extend the line from the outer corner of the eye.
Wait a few seconds for the liner to dry. Remove the scotch tape carefully without pulling too hard.
Tip: If there are any mistakes, no need to worry. Take a cotton swab to get into corners and clean along lines without accidentally smudging the eyeliner.
Why Trust StyleCraze?
Baishali Bhattacharya is our in-house certified expert in makeup techniques who is always on the lookout for the leading eyeliners that will accentuate your eyes. She tried out multiple eyeliners and curated this list of premium quality eyeliners that can give you the bold and gorgeous cat-eye look. These eyeliners are smudge-proof, waterproof, and long-lasting, leaving you with a flawless finish.
Frequently Asked Questions
What type of eyeliner is best for cat eye?
If you are a beginner or want to nail the cat eye quickly, the stamp eyeliners with left and right eye wings are the best choice.
What's the difference between winged and cat eyeliner?
A cat liner is very similar to the winged liner, but it usually has a thicker wing on both the top and bottom lash lines.
Does cat eyeliner look good on everyone?
Yes, cat liners look good on everyone, provided you customize the thickness of the lines and the length of the wings according to your eye shape.
Can you do cat eye with an eyeliner pencil?
Yes, you can do a cat eye with an eyeliner pencil. Just use one with a pointed end to nail those straight lines.
Can older women wear a cat eye?
Yes, the cat eye can be worn by women of all ages. However, use a waterproof and smudge-proof formula so that the hooded, oily lids of the mature skin type do not smudge the lines after a few hours.
Recommended Articles