The 5 Best Eyeliners For A Cat Eye Look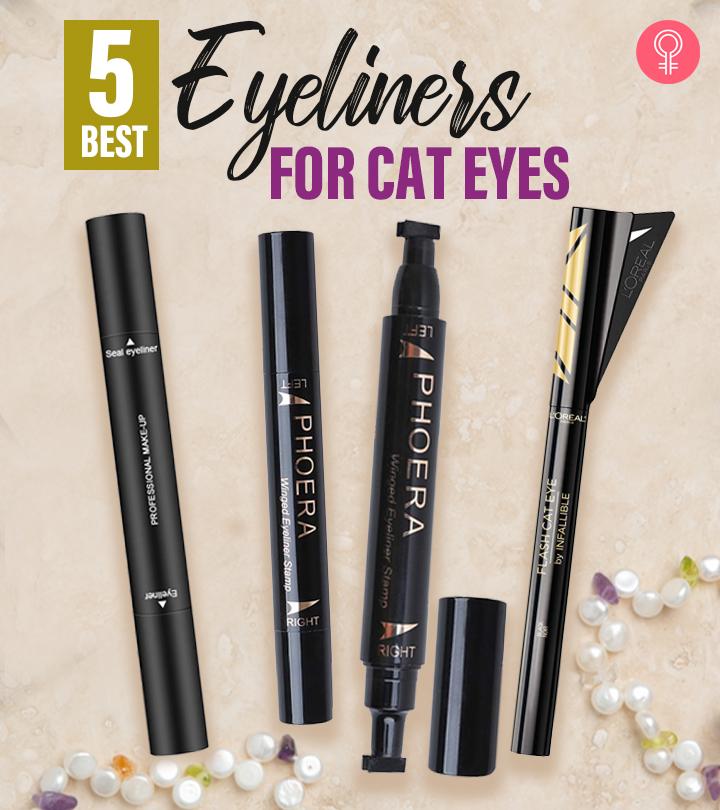 Mastering the cat eye is no mean feat. This classic look may appear easy, but the flick is hard to get right. The precise lines and smooth, angled finish of the wing seem achievable only after a million practice sessions. While following the eye contour is one key to get it right, it is also important to use the right eyeliner for precision. Whether you are a beginner or a pro, the eyeliners listed in this article will help you achieve this dramatic eye look. From thin-tipped liners to liner stamps, we have got one for everyone. Scroll down to check out the 5 best eyeliners for a cat eye look.
5 Best Eyeliners For Cat Eye
If you are a beginner, the iMethod Eyeliner Stamp is what you need to get the flick right. This eyeliner comes in a set of two, and each has a fine liner on one side and a cat flick stamp on the other. The eyeliner stamps are inked, well pigmented, and give symmetrical flicks. The pen can be used to fill in and shape the perfect cat eyeliner. This eyeliner does not need any touch-ups. However, if you have combination or oily skin, apply eye primer before applying the eyeliner.
Pros
Compatible with every eye shape
Easy to use
Long-lasting
Smudge-proof
Waterproof
Easy to remove
Cons
May crack
Not suitable for sensitive skin
The L'Oreal Paris Infallible Flash Cat Eye is a regular felt tip liner with a removable wing stencil. This stencil makes drawing a perfect winged cat eye a matter of a few seconds! If you are a pro, you can also use the felt tip liner without the stencil. This versatile eyeliner has a waterproof and smudge-proof formula that lasts all day long without cracking or feeling uncomfortable. It is sweat-resistant and easy on sensitive eyes. It is available in two shades – black and brown.
Pros
Easy to use
Waterproof
Smudge-proof
Highly pigmented
Cons
The PHOERA Dual-Ended Winged Eyeliner Stamp is a perfect tool for precise lines and symmetrical winged liner within seconds. The ink has a special formula that holds strong and is waterproof and smudge-proof. It gives you a consistent finish and is easy to apply. This eyeliner has two stamps for both eyes on either end of the pen. It is formulated with high-quality natural ingredients that do not irritate sensitive eyes and are gentle on the skin. This eyeliner can be easily removed with an eye makeup remover or facial cleansing.
Pros
Affordable
Quick-drying
Long-lasting
Safety-tested
Highly pigmented
Contains organic ingredients
Alcohol-free
Non-sensitive
Suitable for all eye shapes
30-days return
Cons
Stamp is not precise.
Dries out quickly
The Avierll Double Eyeliner Pencil has a stamp at one end and a fine tip pen on the other. This pen is convenient to use and gives you the perfect cat eye within seconds without much effort. It is made of anti-allergy materials and is safe for use. The ink is highly pigmented and has a quick-drying formula that is long-lasting, waterproof, and stain-resistant. It can last all day long without smudging. The eyeliner is easy to clean with any oil or water-based makeup remover.
Pros
Symmetrical stamps
Smudge-proof
Waterproof
Long-lasting
Contains anti-allergic ingredients
Easy to use
Easy to clean
No stain after removal
Cons
Expensive
Not highly pigmented
No products found.
The Bysiter Stamp Liquid Eyeliner Pen has a double-headed design. One end has the stamp, and the other end has a felt tip pen for precision application. The special quick-dry formula of this product is infused with candelilla wax and carnauba wax that extend its lifespan. The pen gives a smooth and consistent color and is waterproof and smudge-proof. The product is alcohol-free, non-sensitive, safety-tested, and does not irritate sensitive eyes. It can be easily removed without staining.
Pros
Affordable
Easy to use
Waterproof
Sweat-proof
Smudge-proof
Quick-dry
Long-lasting
Cons
These are the best eyeliners that you can use to create the perfect cat eye. Get one with a stamp if you want to draw the flick easily. However, if you are using just the felt tip pen to draw a cat eye, here are some tips you can follow. 
How To Create The Perfect Cat Eyes With An Eyeliner
There are two ways to create a cat eye look:
1. Use The Makeup Brush For Outlining 
Hold the makeup brush at a 45-degree angle from your nose to the outer corner of the eye.
Put a small dot above the creases on the eyes.
Draw a line and connect the dot to the outer corner of your eye.
Draw another line connecting the dot to the middle of your upper lash line. This is the outline of your cat eye.
Fill this outline.
Extend or adjust the shape of the flick. You can draw a line connecting the inner corner of the eye with the angled flick.
2. Draw Using A Scotch Tape 
Stick a piece of scotch tape along the outer corner of your eye.
Draw a thin line from the inner to the outer corner of your eye.
Use the tape as a guide and extend the line from the outer corner of the eye.
Wait a few seconds for the liner to dry and settle. Remove the scotch tape carefully without pulling too hard.
Finish off the cat eye with a coat of mascara, and you are good to go!
Tip: In case you messed up a line, dab it with a pointed cotton swab dipped in makeup remover and adjust the eyeliner.
We hope you are now feeling less intimidated by the precision and practice a cat eye demands. Before you get started, understand your eye shape, and use any of the eyeliners listed above to perfect that sleek feline flick!
Recommended Articles
The following two tabs change content below.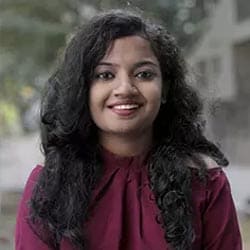 Shalini Roy has a Master's degree in English literature. She is an ambivert whose expressions have found their way in writing. She channels her passion for all things fashion and makeup to write engaging content related to Beauty and Lifestyle. She first found her penchant for writing through poetry and serving on various editorial boards of Model United Nations conferences. Shalini is a lover of spoken word poetry, books, and movies.