11 Best Eyeliners For The Perfect Wings
Line your eyes in effortless wings with easy-to-apply and long-lasting eyeliners!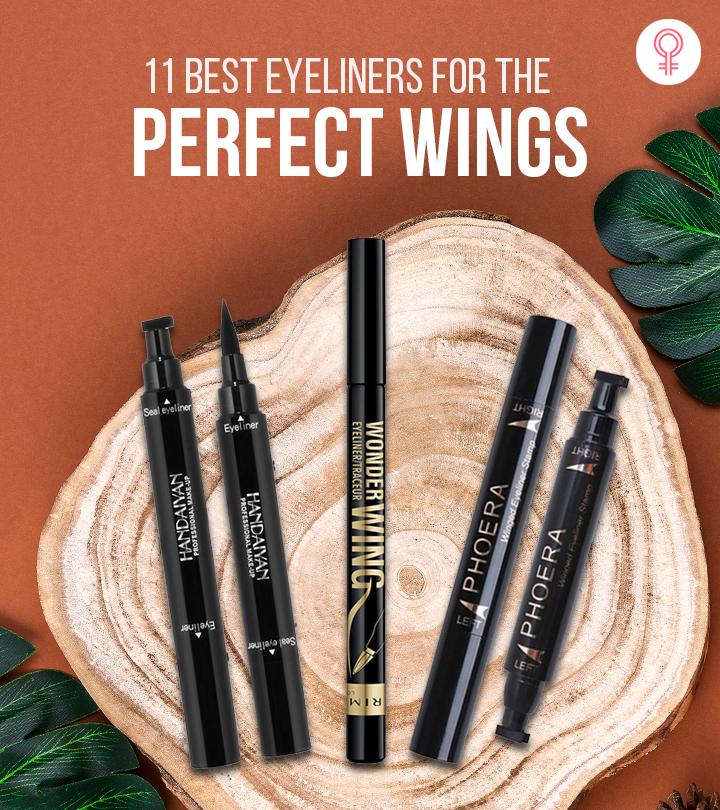 Let your struggles to get the perfectly-shaped winged-eye look end right here because, in this article, we have prepared a list of the 11 best eyeliners for wings that you must have in your makeup pouch right away! Making a wing eye is no easy task, and we all know that. Showing up at a party with uneven wings will only ruin your look. To look chic and gorgeous with perfect wings, you need to have a semi-stiff and thin brush that can help you make those perky and symmetrical wings effortlessly with just one stroke. From dashing felt liners to easy-to-use stamps, we have covered it all in this article.
11 Best Eyeliners For Different Wing Styles
Get cat eyes with the Vantica Stamp Pencil. This simple stamp design makes a perfect eyeliner wing. It is ideal for beginners and office goers who want to make their eyes appear attractive within seconds. The stamp eyeliner dries out quickly, and the 2-in-1 design offers perfect makeup – the tip edge is for drawing thin lines and the stamp is for getting perfect eyeliner without smudging.
Pros
Smudge-proof
Water-proof
Long-lasting
Easy to apply
Cons
None
Price at the time of publication: $6.99
This gorgeous Eyeliner Stamp from iMethod comes in a set of two, one for your right eye and one for your left. These stamps are super easy to use and feature a fine liner on the other side that helps complete your look. The formula is super pigmented and delivers precision and boldness in a single application. It is also long-lasting, so you do not have to stress about regular touch-ups. Click here to check out a detailed personal review of this product.
Pros
Waterproof
Stays up to 8 hours
Smudge-proof
Clean application
Easy to use
Does not smear
Cons
Price at the time of publication: $12.95
Perfect your soft winged look with this set of eyeliner pens by Lovoir. It comes with left and right eye stamp pens, along with a felt tip liner on each end for added convenience. The stamp is curved to perfection for a natural-looking winged eye. The formula is infused with carnauba wax and candelilla wax, which provide a strong hold that lasts up to 9 hours. It also dries up super-fast and is repellent to sweat or water. The liner delivers a super smooth and consistent color every single time. Here's a review video to help you get a better understanding of the product.
Pros
Long-lasting
Waterproof
Smudge-proof
Quick application
Easy to use
Cons
Does not work well in heat.
May irritate sensitive skin.
Price at the time of publication: $14.98
This professional eyeliner stamp by La Pure is available in two different sizes for your convenience – 8 mm and 10 mm. The eyeliner stamp comes in a set of two, one for each eye. They are specifically designed to perfect the curves of each eye and give you optimal precision. Both liners have a felt tip on one end to complete your look. The formula is 100% waterproof and smudge-proof, delivering superior stay.
Pros
Waterproof
Smudge-proof
Long-lasting
Easy to use
Superior pigmentation
Cons
Price at the time of publication: $11.95
This eyeliner stamp by Handaiyan is ideal for beginners as it delivers a precise application in seconds. It comes with a winged stamp on one end and a felt pencil liner on the other end. The eyeliner liquid is enriched with various plant-based ingredients, making it perfect for sensitive skin.
Pros
Easy to use
Ideal for beginners
Sweat-proof
Perfect size
Cons
Price at the time of publication: $8.97
Indulge in a luxuriously rich and bold black look with this liquid pen by NYX Professional Makeup. The unique felt tip of this liner ensures easy and precise application to achieve the perfect winged liners. This pro liner dries to a satin matte finish that looks elegant and chic.
Pros
Good pigmentation
Easy to use
Goes on smoothly
Waterproof
Smudge-proof
Cruelty-free
Cons
Price at the time of publication: $8.29
This K Beauty masterpiece by Kaja contains a double-sided wink stamp and a liquid liner pen. This formula is clinically proven to last up to 8 hours and delivers rich color. The liner is infused with essential natural ingredients like green tea leaf extract, avocado fruit extract, and black tea leaf extracts. It comes in a dazzling electric purple container and is convenient to carry along. Need more information? Watch this video to make an informed decision about the product.
Pros
Easy to use
Vegan
Long-lasting
Waterproof
Does not crease
Smudge-proof
Very pigmented
Cruelty-free
Paraben-free
Cons
None
Price at the time of publication: $25
The gel liner by i.ENVY gives an intense black matte finish on application. The liner comes along with a stencil that helps you achieve six different winged eyeliner looks with ease. It is equipped with a unique application brush to create well-defined strokes that accentuate your eyes. With one stroke, this gel liner gives you a bold look that is super long-lasting.
Pros
Versatile stencil
Easy to use
Long-lasting
Waterproof
Smudge-proof
Smooth application
Cons
The stencil is not flexible.
This unique wing eyeliner from Rimmel acts as a stamp and liner rolled into one. It is super flexible and helps in smooth and consistent application every time. The tip has a thin and thick side to perfect your winked look, just the way you like it. Its long-lasting formula is highly pigmented and delivers rich and bold color in a single flick.
Pros
Highly pigmented
Long-lasting
Smudge-proof
Cons
Price at the time of publication: $6.99
Get a super precise and professional quality winged look with this fine-tipped liquid liner by Maybelline. The ultra-fine tip glides across your eyelid smoothly and delivers rich color in a single stroke. The formula is both waterproof and smudge-proof and lasts up to 12 long hours. This non-irritating formula is suitable for both contact lens wearers and sensitive skin types.
Pros
Dermatologist-tested
Ophthalmologist-tested
Waterproof
Smudge-proof
Long-lasting
Cons
Price at the time of publication: $6.38
This iconic value-added duo by QIC Professional Makeup is everything you can ask for. It comes with a double-sided head design that has a stamp on one side and a felt liquid liner on the other. The two liners have different sized stamps, a big stamp for a dramatic party look and a smaller one for daily use. The felt tip is made with a soft material, and it delivers a precise flick in every application.
Pros
Easy to use
Sweat-proof
Precise application
Non-cracking
Long-lasting
Smudge-proof
Waterproof
Cons
Price at the time of publication: $6.89
Finding the perfect eyeliner for those dramatic wings you are so envious of need not be as challenging as it seems. Our list of eyeliners has you covered even if you are a beginner in the winged-look game. But before you start on your mission, scroll through our list of handy tips on how to choose the best eyeliners for the perfect wings.
How To Choose The Best Eyeliners For The Perfect Wings
Type Of Liner
Choose between stamp liners and liquid liners as per your
confidence level. If you are a beginner, the stamps will work well as they
provide precision without much control. The liquid liners are good once you
have attained good control – you can vary the length and thickness of the wings
as per your style.
Formula
Choose a waterproof formula that is long-lasting and
smudge-resistant. It should withstand sweat, tears, and grime without cracking.
Half a wing or a smudged wing is not a pretty site. A non-irritating formula is
suitable for both sensitive eyes and contact lens wearers. Liners infused with
natural ingredients like black and green tea leaf extracts and avocado fruit
extract are a bonus. Dermatologist and ophthalmologist-tested liners free of
harsh chemicals like parabens and phthalates should be the preferred
choice.
Texture
Pay special attention to the texture of your eyeliner, as this is
what will define the preciseness of your wings. Richly pigmented and
creamy formulas are essential requirements. A cream formula dries slowly, so it
is easier to adjust if required. Wet liners are more difficult to work with;
however, they offer the sharpest wings. Look for wet liners with medium dry
time so you can make adjustments.
Applicator Type
The stamp pens are usually
equipped with left and right eye stamps, along with a felt tip liner which is
easy to use, especially for beginners. The two most common types are the felt
tip and built-in bristles. A firm felt tip provides a more precise line, ideal for wings, whereas soft and flexible tips are easier to control and make smooth lines with less effort.
Intensity
If the colors of your eyeliner are dark and inky, they need only a couple of swipes, but this gives less room for mistakes. On the other hand, some wet and thin formulas require you to layer them to build on intensity. Therefore, buildable formulas are easier to correct. So, choose depending on your level of confidence.
Why Trust StyleCraze?
The author, Baishali Bhattacharya, is certified in makeup techniques and loves reviewing different makeup products. She has carefully selected these eyeliners for wings, which have been closely selected based on user reviews and feedback available on multiple forums and brand websites. The eyeliners listed in this post are smudge-free and long-lasting. These eyeliners will help you ace your look easily and efficiently.
Frequently Asked Questions
What kind of eyeliner is the best for wings?
Liquid eyeliner is the best for drawing wings on the eyes. They help create wings with precision and ease. Also, a well-sharpened pencil liner can create good wings.
How do you do wings with eyeliner?
• Prep your lids with concealer for an even-looking base.
• Start drawing a line on the upper lash line from the inner corner of the eye towards the outer corner. Stop at the end of the lash line.
• Hold the pencil at the end of the bottom lash line. Draw a line extending diagonally to resemble a continuation of the lower lash line. • Angle the wing more outwards if you have hooded eyelids.
• Start at the tip of the eyeliner line on the upper lash line and draw a diagonal line of 45° out and upwards. The length of the wing is up to you.
• Keep your lids taut and draw a diagonal line from the tip of your wing to the middle of the upper lash line.
• Fill the gaps on the line with the liner.
Is pencil eyeliner good for wings?
Yes. A well-sharpened pencil liner provides good control and is suitable for drawing wings on the eyelids.
What do you use for winged eyeliner?
Draw a winged liner with any of these eyeliners – a liquid liner, a felt-tip liner, a waterproof eyeliner pencil, or gel eyeliner with an eyeliner brush.
Why is winged eyeliner so popular?
Winged eyeliners look flattering on almost all eyes, irrespective of their shape. It defines the eyes and imparts them a sultry, alluring appearance.
How do you apply liquid eyeliner for beginners?
• Hold the brush firm.
• Start at the middle of your upper lash line and drag the line towards the outer corner.
• Draw the line upwards like a wing from the endpoint of the upper lash line.
• Remove the excess with a q-tip.
What's the difference between winged and cat eyeliner?
The winged liner is a straight line with just a flick at the end. It is only applied on the upper lash line. On the other hand, cat eyeliner is a thicker wing applied on the top and bottom lash line.
Recommended Articles