13 Best Eyeliners For Women Over 50 (Aging Eyes)
Get flawless eye makeup with easy to draw liners that work wonders on mature skin.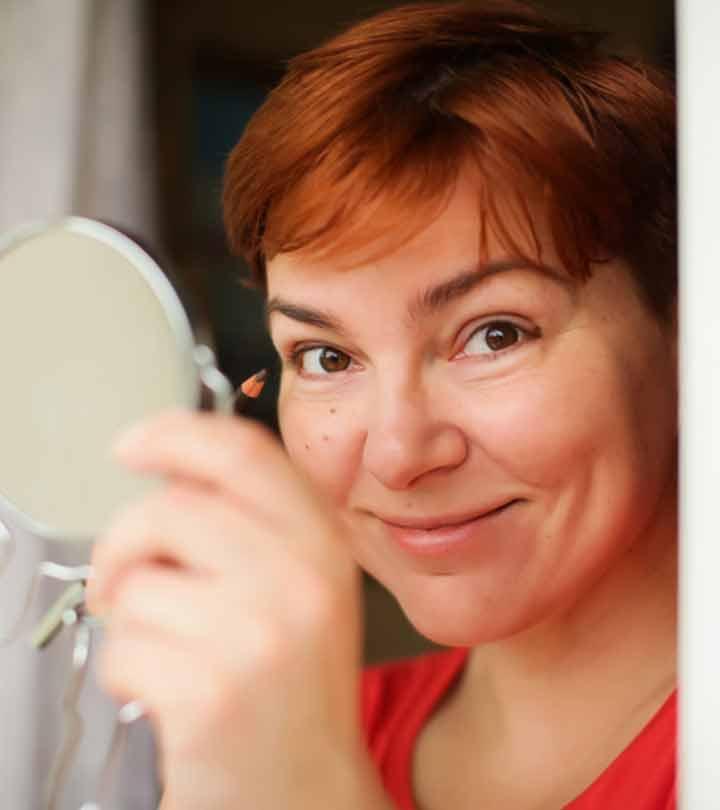 Your eyes become sensitive as you age and it is not always recommended to experiment with eye makeup, especially if you have eye issues. However, this does not mean you should miss out on the fun! Some of the best eyeliners for older women do not irritate the sensitive skin around your eyes but help make them pop.
When you age, the area around the eyes may become heavy or sag. Using the wrong eyeliners that are too dry or tough to remove can continuously pull at the skin and aggravate the problem. That is why you need eyeliners that glide smoothly, can last throughout the day, do not crease and smudge, and contain eye-friendly and nourishing ingredients. Moreover, they should not be tough to remove. With an endless number of options available on the market, it might be tough for you to choose the right products. Do not worry. We are here to help you pick the best product for your eyes. Here, we have prepared a list of the 13 best eyeliners for women over 50. Scroll down to take your pick.
13 Best Eyeliners For Women Over 50
The Clinique Quickliner For Eyes is a waterproof, gel-based pencil eyeliner. The long-lasting formula offers a soft, creamy, and transfer-resistant application that glides smoothly on your eyelids for a clean and intense look. This allergy-tested eyeliner smudges to a smooth blur of color with the convenient smudge tool on the opposite end.
Pros
Long-lasting
Allergy-tested
Fragrance-free
Paraben-free
Mineral oil-free
Cons
Contains sulfates
Might cause irritation to sensitive skin
Price at the time of publication: $16.75
As you age, the crow's feet at the corner of your eyes become prominent. This means that achieving the winged eyeliner look could be tricky. But not to worry! We present to you Lancôme Paris Artliner, which is an amazing eyeliner for older women and is ideal for creating winged or cat-eye look. It is richly pigmented and features a unique double film-forming set of polymers that deliver an intense color payoff that is long-lasting. Furthermore, this liquid formula provides precise application and glides effortlessly; thanks to the felt-tip applicator.
Pros
Long-lasting wear
Does not scratch or tug
Offers ultimate precision
Defines eyes
Provides intense color payoff
Available in other colors
Cons
Price at the time of publication: $40.9
This waterproof, intense black liquid eyeliner lives up to its name! It stays put until you are ready to remove it and glides smoothly, like butter, along your upper lash line. This long-wearing eyeliner includes a micro-tip that offers ultra-precise and even application. Additionally, the tip is tiny enough to fill in between lashes to give you fuller-looking lashes. Moreover, this is a fast-drying formula that does not smudge or flake.
Pros
Glides on easily
Makes lashes look fuller
Waterproof and buildable formula
Smudge-proof
Long-wearing
The ultra-thin tip provides precise application.
Cons
Some people may not be comfortable using the short tip.
Price at the time of publication: $23.0
What's not to love about this mechanical eyeliner pencil that is formulated to stay put for long hours and goes on easily over your upper eyelids? Rest assured that you won't have to worry about this pencil pulling or tugging on your skin. It features a smooth, pointed tip that helps you create precise lines while the built-in sharpener integrated into the cap ensures the pencil stays forever sharp. As the color suggests, it creates a beautiful pearlescent finish that makes any eye color pop! Enriched with vitamin E, this eyeliner pencil nourishes and protects your skin.
Pros
Long-wearing and water-resistant formula
Does not smudge or fade
Ophthalmologist and dermatologist-tested
Suitable for sensitive eyes
Hypoallergenic
Cruelty and fragrance-free
Affordable
Cons
The pencil tends to be a bit fragile.
Price at the time of publication: $6.99
The Julep eyeliner pencil is waterproof, long-wearing, ultra-creamy, and does not drag your skin, making it one of the best eyeliners for crepey eyelids. This blackest black eyeliner delivers a rich and saturated color payoff in just a couple of swipes; perfect for all you smokey-eye lovers out there. With the combination of gel and pencil, this eyeliner glides smoothly along the lash line while also helping you achieve thin or thick lines. This eyeliner's waterproof quality ensures that the formula sets in 30 seconds and lasts for more than 10 hours.
Pros
Contains extra-finely milled pigments
Delivers intense finish
Glides smoothly
Waterproof formula
10-hour wear
Ophthalmologist-tested
Paraben and sulfate-free
Cruelty-free
Made without formaldehyde, toluene, dibutyl phthalate, formaldehyde resin, and camphor.
Cons
May not be suitable for sensitive eyes
Price at the time of publication: $12.0
Do you prefer powder eyeliners to liquid or gel liners? And you're afraid to use it on your mature skin as powdered eyeliners tend to crease into your fine lines and wrinkles? Then consider this powder-cream formula by Jane Iredale. This eyeliner is formulated with coco glycerides that give it a creamy consistency, helping you create a smooth and even finish. This is an excellent choice if you want to go for the bold smudged look. Additionally, this is a water-resistant formula that stays put all day long.
Pros
Includes a built-in, soft-textured brush
Powder-cream formula
Provides smooth and mess-free application
Helps you create the dramatic, smokey-eye look
Water-resistant
All-day staying power
Cons
May be a little difficult to use
Price at the time of publication: $20.8
Thanks to its innovative no-tug technology, IT Cosmetics Gel Eyeliner allows you to create any eyeliner look you want with ease. It features a soft pencil tip that glides smoothly across your delicate eyelids and delivers an intense, saturated finish. This automatic no-tug eyeliner is formulated using anti-aging technology. It contains ingredients like hydrolyzed silk, collagen, vitamins, and antioxidants that moisturize your skin and make it firm. This waterproof formula is easy to use and is clinically proven to last for 12 hours.
Pros
Long-wearing and no-tugging formula
High-pigment eyeliner
Features anti-aging technology
Keeps skin moisturized
Waterproof
Paraben and sulfate-free
Fragrance-free
Cons
Tends to clump
Thick consistency
Price at the time of publication: $28.99
You can trust Physicians Formula to come up with a 2-in-1 eyeliner + serum that has all the qualities of a good liquid eyeliner and has the ability to enhance your lash line. Hailed as one of the best eyeliners for sensitive eyes, this one helps define and accentuate your eyes with its intensely pigmented shade. Plus, it includes a precise brush-tip applicator that enables you to create crisp lines every time. It also conditions and nourishes your lashes. This eyeliner is long-lasting and water-resistant.
Pros
24-hour wear
Water-resistant and smudge-proof
Accentuates your eyes
The serum enhances the appearance of lashes
Hypoallergenic
Suitable for sensitive skin and eyes
Includes ultra-precise brush-tip applicator
Cons
The eyeliner may be a bit dry.
Price at the time of publication: $8.98
Urban Decay is popularly known for its highly-pigmented and cruelty-free makeup line, and this eyeliner pencil is all that and more! It has a buttery texture and glides over your upper and lower eyelids smoothly to deliver a vibrant, luscious color that does not budge, come rain or tears. Once applied, it stays soft and creamy, giving you enough time to blend it to create a subtle eye shadow effect. Alternatively, you could use it to create a thin layer for a neutral eyeliner makeup look. This eyeliner pencil is infused with hydrating ingredients like vitamin E, cottonseed oil, and jojoba oil, which moisturize, condition, and soften your skin.
Pros
Long-lasting formula
Waterproof
Has a creamy, blendable texture
Enriched with skin-hydrating ingredients
Glides on smoothly
Intense color payoff
100% cruelty-free
Cons
It may not be suitable for sensitive eyes and contact lens wearers.
Price at the time of publication: $16.5
Looking for an eyeliner that is easy to use, provides smooth application, and lends a rich color payoff? Estee Lauder Double Wear Stay-In-Place Eye Pencil is the one for you. It is a water-resistant and non-smudging formula that manages to stay put all day. It glides on smoothly without causing friction on thin, delicate skin. While this eye pencil lends a clean and well-defined line, it can also create a smudged look; thanks to the built-in smudger on the other end of the pencil. This double-wear formula sets in seconds and lasts for 24 hours straight.
Pros
Double-ended pencil
Long-wearing for 24 hours
Dries quickly
Lightweight and creamy
Waterproof and smudge-proof
Fragrance-free
Ophthalmologist-tested
Cons
May be difficult to sharpen
Price at the time of publication: $41.9
The Neutrogena Nourishing Eyeliner is formulated with olive oil and rainforest shea butter. It glides smoothly on your eyelids without smudging or fading for long hours. The subtle light diffusers help make the whites of the eyes appear whiter. The dermatologist- and ophthalmologist-tested formula is gentle and safe for sensitive eyes and contact lens wearers. This eye pencil includes a built-in sharpener for precise makeup application and definition, and the contoured smudger helps achieve a soft, blended, smoky eye look.
Pros
Anti-fading
Anti-smudging
Built-in sharpener
Dermatologically tested
Ophthalmologically tested
Cons
Price at the time of publication: $8.14
The Maybelline New York TattooStudio Waterproof Gel Eyeliner delivers smooth and intense color for a sharp look. The smudge-proof formula stays on for more than 36 hours. This pencil eyeliner offers highly pigmented color for precise definition. It is free of allergens and safe for all skin types.
Pros
Gluten-free
Coconut-free
Paraben-free
Preservative-free
Nickel-free
Long-lasting
Allergen-free
Safe for all skin types
Cons
None
Price at the time of publication: $7.98
Draw precise lines like makeup artists with the RevitaLash Cosmetics Defining Liner. It is a silky, creamy formula that gently glides over your upper eyelids without scratching, dragging and skipping your skin. Referred to as satin glide eyeliner, it lives up to its name. With its richly pigmented shade and stay-true color, you can expect an excellent payoff. This eyeliner formula provides long-lasting and smudge-proof wear. What's more? It also includes a built-in sharpener and smudge tool that enables you to create any eyeliner makeup look.
Pros
Moisture-locking formula
Creamy texture
Dermatologist and ophthalmologist-tested
Hypoallergenic
Chemical and fragrance-free
Cruelty-free
Safe for sensitive eyes and contact lens wearers
Cons
The pencil may be too soft and fragile
Price at the time of publication: $28.0
Here are a few points to consider while buying an eyeliner for mature eyes.
The Ultimate Guide To Choose The Best Eyeliners For Women Over 50 Years
How To Choose The Best Eyeliner For Older Women
Type: By now, you must have realized that there are different types of eyeliners such as powder, gel, crayon, liquid, and pencil eyeliners. Always look for something that is easy to use and provides a smooth application.
Formula: Eyeliners for older eyes are meant to be gentle, long-wearing, and smudge-proof. That said, not all eyeliners are suitable for everyone. There are a few factors to look out for when choosing an eyeliner based on the formula. For instance, if you have oily eyelids, you need a formula that stays on for long without running or smudging. And for those with sensitive eyes, look for something that does not irritate your eyes.  
Applicator: Women with fine lines and wrinkles should opt for an eyeliner that comes with felt or precision-tip applicator. Felt-tip eyeliners have thin, soft points that help you create defined lines. Some eyeliners also feature a smudge tool to create a dramatic effect.
How To Use Eyeliner For Women Over 50
The Best Eyeliner Tips For Older Women
Before applying eyeliner, you need to ensure that your eyes are clean.
For a long-lasting application, you could prime your eyelids with a concealer.
Liquid eyeliners with felt-tip applicators are considered to be one of the best options as they glide smoothly over crepey eyelids.
If you have droopy eyelids, a genius eyeliner hack would be to use white eyeliners that can give you brighter-looking and wide-awake eyes.
Why Trust Stylecraze
Chaitra Krishnan is our in-house makeup enthusiast and enjoys writing about makeup products to cater to women of each age group. She shared the best eyeliners for older women in this post. Chaitra has curated this list of eyeliners that smoothly glide on the eyes are smudge-free and gentle on the eyes. In addition, she has scoured user feedback on multiple websites before handpicking these eyeliners.
Frequently Asked Questions
Should you wear eyeliner if you are over 50?
Yes, definitely! As long as you choose an eyeliner that best suits you and you apply it the right way, age should not matter.
What color eyeliner should an older woman wear?
Older women can wear any color they want. While black and brown are generally considered the safest options, dark eyeliner colors can sometimes make your dark circles prominent. You can always opt for bright or light colors like white, metallic blue, or orange in such cases.
What age should you stop wearing eyeliner?
Women of any age can wear eyeliner. There is no age limit to apply eyeliner.
Recommended Articles:
Best Eyeliners For Sensitive Eyes
Best Eyeliners For The Cat-Eye Look
Best Eyeliners In The World
Best Eyeliners For The Perfect Wings
Best Eyeliners For Hooded Eyes