The 20 Best Eyeliner Brands Of 2022 – Our Top Picks
Defining and enhancing your gorgeous eyes has never been easier with the best brands.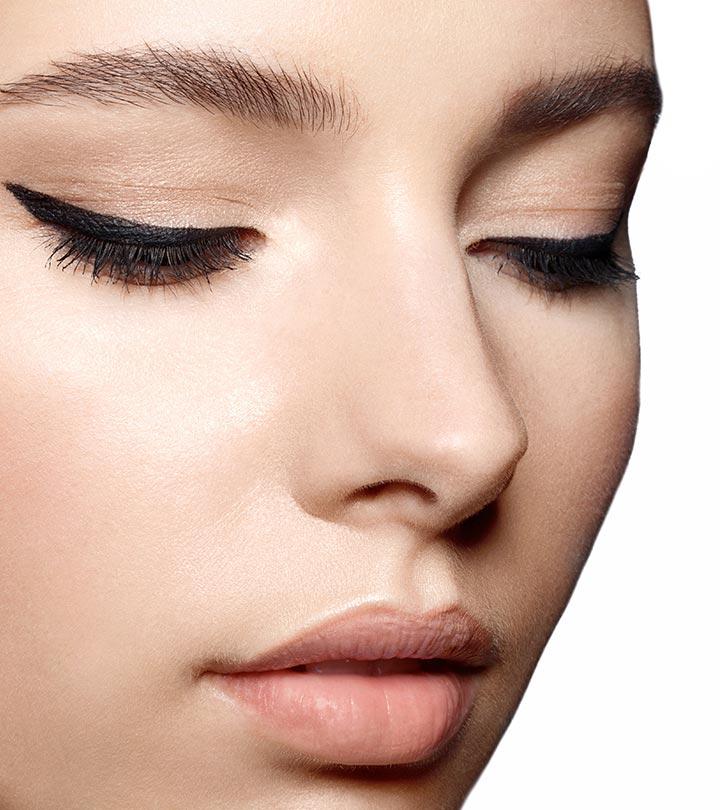 The best eyeliners are necessary to nail different eye looks. A classy winged look or a cat-eye is incomplete without the perfect eyeliner. It is probably one of the first eye makeup products in a girl's vanity. The cosmetic world is full of eyeliner brands catering to different user needs. Eyeliners come in different colors and finishes. To help you wade through the flood of eyeliners available on the market, we have compiled a list of some of the bests that are tried and tested by professionals. Scroll down to check them out now!
Types of Eyeliners
Depending on your requirement and preference, there are various kinds of eyeliners that you can choose from. They are broadly categorized into three major types—Pencil eyeliners, liquid eyeliners, and gel eyeliners.
Pencil Eyeliners — These are the traditional form. As the name suggests, it comes in a pencil form or a twist up style. These are ideal for lining the water line and lash line. It can also be smoked out.
Liquid Eyeliners — The most popular use for liquid liners are for lining the upper lid near the lash line, and to create a wing or a flick in the outer corner. Most of the products either come in a bottle with a fine brush or a felt tip applicator. Either way, they're made ideally to achieve that sharp winged look.
Gel Eyeliners — These are the darkest types of eyeliners, and they come in either a pot, a pencil form, or a twist up form. The gel eyeliners are your best bet if you don't want your eyeliner to smudge.
Best Eyeliners In The World
Now, without further ado, let's jump straight in with the list!
Top Pencil Eyeliners In The World
Following 7 are the best pencil eyeliners in the world.
It would be a total let down if we had a list of liners and didn't include this one in the list. Everyone that is slightly involved in the world of makeup would be a fool not to have heard of the ever-popular brand of Urban Decay. Much like always, they did not disappoint with this product. Know more about this product in this video.
Pros
Super smooth
Does not cause irritation to the eyes
The colors do not fade away
Transfer resistant
Creamy texture
Easy to blend
Urban Decay 24/7 Glide On Eye Pencil Review
Hardly anyone has anything bad to say about this eyeliner. It has become the holy grail of many. If they had to pick one eyeliner to use for the rest of their lives, they would pick this one, and I would have to say that I completely agree with them. This eyeliner glides on smoothly and stays put!
Available Shades
Perversion
Heartless
Zero
Electric
Bourbon
Stash
Yeyo
Rockstar
Underground
Oil Slick
Mildew
Whiskey
Corrupt
Asphyxia
Woodstock
Demolition
Junkie
Hustle
Psychedelic Sister
Mushroom
Smoke
Uzi
Smog
Roach
Desperation
Scorch
Goldmine
Loaded
Freak
Invasion
LSD
Deep End
Sabbath
Abyss
Chaos
Ether
Delinquent
Vice
Empire
Cuff
Mainline
No products found.
This product from Charlotte Tilbury is enriched with crushed pearl which will give you a super smooth finish. It glides on so smoothly that you will like you're using a liquid liner. The texture of the Rock 'N' Kohl Kajal is extremely soft and sooty which gives you the appearance of wearing Kohl. Learn more about this product in this video.
Pros
Blends effortlessly
Waterproof
Stays on for 14 hours
Creamy consistency that melts onto your skin during application
Free from parabens
Contains crushed pearl which is said to stimulate collagen production, providing hydration to the skin
Charlotte Tilbury Rock 'N' Kohl Liquid Eye Pencil Review
Yes, this product is quite pricey, but it's totally worth it if you're looking for something that you will want to stick with. This is a great product for those who are unwilling to compromise on the quality of the product. It's a great purchase and a total value for money!
Available Shades
Bedroom Black
Marlene Midnight
Barbarella Brown
Veruschka Mink
Elizabeth Violet
Eye Cheat
The YSL Couture Kajal Pencil is a highly creamy formula with a blendable texture that glides over smoothly to give you an intense look that lasts up to 12 hours. You can wear it however you want depending on your liking. It works extremely well thick or thin.
Pros
Highly pigmented
Smooth creamy texture
Stays on for 12 hours
A three-in-one product that can be used as an eyeliner, kohl, and a smoky eyeshadow
The unique shape keeps the point sharp so that you do not need to sharpen it
Cons
It may not give you a super thin fine line if that's what you're looking for.
YSL Couture Kajal Pencil Review
The users say that the YSL Couture Kajal Eye Pencil does everything that it promises to do. It's an extremely versatile product and can be used in multiple ways. If you want a dark base for eyeshadow, then this will work perfectly. Or if you want that intense kohl to look, this will do just that as well. It's the perfect go-to product. The fact that you do not need to sharpen it, is just icing on the cake!
Available Shades
Noir Ardent
Bleu Cobalt
Bleu Petrole
Vert Anglais
Rimmel London's Soft Kohl Kajal Eye Liner Pencil is both affordable and of good quality. The color of the product is super intense. It is available in five brilliant shades in order to suit the needs of everyone out there.
Pros
Easily blendable
Fade-resistant
Perfect for a smoked outlook
Smooth application
Cons
Rimmel London Soft Kohl Kajal Eye Liner Pencil Review
Users say that they apply this eyeliner once in the morning and it lasts all day. The only downside to it is that it does transfer if you have oily skin or in the heat. It does not irritate the eyes and delivers on that deep black shade. The other shades are just as good!
Available Shades
Jet Black
Jungle Green
Pure White
Sable Brown
Stormy Grey
The key point of this product would have to be that it claims to have the intensity of a liquid liner and the precision of a pencil. It also comes with an attached smudger which will give you the perfect smoky eyes.
Pros
Extra intense pigmentation
Precise application
Smudge-proof
Stays on for 16 hours
Cons
Difficult to sharpen
Must be sharpened after each use
Loreal Paris Extra Intense Liquid Pencil Eyeliner Review
A lot of the users say that this has officially become their go-to drugstore eyeliner. It is highly pigmented and glides on super smooth to give you a rich and intense look. Sharpening this eyeliner is a bit tricky, but with a good quality sharpener, it should be just fine!
Available Shades
Carbon Black
Black
Brown
Gray
This amazing eyeliner by Milani glides on smoothly ensuring a full day's worth. The color payoff is incredible, and the creamy texture makes it easy to blend. It also comes in a range of colors for those of you who want to experiment.
Pros
Can be blended easily
Smooth to apply
Sets quickly
Transfer resistant
Cons
Must be sharpened frequently due to its soft texture which causes wastage of product
Milani Stay Put Waterproof Eyeliner Pencil Review
What users love most about this product is how smoothly it goes on. They rave about its ability to stay put which is something that everyone looks for. As mentioned before, the one thing that they do not love is that it must be sharpened quite frequently which results in the wastage of the product. Apart from that, it's an excellent product!
Available Shades
Linked on Black
Stay with Slate
Hooked on Espresso
Fixed on Plum
Keep on Sapphire
This is a long-lasting waterproof eyeliner that is available in a wide selection of matte and shimmer shades. It comes with an attached sharpener so that you do not need to look elsewhere for it. Everything you need is in one stick!
Pros
It lasts longer
It's a waterproof eyeliner
There are a wide variety of metallic and matte shades to choose from
Comes with an attached sharpener
Ophthalmologist-tested
Perfectly safe for contact lens wearers
Cons
It can smudge if you have oily skin or if the weather is hot
Lorac Front of the Line Pro Eye Pencil Review
Overall, this is such a great product. The users that wear contact lens vouch for the fact that it's completely safe to use. They have never faced any problems with this eyeliner. The users also like that this product comes in a wide range of colors.
Available Shades
Black
Black Pearl
Bronze
Charcoal
Navy
Aqua
Dark Green
Plum
Violet
Dark Brown
Nude
White
Best Liquid Eyeliners In The World
The following 8 are the best liquid eyeliners in the world.
Achieve the perfect look with this innovative dual-ended eyeliner. It gives you a super intense black look that you've always wanted. You can make smooth and fluid strokes with the ultimate precision with the dual applicator. You can create a huge variety of looks from the classic cat-eye to a very natural doe eye.
Pros
It comes with one applicator on each side, one is thick and the other, extremely fine.
Easy to use
Intense black shade
Gives you the precision to create detailed looks
Cons
Tom Ford Eye Defining Pen Review
I'm not going to lie, yes, it is quite pricey. However, if you're one not to mind spending some money on a good quality product that delivers, then this one is for you. Some users even go as far to state that it's the best eyeliner that they've ever used. What they like most about the product is the two-tip option. On one side, you can find a super fine tip that is used for thin line application and on the other side, you will see a slightly thicker tip for thicker line application.
Available Shades
The Hourglass Voyeur Waterproof Liquid Liner is a long-lasting formula that is enriched with ultra-black pigments for a deep and dramatic application. The fact that the applicator tip is flexible means that you have full control so that you can glide the product onto your lash line in smooth, even strokes.
Pros
Waterproof
Smudge-proof
Precise applicator
Cons
Not suitable for those that have oily eyelids as it can transfer
Hourglass Voyeur Waterproof Liquid Liner Review
The users absolutely love the applicator of this product. They say that it is extremely easy to use and it stays on an entire day. Some of them even wear it during workouts, and it doesn't smudge even after that! Nothing less is expected from any product from Hourglass. This is a total winner!
Available Shades
The Sketch Marker Liquid Liner is an eyeliner that has been inspired by Japanese Calligraphy Pens. That's what makes them so great. You have the full freedom to twist and glide over for the ultimate application experience. The liquid mimics the ink of a calligrapher and will give you a vivid and waterproof finish.
Pros
Flexible tip
Wide color range
Waterproof formula that does not fade
The precision tip allows for smooth application
Cons
Transfers in the heat and on oily skin
Too Faced Sketch Marker Liquid Liner Review
This eyeliner is so easy to use! It's perfect for beginners and the pros. The applicator of this product lets the color out evenly without stopping so that you get the look you're going for in one fluid stroke. However, sometimes it may require a few strokes for a vivid look. Overall, it's a wonderful product.
Available Shades
Black
Charcoal Black
Deep Espresso
Smokey Emerald
Deep Navy
Steel Blue
Sky Blue
Deep Lilac
Candy Pink
Papaya Peach
Canary Yellow
The Stila Stay All Day Waterproof Liquid Eyeliner allows you to create the style of eyeliner that you desire. The ultra-fine tip can give you super precise thin lines, but also lets you build up the product to achieve an intense, thick cat eye.
Pros
Non-messy and easy to use
Waterproof
Lasts the entire day
Cons
Stila Stay All Day Waterproof Liquid Eyeliner Review
This eyeliner is super easy to use and dries quickly, so it doesn't stain anywhere else. Since it's waterproof, it stays intact throughout the day. However, it does slightly smudge in the heat. The best part about this eyeliner has to be the precise tip of the felt tip applicator. You can apply it as thin or thick as you want to!
Available Shades
Intense Black
Dark Brown
Alloy
Indigo
Midnight
Moss
Cobalt
Turquoise
Olive
Amber
Emerald
Paradise Pink
Teal
With the help of the Loreal Paris Super Slim Liquid Eyeliner, you can create precise and sleek eyeliner looks. The 0.4mm super fine tip is perfect if you're always striving for a sharp winged flick. The product is designed to give you the utmost control for precision in the application.
Pros
Lasts up to 12 hours
The super-fine tip of 0.4mm provides for a smooth and detailed application
Glides on smoothly without skipping
Quick-dry formula
Cons
Loreal Paris Super Slim Liquid Eyeliner Review
Users rave that this is the perfect eyeliner for both pros and amateurs. It's just that easy to use! If you're a beginner that wants to get the winged liner look, then this product is a must-try. It glides on so smoothly, and it's quite easy to work with. The only downside to it is that it tends to smudge in extreme heat. Putting that aside, it's a good deal for the money paid!
Available Shades
The Maybelline New York Eye Studio Master Precise Ink Pen Eyeliner will give you a precise application in just one stroke, thanks to the extremely fine tip. This product won a lot of awards, so rest assured that it is cherished by many!
Pros
Waterproof
Ophthalmologist-tested
Suitable for contact lens wearers
Safe for sensitive eyes
Cons
Stops running smoothly as the product starts to get over
Maybelline New York Eye Studio Master Precise Ink Pen Eyeliner Review
The users are so glad that they've decided to pick it up. It lasts them the whole day and doesn't smudge. They also love the applicator tip. It's perfect for someone who is just starting out. Although it stays on all day, it is quite easy to remove with a makeup remover and does not cause any irritation.
Available Shades
This highly pigmented, color-rich eyeliner from Kat Von D is perfect for the ones who have their eyes set out on that perfect eyeliner that will stand strong on the eyes even after a hard day's work. The search is over! The tip of this eyeliner will give you full control of a defined line.
Pros
Waterproof
Transfer resistant
The brush tip is comprised of 325 flexible bristles to achieve maximum saturation of the product.
Glides on smoothly
Vegan
Cruelty-free
Cons
It is not intense enough if you're looking for something extremely dark
Kat Von D Tattoo Liner Review
If you're on the lookout for the go-to eyeliner, then this is worth giving a shot. The tip is not only extremely fine but also flexible so that you can bend it to whatever angle you need to while creating the perfect flick. The only downside is that it may not be dark enough, but if you add another layer, it's super dark.
Available Shades
With the Lancome Grandiose Liquid Liner, you can achieve all the different kinds of looks. The 35-degree angle of the eyeliner makes it comfortable to hold and apply in one smooth stroke. The formula is super pigmented and dries in a beautiful matte finish.
Pros
Bendable wand
Superfine tip
Highly pigmented
Dries quickly
Smudge-proof
Cons
Lancome Grandiose Liquid Eyeliner Review
The best thing about this eyeliner is the angle at which the applicator is in. With this, it's quite easy to get the desired look within no time. Users love the thin tip of this product. They claim that because of the 35-degree angle of the eyeliner, their flicks and wings have never been sharper.
Available Shades
Jet Black
Chocolate Brown
Sapphire Blue
Fuschia
Violet
Silver Snow
Vert
Bois de Rose
Cerulean
Best Gel Eyeliners In The World
The following 5 are the most popular gel eyeliners in the world.
When it's something by Bobbi Brown, you know that it's got to be good! It glides onto the skin without any tugging or breaking the flow. The Longwear Gel Liner by Bobbi Brown delivers both subtle and dramatic looks according to your choice which is extremely easy to apply and will stay on all day.
Pros
Highly pigmented
Long-wearing
Easy to apply
Will not smudge or fade
Bobbi Brown Longwear Gel Liner Review
Users say that they literally cannot live without this eyeliner. It stays on all day without budging an inch! They say that it stays put even in hot and humid weather and doesn't even fade. Once it gets dry, it stays on through thick and thin. That being said, it is fairly easy to take it off with some makeup remover.
Available Shades
Black Ink
Black Mauve Shimmer
Caviar Ink
Chocolate Shimmer
Cobalt Ink
Denim Ink
Espresso Ink
Granite Ink
Graphite Ink
Ivy Shimmer Ink
Sapphire Shimmer Ink
Sepia Ink
Steel Ink
Violet Ink
This pen eyeliner has a waterproof formula that stays all day without smudging or smearing. It is formulated with castor oil that promotes eyelash growth. The fine tip draws precise lines or even a bold stroke like you desire. It glides swiftly without any tugging or pulling.
Pros
Longwearing
Promotes eyelash growth
Fine pen tip
Glides easily
Waterproof
Petra Organics Liquid Eyeliner Review
The fact that it's a gel eyeliner and doesn't require a brush makes many happy. It is quite tricky to use at first, but a cat-eye never looked easier once you follow the exact instructions! The enriching formula with biotin, ginseng, and castor oil, strengthens eyelashes and stimulates eyelash growth, giving you the perfect looking lashes ever.
Available Shades
If you're someone who practically lives in their eyeliner, search no more! The Revlon Colorstay Crème Gel Eye Liner will last from dawn to dusk! Use the inbuilt brush or your own to swipe on easily in the morning, and it'll stand by you through work and an after-work drinks party. If that's not enough, why not take a dip in a pool and go for a swim? Even after all that, you'll find that the eyeliner remains!
Pros
Smudge-proof
Comes with an applicator
Intense color
Non-messy formula
Glides on smoothly
Cons
It may smear if you have greasy eyelids
Revlon Colorstay Crème Gel Eye Liner Review
This is one of the best gel eyeliners out there on a budget. If you're looking for something that lasts all day but don't want to invest too much on it, then this is the product you should go for. The plus side is, it lasts a long time. Users say that they use it every day for makeup and it runs for a good five months.
Available Shades
Black
Brown
Rio Blue
Plum
Charcoal
The Eye Studio Lasting Drama Gel Eyeliner by Maybelline is a long-lasting waterproof product that will help in achieving dramatic eye looks. The formula is oil-free and highly concentrated to give you a great color payoff. It glides on smoothly in an instant and will stand strong throughout all your adventures!
Pros
Oil-free
Allergy tested
Ophthalmologist-tested
Dermatologist tested
Waterproof
Cons
The brush that comes with it isn't that great
Maybelline New York Eye Studio Lasting Drama Gel Eyeliner Review
This eyeliner is a total win. Not only is it a great product, but it is also extremely affordable. It's a great deal for the amount paid. Users love the texture of the product. They say that it glides on so smoothly and it helps them create the most perfect flicks. Most of them agree that the brush that comes with the eyeliner isn't the best since it won't give you a sharp flick while creating a wing, but they're willing to let that go and use their own brush since the eyeliner itself is so good.
Available Shades
Blackest Black
Brown
Charcoal
Eggplant
Smashbox Always On Gel Eye Liner is a waterproof eyeliner that lasts all day literally. The formula stays blendable for a few seconds for you to create multiple looks with the pigmented, saturated color. The pencil-like liner is a win-win for you if you don't like carrying separate brushes to apply gel eyeliners.
Pros
Highly pigmented
Long-lasting
Waterproof
Cruelty-free
Can create multiple looks
Smashbox Always On Gel Eye Liner Review
This pigment-rich eyeliner is here to save your day with its long-lasting color. Moreover, the formula stays wet for some time, making it an easy choice for beginners. It is also smudge-proof and easy to use. The buildable formula allows you to create bold and dramatic looks or go with a regular day look.
Available Shades
Fishnet
Brewed
Moody
Shark
Nymph
*Subject to Availability
There you have it! The ultimate list of the best eyeliners out in the market. Since there are three categories of them, you can pick and decide on what you feel is the best option for you. Well, what are you waiting for? Go pick up eyeliner and experiment with the different kinds of looks that appeal to you!
Why Trust StyleCraze?
Baishali Bhattacharya, the author of this article, is certified in makeup artistry and is passionate about experimenting with different makeup products. She conducted thorough research and checked user feedback on trusted forums to curate this list of the best eyeliners in the world for her readers. These eyeliners are smudge-proof, waterproof, gentle on your eyes, and add a smooth finish to your look.
Recommended Articles