13 Best Eyeshadows For Blue Eyes For A Trendy Look In 2023
Let your eyes do the talking with these smooth, waterproof, and long-lasting colors.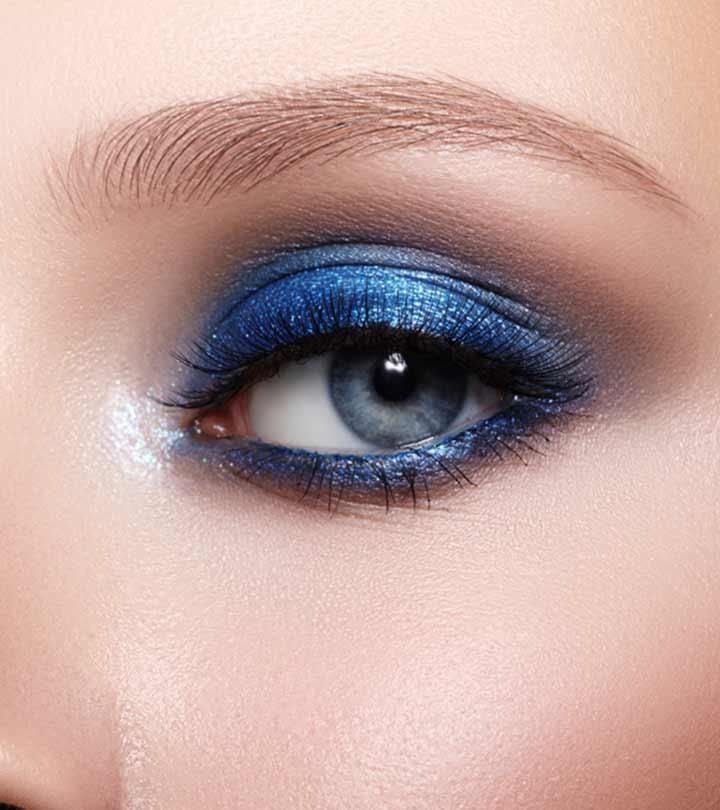 Blue eyes are magnificently beautiful, and when they are paired with flattering makeup, they look extraordinary. The best eyeshadow for blue eyes comes with the right pigment that offers a perfect look. You can pick the eyeshadow color from the color wheel to compliment your eyes. Warm tones like orange, copper, bronze will be flattering for your blue eyes. The matching cool tones like turquoise, blue, silver, and grey can also make your eyes appear stunning. The neutral tones, purples, and blues make your eyes more exciting. In addition, the blend of beige and brown can give the blue eyes a smoky look. An excellent eyeshadow makes your beautiful blue eyes striking and more appealing.
Choosing the right eyeshadow that suits blue eyes is tricky. Hence, we have carefully sifted a list of the 13 best eyeshadows for blue eyes. Keep scrolling to learn more!
13 Best Eyeshadows For Blue Eyes of 2023 Guide
Intensify your natural blue eyes with this gorgeous midnight blue. A convenient option for beginners, workaholics, and travelers, this dark blue eyeshadow stick is quick and easy-to-use. Delivering a rich cream-to-powder effect on the eyes that'll last long, the formula also contains vitamin C and E to nourish the skin at the same time. And to make the experience all the more fun for you, it comes with a built-in sponge smudger that helps with diffusing and blending the color. This means you can create a flattering look easily on the go with this convenient and portable stick!
Pros
Crease-proof and waterproof
Highly-pigmented with a high color payoff
Delivers a smooth finish in 30 seconds
No eyeshadow brush or applicator required
Cruelty-free product
Protects eyes from radical damage and improves texture
Cons
The smudger may not blend seamlessly.
The eyeshadow crayon is fragile and may break.
Price at the time of publication: $11.75
For everyday or office wear, you can trust neutrals always! They boost and define your natural blue eyes effortlessly, and if you pair it with a bold lip color, you'll have a flaunt-worthy look to go within minutes. The City Mini Palette by Maybelline New York with multiple neutrals for the day and a maroon-brown for the night will complement your eye color beautifully. More like a glam drugstore palette for daily use, this shimmer plus creamy formula is a must-try if you like to keep your eye makeup minimal yet chic. Here's a review video to help you get a better understanding of the product.
Pros
6-in-1 shimmer and matte eyeshadows
Delivers a smooth finish
Highly-pigmented and glides on effortlessly
Portable and travel-friendly
Easy-to-blend with a high color payoff
Cons
Price at the time of publication: $7.16
Is green eyeshadow with blue eyes too bold for you? But what if we tell you these hues are great to create a beach or mermaid look? Believe it or not, these cool-toned green shades will give your eyes a stunning oceanic touch. With soft mattes, sparkly shimmers, and gorgeous glitter, giving you the freedom to create new trends, you don't have to be an expert to try out these shades. Easy-to-apply and lightweight, this palette comes with a large mirror inside, making it travel-friendly and a must-try for festival revelers.
Pros
Made of premium-quality ingredients
Suitable for all skin types
Cruelty-free product
Super-saturated and highly-pigmented
Delivers high color payoff and long-lasting
Ideal for creating intense, smokey, and 3-dimensional looks.
Cons
Some shades may not be easy-to-blend
There may be fallouts.
Price at the time of publication: $9.99
Flaunt your flawless blue with flattering neutrals by Covergirl! If you haven't discovered the wonders of neutrals yet, then you might want to start with this palette. With a great combination of matte, shimmer, and glitter for you, they can be used alone or mix-matched to create a new look. This is the best eyeshadow palette for blue eyes with no less than 8 super-pigmented hues for you to try out in this palette, gear up to explore like a beauty expert and create endless looks for all your OOTDs! Need more information? Watch this video to make an informed decision about the product.
Pros
Intense and highly-pigmented eyeshadow colors for blue eyes
Easy to use and blend
Delivers a smooth finish
Ideal for creating day and night looks
Dual-sided sponge eyeshadow applicator included
Cons
Price at the time of publication: $8.98
This blue galore by De'lanci is pure indulgence. If you are looking for shades to enhance your natural blue eyes, then this palette is ideal for you. With intense, soft to light shades that'll make your eyes pop instantly, get ready to fall in love with them all over again. The palette has 6 mattes, 3 glitters, and 4 shimmers that you can mix-match or wear alone, they guarantee a stunning result either way. Plus, the unique and soft powdery formula feels velvety smooth on the eyelids, thus making the whole experience luxurious while and after applying.
Pros
15-in-1 premium blue eyeshadow makeup
Delivers high color payoff in one swipe
Long-lasting shades with strong adhesion
Blends evenly and effortlessly
Ideal for creating subtle, dramatic, and Halloween makeup
Recommended for beginners and experts
Lightweight, compact, and travel-friendly palette
Cons
Price at the time of publication: $9.99
Blue eyes and smokey eye makeup are like a match made in heaven. Don't believe us? Try Continuous Cocoa by Loreal Paris and watch all eyes follow yours after you walk in. Claiming to last for up to 24 hours, stay carefree and let your eyes make a lasting impression on you. Intense and delivering maximum color payoff, it is easy-to-apply and lightweight too. These best eyeshadow colors for blue eyes are Ideal for creating dramatic and evening looks, complement your OOTDs with this gorgeous cocoa and, get ready to turn heads wherever you go.
Pros
Cream and powdery texture
A luxurious formula that enhances the eyes
Strong adhesion and high color payoff
Fade-resistant, waterproof, and crease-resistant
Cons
Price at the time of publication: $14.99
Doll up your eyes in this pink-champagne eyeshadow for a subtle and feminine look. Pretty and warm yet chic enough to make your eyes pop with all your summer OOTDs, this daytime eyeshadow for blue eyes can double up as an eyeliner too. Delivering an ultra-smooth finish (all thanks to its gel formula), it glides on effortlessly on the eyelids. And while the shimmer adds an oomph factor, the vitamin E in the eyeshadow hydrates and nourishes the delicate eye areas! A perfect combo of "pamper and pretty" for your eye color, give this e.l.fing good eyeshadow a try.
Pros:
Brightens and enhances blue eyes
Rich consistency and strong stay power
Vegan and cruelty-free product
It can be used alone or with other shades
Ideal for creating natural eyeshadow looks for blue eyes
Cons
Expensive
It may not be easy to blend.
Price at the time of publication: $9.99
Not quite perfect with your blending game yet? Here's a palette for beginners that even a professional makeup artist can use! Watch your eyes go from blah to beautiful in one clean sweep. With no need to blend, these coordinated colors are designed by experts to enhance blue eyes effortlessly. Easy-to-use, portable, and also ideal for workaholics and travelers, this palette by Loreal Paris is playful for blue eyes and you too.
Pros
Delivers a smooth finish in one sweep
Compact and travel-friendly
Includes blending and sponge applicator
Ideal for creating smokey eye looks or daily wear
Cons
Price at the time of publication: $28.99
Here's a light blue eyeshadow that can be used as a primer! Apply it alone or use it as a base under other eyeshadows, this easy-to-use stick will intensify your blue eyes instantly. Plus, it glides effortlessly and feels ultra-luxurious on the eyelids too. And as for the color payoff — it's intense, long-lasting, and smudge-free. So, if powdery eyeshadow palettes are not your thing, this liquid blue eyeshadow stick can be your go-to for quick eye makeup sessions.
Pros
Delivers intense and high color payoff
Dries quickly and easy-to-use
Fade-proof, flake-proof, and lightweight
Ideal for daily wear
The sponge applicator top delivers a smooth finish.
Cons
It may crease after a few hours.
Price at the time of publication: $14.99
Make your eyes appear attractive and elegant with the L'Oréal Paris Infallible Paints Eye Shadow. It comes in a double-ended tube with matte formula on one side and shimmery formula on another side. The eyeshadow has a smooth, creamy texture that blends conveniently, ensuring easy application. In addition, it offers full coverage and stays up to 10 long hours. This eyeshadow is suitable for every skin tone, and they are also available in different shades.
Pros
Creamy texture
Smooth application
All-day wear
Cons
Price at the time of publication: $4.37
Blue all the way! There's no better color than blue itself to bring out the extraordinary blue tones. Hence, this palette with 18-in-1 shades and a mirror will make all the on-the-go makeup experiences easier for you. But what really makes this palette stand out is the pigment — it is intense and the color payoff is no joke. And given it is waterproof, these shades are ideal for creating a stunning makeup look for beach days too. Getting you picture-ready for all the fun-filled selfies, go blue with this wonderful palette by YMH Beaute.
Pros
Rich and velvety cream texture
Easy to blend and build on the eyes
Suitable for all skin tones
Includes mattes, shimmers, and metallics
Vegan and cruelty-free product
Ideal for professional use and daily wear.
Cons
It may fade after a few hours.
Price at the time of publication: $12.99
Are you skipping eye makeup due to sensitive eyes or skin? We have a great option for you! This eyeshadow crayon is so delicate that without disturbing your eye areas, it delivers a flawless sweep over your eyelids. With a creamy texture that glides on smoothly, the colors are striking enough to make your natural blue stand out too. Also, no more retouches after those intense workout sessions or rain, for these portable sticks are absolutely waterproof, thus making them ideal for beach getaways too.
Pros
3-in-1 colored shadow crayon set
Make eyes pop instantly
Blends easily on the eyes
Cruelty-free product
Dermatologist- and ophthalmologist-tested
Smudge-proof, fallout-proof, and travel-friendly
Cons
The crayon may dry out.
It may not be easy to blend.
Price at the time of publication: $12.99
Shades of purple are the true MVPs for blue-eyed beauties! Whether you want to try royal violets or go with this chic and trendy orchid hue by Laura Mercier, purple will never disappoint. And as far as this stick is concerned, get ready to be wowed by its flawless finishing! Not only will the color enhance your blue iris, but the shade will define your eyes, thus making them appear bigger and bolder. And to top it all, it has a long-lasting stay power so you can flutter those pretty eyes confidently all day!
Pros
Rich pigment and creamy texture
Longwear up to 12 hours
Glides on smoothly over the eyelid
Ideal for day and night looks
Builds easily, crease-proof, and transfer-resistant
Recommended for lash line, highlighting, and smoky eyes
Cons
Price at the time of publication: $28.39
There you go! Those are the 13 best eyeshadows of 2023 for blue eyes. Are you wondering how to pick the best eyeshadow for blue eyes? Read our buying guide below!
Buying Guide – Best Eyeshadow For Blue Eyes
How To Pick Eyeshadow Color For Blue Eyes?
Once you've decided the color, here are some features you must look out for:
Pigment: Pick an eyeshadow with rich and creamy pigment, so the color stands out on the eyes. Though lighter shades are ideal for blue eyes, they should deliver a high color payoff, or else, it's a lost cause.
Stay Power: The more the eyeshadow lasts, the better, and it reduces the need for touch ups, especially if you have a packed schedule all day. Hence, go for an eyeshadow that is waterproof, fade-proof, and long-lasting for best results.
Bendability: All shades, no matter how premium they are, require power blending. However, that doesn't mean you spend most of your time doing that! Choose an eyeshadow that is easy to blend and build to save time and effort.
Portable: Having a portable and travel-friendly palette always helps! Especially if you have last-minute trips, you'll know at least your eyeshadow can make it to the travel kit.
How To Apply Eyeshadow For Blue Eyes?
Are you a beginner? If yes, follow this basic routine by applying eyeshadow to get the desired result:
Use a color corrector to prime the eyelid.
First, apply a neutral base that'll make your eyeshadow pop
Next, use a clean applicator to apply the eyeshadow gently. Make sure to use lighter tones on the inner half and dark on the outer.
Blend until you get a seamless and desired result.
How To Blend Eyeshadow?
Blending is integral to make the shades pop on your eyes. Here are some tips for you:
Pick an eyeshadow of your choice
Apply the lighter shade on the inner half and darker on the outer half of the eyelid
Now with a clean brush start blending inwards in circular motions
Continue until you get the desired results.
Why Trust StyleCraze?
Chaitra Krishnan is a makeup enthusiast who loves trying out various makeup looks that can be incorporated into your daily life. She understands that finding the right eyeshadow for blue eyes may be difficult. She has carefully gone through various user reviews online and curated this list of eyeshadows suitable for blue eyes. This list consists of beige, purple, and silver colors that bring out the color in your eyes to glam up your look.
Frequently Asked Questions
How can I enhance my blue eyes?
To make your blue eyes pop, try a suitable eyeshadow! With purple, neutrals, and blues being the best option to accentuate the depth and natural color, they also bring out the hidden streaks of green if any. So, if you are wondering how to enhance your blue eyes, we'd say pick the best eyeshadow.
How do you make blue eyes look bluer?
Use shades of blue to make blue eyes look bluer. You can also use purple or neutral eyeshadow colors to enhance and make your natural blue eyes stand out.
Is purple eyeshadow good for blue eyes?
Yes, purple eyeshadow is an excellent option for blue eyes. They not only enhance your eye color but look royal and chic too. However, blending is essential to make the color pop on your eyes.
Is grey eyeshadow good for blue eyes?
Ideally, one should avoid grey eyeshadow and opt for warmer and similar colors that'll make blue eyes appear more prominent instead.
Is green eyeshadow good for blue eyes?
Though green eyeshadow is deemed tricky for blue eyes, soft greens, or bluish-green shades can deliver a gorgeous mermaid effect. So, if you are an expert at blending, green can be a great option for you.
what color eyeshadow for blue eyes is the best?
Though it depends on the color you are looking for, Almay Intense I-Color Liquid Shadow is an ideal option for mature eyes as the pigmentation is suitable, it doubles up as a primer, and is crease-resistant too.
What is the best eyeshadow for blue eyes and blonde hair?
It depends on whether you have a warm or cool skin tone. However, browns, copper, bronze, and pinks are deemed perfect for those with blue eyes and blonde hair.
Recommended Articles