13 Best Eyeshadows For Blue Eyes For A Trendy Look In 2023
Let your eyes do the talking with these smooth, waterproof, and long-lasting colors.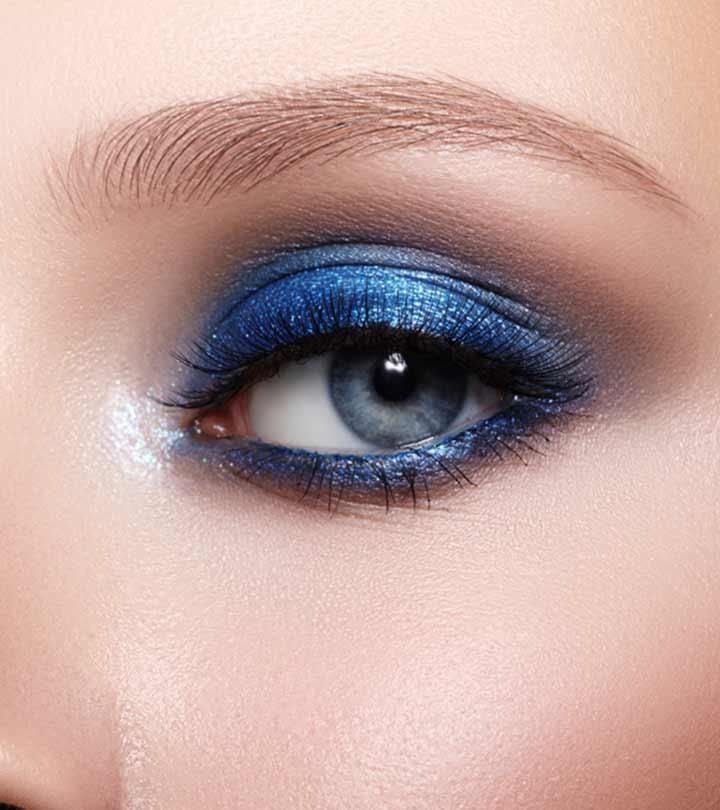 Blue eyes are magnificently beautiful, and when they are paired with flattering makeup, they look extraordinary. The best eyeshadow for blue eyes comes with the right pigment that offers a perfect look. You can pick the eyeshadow color from the color wheel to compliment your eyes. Warm tones like orange, copper, bronze will be flattering for your blue eyes. Deepti Sadhwani, a professional makeup artist, says, "You will find the best eyeshadow colors for your eyes using the color wheel. Choose the color that is directly opposite to yours on the color wheel. Golds and coppers are the best and will be flattering for your blue eyes." The matching cool tones like turquoise, blue, silver, and gray can also make your eyes appear stunning. The neutral tones, purples, and blues make your eyes more exciting. In addition, the blend of beige and brown can give the blue eyes a smoky look. An excellent eyeshadow makes your beautiful blue eyes striking and more appealing.
Choosing the right eyeshadow that suits blue eyes is tricky. Hence, we have carefully sifted a list of the 13 best eyeshadows for blue eyes. Keep scrolling to learn more!
13 Best Eyeshadows For Blue Eyes of 2023 Guide
Pros
Crease-proof and waterproof
Highly-pigmented with a high color payoff
Delivers a smooth finish in 30 seconds
No eyeshadow brush or applicator required
Cruelty-free product
Protects eyes from radical damage and improves texture
Cons
The smudger may not blend seamlessly.
The eyeshadow crayon is fragile and may break.
Price at the time of publication: $11.75
Pros
6-in-1 shimmer and matte eyeshadows
Delivers a smooth finish
Highly-pigmented and glides on effortlessly
Portable and travel-friendly
Easy-to-blend with a high color payoff
Cons
Price at the time of publication: $7.16
Is green eyeshadow with blue eyes too bold for you? But what if we tell you these hues are great to create a beach or mermaid look? Believe it or not, these cool-toned green shades will give your eyes a stunning oceanic touch. With soft mattes, sparkly shimmers, and gorgeous glitter, giving you the freedom to create new trends, you don't have to be an expert to try out these shades. Easy-to-apply and lightweight, this palette comes with a large mirror inside, making it travel-friendly and a must-try for festival revelers.
Pros
Made of premium-quality ingredients
Suitable for all skin types
Cruelty-free product
Super-saturated and highly-pigmented
Delivers high color payoff and long-lasting
Ideal for creating intense, smokey, and 3-dimensional looks.
Cons
Some shades may not be easy-to-blend
There may be fallouts.
Price at the time of publication: $9.99
Pros
Intense and highly-pigmented eyeshadow colors for blue eyes
Easy to use and blend
Delivers a smooth finish
Ideal for creating day and night looks
Dual-sided sponge eyeshadow applicator included
Cons
Price at the time of publication: $8.98
Pros
15-in-1 premium blue eyeshadow makeup
Delivers high color payoff in one swipe
Long-lasting shades with strong adhesion
Blends evenly and effortlessly
Ideal for creating subtle, dramatic, and Halloween makeup
Recommended for beginners and experts
Lightweight, compact, and travel-friendly palette
Cons
Price at the time of publication: $9.99
Pros
Cream and powdery texture
A luxurious formula that enhances the eyes
Strong adhesion and high color payoff
Fade-resistant, waterproof, and crease-resistant
Cons
Price at the time of publication: $14.99
Pros
Creamy soft finish
Long-lasting
Smooth application
Blendable
Easy to use
Cons
Price at the time of publication: $2.49
Pros
Gluten-free
Sulfate-free
Cruelty-free
Long-lasting
Blends easily
Buildable shades
Travel-friendly
Cons
Price at the time of publication: $32
Pros
Smudge-proof
Crease-proof
Blendable
Transfer-proof
Versatile
Settles quickly
Cons
Price at the time of publication: $25
Pros
Creamy texture
Smooth application
All-day wear
Cons
Price at the time of publication: $4.37
Blue all the way! There's no better color than blue itself to bring out the extraordinary blue tones. Hence, this palette with 18-in-1 shades and a mirror will make all the on-the-go makeup experiences easier for you. But what really makes this palette stand out is the pigment — it is intense and the color payoff is no joke. And given it is waterproof, these shades are ideal for creating a stunning makeup look for beach days too. Getting you picture-ready for all the fun-filled selfies, go blue with this wonderful palette by YMH Beaute.
Pros
Rich and velvety cream texture
Easy to blend and build on the eyes
Suitable for all skin tones
Includes mattes, shimmers, and metallics
Vegan and cruelty-free product
Ideal for professional use and daily wear.
Cons
It may fade after a few hours.
Price at the time of publication: $12.99
Pros
Suitable for mature skin types
Gentle formula
Finely-milled pigments
Fade-proof
Gluten-free
Talc-free
Mineral oil-free
Fragrance-free
Vegan
Cruelty-free
Cons
Price at the time of publication: $32
Pros
Rich pigment and creamy texture
Longwear up to 12 hours
Glides on smoothly over the eyelid
Ideal for day and night looks
Builds easily, crease-proof, and transfer-resistant
Recommended for lash line, highlighting, and smoky eyes
Cons
Price at the time of publication: $28.39
There you go! Those are the 13 best eyeshadows of 2023 for blue eyes. Are you wondering how to pick the best eyeshadow for blue eyes? Read our buying guide below!
Buying Guide – Best Eyeshadow For Blue Eyes
Once you've decided the color, here are some features you must look out for:
Pigment: Pick an eyeshadow with rich and creamy pigment, so the color stands out on the eyes. Though lighter shades are ideal for blue eyes, they should deliver a high color payoff, or else, it's a lost cause.
Stay Power: The more the eyeshadow lasts, the better, and it reduces the need for touch ups, especially if you have a packed schedule all day. Hence, go for an eyeshadow that is waterproof, fade-proof, and long-lasting for best results.
Bendability: All shades, no matter how premium they are, require power blending. However, that doesn't mean you spend most of your time doing that! Choose an eyeshadow that is easy to blend and build to save time and effort.
Portable: Having a portable and travel-friendly palette always helps! Especially if you have last-minute trips, you'll know at least your eyeshadow can make it to the travel kit.
Are you a beginner? If yes, follow this basic routine by applying eyeshadow to get the desired result:
Use a color corrector to prime the eyelid.
First, apply a neutral base that'll make your eyeshadow pop
Next, use a clean applicator to apply the eyeshadow gently. Make sure to use lighter tones on the inner half and dark on the outer.
Blend until you get a seamless and desired result.
Blending is integral to make the shades pop on your eyes. Here are some tips for you:
Pick an eyeshadow of your choice
Apply the lighter shade on the inner half and darker on the outer half of the eyelid
Now with a clean brush start blending inwards in circular motions
Continue until you get the desired results.
Why Trust StyleCraze?
Srijita De is a makeup enthusiast who loves trying out various makeup looks that can be incorporated into your daily life. She understands that finding the right eyeshadow for blue eyes may be difficult. She has carefully gone through various user reviews online and curated this list of eyeshadows suitable for blue eyes. This list consists of beige, purple, and silver colors that bring out the color in your eyes to glam up your look.
Frequently Asked Questions
How can I enhance my blue eyes?
To make your blue eyes pop, try a suitable eyeshadow! With purple, neutrals, and blues being the best option to accentuate the depth and natural color, they also bring out the hidden streaks of green if any. So, if you are wondering how to enhance your blue eyes, we'd say pick the best eyeshadow.
How do you make blue eyes look bluer?
Use shades of blue to make blue eyes look bluer. You can also use purple or neutral eyeshadow colors to enhance and make your natural blue eyes stand out.
Is purple eyeshadow good for blue eyes?
Yes, purple eyeshadow is an excellent option for blue eyes. They not only enhance your eye color but look royal and chic too. However, blending is essential to make the color pop on your eyes.
Is grey eyeshadow good for blue eyes?
Ideally, one should avoid grey eyeshadow and opt for warmer and similar colors that'll make blue eyes appear more prominent instead.
Is green eyeshadow good for blue eyes?
Though green eyeshadow is deemed tricky for blue eyes, soft greens, or bluish-green shades can deliver a gorgeous mermaid effect. So, if you are an expert at blending, green can be a great option for you.
what color eyeshadow for blue eyes is the best?
Though it depends on the color you are looking for, Almay Intense I-Color Liquid Shadow is an ideal option for mature eyes as the pigmentation is suitable, it doubles up as a primer, and is crease-resistant too.
What is the best eyeshadow for blue eyes and blonde hair?
It depends on whether you have a warm or cool skin tone. However, browns, copper, bronze, and pinks are deemed perfect for those with blue eyes and blonde hair.