The 11 Best Eyeshadows For Hazel Eyes – Make Them Pop!
Give your unique eyes the perfect glimmer and shade with the right makeup.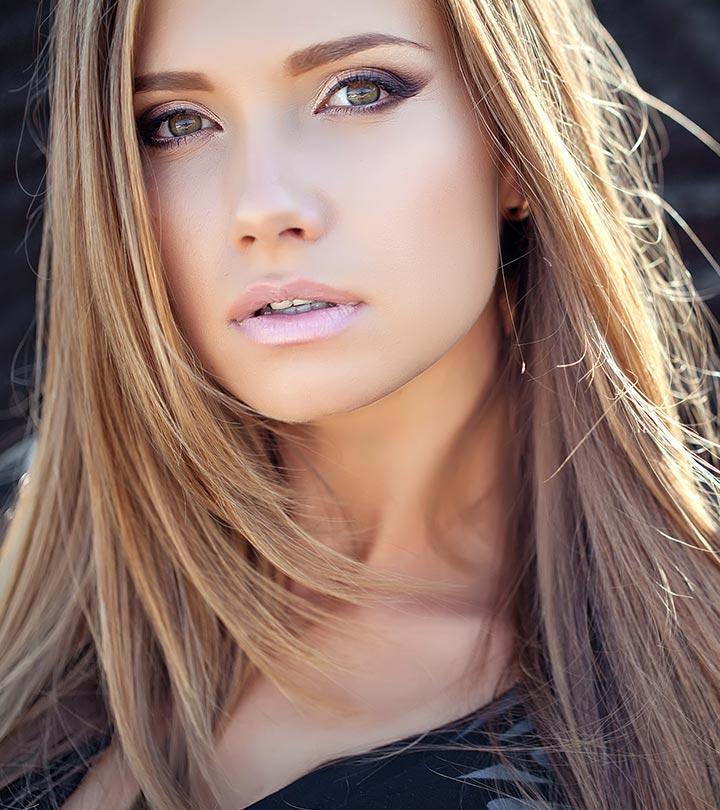 Hazel eyes become much more attractive when coupled with a combination of green and brown. And to make those golden and green hues highlight, we bring you the best eyeshadow for hazel eyes. While the classic purples, green, and goldens are your go-to, dark neutrals like brown can pick the dark tone in your eyes. Orange and lavender complement the green hues in your eyes. Pink and fuschia tones intensify the color making your eyes more beautiful. The dewy mattes are ideal for a day look, and glittery shimmers during the night will wow your eyes. The gorgeous shades of green and brown can make your eyes look bold.
Choosing the right eyeshadow is demanding, especially for hazel eyes. So, check out this list of the 11 best eyeshadows that make hazel eyes pop. The given buying guide can also assist you in choosing the right pick to match your beautiful eyes and skin tone. Keep scrolling through to read more!
Top Picks
11 Best Eyeshadows To Make Your Hazel Eyes Pop!
Pros
Velvety smooth and shimmery texture
Blends easily
Delivers high color payoff
Applicator wand included
Crease-proof, smudge-proof, and fade-proof
Cons
Not ideal, if you are looking for a matte finish
There may be fallouts.
Price at the time of publication: $7.19
Pros
Highly-pigmented and creamy texture
Long-lasting stay power
Intense glitter effect
Easy-to-blend and glides effortlessly
Waterproof, fade-proof, and crease-proof
Ideal for creating smokey looks for green, brown, and blue eyes
Cons
It may have a clumpy consistency.
It may transfer to the upper lid.
Price at the time of publication: $7.95
Pros
Smooth and highly-pigmented creamy formula
Melts on the eyelid and easy-to-use
Long-lasting stay power
Ensures high color payoff
It accentuates the depth and dimension of your eye color.
Cons
Shades may take time to build
There may be fallouts.
Price at the time of publication: $7.16
Pros
Lightweight liquid sparkling eyeshadow
Highly-pigmented and water-infused formula
Easy-to-use and portable
Minimal fallouts and dries quickly
Ideal for the night, party, and smoky eyes
Cons
Expensive
Not recommended for sensitive eyes.
Price at the time of publication: $22.54
Pros
Waterproof
Blendable
High quality ingredients
Various finishes
Travel-friendly
Crease-proof
Fade-proof
Cons
None
Price at the time of publication: $11.99
Pros
Luxuriously silky texture
Intense color payoff
Blends effortlessly on eyelids
Long-lasting and crease-resistant
It delivers a matte and a slightly shimmer finish.
Cons
Shimmer may transfer
The included applicator may not be easy to use.
Price at the time of publication: $4.66
Pros
Smooth texture
Easy to build and blend
Double-ended sponge applicator included
Easy-to-use and portable
Ideal for creating day or party looks
Cons
Light pigment
Shades may chip easily
Price at the time of publication: $8.95
Pros
Paraben-free
Mineral oil-free
Talc-free
Ophthalmologist-tested
Non-fading
Cons
None
Price at the time of publication: $26.99
Pros
Cruelty-free
Long lasting
Rich pigments
Intense color payoff
Budget-friendly
Cons
Colors may vary from the picture
Price at the time of publication: $5.27
Pros
Highly pigmented
Ophthalmologist-tested
Non-comedogenic
Safe for contact lens wearers
Blendable
Can be used wet or dry
Long-lasting
Compact
Travel-friendly
Cons
None
Price at the time of publication: $34
Pros
Suitable for all skin tones
Long-lasting
Easy to use
Blendable
Ideal for daily wear
Value for money
Cons
May irritate sensitive eyes
Price at the time of publication: $49.0
How do you get hazel eyes? Feeling spoilt for choices yet? Those are the 11 best eyeshadows of 2023 for you! If you can't decide how to pick good color eyeshadow for hazel eyes, read our buying guide below.
Buying Guide – Best Eyeshadow For Hazel Eyes
Before choosing the eyeshadow, you must figure out the dominant shade in your iris, or the hidden hue you want to enhance. Here's are some more tips for you:
Pigment: The eyeshadow pigment can either make or break the look. So, when choosing the perfect palette, ensure the shades are well-pigmented enough to enhance your eye color.
Shade:  Pick an eyeshadow that complements the dominant colors in your eyes to give the entire makeup a well-balanced look. A flattering eyeshadow for hazel eyes will not only make your eyes look bigger but make them stand out on their own too.
Hassle-free experience: Nobody likes touch-ups, fallouts, or worse, creases! Though minimal fallouts are normal while applying, too much will ultimately empty your palette faster than you want to. Hence, choose a palette that offers long-lasting effects and is crease-proof, fade-proof, and waterproof for the best experience.
Skin Compatibility: Many don't pay attention to their skin or eye sensitivity while choosing their eyeshadow even when a wrong palette can result in an allergic reaction or irritation. So, if you have sensitive skin or eyes, check if the palette is hypoallergenic or is ophthalmologist-tested. Also, it must suit your skin tone.
How To Apply Eyeshadow For Hazel Eyes?
Follow these simple steps:
Start with a primer to create a smooth and flawless surface for the eyeshadow
Apply a nude or neutral base if you want your eyeshadow to look vibrant
Next, sweep the application brush on the shade and dust off the extra to avoid fallouts
Now, gently sweep the color over your eyelids with the outward strokes
Add more pigment if required and continue blending until you get the desired coverage
With that, you've got the perfect eyeshadow look for hazel eyes!
Why Trust StyleCraze?
The author, Chaitra Krishnan, is a makeup aficionado and helps users choose the best products with her experience. For this article, she has reviewed multiple eyeshadows for hazel eyes besides scrolling through hundreds of web pages to analyze the reviews posted online. This list of best crease-proof and fade-proof eyeshadows has been created keeping in mind their high-color payoff qualities and their easy-blending ability.
Frequently Asked Questions
what color are hazel eyes? Do I Have Green Or Hazel Eyes?
They both are different, and here's how — Green eyes have a single and intense green color throughout, whereas hazel eyes are mostly multi-colored. Though light brown or shades of brown play a dominant role, hazel eyes might have tints of golden or green towards the outer circle.
Do Hazel Eyes Change Color?
Yes, there are many factors like the reflection of light, mood, emotions, or age that can make hazel eyes appear different at times.
How To Do A Smokey Eye For Hazel Eyes?
Use golden and bronze shades to create a warm to dark transition on your eyes. Start with a golden base and blend it well on your eyelids, followed by a bronze shade on the outer bed to create a shadowy look. The trick is to blend these shades together, so they do not look gaudy. Lastly, you can complete your smoky eye look with the perfect liner and mascara.
Is Green Eyeshadow Good For Hazel Eyes?
Yes, green eyeshadow is one of the most recommended eyeshadows since they complement and bring out the green tint in hazel eyes.
What colors make hazel eyes pop?
Colors like purple, lavender, a few shades of green, and some neutrals make hazel eyes pop.
What color eyeshadow brings out the gold in hazel eyes?
Purple color brings out the gold in hazel eyes.

Best Eyeshadow Palettes For Hazel Eyes
Best Makeup Products For Hazel Eyes
Best Green Eyeshadows To Make Your Eyes Pop!
Best Eyeshadows For Green Eyes