Flaunt Your Eyes With The 6 Best Eyeshadow Palettes For Hazel Eyes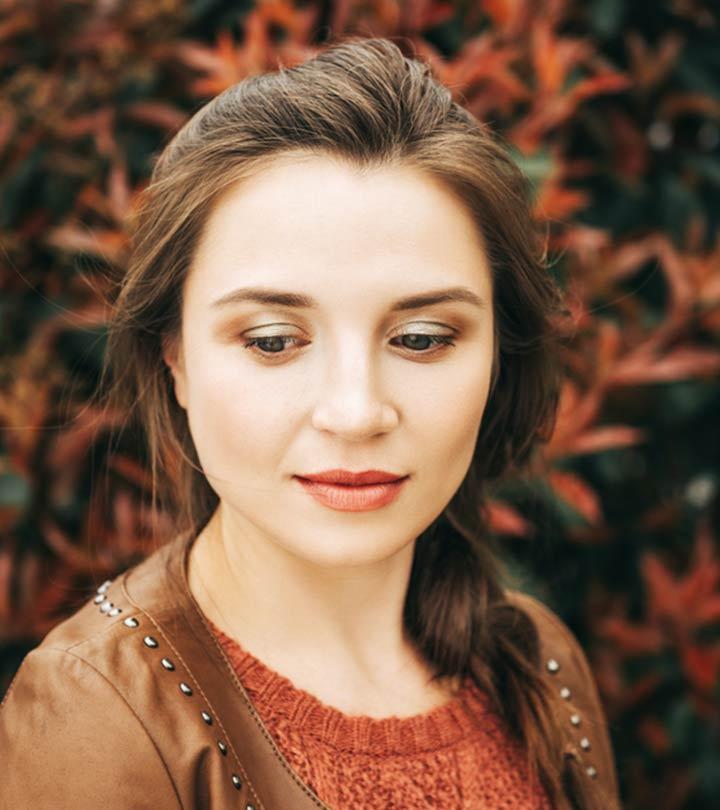 If you're one of the lucky ones who has been blessed with gorgeous hazel eyes, chances are you don't need much to enhance them. But that shouldn't stop you from playing around with vibrant eyeshadows to make the beauty of your eyes pop. Whether you're getting ready for a day of running errands or for a lazy or fun summer day with friends, just a tiny dusting of the right eyeshadow can instantly transform your look and enhance one of your most expressive features.
While most people will tell you to stick to neutral shades, we are here to tell you that there's a wide variety of colorful and bright eyeshadows that are designed just for your pretty hazel eyes. You can choose from various hues that either complement your eye color or enhance and call attention to your lids. As a rule of thumb, green eyeshadows create a contrast to your makeup looks while shimmering bronze and golds highlight it. Keep it simple with just a sweep of your favorite eyeshadow, or let your creative juices flow and turn heads with a captivating look. Whatever your style, there is a beautiful eyeshadow palette in the list below that is just waiting to become the latest must-have staple in your makeup bag. But don't take our word for it! Check our guide to the 6 best eyeshadow palettes for hazel eyes in 2021, and get ready to flaunt the sparkle in your eye.
6 Must-Grab Eyeshadow Palettes For Your Hazel Eyes In 2021
Transform your classy office look to a stunning night-out look effortlessly with this stylish eyeshadow palette for hazel eyes with the perfect mix of glossy and matte colors. Highly pigmented and amazingly blendable, this eyeshadow palette is a must-have for the minimalist young woman who likes a 1-stop beauty product to do all the work. And there's more, this palette comes with a convenient mirror and a double-sided applicator brush, making it the ideal handbag essential for touch-ups in the taxi between your office meeting and evening cocktails with your girlfriends.
PROS
Highly-pigmented, bold colors with dimensional shimmers
Easy to apply and blend
Crease-proof and smudge-resistant
Includes a convenient mirror and double-sided applicator
CONS
Some might find the texture of these eyeshadows a bit powdery.
If you're the kind of city girl who's calendar revolves around her various brunch dates, you've got to get your hands on this cute eyeshadow palette specially designed to make sure you look your absolute best over crepes and mimosas. The creamy, velvety texture, and the superb collection of 6 versatile colors, are ideal for creating looks ranging from cool and classy to dramatic and catty. Long-lasting and highly pigmented, these shades work to accentuate your gorgeous eyes, making this one of the best eyeshadow palettes for hazel eyes.
PROS
Easy to blend and richly-pigmented colors
Long-lasting, creamy formula
Suitable for all skin types
Designed for daily use
CONS
Some might find the consistency of these eyeshadows a bit soft.
Create a subtle, sophisticated look with this beautiful pocket-sized collection of matte and shimmery shades designed to enhance the beauty of your hazel eyes. These highly-pigmented colors blend smoothly for easy application and can be used to transform your look instantly with just a few brush strokes. Perfectly packaged to fit into your tiny clutch, this hazel color palette will become an instant favorite to make a bold statement when you're on the go.
PROS
Highly blendable shades
Intense color pay-off
Crease-proof formula
Lasts all day
Ideal for travel
CONS
Some might find the texture of these eyeshadows a bit powdery.
Give your beautiful hazel eyes the perfect pop with this impressive collection of metallic glitters and creamy, matte shades designed for the conscious consumer who loves high-quality makeup. This versatile eye palette for hazel eyes has a wide variety of richly pigmented shades ranging from cool neutrals, greens, and blues to light golds and deep yellows in various textures and finishes. Long-lasting and easy to blend, try this must-have palette to add to your makeup bag.
PROS
14 long-lasting, easy to blend colors
Includes darker and lighter shades
Minimal fall-out and creasing
Ideal for gifting
Applicator brush included
Vegan and cruelty-free
CONS
Some might find the texture of these eyeshadows a bit grainy.
Clean beauty never looked this good! One of the prettiest eyeshadow palettes you'll ever set your eyes on, this trio contains color-coordinated shades for your lid, crease, and brow-bone, taking all the guesswork out of applying eye makeup. The velvety-smooth texture makes these blendable shades easy to use, and the double-sided applicator brush makes it easy to create simple, classy looks on the go. So what are you waiting for? Get your hands on this cute eyeshadow palette, and get ready to flaunt your beautiful hazel eyes.
PROS
Suitable for sensitive eyes
Fragrance-free and hypoallergenic
Ophthalmologist-tested
Cruelty-free
CONS
Some might find that these eyeshadows tend to smudge a bit.
Handpicked by makeup artists, this coordinated hazel eye color palette blends effortlessly to create a natural eye makeup look without overshadowing. The silky, sheer texture allows these shades to glide easily, and the pearly finish helps bring your hazel eyes out beautifully. Mix and match these versatile colors to create looks that take you effortlessly from your early morning meeting to your high-powered lunch, all the way through your special date night, without requiring frequent touch-ups.
PROS
Silky, sheer formula
Easy to blend and apply
Ideal for travel
Cruelty-free
CONS
Some might find the texture of these eyeshadows a bit chalky.
Now that we've had a look at our pick of the 6 best eyeshadow palettes for hazel eyes in 2021, let us look at some things to consider when picking the best palette to enhance your gorgeous hazel eyes.
How To Choose The Best Eyeshadow Palette For Hazel Eyes
Color
Depending on the occasion and time of day that you're getting ready for, pick an eyeshadow palette that brings out the beauty of your eyes. While browns, golds, and greens are perfect for enhancing the richness of hazel, dreamy bronzes are ideal for conveying warmth, and purple shades provide a dazzling contrast to your eye color. Stick to neutral eyeshadow palettes that don't overpower your look for more professional settings, and get a bit more adventurous with colors when getting ready for a night out.
Variety and portability
Not all eyeshadow palettes are created equal when it comes to the sheer variety of shades, finishes, and textures they offer. While the minimalist young woman might prefer a palette with just 3 shades that take her seamlessly from a morning meeting to a late date night, the more creative amongst us would delight in a palette with an impressive collection of colors and finishes to choose from. If you like to carry your eyeshadow palette in your handbag for quick touch-ups throughout the day, pick a palette with a creamy texture that is less likely to crumble and disintegrate with travel. Also, it is always handy to choose an eyeshadow palette that comes with a little mirror and an applicator brush for your last-minute pick-me-ups.
Ingredient list
Nothing will tell you more about the quality of a beauty product than a quick look at the ingredient list. If your eyes are prone to dryness and irritation, pick an eyeshadow palette that is hypoallergenic and has nourishing ingredients like vitamin E to provide essential moisturization. Those with sensitive eyes and contact lens wearers should look for a product that dermatologists and ophthalmologists test for safety. As always, steer clear of beauty products with nasty ingredients like parabens, phthalates, and sulfates, as they are likely to cause more damage than good in the long run.
Give your best and most defining feature all the love they deserve with feel-good makeup products designed to make you feel beautiful and confident. Eyeshadow palettes that look more delicious than dessert are the first step to gorgeously made-up eyes that do all the talking. And you don't need expensive makeup classes or lengthy online tutorials to create a fabulous look! Eyeshadow palettes are designed to do all the hard work for you and come with gorgeous shades that complement each other to create the perfect multi-dimensional look. Let our pick of the 6 best eyeshadow palettes for hazel eyes in 2021 be your starting guide to eyes that are naturally radiant and confidently expressive.