The 15 Best Eyeshadow Palettes For Brown Eyes To Try In 2023
Experiment with these palettes and enhance and highlight your brown eyes.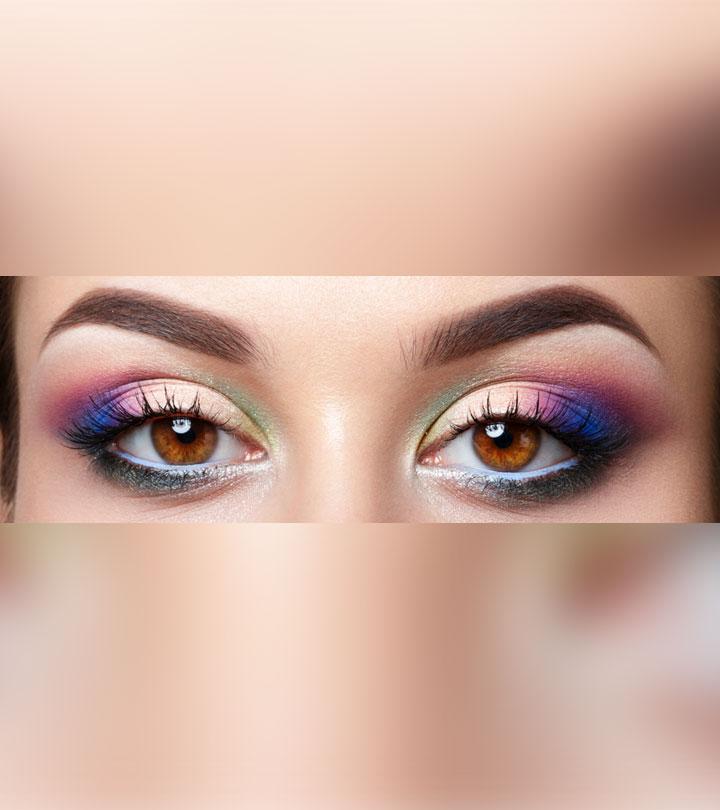 If you are scouring for the best eyeshadow palettes for brown eyes available on the market, then you are in the right place. In this article, we have made a list of the most amazing options that you must try. Most of us associate brown with boring. And since brown is among the most common eye color, we often do not give any thoughts on highlighting it. What is fascinating is, the color brown is a mix of the primary colors, and as such, a wide range of eyeshadow colors can complement your beautiful brown eyes.
So, if you have brown eyes, you can consider yourself blessed because you can experiment with many colors of your choice. From neutral and neon colors to dark and bright colors, you can try them all. So, if you feel inspired to experiment with different eyeshadow colors and get creative with your eye makeup, check out our list of the 15 most gorgeous eyeshadow palettes for brown eyes to make them pop. Scroll down.
15 Best Eyeshadow Palettes For Brown Eyes You Must Get Your Hands On
Don't we just love a product that is rich in pigment and glides smoothly? This palette is considered to be one of the best eyeshadow palettes for brown eyes as it isn't just highly-pigmented, but the pigments are ultra-micronized as well. The palette houses 16 ultra-creamy shades that are super easy to blend. From rose gold to shimmery plum, this palette is a one-stop solution to create any makeup look. It features not only shimmery shades but matte, satin, and metallic ones as well. The best part is that it can be applied wet or dry. Check this video to learn more about the product.
Pros
Waterproof
Highly-pigmented
Cruelty-free
Safe magnetic lid
Cons
Price at the time of publication: $12.95
Whether you are a beginner or a professional makeup artist, a nude eyeshadow palette like this one is a must-have product in your makeup collection. It comes with 12 perfectly-balanced nude shades that will help you create countless looks, suitable for a day out with your friends, or a party in the evening. Available in matte and shimmer finishes, this high-pigmented palette offers unmatchable bendability. An ideal palette not just for brown eyes but for every eye color, these shades are easy to apply and last all day. Take a look at this video to get more information on the product.
Pros
Richly pigmented
Blends well
Long-lasting
Compact casing
Cons
The applicator stick may not be up to the mark.
Price at the time of publication: $19.86
If you were wondering what makes for the best eyeshadow for brown eyes, all you need to do is pick up this palette and choose any shade from it. Featuring amazing shimmery shades in pink like Musk, Amber, and Blood Moon, this palette can elevate your eye makeup to new heights. If you want to stick to a more subdued look, you can always try out the matte shades like Amethyst, Royal, and Angelic. These shades are not just rich in color, but they are also of a velvety texture, making it a breeze to apply and blend. Both the matte and shimmer shades are ultra-pigmented and can help you create the most sultry smokey eye. This video offers a more detailed explanation of the product.
Pros
18 pigmented shades
Long-lasting
Waterproof
Smudge-proof
Cruelty-free
Cons
It may not be suitable for highly sensitive skin.
Price at the time of publication: $8.99
From mesmerizing golds to glittering silvers and matte taupes along with a striking black, this palette consists of the best eyeshadow colors for brown eyes. With this palette, you can be the center of attention wherever you go as it features a range of satin, metallic, shimmer, and matte shades. With this sensuous blend of colors, you can create a multitude of looks and never worry about it smudging. Each shade is easy to apply, blend and is buildable as well. Its super creamy velvet texture is ultra-pigmented and has a strong staying power. You can also use these shades on other parts of your face or to highlight body parts like your collar bones.
Pros
18 shades
Stays on throughout the day
Highly-pigmented
Suitable for all skin tones
Crease-proof
Cons
Price at the time of publication: $7.99
If you are looking for the best eyeshadow color for brown eyes, you can open this palette, and all the best colors will be revealed to you instantly. Ideal for day or night makeup, this palette comes with peachy pinks, electric plums, and subtle nudes to help you experiment with new looks every day. With 12 pigmented shades in matte and shimmer, this palette will make you believe that the world is your oyster. To make your eye makeup stand out, you can apply 2 different shades together. Apply the Grape Pop shade on your lids and the Blue Raspberry shade on your lower lash line.
Pros
Blends easily
It can be layered
Compact size
Easy to wipe off
Paraben-free
Affordable
Cons
As it contains talc, the scent may not appeal to some.
Price at the time of publication: $8.75
:
Considered to be the best Too Faced palette for brown eyes, this sleek beauty comes with chocolate-inspired shades. A delicious-looking eye palette for brown eyes, it is full of rich browns, elegant pinks, and sultry plums, this palette is not only chocolate-scented, but it is also formulated with 100% cocoa powder. With several transition shades, this palette can help you create many looks while making your brown eyes pop. You can add it to your everyday makeup pouch as it comes in a compact casing.
Pros
16 matte and shimmer shades
Blends well
Paraben-free
Sulfate-free
Phthalate-free
Cons
The shimmer shades tend to fall out.
Price at the time of publication: $99.98
This cute little gem is arguably the best eyeshadow palette for brown eyes and is especially useful for creating a smokey eye. If you are someone who prefers to limit their eye makeup to shades like brown, grey, and black, this palette will be the perfect fit for you. It features different variations of whites, greys, silvers, and blacks to help you create the most iconic smokey eye. The matte shades can act as a base, and the shimmery shades make the eyes look sensual and captivating. You would also be happy to note that each kit is handmade to ensure precision and quality. It is the best makeup palettes for brown eyes.
Pros
12 pigmented shimmer and matte shades
Portable packaging
Blends easily
Cruelty-free
Silky and buttery formula
Cons
Price at the time of publication: $13.95
A fitting example of the phrase, "good things come in small packages", this palette comes with 3 neutral eyeshadows for brown eyes. One might argue that with only 3 shades, it isn't possible to give life to a full-fledged look. Yet, you would be pleasantly surprised by this one. Yes, with this palette, a little bit indeed goes a long way in making your eyes look brighter and bolder. Follow this easy 3-step process to make your eyes shine. Start by applying the bottom-most shade over your eyelids. Follow it up with the center shade by applying it on your crease. Finish the look by dabbing some of the top-most shade on the brow bone to highlight it.
Pros
Affordable
Hypoallergenic
Cruelty-free
Fragrance-free
Dermatologist and ophthalmologist-tested
Suitable for sensitive skin
Cons
The applicator stick may not be well-designed.
It isn't well-pigmented.
Price at the time of publication: $4.67
A bonanza of intensely rich and gratifying colors, this palette features the best eyeshadow colors for brown eyes. Bold pink shades like Melba and Tart are perfect for a day out in the sun, while deeper plum shades like Trifle and Sorbet well help you set the tone for an evening look. Shades like Semifreddo and Crisp in brown are ideal for creating a smokey eye with minimal effort and product. These matte shades are light, non-greasy, and highly-pigmented. To create a signature color, you can also layer different shades together.
Pros
12 matte shades
Easy to blend
Non-oily
Long-lasting wear
Smooth texture
Cons
You may need to apply more than one layer of the lighter shades for it to pop.
What instantly draws a makeup enthusiast to this palette is the carefully thought out and well-crafted metallic case. The second thing that makes this palette stand out is the story behind its inspiration. This palette draws inspiration from the strong and ferocious Dahomey Amazons of Africa. This palette is home to rich and deep earthy colors in matte and shimmer finishes. Complete with 9 ultra-pigmented shades, it offers buildable coverage and can be applied wet or dry. It is crease-free and provides long-lasting wear.
Pros
Complements all skin tones
Buttery soft texture
Extremely pigmented
Buildable
Cruelty-free
Cons
As it contains talc, some may not enjoy the scent.
Price at the time of publication: $16.99
Designed to make all your photos #Instaworthy, this palette comes with 10 vibrant shades that will make you forget all about filters. Filled with nudes, greens, blues, plums, and golden tones, it is potentially the best neutral eyeshadow palette for brown eyes. The shades offer matte, shimmer, and satin finishes, so that you can create a host of different looks depending on your mood or the occasion. Ideal for all skin tones and all eye colors, this palette is an excellent addition to your makeup arsenal.
Pros
10 colorful shades
Multi-finish palette
Can be applied dry or wet
Cruelty-free
Cons
Some may feel that it doesn't blend well.
Price at the time of publication: $9.99
This palette hardly needs an introduction. You may have seen every other YouTuber raving about it in their makeup tutorial videos already. It comes with the best Urban Decay eyeshadow colors for brown eyes and features a range of the most satisfying plum shades and to-die-for pastel pinks. You can also make use of darker shades like Drunk Dial and Privacy to create a smokey eye and layer a hint of the Bang Bang shimmer pink to take it a step further. Complete with matte, iridescent, shimmer, and metallic shades, this naked palette for brown eyes is a beautiful dream come true.
Pros
12 eyeshadows
Buildable coverage
Paraben-free
Sulfate-free
Phthalate-free
Cons
Price at the time of publication: $59.99
This densely packed, multi-finish palette comes with matte and shimmer eyeshadows in different variations of pink, purple, and plum. It comes with buildable pigmentation and offers long-lasting wear. As it is smudge-proof, you need not worry about any fallout. A striking selection of 9 shades in a smooth velvety texture, you can also seamlessly blend different shades. For best results, use a matte shade as a base or primary shade, and apply a touch of the shimmer shades on the center of your eyelids using your ring finger.
Pros
Compact case with mirror
Can be layered
Buildable coverage
Lightweight
Sulfate-free
Cons
A single layer of the matte shades appear sheer.
Price at the time of publication: $44.99
There's something about this eyeshadow palette that instantly reminds one of opulence and elegance. Whether it is due to the charming and compact case or the assortment of subtle and tasteful shades, this palette stands a class apart. It comes with radiant neutral colors that make brown eyes pop and is an excellent choice for creating both day and night looks. Complete with 6 matte shades and 6 metallic shades, the shadows itself are highly pigmented. Depending on the look you are trying to achieve, you can use this palette either wet or dry.
Pros
12 neutral shades
Highly-pigmented
Buildable coverage
Flatters all skin tones
Long-lasting
Cons
Slightly expensive
Doesn't come with a pure black shade
Price at the time of publication: $49.0
Bring home the colors of nature with this colorful palette that is perfect for brown eyes. Drawing inspiration from tropical landscapes, this palette will help you build vibrant and tropical makeup looks. The palette comes with 10 shades in metallic, matte, and satin finishes. They are easy to layer up and also provide buildable coverage. Extremely pigmented and smudge-free, these shadows will last all day and are easily blendable to create a new shade.
Pros
Multi-finish palate
10 shades
Easy to blend
Cruelty-free
Compact case with mirror
Cons
Slightly expensive for the quantity.
Price at the time of publication: $15.91
Why Trust Stylecraze?
Chaitra Krishnan, the author of this post, is a makeup enthusiast who enjoys experimenting with various makeup products. She has analyzed user feedback on multiple forums to curate this list of best eyeshadow palettes for brown eyes. These palettes are long-lasting, highly pigmented, smudge-proof, and easy to apply. Chaitra has also provided detailed descriptions of each to help you pick the best eyeshadow palette.
Frequently Asked Questions
Which eyeshadow color is the best for brown eyes?
Almost every shade of eyeshadow complements brown eyes, but the best color for brown eyes is purple. All shades of purple, ranging from mauve to violet flatter brown eyes. Eggplant is also a beautiful, unique shade for brown eyes.
How to choose the best eyeshadow color for brown eyes?
As mentioned above, all shades of purple work well for brown eyes, along with subtle oranges and greys. If you have dark brown eyes, some thoughtful eyeshadow choices can make or break your look. Try colors like blue and mocha.
How to apply eyeshadow to make brown eyes pop?
Step 1: Clean your eyes properly. Make sure that there is no leftover makeup or other residues.
Step 2: Apply primer on your lids.
Step 3: Apply an under-eye concealer to make your eyes look brighter.
Step 4: Apply a nude base shade all over your eyelids with a brush. Blend it out properly.
Step 5: Over the base shade, apply a transitional or darker shade and go over the crease several times.
Step 6: Apply an even darker shade on the corner of your eyes.
Step 7: Blend everything out to avoid creasing.
Step 8: Apply a shimmer or metallic shade on the center of your lids with your ring finger.
Step 9: Clean of the excess with a thicker brush.
How can I enhance my dark brown eyes?
The easiest way to enhance dark brown eyes is by creating a smokey eye. Tightline your eyes with a black kohl pencil. For the smokey eye, choose colors like silver, grey and black, and add a hint of blue to make the smokey eye stand out.
Is brown eyeshadow good for brown eyes?
Yes, brown eyeshadows are great for brown eyes. However, if you are going for a glamorous event, try pairing the brown eyeshadow with a golden eye shadow to make your eye makeup stand out.
What color eyeshadows make brown eyes pop?
Golden eye shadows can make brown eyes pop. Especially shades like copper, rose gold, bronze, or shimmery yellow are great on brown eyes.
Recommended Articles