12 Best Eyeshadows For Green Eyes That'll Will Surely Stand Out
Elevate the beauty of your green eyes with bold and flawless eyeshadow looks.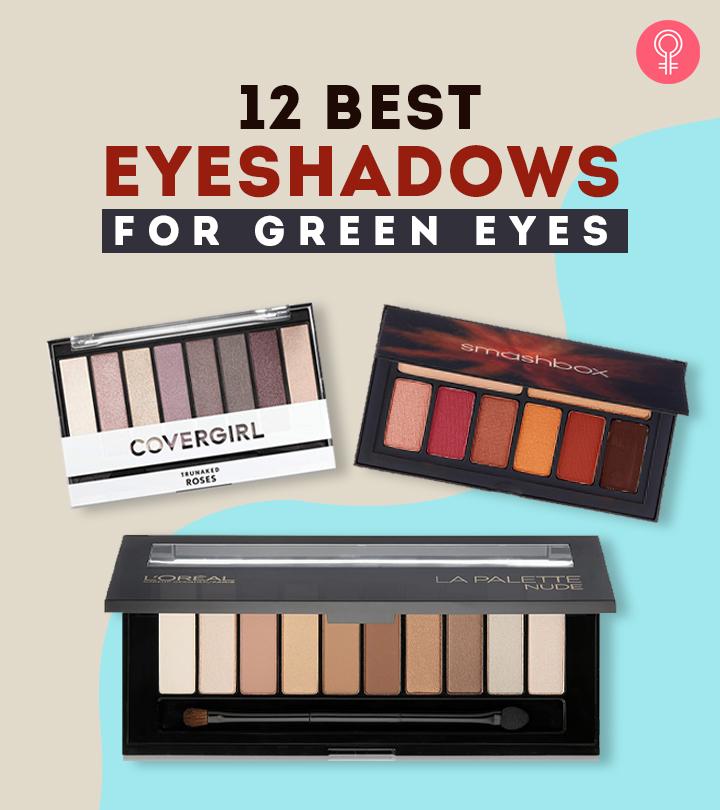 If you belong to the 2% of the world's population that have beautiful green eyes, we have got the best eyeshadows for green eyes just for you. We have got you a list of the 12 best eyeshadows to complement your green eyes and add dimension to them. These mesmerizing shades listed below will not just add a pop-up color to your eyelids but will also make your eyes look outstanding with the simplest of looks. Scroll down and check out the list!
Best Eyeshadows For Green Eyes
The CoverGirl Truenaked Nudes eyeshadow palette contains highly pigmented shades to create dramatic eyes. The palette comes with eight high-intensity shades of nudes with glitter, matte, and shimmery finish. The stunning shades allow you to flaunt subtle daytime makeup looks and bold sparkling eyes at night. The universal shades in the palette suit green eyes and can be worn alone or mixed and matched for flawless looks. Use a damp foam applicator smoothly on your eyes for an intense look. It also protects the eye area from free radical damage. Try different eyeshadow application techniques with this palette, new for every occasion.
Pros
Dermatologist tested
Smooth application
Cruelty-free
Cons
Price at the time of publication: $8.98
The Anastasia Beverly Hills – Alyssa Edwards eyeshadow palette consists of 14 stunning highly pigmented shades to deliver a rich color payoff. It includes beautiful and buildable shades for metallic and matte finish eyeshadows. The eyeshadows have a soft and velvety texture and come with a dual-ended brush for smooth application. The large mirror enclosed in the palette makes it travel-friendly. Its bright shades can beautifully highlight your green eyes. Have a look at this video to learn more about the product.
Pros
Buildable
Travel-friendly
Highly pigmented
Cruelty-free
Value for money
Cons
Price at the time of publication: $45.0
The Glitter & Glow Liquid Eyeshadow by Stilla in the shade Kitten Karma adds sparkle to your green eyes for a lavish look. This lightweight and long-wear formula is a perfect mix of pearl and glitter to create perfect dramatic eyes for a glamorous party look. Its smooth water-like texture glides smoothly on your eyes and dries quickly to lock in maximum glitter with minimum fallout for a well-defined look. Here is an informative video that tells you more about the product.
Pros
Highly-pigmented
Easy-to-apply
Longwear
Lightweight
Smooth application
Cons
Less quantity for the price
Price at the time of publication: $22.54
The L'Oreal Paris La Palette Nude is crafted with a high-pigmented formula to suit green eyes. The palette includes 10 shades ranging from light to dark to suit all skin tones. Its flattering shades are available in satin, matte, and sheen finishes. L'Oreal's nude shades can create the desired soft, bold, classic, and trendy looks. You can blend these shades easily with the dual-tip eye-designer brush included with this eyeshadow palette. It also includes a mirror that allows easy application for a flawless look.
Pros
Easy to use
Longwear
Value for money
Includes dual-tip brush
Includes a mirror
Cons
Darker shades are tough to smudge
Price at the time of publication: $11.9
The Eyeshadow Singles by Anastasia Beverly Hills in the shade Rosette has a finely-milled and easy-to-blend formula for creating shimmery eyes. Its burgundy shimmer shade suits green-eyed individuals of all skin tones. Create the best smokey eye looks with the pigmented formula of this eyeshadow that delivers a high color payoff with buildable intensity. The long-wearing eyeshadow has no fallout during application and enhances your eyes by adding new dimensions to your look.
Pros
Highly-pigmented
Zero-fallout
Easy to blend
Long-lasting
Cruelty-free
Cons
Less quantity compared to price
Price at the time of publication: $12
The Prism Makeup Changeable Fantasy Eyeshadow Palette comes with an array of vibrant hues that will have you covered for any and every gathering. From soft matte to glamorous metallic, all the shades are richly-pigmented and curated with a blendable formula, making it suitable for beginners as well. It is long-lasting and helps add dimension to your stunning features and eyes instantly. This multipurpose product with enhancing eyeshadow colors can also be used for highlighting and contouring the face, making it a great makeup investment.
Pros
Lightweight texture
Highly-pigmented
Long-wear formula
Blendable formula
Crease-proof
Beginner-Friendly
Cons
None
Price at the time of publication: $7.99
The Smashbox Cover Shot Ablaze Eye Palette contains six intense shades and two base shades to create trendy looks for your green eyes. The highly pigmented powder eyeshadow palette contains desert-inspired shades ranging from velvety terracotta and earthy shades to rich red clay for high coverage and a sparkly finish for stunning evening makeup looks. Its saturated shades are perfect for creating smokey eyes. Cha Cha Woska, a certified makeup artist, with 20 years of experience, states, "Use the light shades of the palette for daytime and the darker shades of the palette for nighttime. Dampen an angle brush before using the darkest shade to create a rich and smoky eyeliner."
Pros
Paraben-free
Phthalate-free
Mineral oil-free
Fragrance-free
Cruelty-free
Cons
Price at the time of publication: $21.29
The Urban Decay Naked Ultraviolet eyeshadow palette features 12 flattering shades in vivid purple and neutral peaches. The shades are a mix of silky satin, buttery matte, shimmery, and metallic finishes for ultra-defined multidimensional looks. This eye shadow palette features a proprietary ingredient blend that delivers velvety texture, rich color and is easy to blend. Its high-pigment shades with a holographic finish are crafted to suit all skin tones. It also includes a dual-tip brush for smooth application.
Pros
Longwear
Easy to use
Crease-free
Cruelty-free
Highly-pigmented
Paraben-free
Sulfate-free
Phthalate-free
Cons
Price at the time of publication: $48.99
The Serpent de Mer shade by Rituel De Fille is a dramatic burnt taupe eyeshadow with subtle violet and metallic bronze highlights that complement olive green eyes. Its intensely pigmented formula never fades or creases as it does not contain any wax that generally melts when you sweat. The eyeshadow has an intense color payoff with a rich powdery and creamy texture. This long-wearing eyeshadow can also be used as a lid primer or eyeliner for multifunctional use.
Pros
Multi-use color
Highly pigmented
Easy to apply
Longwear
Blends effortlessly
Cons
None
Price at the time of publication: $69.95
The Almay Green Eye Palette contains five intensely-pigmented hues that can be used for all occasions. From soft nude to rich dark brown, the shades offer a subtle shimmery finish and look absolutely stunning on all eye colors, especially green. The extensive range of colors are curated for green eyes and help accentuate their natural beauty. The colors glide effortlessly on the lids and are a great option for the ones who are looking for quick ways to revamp their makeup look. The blendable formula of the palette is hypoallergenic and ophthalmologist-tested, thereby can be used for individuals with sensitive eyes or contact lens-wearers. It is also infused with skin-loving ingredients like vitamin E that moisturizes and nourishes the eyelids. Using this palette with your bold eyeliner colors will make your eyes pop.
Pros
Hypoallergenic
Long-lasting
SLS-free
Paraben-free
Mineral-oil free
Formaldehyde-free
Cruelty-free
Fragrance-free
Ophthalmologist-tested
Safe for contact lens-wearers
Cons
None
Price at the time of publication: $24.99
The L'Oreal Paris INFALLIBLE 24 HR Eye Shadow in the shade Amber Rush has a long-wearing color that lasts up to 24-hours without fading. The intense shade of this eyeshadow can create natural-looking neutrals to bold smokey eyes. This eyeshadow is perfect for green eyes and flatters every skin from cool to warm tones and has a shimmery finish. Its luxurious powder-cream formula glides smoothly to give maximum color payoff.
Pros
Crease-proof
Long-lasting
Waterproof
Fade-resistant
Velvety finish
Intense payoff
Cons
Price at the time of publication: $7.99
The Eye Enhancers 1-Kit Eyeshadow in the shade tapestry taupe from CoverGirl blends seamlessly for a long-lasting effect. Its buildable formula creates subtle and natural to bold and dramatic effects. This versatile eyeshadow has a silky sheer texture that offers every desired look for green eyes. This palette includes a double-sided sponge applicator for smooth application.
Pros
Cruelty-free
Smooth applicator
Blendable
Pigmented
Buildable
Cons
Price at the time of publication: $4.48
Here are a few tips to consider before you buy the best eyeshadow for green eyes.
How To Choose The Best Eyeshadow For Green Eyes?
1. Color Options: If you are an avid eye makeup user, choose an eyeshadow palette that offers you a good range of complementary colors. If you are a beginner, then go for neutral colors. Look for a guide that helps you in choosing the right color for your complexion.
2. Features: Choose an eyeshadow that is waterproof and long-wearing so that it does not wear off while sweating.
3. Budget: A good brand product will always offer a quality product. Never compromise on quality over quantity. A cheap eyeshadow from an ordinary brand may be budget-friendly, but it may damage your skin.
Certain eyeshadow hues accentuate green eyes. To make your green eyes stand out, choose the following color options.
What Color Eyeshadows Are Best For Green Eyes?
1. Burgundy Or Wine: This shade is a rage for green eyes and it will suit your green eyes in any season.
2. Gold: This is a classy shade that can never go wrong on any skin tone. Whether it's rose gold, champagne gold, or gold with a touch of bronze – all these shades of gold go well with green eyes.
3. Shimmering Taupe: This is one of the best neutral shades that can blend with other colors for an enchanting look.
4. Purple: Purple is a day shade that can pop up your green eyes with both dark and subtle hues.
5. Gray: This is a neutral shade to create smokey eyes if you use it with dark black eyeliner.
Now that you know the best eyeshadows that compliment green eyes, it's time to learn the best way to apply them. Keep reading for valuable eye makeup tips!
How To Apply Eyeshadow On Green Eyes?
Apply a lighter shade to the eyelid to create a base.
Blend it outwards to the corner of the eye.
Apply a medium shade to the creases and blend well.
Apply the darkest shade to the base of the upper lashes with a foam eyeshadow brush.
Blend it towards the corner.
Why Trust StyleCraze?
The author, Baishali Bhattacharya, is a certified makeup expert who writes research-based product reviews for Stylecraze. The above list of the best eyeshadows for green eyes has been compiled following hours of research on a wide range of products available on the market and a thorough analysis of the feedback from users. These eyeshadows are available in remarkable shades that help you make your eyes pop.
Frequently Asked Questions
How can I enhance my green eyes?
To enhance green eyes, you can opt for looks with red undertones, such as maroon, coral-orange, or pinkish-red. Rose gold hints at a crimson undertone that makes green eyes sparkle.
Is brown mascara good for green eyes?
Brown mascara is a fantastic choice for people with green eyes. The soft hue of the mascara shade will bring out the color of your iris.
What color eyeshadow makes you look younger?
You can get a younger look by using eye makeup that is pink or neutral in tone. Neutrals will also enhance your everyday appearance without giving the impression that you have overdone your makeup at work or school.
How long can I use an eyeshadow palatte?
Once the eyeshadow is open, use it within six months to a year unless mentioned otherwise in the product package.
Is green eye shadow in style?
Yes, although best suited for brown and dark eyes, if styled properly, green eyeshadows suit all skin types and colors. It gives a glamorous look. You can wear it in any season.
Recommended Articles