The 11 Best Fabric Shavers That Are Super Easy To Use – 2023
Get rid of fluff and fuzz with compact, sleek, and travel-friendly fabric shavers.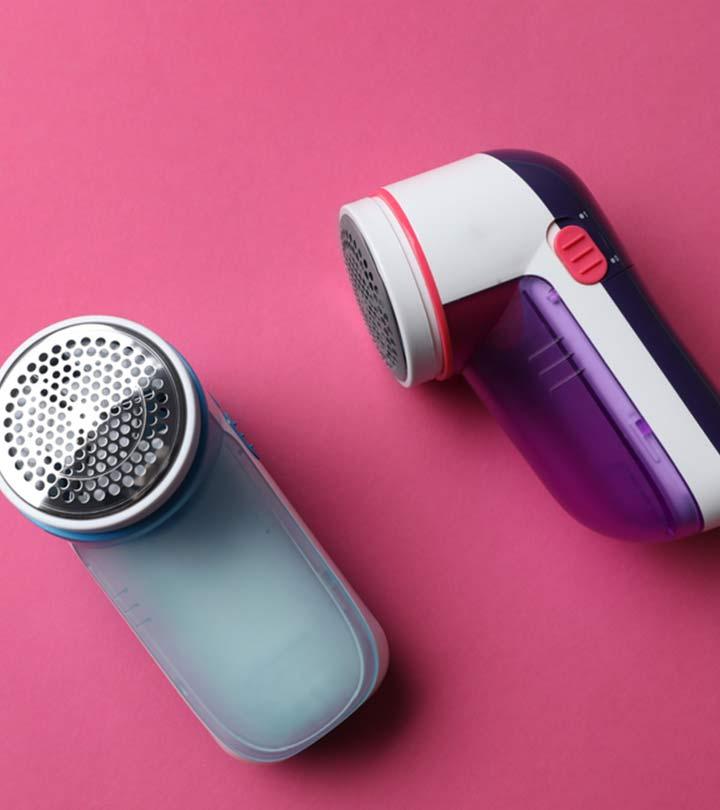 Admit it! There's nothing more comfortable than a cozy sweater on a winter afternoon. But the pesky fuzz and fluff can ruin the experience. Get rid of them with the best fabric shavers of 2023 available online. Fabric fuzz can a result of broken fabric fibers or simply normal wear and tear. They can cause allergies and make your finely neat sweater look shabby and clumsy. Thanks to the pill removers or fabric shavers, these annoying problems are a thing of the past.
These products remove lint, pet dander, build-up, pills, etc. effectively. They help you to clean and maintain curtains, sofa covers, sweaters, shawls, socks, and other winter clothing items. Just one sweep of this magic wand and all your fuzz and fluff-related woes will be gone. Best part? You don't have to waste time looking for the right products. Our list covers a wide variety of fabric shavers that will cater to your specific concerns. Swipe up to find a suitable product.
11 Best Fabric Shavers You Must Have In 2023
If lint-free clothes are what you want, then that is what you'll get! This Conair fabric defuzzer is a battery-powered handy gadget to remove pills and unwanted fabrics from your clothes. With an ergonomic grip and 3 depth settings, this defuzzer fabric shaver can get your favorite materials to look as good as new. The detachable lint catcher attached to the base makes it easy for you to clean the unsightly pill balls out of the machine, and the head of the device is large enough to use on sofas and blankets too.
Pros
Ergonomic grip
3 depth settings
Rechargeable batteries
Travel-friendly design
Powered by AA batteries
Detachable lint catcher
Available in 6 colors
Cons
Might not work well on delicate fabrics
Trap all lint and fur balls with this Beautural fabric shaver. Known for its sharp blades, it also has 3 shaving heights and hole sizes, as well as 2 speed settings to use on a wide variety of fabrics. Keeping safety a top priority, this professional fabric shaver comes with a safety locking feature to keep you from shaving accidents. Last but not least, it is equipped with 2 extra blades, a cleaning brush, and a carrying bag, so you can carry your new favorite cleaning buddy wherever you go.
Pros
Travel-friendly
2 speed settings
Safety locking feature
3 shaving heights and hole sizes
Accompanied by 2 extra blades, a cleaning brush, and a carrying bag
Cons
May not be suitable to remove pet hair
Fabrics need to be placed on a flat surface before using the shaver
In the name of versatility, this electric fabric shaver was born. From upholstery to furniture and clothes — you can use this fabric shaver on everything! Made with differently sized holes, the honeycomb wide head effortlessly eliminates fluff, lint, pilling, fuzz, and bobbles without snagging or damaging the material. The blades are sharpened and replaceable for a smooth experience, and the ergonomic design ensures you feel comfortable using the device on a sweater or large curtains. Just plug the device USB cord into a suitable device, and this pill remover is ready for use!  
Pros
USB-powered
Travel-friendly
Ergonomic design
Sharp and replaceable blades
Works on different types of fabric
Come with 1 extra blade, 1 drawstring bag, and a cleaning brush
Cons
Pressing the fabric shaver hard may leave holes in the fabric. Hence, we advise you to gently press the device. 
Just turn the button on and let this fabric pill remover work its magic. Suitable for any fabric, this one removes threads, fuzz, and pills from fabric effectively and brings life to clothes, bedsheets, and sofa covers. Precision-safe, rotating T-blades helps your materials look brand new, so you can hold on to your precious belongings for years to come. If this wasn't all, the device also comes with a detachable collector for easy disposal. Lightweight and compact, this sweater fuzz remover makes it easy to carry around.
Pros
Metal blade guard
Suitable for all fabric
Lightweight and compact
Precision-safe, rotating T-blades
Comes with a detachable collector
Cons
The blades may get jammed by thick pills
Go on and breathe new life into worn-out materials with this easy home fabric shaver from Gleener. The 2-in-1 sweater shaver and lint remover is a godsend for those who'd instead use just 1 device to depill all their fabrics. An alternative to a battery-powered and electric shaver, this one runs on an effective rolling blade that removes undesirable fuzz balls with just the swift motion of your hand. It comes with 3 blades, each for a different purpose. Blade 1 is perfect for big and bulky materials like wool rugs, wool coats, and upholstery, whereas blade 2 is used for more medium materials like cashmere and fine wools. For your delicates like silk bed sheets, t-shirts and liners, use blade 3. To achieve professional results, use this one with an added advantage of a lint roller and an ergonomic design for ease and comfort.
Pros
Ergonomic design
Lint remover attached
Comes in vibrant 5 colors
3 blades for different fabrics
Cons
If not used properly, it may snag the fabric
If a comfortable experience ranks high on your list of priorities, pick this one! Without the risk of damage to your favorite sweatshirts, upholstery, bedsheets, and furniture, this heavy-duty fabric shaver eliminates all the dead fuzz. It can be charged up to 30 minutes a time with a USB cable and comes with 3 different hole sizes and 3-speed settings to ensure all of the pills and fuzziness is removed at one go. This device's height can be adjusted to your convenience, and the safety switch stops the pill remover if the blade cover is open or loose, preventing anyone from getting their hands hurt. With a convenient shaver collector, what more could you ask for?
Pros
USB charging
Adjustable height
Comes with a safety switch
Charges up to 30 minutes
Convenient shaver collector
3 different hole sizes and 3-speed settings
Cons
The charge may not be sufficient enough
With a durable stainless steel rotary blade and a large head, this lint fabric shaver tops our list of the best fabric shavers of all time. It perfectly removes fabric fluff, fuzz, pills, and lint from all materials, to give you fabrics that are as good as new. It has 3 differently sized holes to trap fuzz balls of all sizes, and the adjustable height spacer protects you from hurting yourself. Battery-powered, with a sleek and minimal design, will have you jumping up within no time. 
Pros
3 different sized holes
Adjustable height spacer
Sleek and minimal design
Stainless steel rotary blade and a large head
Comes with a protective cover and a cleaning brush
Cons
The device does not shave effectively if not cleaned regularly. 
If you're like us and fancy the finer things in life, we know you'll appreciate the next one on our list. Known for its futuristic and modern design, this one is considered the best lint shaver by many. With the power of 5 W in the motors that spin at 9,000 RPM, this device effortlessly eliminates fuzz bubbles. If this doesn't convince you, we know the next point will. The upgraded 6-leaf blades combined with a 2.7-inch broad shaving head is much faster and more efficient than other pill removers on the market. With additional features like battery-free, USB charging, triple protection head cap, comfortable handle that allows the head to move 180°, it will have you enjoy a seamless shaving experience. And that's not all! It also comes with a bionic-honeycomb mesh to prevent fabric damage and a safety switch that stops the machine when the cap is loose. What more could you want?
Pros
Bionic-honeycomb mesh
Triple protection head cap
Battery-free, USB charging
Futuristic and modern design
6-leaf blades with 2.7-inch broad shaving head
Comes with fluff collector and 2 replacement 6-blade heads
Cons
Replace your lint roller with this excellent lint shaver for clothes, furniture, upholstery, and more. Whatever the size of piling, they are no match for this device that is enabled with 360° strong cyclone convection. This, too, like the product above, has 5 W motors that run a 9,000 RPM, making it efficient to take on all the unwanted particles clinging to your fabric. The unique advanced magnetic adsorption technology between the shaver foil and the body enables easy cleaning and runs on electricity, so you don't have to reach for batteries constantly. It also has elastic blades and the bionic-honeycomb mesh to protect clothes from snagging and a safety switch for protected hands.
Pros
Elastic blades
Battery-powered
3 different sized holes
Bionic-honeycomb mesh
Comes with a safety switch
360° strong cyclone convection
Advanced magnetic adsorption technology
Cons
Might have to clean the blades often, so fluzz does not obstruct the blades
Now, how about that warm sweater on a cool day? If the fuzz is still stopping you from enjoying your life to the fullest, it might time to switch things up and get the best sweater shaver in the market. The 5 W motor and rugged construction ensure that this one will remove even the toughest of pills attached to your beloved knits. Made with high-quality materials, this one comes with a complimentary storing bag that is practical and convenient to use. This shaver makes an excellent gift for any occasion, and the replaceable blades ensure a seamless shaving process. 
Pros
Replaceable blades
Complimentary storing bag
Made with high-quality materials
5 W motor and rugged construction
Cons
May not be suitable for rugs and pet hair
If you ever find yourself asking, "how to remove pilling from clothes", we've got some good news for you! Try this fabric pill remover and forget about ever having to worry about clothes with undesirable particles. The ergonomic design and easy handle grip ensure the device slides smoothly over any fabric, and the USB charging option lets it run smoothly for up to 50 minutes. It also has a safety switch to keep your hands secure and protected.
Pros
Strong grip
Safety switch
Ergonomic design
USB charging option
Runs smoothly for up to 50 minutes
Cons
The blades may not be sharp enough
Now that you have taken a look at the 11 best fabric shavers in the market, read our buying guide to learn how to pick up the best one for your home.
How To Choose The Best Fabric Shaver For Your Home
Battery-powered, electric or roller
Fabric shavers come in different forms, including battery-powered, electric, and roller forms. Battery-powered fabric shavers are suitable for delicate and fine fabrics like your cashmere sweaters and silk bed sheets. They are gentle and even come with bladeless options. Electric pill removers, on the other hand, are suitable for all sorts of fabric. They also tend to be more efficient and quick than battery-powered shavers. Roller fabric shavers may not have blades as sharp as the former 2 but, they are environmentally friendly and get the job done.
While it is obvious, it's essential to emphasise how blades impact your shaving experience. Blunt blades don't do the job; hence pick one with sharp and effective edges. It is also helpful if the device comes with different blade sizes like the Gleener Ultimate Fuzz Remover. It uses different and appropriate blades sizes and sharpness, depending on the fabric.
When you pick the best fabric shaver for your home, remember to choose on with different-sized holes. Most effective shavers come with at least 3 different hole sizes to efficiently trap the various shapes and sizes of unwanted pills attached to fabrics.
How useful is a device if it is not comfortable? A fabric shaver with an ergonomic design lets you hold the shaver with ease for a comfortable and calming experience. Also, it provides you with grip and prevents accidents.
Who doesn't love an added feature of their fabric shaver? Select ones that come with features such as adjustable height, sharp blades, detabable collector, safety lock feature, and various speed settings. All of this will ensure you have a seamless fabric shaving experience.
How To Use A Fabric Shaver? 
Step 1 – Lay the material you want to shave on a flat surface.
Step 2 – Hold your fabric down firmly with one hand
Step 3 – Use the other hand to run the fabric shaver over the fabric to remove fuzz
Step 4 – Repeat the process until unwanted particles have been sufficiently removed
Even good quality sweaters fabric can eventually become fuzzy, broken to normal wear and tear. This can cause allergies and make you feel uncomfortable every time you wear them. Fabric fuzz can make your sweaters look shabby. Defuzz fabric shavers remove those pills and woolen build-up. You can use them effectively on any fabric to clean sofa covers, shawls, and curtains without snagging or damaging the material. These have an ergonomic design and are compact, travel-friendly, and lightweight. However, some devices do not have a sharp blade and may be difficult to clean. Choose the product that addresses your concerns.
Frequently Asked Questions
Do fabric shavers ruin clothes?
No. If you follow the correct steps in using a fabric shaver, you can remove undesirable objects without damaging your clothes.
Can you use a razor to remove pilling?
You can, but you may run the risk of running holes in your clothes, razors can be too sharp and prone to snagging.
Can you use a fabric shaver on a cashmere?
Yes. A gentle fabric shaver can be used.
Do fabric shavers weaken the fabric?
No. When fabric shavers are used correctly, they don't damage clothes. Remember to not overstress while using it as it can cause the fibers to pill, loosen, and knot.
What can you use a fabric shaver for?
A fabric shaver is used to remove fuzz and pills on fabric such as bedding, curtain, or carpet without damaging the fabric. In addition, it can also be used on different fabric-made items especially hoodies and wool sweaters.
Is it good to use a fabric shaver?
Yes. It is good to use a fabric shaver over a lint roller as they are most effective at removing lint, pills, and fuzz from the clothing.
How well do fabric shavers work?
Fabric shavers are a simple yet effective way to remove the pills. It does the job without pulling and stretching out the fabric and is an ideal choice for cashmere or merino wool.
Recommended Articles
Best Lint Removers To Revive Your Clothes
How To Pick Sunglasses That Suit Your Face Shape – A Guide
What Your Zodiac Sign Says About Your Style
The following two tabs change content below.