10 Best Face Creams For Dry Skin In India – Our Top Picks Of 2023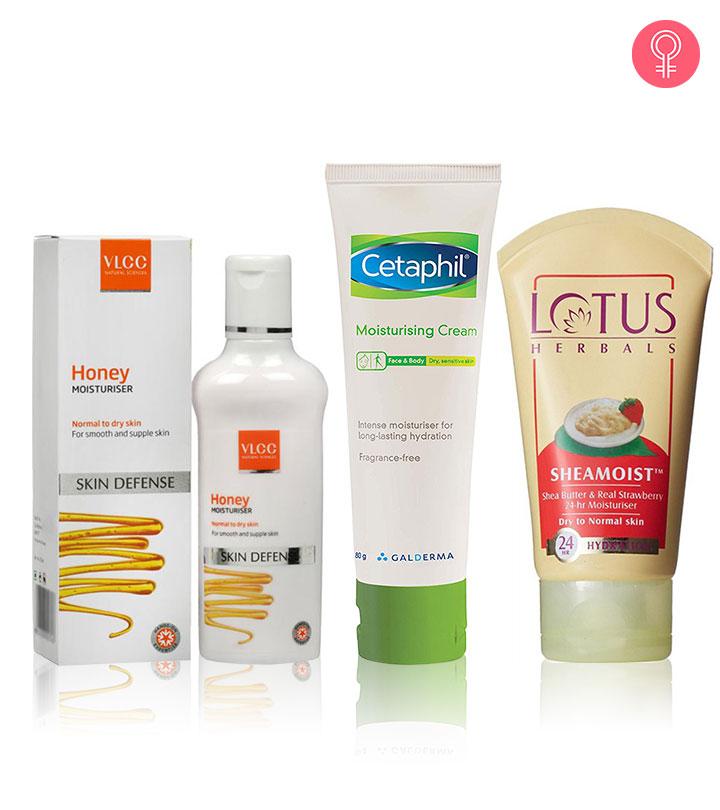 Dry skin can be very irksome, especially during harsh winters. The dry patches, flakiness, and sensitivity are all things we could do without. It is important to be very careful about the products you apply to your face and be mindful of the ingredients they contain as these may add to the dryness and irritate your skin further. Face creams can help you as long as they nourish your dry skin without causing greasiness. Here are 10 of the best face creams for dry skin that you must try. Check them out!
Top Picks
10 Best Face Creams For Dry Skin
Product Claims
Olay Moisturizing Cream provides long-lasting moisturization and improves your skin's softness and smoothness. The hydrating formula contains a unique moisture binding system that locks in moisture where it's needed most. The fluids in this moisturizing cream are so similar to the natural fluids in young skin that your skin readily claims them as its own. This is easily the best cream for dry skin out there.
Pros
Ideal for daily use
Hydrates well
Gets absorbed easily
Lightweight
Non-greasy
Dermatologically-tested
Non-comedogenic
Pleasant fragrance
Travel-friendly packaging
Cons
Price at the time of publication: ₹18.9
Product Claims
The Parasoft Cream hydrates and retains moisture to give you softer, smoother, and glowing skin. It is formulated with white soft paraffin, liquid paraffin, and aloe vera that soothe and repair dry skin while sealing the moisture to create a protective barrier. The cream quickly gets absorbed into the skin without feeling greasy or sticky.
Pros
Suitable for babies
Non-greasy
Paraben-free
Travel-friendly packaging
Cons
None
St. Botanica Pure Radiance Day Cream is a skin-brightening, anti-aging, and moisturizing cream with SPF 21 PA+++. It is rich in antioxidants, vitamin C, retinol, shea butter, hyaluronic acid, and collagen. These nourishing ingredients boost skin hydration levels, restore skin elasticity, delay premature aging, and improve the complexion. Thus, this luxurious cream makes your skin plump, supple, and radiant.
Pros
Brightens the skin
Anti-aging formula
Moisturizes the skin
Restores skin elasticity
SPF 21
24-hour hydration
Cons
May cause pimples or breakouts initially
Price at the time of publication: ₹73.7
Product Claims
Biotique Bio Wheat Germ Youthful Nourishing Night Cream is created using a unique formula that keeps your skin youthful and prevents aging. It is the best moisturizer for dry skin as it gives that extra boost of hydration. Apart from moisturization, this night cream strengthens your skin for a more resilient and younger appearance. Using this cream regularly on cold winter nights prevents dryness and environmental stress.
Pros
Gentle on sensitive skin
Ideal for daily use
Soothes sunburn, redness, and irritation
Preservative-free
Chemical-free
Cruelty-free
Gets absorbed quickly
Dermatologist-tested
Cons
May leave a greasy residue
Strong fragrance
Price at the time of publication: ₹11.7
Product Claims
MCaffeine Latte Coffee Moisturizer has a rich formula to soothe and prevent dryness. It contains coffee that repairs damaged skin barrier, hydrates the skin and tones it. The ceramides improve the skin barrier and seal moisture, while shea butter deeply moisturizes and nourishes dry skin. Moreover, it also has almond milk that soothes the skin, revealing softer, healthier skin. This moisturizer is made with skin-friendly ingredients that suit all skin types.
Pros
Dermatologist-tested
Suitable for all skin types
Cruelty-free
Vegan
Mineral oil-free
Paraben-free
Pleasant coffee scent
Cons
None
Product Claims
Cetaphil Moisturizing Cream is a rich moisturizer that delivers intense hydration and replenishes dry, sensitive skin. This cream has a unique formula that binds water to the skin, preventing moisture loss. It is formulated to provide immediate and long-lasting relief and is the best face moisturizer for dry sensitive skin. The moisturizer blends easily and leaves dry skin soft and smooth to the touch.
Pros
Gentle on sensitive skin
Gets absorbed quickly
Fragrance-free
Dermatologist recommended
Hypoallergenic
Non-comedogenic
Non-greasy
Cons
May cause breakouts
No SPF
Price at the time of publication: ₹19.3
Product Claims
VLCC Honey Moisturiser is enriched with honey extracts and essential oils of jojoba, almond, and olive. These elements are combined to intensely hydrate, nourish, and rejuvenate dry skin, especially during harsh winters. It actively corrects the skin's natural moisture balance, making it smooth and supple. It keeps your face feeling fresh and soft all day long.
Pros
Lightweight
Non-greasy
Hydrates well
Pleasant fragrance
Travel-friendly packaging
Affordable
Cons
No SPF
May cause breakouts
Price at the time of publication: ₹9.12
Product Claims
Sheamoist Shea Butter and Real Strawberry 24 hour Moisturizer by Lotus Herbals is a complete solution for dehydrated skin. It heals chapped skin and acts as a shield against the harsh winter. Shea butter works as a natural moisturizer, making the skin soft and supple. Strawberry is a rich antioxidant that helps to soothe and tone your skin.
Pros
Ideal for daily use
Affordable
Lightweight
Gets absorbed easily
Pleasant fragrance
Travel-friendly packaging
Cons
May irritate sensitive skin
No SPF
Contains parabens
Product Claims
Plum E-Luminence Deep Moisturizing Cream combines the hydrating power of vitamin E with a dozen potent plant nutrients, such as jojoba oil and kokum butter, to give excellent hydration and nourishment to dry and damaged skin. Chamomile flower extract calms and soothes irritated skin. Regular use leaves you with a well-moisturized complexion that exudes a dewy radiance.
Pros
Vegan
SLS-free
Phthalate-free
Cruelty-free
Cons
No SPF
Bulky packaging
Expensive
Product Claims
Plum Hello Aloe Caring Day Moisturizer is a very mild day cream for dry and sensitive skin. It contains pure organic aloe juice and is fortified with vitamin E. The unique combination delivers intense hydration to your skin without making it greasy. The organic formula created without harmful chemicals provides pure nourishment for your skin.
Pros
Vegan
SLS-free
Paraben-free
Phthalate-free
Cruelty-free
Cons
Expensive
May cause breakouts
Contains added fragrance
No SPF
[ Also Try – Assure Complete Fairness Cream ]
Now that you know which are the best non-greasy creams for dry skin, it's time to introduce you to some essential points to keep in mind before buying any of them. Check them out below.
Things To Consider When Buying A Face Cream For Dry Skin
Creams enriched with the goodness of natural ingredients like vitamins and antioxidants are considered the best for dry and sensitive skin. Opt for a cream that contains fair amounts of antioxidants as they help in fading the early signs of aging, like fine lines and wrinkles. Vitamins E and C promote collagen production and brighten dry skin.
Creams that contain emollients like shea butter, coconut oil, or jojoba oil improve the skin's texture by adding moisture to it. Additionally, they have anti-inflammatory properties that repair the skin and treat skin conditions like dermatitis. The addition of humectants like glycerin and urea is also good as they smoothen the skin and prevent itching and rashes.
Apply sunscreen and moisturizing cream separately can be bothersome. Therefore, look for a cream that offers sun protection. Constant sun exposure can cause early skin aging due to oxidative damage. Any cream that contains SPF 30 or above is recommended to be used to get maximum protection from the harmful sun rays.
The packaging is yet another essential point to keep in mind. Face creams come in either jar or pump bottle packaging. It is recommended to select a pump bottle as it is a convenient option and prevents the risk of contamination.
Investing in a good-quality product reduces the chances of allergic reactions or irritation as they are safe to use. Therefore, always opt for a product that is clinically tested or dermatologically approved. Additionally, if you are dealing with some serious skin concerns, consult a dermatologist before using any product.
Now that you know about the best face creams out there for dry skin, which would you pick first to nourish your face? Let us know in the comments below.

Recommended Articles:
The following two tabs change content below.