The 15 Best Face Exfoliators For Soft And Supple Skin
Look fresher, brighter, and smoother by removing all dead cells and unclogging pores.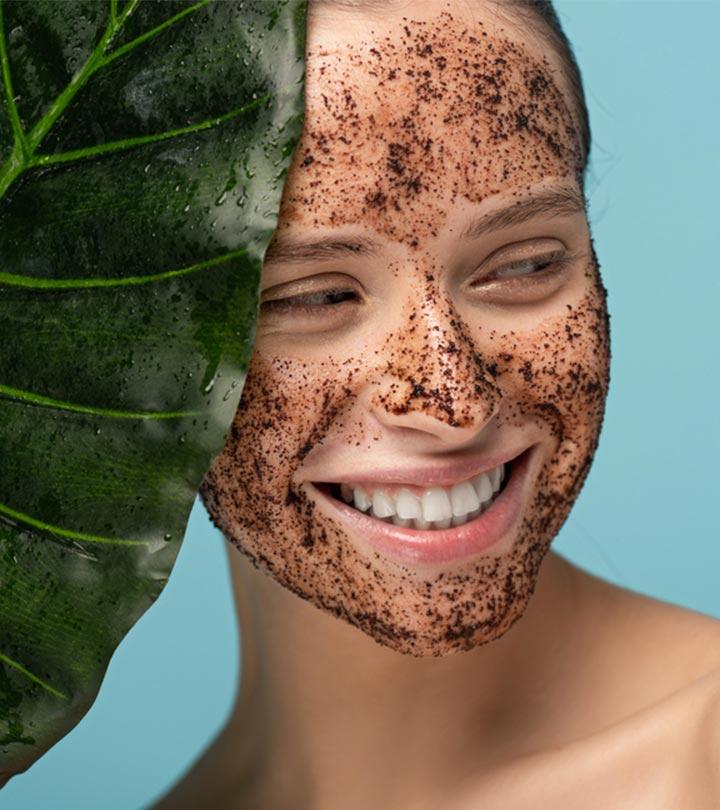 Keeping your skin young costs a fortune. Using the best face exfoliator for mature skin is as effective as expensive salon treatments! You read that right. You can achieve youthful, soft, and supple skin with just a scrub! It's true; exfoliation will rejuvenate mature skin. Scrubbing away dead skin cells opens up a fresh, healthy layer of skin. It is simple to get rid of wrinkles, dark patches, fine lines, and blocked pores by exfoliating. If you have mature skin, there is no reason not to use a facial exfoliator in your skincare routine!
Diane Howard, a certified cosmetic nurse, says, Exfoliators play a pivotal role in achieving healthy and radiant skin. By effectively removing dead skin cells from the surface, exfoliators help to prevent clogged pores, which in turn reduces the likelihood of acne and blemishes that could potentially lead to scarring. Regular exfoliation also aids in improving skin texture and promoting a more even complexion. Whether it's through physical exfoliants or chemical exfoliants like glycolic acid, incorporating exfoliation into your skincare routine can truly make a noticeable difference in maintaining clear, glowing skin."
A face exfoliator that is the best for mature skin is essential to keep irritation and redness away in the future. For your convenience, we've rounded up all the best choices available! You can now flaunt your flawless skin without makeup!
Bring out your timeless radiance by beating the signs of aging! We've compiled a list of 15 of the best face exfoliators for mature skin.
Find out more by reading on!
Top 15 Face Exfoliators In 2023 For Skin That Glows From Within
Improve the texture for your skin with the Paula's Choice Skin Perfecting Liquid Exfoliant. It is formulated with beta hydroxy acid, commonly known as salicylic acid, which is known to be a super cleanser. This clinically proven formula penetrates deep into the skin to get rid of dirt and sebum and it also unclogs pores. This non-abrasive leave-on exfoliant also has green tea extracts, which help soothe irritated skin. Using this gentle salicylic acid exfoliating cleanser helps minimize wrinkles, fine lines, redness, pores, blackheads, and other skin problems and leaves you with soft and clean skin.
Pros
Paraben-free
Silicone-free
Alcohol-free
Oil-free
Fragrance-free
Cruelty-free
Cons
Some may find the smell pungent
Hydrate, rejuvenate, and exfoliate your skin with the M3 Naturals Himalayan Salt Scrub. This himalayan salt scrub is infused with collagen and stem cells, which aid in new cell growth and offer anti-aging properties. It includes a list of natural ingredients like aloe vera, grapeseed, sunflower, and jojoba. Apart from these, the extracts of fruits like grapefruit, apple, almond, etc. make it one of the best exfoliating face scrubs. Cleanse the impurities of your skin and restore its natural glow with this natural face exfoliator. If you are an absolute beginner, this video review might be useful to learn more about the reviewer's experience of the product.
.
Pros
Paraben-free
Sulfate-free
Alcohol-free
Fragrance-free
Cruelty-free
Cons
The Acure Brightening Facial Scrub is a skincare product that is suitable for all skin types. Its all-natural formulation with sea kelp, kaolin clay, aloe vera, walnut, lemon, and olive, etc. makes it one the best exfoliating products for the face. Rich in antioxidants and vitamins, these exfoliators for dull skin help to improve the appearance of tired skin and remove skin imperfections. It also has argan, chlorella, cica, kale, niacinamide, pomegranate, which help remove dead cells and keep skin healthy and glowing from within. Check out this review for a detailed understanding of the reviewer's experience of using the product.
Pros
Paraben-free
Sulfate-free
Silicone-free
Phthalate-free
Cruelty-free
Vegan
Cons
Some might find it slightly watery
Get salon-like skin treatment at the comfort of your home with the Neutrogena Microdermabrasion System Puff Refills Exfoliator. These pre-dozed puffs are meant for single use and are among the good chemical exfoliators for face available in the market. It uses micro-vibrations to help in boosting new skin cell production, with visible results noticed by multiple reviewers. Each puff features ultra-fine crystals and mild purifiers that work on the skin to immediately make it luminous and bright. With time, the skin becomes firmer and healthier-looking too. The brand also claims to offer visible results with just 1 use.

Pros
Silicone-free
Alcohol-free
Dermatologist-recommended
Single-use puffs
Easy and convenient
Cons
Contains parabens and sulfates
Are you tired of acne-prone, oily skin? Worry no more as Botanic Tree brings you a glycolic acid exfoliating cleanser that will fight all your skin woes. It is enriched with ingredients like tea tree, peppermint, lavender, shea butter, seaweed, willow bark, bamboo, and others. The formulation of this pregnancy-safe face exfoliator helps to cleanse the skin and keep it hydrated and supple. The inclusion of ascorbic acid or vitamin C ensures that the skin gets its dose of antioxidants to boost cell renewal, reduce skin imperfections, and fight the signs of aging. However, remember to conduct a patch test to check for skin sensitivity.
Pros
Paraben-free
Sulfate-free
Cruelty-free
Safe for pregnant women
Cons
As it contains menthol, some may feel a sharp tingling sensation on their skin.
Bid farewell to dull, dry skin with the microdermabrasion scrub and mask from Era Organics. It is formulated with extracts from aloe vera, walnut, orange peel, manuka honey, cehami, canola, etc. All these ingredients come together to help remove dirt, excess sebum, blackheads, dead skin, and other impurities and promote skin renewal. Exfoliate your dull skin to reveal a radiant complexion with this face exfoliator for acne-prone skin. This video review of the tester's experience will help you understand more about the exfoliating mask.
Pros
Paraben-free
Sulfate-free
Phthalate-free
Gluten-free
Cruelty-free
Cons
It may not be non-comedogenic.
Everyone wishes to have skin that is free of impurities and imperfections. The QRxLabs Glycolic Acid Resurfacing Pads help make this wish come true. These waffle-shaped cleansing pads are made of soft non-woven materials and have a textured surface that eases skin cleansing with the help of its exfoliating acids. They are formulated with witch hazel, vegetable glycerin, calendula, green tea, menthol, spearmint, eucalyptus oil, etc. that help soothe the skin and offer anti-inflammatory benefits. Enriched with vitamin C, E, and B5, this glycolic acid exfoliating cleanser helps to reduce skin imperfections and minimizes the signs of aging, leaving you with younger, brighter, flawless skin. If you are still unsure, check out this honest review of a tester's experience of using the product.
Pros
Deep cleansing
Paraben-free
Silicone-free
Cruelty-free
Eco-friendly packaging
Cons
Might make the skin feel sticky to the touch
Say hello to flawless skin and wave goodbye to skin imperfections and impurities with the DRMTLGY Microdermabrasion Scrub. It provides medical grade skincare and helps the skin get rid of dead skin, blackheads, acne scars, blemishes, etc. Made from the extracts of green tea, apple, sugarcane, and lemon among other ingredients, this gentle exfoliator for sensitive skin also helps minimize the appearance of signs of aging.
Pros
Paraben-free
Sulfate-free
Gluten-free
Oil-free
Cruelty-free
Dermatologist-recommended
Cons
Slightly expensive for the quantity provided
Give your skin a total makeover with the NeedCrystals Microdermabrasion Crystals. These crystals are made from corundum sourced from Brazil and France. Exfoliate your skin and drive away dirt, sebum, uneven skin tone, and other skin impurities and imperfections. All you have to do is to mix these crystals with your favorite cleanser to make your own exfoliators for uneven skin tone or dead skin and watch your skin transform into its younger, brighter self.
Pros
Non-GMO
Cruelty-free
Suitable with most cleansers
Suits all skin types
Cons
May not be best suited for dry skin
The St. Ives Acne Control Apricot Face Scrub helps promote skin health as it uses natural and gentle exfoliants. One of the best exfoliators for acne, it contains apricot extract and walnut shell powder in its formulation. It helps to remove dead skin, blackheads, scars, and other skin imperfections. It is enriched with salicylic acid and is effective in controlling acne breakouts and leaves you with softer skin that is free of acne and blemishes.
Pros
Paraben-free
Cruelty-free
Non-comedogenic
Dermatologically-tested
Cons
Refine the look of your pores and get a clean face with this exfoliating mask and scrub from InstaNatural. The gentle yet effective formulation of this organic face exfoliator includes safflower, turmeric, aloe vera, pumpkin, meadowfoam, sunflower, rosemary, jasmine, etc. It exudes the aroma of spices like ginger, cassia, cloves, bay leaves, nutmeg, cardamom, cinnamon, and others. Use it to keep dirt and sebum away and remove skin imperfections and signs of aging, while locking in moisture and keeping the soft glow of the skin intact. Additionally, conduct a test on a patch of your skin to keep allergic reactions at bay.
Pros
Paraben-free
Sulfate-free
Cruelty-free
Natural ingredients
Cons
Some may find the scent intense
The Ebanel Ultimate Brightening Peeling Gel is a skincare product that can be used on all skin types. It gently exfoliates the skin and helps remove the impurities and imperfections of the skin. It has extracts from ingredients like mushroom, tomato, persimmon, birch, willow bark, aloe vera, etc. It is also enriched with vitamin C and E, cellulose, castor oil, and other potent ingredients. Many reviewers highly recommend this product after noticing visible results. Get rid of dark spots, uneven skin tone, blackheads, dead skin, and signs of aging with this exfoliating gel for your face.
Pros
Paraben-free
Soap-free
Alcohol-free
Cruelty-free
Hypoallergenic
Non-comedogenic
Cons
Some may find it slightly greasy
Bid adieu to dull and dry skin with the Palmer's Coconut Oil Coconut Sugar Facial Scrub. This one is supremely effective for achieving hydrated, glowing skin with its main component, coconut sugar, which acts as a natural exfoliator to remove dead skin and polish the skin texture. The powerful and natural ingredients remove dirt and impurities, leaving your face feeling smoother. The formula offers a soft and dewy glow while helping revitalize the skin.
Pros
Plant-based ingredients
Oil-free formula
Non-comedogenic
Dermatologist-tested
Cruelty-free
Sulfate-free
Paraben-free
Cons
None
The Vasanti Brighten Up! Face Exfoliator suits all skin types and stays true to its name to a great extent. It is enriched with the extracts from papaya, aloe vera, castor seed, coconut, and other potent ingredients. One of the best exfoliators for combination skin types, it helps clear out pores of dirt and sebum and removes skin impurities. It also works as an anti-aging skincare product and helps minimize the appearance of the signs of aging. Considered one of the best enzyme exfoliators, it offers visible results after just one use and it leaves you with skin that looks younger, radiant, and flawless.
Pros
Paraben-free
Gluten-free
Cruelty-free
Vegan
Cons
Some users may not like the emulsion-like waxy texture
Want to know what the Japanese do to keep their skin looking forever young? The answer lies in the Toyo Cure Natural Aqua Gel Skin Exfoliator. Considered one of the best exfoliating gels for face, it is made with extracts from aloe vera, rosemary, gingko, and others. It also has elements like activated hydrogen water, which is known to have anti-aging and anti-oxidation properties. Exfoliate with one of the best chemical exfoliants for your face to get rid of skin impurities and imperfections, and flaunt flawless, glowy, and youthful skin.
Pros
Paraben-free
Sulfate-free
Silicone-free
Cruelty-free
Cons
Exfoliating the skin keeps the skin healthy as the impurities are gotten rid of. But what is the right type of exfoliator for your skin? Let us make your task easy by helping you choose the right exfoliator for your skin type.
How To Choose The Best Exfoliant For Your Skin Type
Dry skin demands an exfoliant that isn't gritty or grainy as it may cause micro tears on the skin. Exfoliants like honey and other gentle acids, combined with moisturizing agents work well for dry skin without being too harsh.
Pooling up of excess sebum in the pores is one of the problems of oily skin. Scrubbing the skin with exfoliants that have a grainy texture might be very helpful as these oily skin exfoliators help to remove the excess sebum and oil from the pores and unclog them.
Combination skin is neither too dry, nor too oily. In such cases, combination skin exfoliators that aren't very gritty can be combined with moisturizing agents to unclog the pores as well as to keep the skin from becoming too dry.
Acne-prone skin can be further irritated if the wrong kind of skin products are used. Grainy scrubs can worsen inflamed skin with acne, hence chemical exfoliants are the best choice for acne-prone skin.
Skin becomes sensitive and dry with age. Mature skin needs an exfoliant that helps reduce the wrinkles and fine lines while keeping it hydrated. When looking for an exfoliator for aging skin, keep in mind that chemical exfoliators and microdermabrasions work well.
Benefits Of Face Exfoliator
Exfoliating the skin a few times a week can leave one with youthful, radiant skin. Here are some face exfoliation benefits:
Removes dead skin cells
Unclogs pores and prevents acne
Keeps dirt and sebum at bay
Evens out skin tone
Helps remove blackheads
Minimizes visible signs of aging
Boosts blood and lymph circulation
Helps the skin absorb other skin products well
Why Trust StyleCraze?
The author Krati Darak is a skin care expert. Her recommendations are backed by scientific fact checks to help people find the best skin care products. She created this list of top face exfoliators by considering user's review on trusted online platforms. These cleansers are made of safe ingredients that help remove dirt and dead skin layer and bring out the soft, plump, and rejuvenated skin.
Frequently Asked Questions
Are face exfoliators good for your skin?
Yes. Exfoliators help the skin get rid of impurities like dead skin cells, dirt, sebum, etc, and help in unclogging the pores.
How many times a week should you exfoliate your face?
Ideally, it is best to exfoliate the skin 2-3 times a week to keep the skin soft and smooth and free of impurities. Exfoliating too frequently might leave the skin dry and damaged.
How long does it take to see results from exfoliating?
One can see the change in complexion almost immediately after exfoliating. But the long-term results can be seen after exfoliating 6-7 times.
Should you put moisturizer on after exfoliating?
Yes, your skin requires moisture, especially after exfoliating. A super-hydrating face moisturizer helps replace any water lost during the exfoliation process.
Is it better to exfoliate in the morning or at night?
It is better to exfoliate in the morning because your skin produces oils at night. When you exfoliate in the morning instead of the evening, you can effectively eliminate pollutants, dead skin, and dirt.
What not to do after exfoliating?
Do not immediately wash off a chemical exfoliant because the active ingredients need time to seep into your skin. Instead, leave your exfoliator on for roughly 15 to 30 minutes to ensure that the chemicals dissolve dead skin cells.
How do I know if I'm over-exfoliating?
You are over-exfoliating if your skin becomes rough, dry, spotty, flaky, irritated, and loses its capacity to retain moisture.