14 Best Face Masks For Combination Skin To Get Instant Glow – 2023
Enrich your skin with suitable ingredients to keep it nourished, soft, and supple.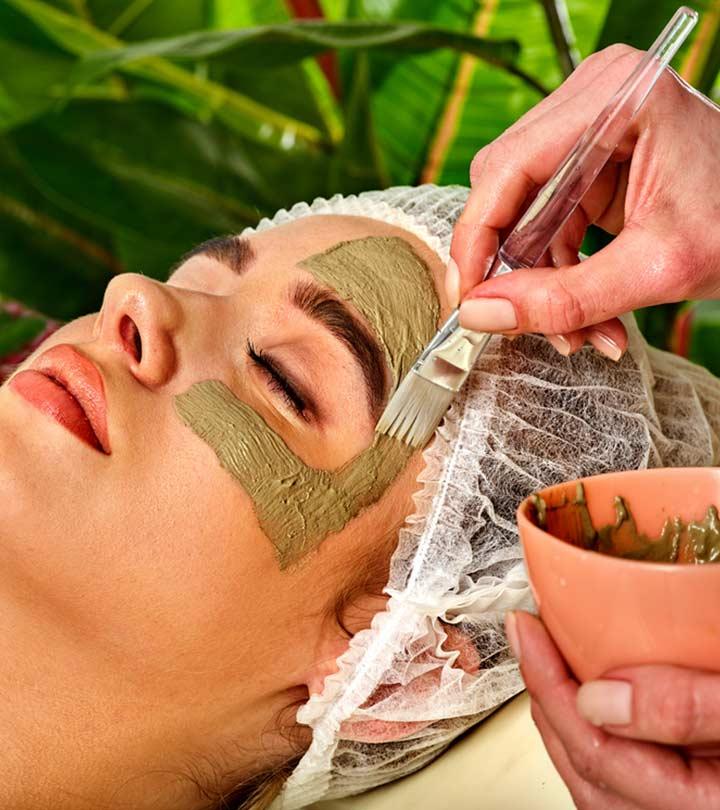 They say you are what you eat. Our food habits impact how we look and feel about ourself, our skin gets affected by the amount of stress we take and the kind of lifestyle we have. But it's not always our food habits that need to be blamed. It also depends on the choices you make when it comes to skincare. It is essential to study your skin to understand which product will work best on it. Many people have oily skin, dry skin, acne-prone skin, and sensitive skin, but there is also a majority with combination skin.
Combination skin is when you have oily skin in some areas of your face and dry skin in others. Usually, the T-zone area, i.e. the forehead, chin, and nose regions, are mostly oily. Here are the top 14 best face masks for combination skin. These will help you understand what your skin requires and how to make the best choice.

Top 14 Best Face Masks For Combination Skin
Here is an instant skin brightening formula that will help you glow throughout the day! Buy Ebanel Hyaluronic Collagen Sheet Mask and reward your skin with smoothness, softness and hydration. This mask comprises hyaluronic acid, vitamin E and C along with aloe vera, edelweiss, tomato and purslane extracts that moisturize and nourish your skin deeply. This anti-aging sheet mask is also infused with collagen peptides that boost your skin cells and regenerate it. You can now achieve younger skin and boost your self-esteem. This product is made up of biodegradable microfiber that allows your skin to become healthier and soft. The peptides present in the mask lift the skin on your face and the antioxidants play a role in making your skin bright.
Pros
For all skin types
Non-irritating
Oil and alcohol-free
Cruelty-free
Vegan
Reduces acne
Hypoallergenic
Cons
Might cause a burning sensation in rare cases.
Price at the time of publication: $31.99
We finally have the perfect face mask for sensitive, combination skin. The Cetaphil Pro Dermacontrol Purifying Clay Mask is everything you need to pamper your skin. It is formulated to purify your skin, unclog the pores, clean out and make your skin feel refreshed. This product has 2 types of gentle clay, the bentonite clay that absorbs excess oil and removes pore-clogging impurities. Amazonian clay, on the other hand, provides gentle exfoliation to get rid of dead skin cells. Nourish your skin with the infusion of apple fruit extract that keeps your skin hydrated. This clinically-tested, non-irritating formula is also made of cucumber seed extract rich in oleic acid and helps brighten your skin.
Pros
For sensitive and oily skin
Protects from sun
Minimizes the appearance of pores
Improves texture and skin tone
Fragrance-free
Cons
It may take a long time to dry.
Price at the time of publication: $12.19
Here is a peel-off mask that gently removes all the dirt and impurities that have been accumulating in your skin. This Freeman Cucumber Facial Peel-Off Mask is made of aloe vera and cucumber extract. These help in soothing your skin and making it feel soft and fresh. This product is suitable for normal as well as combination skin. This product is packed with hydration as it is made up of vitamin C and caffeic acid and helps repair your dull and damaged skin. It helps in reducing skin inflammation and makes your skin smooth and soft.
Pros
Sulfate-free
Paraben-free
No mineral oil
Cruelty-free
Phthalate-free
Peels off easily
Cons
Price at the time of publication: $8.0
Are you looking for a product that can solve not one but several skin-related issues? Your search ends here! We have one of the best clay masks for your skin. It helps provide your skin with hydration, prevents your skin from irritation and burns, and deep-cleans your skin. This product has anti-aging properties and can work well on acne-prone skin too. It can also help you in getting rid of blackheads, clogged pores along with dull and greasy skin. Improve your skin tone and texture with this face mask that is made up of 7 superfoods such as avocado, spinach, calendula, and aloe vera to name a few. It also helps in preventing hyperpigmentation and strengthens the barrier of your skin, hence, keeping it moisturized. This mask helps in protecting your skin from external factors and prevents it from damage.
Pros
No mineral oil and harsh chemicals
Cruelty-free
100% vegan
Free brush included
Prevents skin breakouts and redness
Easy to apply
Cons
Might be difficult to remove.
Price at the time of publication: $21.5
Buy this InstaNatural Exfoliating Glycolic Mask that also works as a face scrub. This product provides a dual action of exfoliation and hydration of the skin. It consists of glycolic acid, vitamin C, aloe vera, ginger pumpkin, and turmeric. All these ingredients offer several skincare benefits. These help in making your skin glow and appear smooth and soft. Get radiant skin with the essence of glycolic acid that boosts the skin's cell turnover to get rid of the dullness. The soothing effect of turmeric helps you feel relaxed and also plays the role of an anti-inflammatory agent. On the other hand, vitamin C is the powerhouse antioxidant that your skin needs to promote collagen production. Aloe vera helps to nourish your skin by supporting the skin's barrier. This product also helps in replenishing vitamins and minerals in your skin.
Pros
Brightens the skin
Minimizes pores
Tightens the skin
Anti-aging effect
For all skin types
Cruelty-free
Paraben-free
No synthetic fragrance
Cons
The product might have a rough texture.
Price at the time of publication: $13.97
Are you looking for a good face mask for combination skin? A mask that provides instant moisturization and hydration? Take a look at this O Naturals Face Hydrating & Acne Fighting Watermelon Vegan Gel Mask that is rich in various essential nutrients that provide your skin with the nourishment it needs. The amino acid-rich watermelon extract helps in soothing the skin and making it feel refreshed and soft. It also helps in stimulating collagen production along with toning of your skin. This product diminishes the signs of aging and combats free radicals. It is also infused with vitamin C, which acts as an antioxidant and protects your skin from sun damage, thus giving it a younger look. The hyaluronic acid formulated in this product helps moisturise your skin and reduce the appearance of fine lines and wrinkles. Get plumper, healthier, and brighter skin with this product as it also has the goodness of lavender, chamomile, green tea, calendula, apple extract and spirulina extract.
Pros
Balances the skin
100% vegan
Paraben-free
Petroleum-free
Sulfate-free
Cruelty-free
Smells great
Cons
Might give a burning sensation.
Price at the time of publication: $9.99
Are you looking for an instant stress-buster? You must try this Bliss What-a-Melon De-Stressing Overnight Mask that can be applied overnight to help you get a relaxed sleep and allow the nutrients to work on your skin efficiently. This mask helps in protecting your skin from UV rays, environmental pollutants and changes in climatic conditions. This overnight mask is formulated with Vitamin C and E, which boosts your skin's natural defences. It helps in restoring balance and removal of toxins and dead skin cells too. This product also promotes healing of the skin, and the aloe vera, oat kernel extract, and cucumber content allow your skin to get a soothing effect. The hyaluronic acid-infused in this product helps make the skin look plump and soft by providing it with moisturization.
Pros
100% cruelty-free
PETA-certified
Free from parabens, phthalates, SLS and SLES
Provides hydration
Anti-inflammatory
Cons
Some may not like the viscosity.
Price at the time of publication: $14.99
You can now tighten your skin and improve its elasticity within no time and get glowing skin and revitalize it with this mask. This mask is made up of hydrolyzed collagen with water-binding and water-retaining property to prevent your skin from dryness. This mask allows you to condition your face with radish root ferment filtrate that provides your face with moisturization. The sodium hyaluronate present in this product also acts as a humectant and has water-binding property. Vitamin E protects your skin from free radicals by playing the role of an antioxidant and water-retaining agent. Try this peel-off mask to nourish and hydrate your skin like never before!
Pros
Suitable for all skin types
Easy to apply and remove
Paraben-free
Cruelty-free
No artificial fragrance
Cons
Might be expensive for the quantity available.
Price at the time of publication: $9.99
Soothe your skin, fight against free radicals, and hydrate your skin with this Glow Recipe Watermelon Glow Sleeping Mask that quenches the thirst of your dehydrated skin. Allow your skin to become breathable, bouncy, smooth, and soft with the infusion of hyaluronic acid, AHA, and pumpkin extract. Get rid of your dead skin cells and reward yourself with smooth and glowing skin. This face is a must-have as it helps you relax when you are asleep. This hydrating mask promises to brighten your face and provide anti-aging effects too. Make your skin feel ultra-hydrated with one of the best face masks for your dull skin.
Pros
No mineral oils
Free of paraben, sulfate, phthalate, alcohol and synthetic dye
100% vegan
Cruelty-free
Fruity scent
A watery and bouncy gel-like consistency
Cons
Price at the time of publication: $32.33
The ZealSea Deep Cleansing Detox Clay Mask offers multiple benefits such as deep cleansing, exfoliating, oil control, pore minimization, blackhead removal, and hydration. The mask is formulated with natural ingredients such as pecan shell powder and six plant extracts, making it suitable for all skin types. The mask helps control oil, reduce whiteheads and blackheads, and balance the skin's water-oil level, leading to a softer and more radiant complexion. The product contains kaolin, volcanic ash, illite, and silica, which work together to draw out dirt and toxins that clog skin and cause enlarged pores.
Pros
Moisturizing formula
Brightens the skin
Oil-free formula
Easy to apply
Silicone-free
Sulfate-free
Alcohol-free
Paraben-free
Cruelty-free
Cons
Price at the time of publication: $9.99
Reduce the puffiness of your face, get rid of acne and various other skin-related issues with this Hebepe Green Tea Matcha Mud Mask. This mask is formulated with green tea and aloe vera that detoxifies your skin and helps you protect it from free radicals. It helps in unclogging your pores and drawing out all the trapped impurities. Get younger-looking, brighter, and smooth skin within a few minutes with the help of this excellent mud mask. This clay mask for combination skin is made of green tea extract, aloe vera, glycerin and volcanic mud that show numerous benefits on your skin. The volcanic mud reduces rashes, blemishes, and exfoliates dead skin buildup and allows you to purify your skin thoroughly.
Pros
Easy to apply and remove
Prevents premature aging
Removes blackheads
Restores elasticity
Suitable for oily, combination, dry and normal skin.
Cons
Might not be suitable for sensitive skin.
Price at the time of publication: $15.95
Summer Fridays Jet Lag Mask is a skin-soothing solution that helps revitalize weary, dull skin. It is made of a nourishing mixture of vitamins, ceramides, antioxidants, and exfoliating botanicals, all of which work together to hydrate the skin, reduce fine lines and wrinkles, and leave things looking ultra-dewy. It contains hyaluronic acid, which draws in moisture, and glycerin which helps seal it in the skin. Lastly, it has a soothing mixture of allantoin, bisabolol, panthenol and cucumber extract that can relax stressed skin.
Pros
Vegan
Cruelty-free
Non-comedogenic
Easy to apply
For all skin types
Improves skin tone
Cons
Price at the time of publication: $59.44
The unique Chelsea Vitality Amazonian White Clay Mud Mask helps remove impurities from the skin and absorb extra oil, creating healthier and younger-looking skin. While the shea butter, aloe vera, and a unique combination of ingredients keep the skin hydrated, the clay aids in unclogging clogged pores. This mask is ideal for sensitive, oily, dry, and combination skin. The formula is extremely soft and gentle on the skin. It deeply cleanses and eliminates deep impurities and absorbs oils.
Pros
Non-stripping formula
Non-comedogenic
Alcohol-free
Paraben-free
Sulfate-free
Cons
None
Price at the time of publication: $19.99
Here is the Swisse Manuka Honey Cleansing Clay Face Mask that makes your skin look younger and glowing! This product is made up of elements that provide hydration and smoothness to your skin. It is formulated with charcoal and Australian kaolin clay, and helps in removing dead skin cells and absorbs excess oils from your skin. This mask helps in minimizing pores and is ideal for all skin types. It also has the infusion manuka honey and aloe vera extract that purify your skin and provide it with hydration. This product also has the blend of Norwegian kelp and red algae. This product is rich in minerals and vitamins and contributes to hydration and strengthens your skin's elasticity.
Pros
No harsh ingredients used
Cruelty-free
Makes skin smooth
Promoting healthy cell regeneration
Smells great
Cons
Might not remove blackheads.
Price at the time of publication: $18.37
Here is a buying guide for your combination skin. This guide will help you understand how to choose the right face mask, how these help your skin and what are the steps for using them on your face.
How To Select Face Masks For Combination Skin
You need to first understand the type of skin you have as the kind of product you use differs according to the skin type. If you have a combination skin then it indicates that you have both oily and dry skin. So the ingredients should also be selected accordingly. You must look for hydrating ingredients such as hyaluronic acid and aloe vera as these promote moisture retention and prevent dryness. You also need to ensure that there are no ingredients that clog your pores. Since you already have oily skin in some areas, your pores are already clogged and are trapping dirt and impurities. Hence essential vitamins like vitamin E and C should be infused in the product as these can help in getting rid of the dirt and fighting against free radicals as well. Since you have both oily and dry skin, you must keep the mask for the same amount of time mentioned in the product as if you keep the mask for too long then it can cause dryness and if you keep for less time, then it won't be effective enough to trap the excess oil and dirt.
Benefits Of Wearing A Facial Mask
These face masks are made up of various essential vitamins and minerals required to stay on the face for long. These ingredients don't allow your skin to dry and provide it with cleansing and hydration. These also claim to brighten your skin and tighten your pores hence eliminate the trapped dirt and impurities. These are the inexpensive spa treatments that you would usually get by spending a ton. It also helps in reducing the occurrence of acne and minimizes blemishes too. You can use these anywhere at any time; it does not disrupt your daily routine nor requires any preparation. You can take care of your skin while cooking, watching or even gardening!
Tips For Applying The Face Masks For Combination Skin
No matter what your skin type is, here are a few tips you to follow while using a facial mask:
Step 1: Wash your face before applying the mask, putting a mask on your dirty face might trap the dirt and impurities in your skin.
Step 2: Pat dry your face without rubbing or pulling your skin much.
Step 3: Apply the face mask, if it is a clay mask then dont leave it for too long as it might dry up and cause dryness in your skin.
Step 4: Use warm water to get rid of masks that don't peel-off.
Step 5: Use a moisturizer once you remove the mask as this will help your skin absorb the nutrients present in the mask.
Why Trust Stylecraze?
The author, Vaishnavi Kothuri, is a skin care enthusiast. She loves experimenting with the latest products that keep your skin smooth and healthy. She understands the woes of finding the right face mask that keeps your combination skin glowing. She personally reviewed a wide range of face masks and curated this list of the best face masks for combination skin available on the market. These face masks are infused with collagen peptides that stimulate the production of new skin cells and make your skin look fresh and healthy.
Frequently Asked Questions
Do face masks help your skin?
Yes, these face masks are very convenient to use and provide nourishment and hydration to your skin. It helps to treat acne-prone skin and gets rid of dirt and impurities too.
Is it okay to use a face mask every night?
Certain face masks like Glow Recipe Watermelon Glow Sleeping Mask can be worn overnight, but not all face masks are formulated similarly. Most of the face masks need to be applied for 15-20 minutes and if exceeded then it can cause dryness of the face. Hence it is essential to buy the face mask according to your needs.
Are peel off masks bad for your skin?
It depends on the skin type, if you have sensitive skin then you may avoid using a peel-off mask but if you have a normal or combination skin, then a peel-off mask works well. You must look for good quality masks such as Alana Mitchell Clear Collagen Peel-Off Mask for getting amazing results.
Can you use two masks in one day?
It is usually recommended to use sheet masks thrice in a week. However, it is always better to read the instructions and indications mentioned in the face mask you plan to buy. The number of times it can be used depends on the ingredients and its effect on your skin.
Is a mud mask good for combination skin?
Yes, mud masks are beneficial for combination skin. They draw out deep-rooted impurities and excess oil and offer a smooth, matte look. However, always use a gentle moisturizer after applying a mud mask to ensure that the drier parts of your skin remain hydrated.