13 Best Face Masks For Dry And Dehydrated Skin – 2023
Combat dryness with a boost of moisture and hydration from these premium formulas.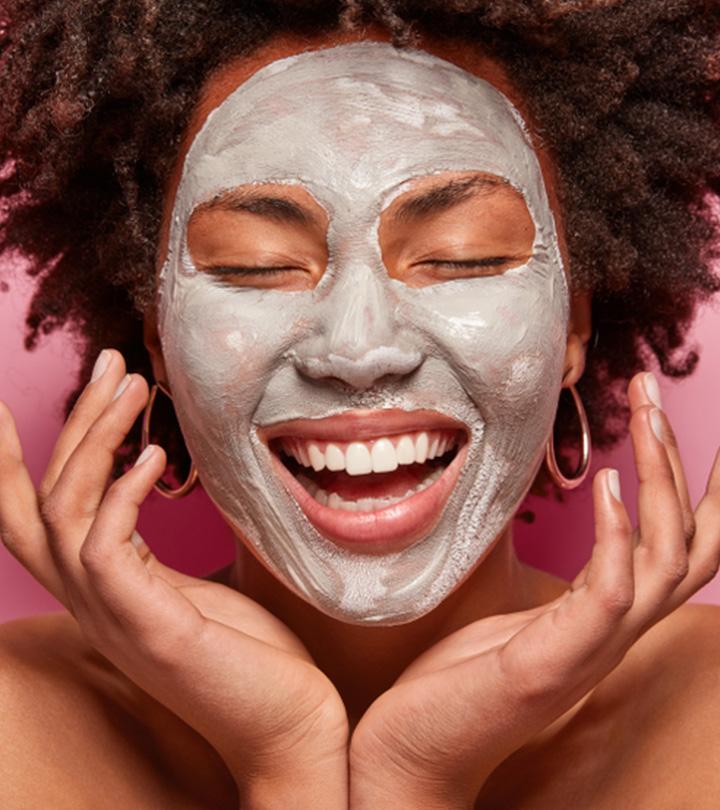 The weather, the pollution, or just a change in your routine can sometimes leave your skin feeling dry, and you wish to have that ethereal glow that most models seem to be endowed with. Our first instinct is to use a heavy-duty moisturizer, and although it might offer temporary relief, it's definitely not a permanent solution. A face mask for dry skin offers much-needed relief from the skin that may peel, crack, or flake due to various reasons. It is capable of replenishing moisture, exfoliating, and smoothing the coarse texture of your skin. What is more, it reduces the appearance of fine lines and wrinkles on the face. So, with this product in place, you can say goodbye to sensitivity, redness, and inflammation of the skin. Available in gel, sheet masks, and cream forms, it is enriched with hyaluronic acid, collagen, ceramides, humectants, emollients, and essential oils that can preserve the natural moisture of the skin. The natural face masks consist of ingredients such as avocado, honey, and oatmeal. Therefore, understanding its significance, we have made a list of the best options below. All you have to do is scroll down and find your right fit. So, check it out.
13 Best Face Masks For Dry Skin
This hydrating face mask for dry skin is full of natural products like organic aloe vera leaf juice, walnut shell powder, manuka honey, organic orange oil, and cehami extract, and is the ideal moisturizing facial exfoliant for dry patches, blackheads, wrinkles, and acne. This product works both as a scrub and a hydrating mask and is a natural anti-ager. It cleanses and minimises pores, which makes it a good choice for those with acne-prone skin. If you are a person who wants glowing, hydrated skin free of acne, blackheads and wrinkles — this might be just the product for you.



Pros
No parabens
No alcohol
Contains natural products
Ideal for sensitive and acne-prone skin
Cons

Pro Tip
Cleanse and pat dry your skin before applying a face mask to avoid layering it on top of dirt and bacteria; use micellar water to remove dirt, oil, and makeup.
Price at the time of publication: $23.99
This instant hydrating, firming, and anti-aging face mask for dry, flaky skin might be the answer to all your skin woes. It is packed with aloe vera, hyaluronic acid, chamomile, vitamin C and E, collagen and peptide to name a few and brightens up your face in no time. It also has plant-derived stem cell extracts, which heightens its healing effect. This dry skin face mask helps reduce redness and blemishes and offers relief from acne and other skin irritations. Sold in a pack of 15, this face mask for dry skin leaves your skin feeling softer, smoother, and healthier. Its long-lasting effect makes you look and feel fresh.
Pros
Cruelty-free
Vegan
CGMP-certified
Hypoallergenic
Oil and alcohol-free
Suitable for all skin types
Made of biodegradable microfiber
Cons
May not be suitable or highly sensitive skin
Price at the time of publication: $31.99
Give your skin that extra boost with this product made with mud straight from the Dead Sea and infused with shea butter, jojoba oil, and aloe vera. This natural face mask for dry, flaky  skin is suitable for both men and women and helps you achieve clear, bright, and hydrated skin with its professional spa formula. It takes care of large pores and extracts toxins and impurities, leaving your skin looking bright and hydrated. This mud has a host of minerals like magnesium, calcium, sulphur, bromide, iodine, sodium, zinc, and potassium, which are known to treat, detoxify, and cleanse the skin. It stimulates circulation and moisturises your dry skin giving you that special glow.
Pros
Suitable for all skin types
Natural ingredients
Creamy formula
Clears acne
Cons
May not be suitable for people with sensitive skin
Price at the time of publication: $11.95
This especially formulated hydrating face mask for dry skin, is versatile and works well with all skin types and leaves your skin bright and rejuvenated with that extra glow that makes all the difference. Mineral rich mud procured from the Dead Sea is infused with jojoba oil, vegetable glycerin, palmityl alcohol, sunflower oil, shea butter, hickory bark extract, aloe vera juice, calendula oil, beeswax, vitamin E, and lavender oil to name a few in this formula. The high concentration of salts and minerals in the face mask helps restore a healthy rosy glow to the skin. It deeply cleanses pores, while detoxifying and revitalizing your skin, making it a fabulous facial mask.
Pros
Not tested on animals
Natural ingredients
Suitable for all skin types
Paraben-free
Cons
It may take a long time to completely dry.
Price at the time of publication: $14.95
This 100% vegan clay dry skin facial mask  is made with mud straight from the Dead Sea and is every girl's dream as it ensures glowing, rejuvenated skin. It's incredibly versatile as it's suitable for all skin types and contains a variety of natural ingredients like shea butter, sweet almond oil, jojoba oil, avocado, broccoli, blueberry and tomato extract, tea tree leaf oil, and oatmeal extract to name a few. This skin soothing face mask leaves your dry skin hydrated and perfectly moisturized and needs to be applied for not more than 10-15 minutes daily. It's great for reducing large pores and fights acne, skin eruptions, and redness.
Pros
100% vegan and natural
Suitable for all skin types
Easy to apply
Paraben-free
Pleasant fragrance
Cons
May not be suitable for sensitive skin
Price at the time of publication: $21.5
Say 'Hello' to this great face mask for dry, sensitive skin that offers dual-action exfoliation to hydrate and renew the skin. Glycolic acid is combined with quartz crystals to provide both physical and chemical exfoliating benefits. This natural face mask will leave your skin glowing, softer, smoother, and more radiant. Made with several natural ingredients like safflower seed oil, turmeric root oil, pumpkin seed oil, rosemary leaf extract, jasmine flower extract, ginger root oil, cardamom seed oil etc it promises to soothe, brighten, and smoothen the skin. It also contains vitamin C and aloe vera, which are powerful antioxidants and nourish and hydrate the skin while turmeric soothes any inflammation caused due to dryness. The good news is that this exfoliating mask for dry skin also acts as an anti-aging mask as it's a pore minimizer and tightener, while also being a great dry face scrub.
Pros
Suitable for all skin types
No artificial fragrance
No parabens, synthetic dyes, or unsafe preservatives
Not tested on animals
Cons
Some may find the smell of the product unpleasant.

Quick Tip
Using too much product will not make your masking session more successful. Usually, you need to spread an even coat onto clean, dry skin.
Price at the time of publication: $13.97
Say goodbye to dull and lifeless skin and welcome hydrated and rejuvenated skin with this restorative clay facial mask for dry skin that brings your skin back to its natural balance with kaolin clay, zinc oxide, butterfly pea, and aloe vera. Unlike other clay masks that dry out your skin, this product moisturizes your skin with its antioxidant rich nutrients. Just 10-15 minutes of this mask helps you achieve healthy and glowing skin and does away with the hassle of going to a parlor. A cream-based formula, it ensures easy and uniform application and its antimicrobial properties help moisture stay in the skin's natural barrier.
Pros
100% vegan
Cruelty-free
Suitable for all skin types
No harmful chemicals
No artificial coloring and fragrance
Cons
Price at the time of publication: $28.0
As the name suggests, this hydrating peel-off mask makes a sweet promise of a glowing and dewy complexion. Its holographic formula contains ruby powder, which fights dullness while hyaluronic acid hydrates and moisturizes the skin. It has the added advantage of rose water, which boosts elasticity and calms irritation. In addition, it also contains jojoba seed oil, cranberry fruit extract, raspberry fruit extract, wild cherry fruit extract, cornus officinalis fruit extract, punica granatum fruit extract, pearl extract, and amethyst powder which add to the glow of your skin.Ideally, it should be used 2-3 times a week to give you a post-facial glow. This product is not only good for blemishes but also leaves glitter on your skin, which is great for that party with your friends.
Pros
Peels off in one piece
Pleasant fragrance
Value for money
Cruelty-free
Cons
May not be suitable for oily skin.

Pro Tip
Do not tug your skin when you slowly take off the sheet or peel-off mask. Finally, continue with your regular skin care routine; no need to wash.
Price at the time of publication: $19.0
With a pleasant aroma of honey, this moisturizing face mask for dry skin contains antioxidants, honey, vitamin A, hyaluronic acid, and carotenoids. This sheet mask helps to restore the skin's elasticity, leaving your complexion soft and supple. Antioxidants nourish and soothe the skin giving you that special glow while carotenoids tone and tighten the skin. Lapcos claims to be uncompromising in its use of the best ingredients and promises to deliver best results with just 15-20 minutes of use.
Pros
Natural ingredients
Pleasant fragrance
Easy to apply and remove
Doesn't contain parabens
Cons
May cause dryness in rare cases.
Price at the time of publication: $17.0
Formulated from high-quality ingredients including rose hip oil, gold, collagen, hyaluronic acid, vitamin C, vitamin E, coconut oil, and aloe vera , this peel-off mask repairs uneven skin tone and helps to hydrate, tone, rejuvenate, and tighten the skin. It also effectively unclogs pores, removes blackheads, cleanses dirt and oils while detoxifying and moisturizing your skin and is suitable for all skin types. It is suitable for dry skin and helps reduce the appearance of wrinkles while adding a sheen to the skin without it looking greasy. Just use it 3 times a week for about 20 minutes and see the compliments roll in.
Pros
100% vegan
Paraben-free
Cruelty-free
95% natural
Non-GMO
Suitable for all skin types
Cons
Its texture may not suit some people.
Price at the time of publication: $11.89
This water based sheet mask contains purified hyaluronic acid and a unique hydrating 100% hydrogel material, which holds up to 50% more essence than a standard paper face mask. This product will leave your skin soft and supple and reduces wrinkles and fine lines caused by dry skin. As hyaluronic acid is a compound found naturally in skin, this formula gives that extra boost to your skin by locking the moisture in. Just leave it on your skin for 15 to 30 minutes for an extra boost of hydration and say good-bye to your dull and dry skin.
Pros
Oil-free
Non-comedogenic
Recommended by dermatologist
Extra serum
Cons
May not be suitable for acne-prone skin.
Price at the time of publication: $29.5
This lavender-scented gel formula face mask that contains both acacia honey and lavender oil may be just the answer to your dry skin problems. It is hypoallergenic and provides a soothing solution to dry and irritated skin by hydrating and moisturizing it. The honey and lavender is readily absorbed by the skin, giving it that much needed extra boost. This product is dermatologist-tested and promises to remove the dullness from your skin by rejuvenating it and giving it a youthful lustre. So, kiss goodbye to dull, dry and lacklustre skin.
Pros
Contains natural honey and lavender oil
Dermatologist-tested
Hypoallergenic formula
Cruelty-free
Paraben-free
Pleasant fragrance
Cons
Some may find the texture unsuitable.
Price at the time of publication: $29.99
This product might be the ideal solution to your dry and damaged skin, though it is suitable for all skin types. Consisting of glycerin and vitamin B5, which is a skin replenishing humectant, activated bamboo charcoal powder, which promotes purity, and antioxidants like vitamin A and vitamin E, it claims to be the answer for various skin problems. It is also helpful in removing blackheads, acne and dirt from deep within the pores with its gentle exfoliating action. The USP of this face mask is that it claims to minimise pores on the nose, chin, and cheeks. It assures an even skin tone leaving your skin bright, glowing, and smooth.
Pros
Suitable for all skin types
No harmful chemicals
Natural ingredients
Cruelty-free
Cons
May not work on deeply embedded blackheads in some cases
Price at the time of publication: $9.99
Now that we have looked at the 13 best face masks for dry skin, here are a few things you need to keep in mind while buying a product for your skin so that you make the right choice for yourself.
How To Choose The Best Face Mask For Dry Skin?
Usually dry skin is just a minor irritant but if left ignored the problem can escalate and before you know it, it can lead to cracking, peeling, and inflammation of the skin which can sometimes be rather painful. This is where choosing the right face mask for your skin comes into play.
Look for moisturizers with ingredients like hyaluronic acid, glycerin, and aloe vera which are humectants, meaning they attract and hold onto water. Other dry skin boosters to look out for include plants oils and butters, vitamin E, ceramides, and urea. A good face mask for dry skin should ideally have emollients, humectants, and occlusives. So, do check the list of ingredients the next time you want to use a face mask for your dry skin.
There are some ingredients that need to be avoided at any cost, no matter what skin type you have. These are steroids, alcohol, fragrances, and parabens as they may cause irritation to your skin and lead to inflammation,which may leave your skin worse off than when you started.
Type of mask
A hydrating or brightening mask is ideal for dry skin but it's always a good idea to choose a mask which is specific to your skin problem. There are several face masks that are good for specific problems like acne, blackheads, blemishes,and large pores and it is therefore wise to buy accordingly.
How Often Should You Use A Face Mask For Dry Skin?
One often wonders how much is too much or how little is too little. The same is the case when it comes to face masks but there are some general guidelines that are true for all kinds of face masks for dry skin.
Usually the instructions are mentioned on the packaging, but most cream and gel masks, which are very good for dry skin can be used 3 times a week, and some formulas can even be worn nightly as overnight hydrating masks.
It comes down to your skin type, your individual skin needs, and the kind of mask you're using. Some masks are best used once per week, while others can be used more frequently, up to 3 times per week and there are even everyday face masks for dry skin. The easiest thing to do is read the instructions on the label or packaging that comes with your face mask. The directions should explain how often you can use the face mask, given its formula and the strength of its ingredients.
Step 1: For each face mask, apply an even layer to clean, dry skin.
Step 2: Leave it on for 10-15 minutes or as mentioned in the instructions.
Step 3: Rinse off with water.
Step 4: For the Exfoliate & Refining and Clarify & Smooth face masks, be sure to remove with circular motions to exfoliate.
Step 5: Use 2-3 times a week for best results.
Dry skin is caused by several reasons — weather, sun damage, harsh soaps, over-exfoliation etc. Sometimes even the use of certain skin care products may cause dry skin. And such skin looks dull and lifeless. Dry skin needs additional pampering to keep it moisturized and healthy, and the quickest way to do it is to use a mask! The best face masks for dry skin rejuvenate your skin by moisturizing it and leaving it soft and supple. Always consider investing in face masks formulated with aloe vera, glycerin, butter, vitamin E, or plant oils to keep the skin hydrated and nourished. Remember to check for ingredients that are not suitable for your skin type as they may trigger reactions.
Why Trust StyleCraze?
Vaishnavi Kothuri, the author of this article, is a skin care enthusiast. She loves to explore and review various skin care products. She has created the list of the best face masks for dry skin after thorough research and reading many online reviews on trusted forums. The masks included in the list keep the skin soft and supple, manage flaking, and reduce irritation.
Frequently Asked Questions
Do face masks help with dry skin?
People with dry skin can benefit from cream, sheet, gel and even sleeping masks as they are designed to hydrate and moisturize the skin.
Are clay masks good for dry skin?
Clay masks are generally considered good for all skin types, including dry skin, as it removes impurities and dirt that build up in our skin, thus reducing dullness and leaves the skin looking fresh and rejuvenated.
Is a coffee face mask good for dry skin?
Coffee combined with honey has an anti-aging effect and not only gives you a natural moisturized glow but also reduces signs of aging like wrinkles, dryness, and dark spots. Combining 1 tablespoon of coffee powder with 1 tablespoon of honey makes a good face mask for dry skin.
Do moisturizing face masks work?
Though moisturizing face masks are not magic, how you take care of your skin on a regular basis can make a lot of difference. Keeping your skin hydrated is an important step in this routine. While face masks may not show a noticeable effect after just one use, they do provide an extra boost to moisturize and hydrate your skin.
Can I use a face mask everyday for dry skin?
No. Face masks should not be used on a daily basis, especially if you have dry skin. Overuse may deplete the skin's vital nutrients and might lead to even drier skin.
Are gel masks good for dry skin?
Yes, gel masks are excellent for dry skin. They have a cooling effect on the skin and are enriched with humectants and emollients that hydrate the skin instantly.
Why is my face suddenly so dry?
Here are some reasons why your face feels dry after using a face mask:
•  You used a clay face mask which took away the natural moisture of the skin
•  You used the wrong face mask
•  You kept the face mask on the skin for too long
You can remedy this by moisturizing your face.
What is the best time to use face mask?
There is no such rule book on when you should use a face mask. Depending on the type of face mask, you can use it at any time of the day, morning or night.
Should I wash my face after face mask?
No, you do not need to wash your face after using the sheet mask. But, wash it if you have on a clay or cream mask.
What should I apply after face mask?
Always use a serum and moisturizer afterwards on damp skin to moisturize the skin. .
Recommended Articles
The Top Face Masks For Every Skin Type
Best Face Masks To Correct Uneven Skin Tone
Best Hydrating Face Masks
Best Organic Sheet Masks For Hydrated And Plump Skin
The following two tabs change content below.