15 Best Face Masks For Sensitive Skin With A Buying Guide – 2022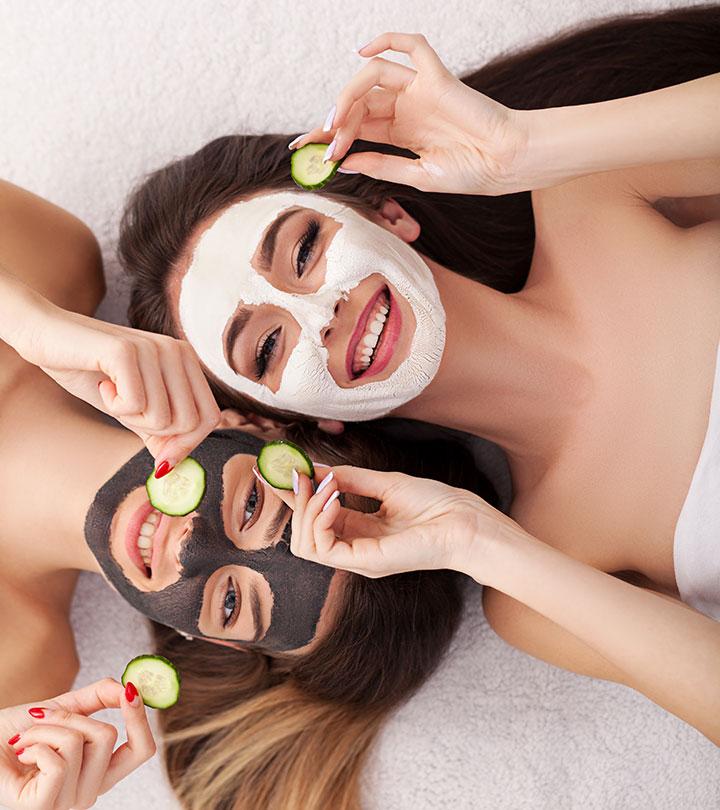 Sensitive skin is more prone to inflammation and needs utmost care. Do you want to get that healthy radiant glow on your face but are afraid of using even gentle formulas? Fret not – we will help you pick the best face mask for your sensitive skin. These face masks can moisturize the skin, remove excess oil, dirt, and dead skin cells, and impart a fresh and radiant look. Also, they will not disturb the skin's natural balance. Check out our list of the 15 best face masks for sensitive skin and choose your pick.
15 Best Face Masks For Sensitive Skin
Are you looking for the best nourishing mask for your sensitive skin? SUMMER FRIDAYS Jet Lag Mask is the best option for your stressed and tired skin. It is enriched with antioxidants, vitamins, and ceramides that leave your skin looking instantly radiant. This multitasking face mask is formulated with chestnut extracts that activate the natural exfoliation process and ward off dullness, vitamin C that brightens your skin tone and boosts hydration, and niacinamide that visibly reduces pores and fine lines and evens out your skin tone. It can be used as a daytime moisturizer and a nightly mask.
Key Ingredients
Chestnut extracts
Vitamin C
Niacinamide
How To Use
Apply a layer on cleansed, dry skin including the under-eye area.
Leave the mask on for a minimum of 10 minutes.
Wipe it off with a warm towel or washcloth. No need to rinse your face.
Pros
Offers an instant spa-like glow
Reduces dullness
Boosts hydration
Evens out the skin tone
Reduces pores and fine lines
Non-comedogenic
Vegan
Cruelty-free
Phthalate-free
Surfactant-free
Petrolatum-free
BHA-free
Silicone-free
Cons
Dr. Brandt Skincare Hydro Biotic Recovery Sleeping Mask is a leave-on sleeping mask. This sleeping mask bridges the gap between 'inside out' and 'outside in' beauty with its key ingredient – the Biotic Balancing Complex. It works in harmony with the skin's natural flora overnight. This complex stimulates the skin's self-renewal process, hydrates it deeply, and soothes irritation. This facial mask is also enriched with Manuka honey, which has anti-inflammatory, soothing, and moisturizing properties that reduce redness. Green tea increases resistance to skin aging, while yogurt powder stimulates the skin's natural defenses and prevents itching.
Key Ingredients
Biotic Balancing Complex
Manuka honey
Green tea
Yogurt powder
How To Use
Apply this mask to clean and dry skin before bedtime.
Use it nightly and do not rinse your face afterward.
Pros
Deeply hydrates the skin
Reduces redness
Soothes irritation
Prevents itching
Improves skin health
Locks-in moisture for up to 72 hours
Cons
Alya Skin Pink Perfect Australian Pink Clay Mask is a 100% natural Kaolin clay mask. It targets the problem areas on your face and helps to detoxify and brighten the skin. This mask is enriched with Australian clay that pulls out toxins from the skin, pomegranate that reduces breakouts and helps fade acne scars, aloe vera that soothes the skin and calms inflammation, and witch hazel that helps tighten pores. This clay mask gets deep into the pores and unclogs them of impurities to leave your skin clean.
Key Ingredients
Pink Australian clay
Aloe vera
Pomegranate
Witch hazel
How To Use
Apply the mask evenly on your face.
Remove the mask with a warm, wet towel after 10 minutes.
Pros
Reduces skin inflammation
Tightens the skin pores
Smoothens the skin
Moisturizes the skin
Lightens hyperpigmentation
Helps treat eczema and acne
Vegan
FDA-approved
Cruelty-free
Cons
Glow Recipe Watermelon Glow Sleeping Mask is a fruit-powered bouncy and breathable sleeping mask. This vitamin- and amino acid-rich watermelon mask intensely hydrates the skin and fights free radical damage. It is enriched with watermelon that moisturizes the skin and minimizes wrinkles and dark spots. It also contains AHAs that clarify pores and remove dead skin cells. The pumpkin extract in this mask helps in skin repair, and hyaluronic acid hydrates the skin.
Key Ingredients
Watermelon
Hyaluronic acid
Pumpkin seed extract
Alpha hydroxy acids (AHAs)
How To Use
Apply a thick layer of this mask on your cleansed, dry skin from forehead to chin as a part of your nighttime skin care routine.
Gently pat the mask into the skin and wash it off in the morning.
Pros
Smoothens the skin
Reduces the appearance of dark spots
Clarifies pores
Hydrates the skin
Reduces fine lines and wrinkles
Pillow-proof formula
Paraben-free
Mineral oil-free
Sulfate-free
Phthalate-free
Vegan
Synthetic dye-free
Cruelty-free
Cons
Herbivore Blue Tansy Invisible Pores Resurfacing Clarity Mask is a non-toxic facial mask. It gently clarifies acne-prone skin. It is enriched with white willow bark, which is a natural beta-hydroxy acid (BHA) high in antimicrobial and anti-inflammatory salicin that helps clarify skin. Also, fruit enzymes like papaya and pineapple gently exfoliate the skin and leave your skin smooth, while blue tansy oil works to reduce redness and soothe dry skin.
Key Ingredients
White willow bark
Fruit enzymes
Blue tansy oil
How To Use
Apply a thin layer of this mask to cleansed, dry skin.
Leave it on for 5 minutes, then rinse it off with warm water.
Pros
Non-toxic
Paraben-free
SLS-free
Mineral oil-free
Petroleum-free
Vegan
Cruelty-free
GMO-free
No synthetic ingredients
Cons
Laneige Water Sleeping Mask is an overnight hydrating mask. This moisture-recharging face mask delivers high doses of moisture to parched, stressed skin. It melts quickly into the skin and is infused with vitamin C, hyaluronic acid, and antioxidants. This face mask is also infused with sandalwood, rose, and orange flower extracts that provide a relaxing scent. Also, the evening primrose extracts and apricot brighten the skin.
Key Ingredients
Hyaluronic acid
Vitamin C
Antioxidants
Hydro ionized mineral water
How To Use
After applying face cream, apply this mask evenly all over the face.
Leave the mask on overnight and rinse it off in the morning.
Use this mask once or twice a week.
Pros
Hydrates the skin
Rose-scented
Brightens the skin
Plumps up the skin
Cons
Model Off Duty Beauty Clarifying Age Reverse Mask is a creamy gel facial mask. It detoxifies, cleanses, and clarifies your face. This age-reversing face mask is enriched with green tea that slows down the aging process and helps to reduce the appearance of wrinkles with its antioxidants properties. Also, it is infused with vitamins E and B to maintain skin elasticity and synthesize collagen. The activated charcoal unclogs pores, while the hyaluronic acid reduces fine lines and wrinkles.
Key Ingredients
Hyaluronic acid
Activated charcoal
Vitamin B5
Vitamin C
Vitamin E
Green tea
How To Use
Apply a thick layer of this face mask to clean, dry skin.
Rinse it off with water after 10-15 minutes.
Pros
Reduces age spots
Minimizes fine lines and wrinkles
Hydrates the skin
Fights the signs of aging
Vegan
Non-GMO
Gluten-free
Paraben-free
Cruelty-free
Phthalate-free
Cons
First Aid Beauty Ultra Repair Instant Oatmeal Mask is a deeply hydrating mask for dull-looking and dehydrated skin. This oatmeal mask helps nourish, soothe, and rejuvenate the skin in just 10 minutes. This soothing mask is a blend of two types of protective oats, namely colloidal oatmeal, and Avena sativa oat bran. These are skin-nourishing ingredients that prevent oxidative damage while providing hydration. It also contains shea butter and bisabolol that provide moisture and act as a protective skin barrier. This face mask helps treat eczema and reduces the appearance of wrinkles, fine lines, and redness.
Key Ingredients
Colloidal oatmeal
Shea butter
Bisabolol
Sea buckthorn
FAB antioxidant booster
Licorice root
Feverfew and white tea extracts
How To Use
Apply a thick layer of this face mask all over your cleansed, dry face.
Rinse it off with water after 10 minutes.
Use this facial mask two or three times per week.
Pros
Dermatologist-tested
Non-comedogenic
Hydrates the skin
Rejuvenates the skin
Vegan
Alcohol-free
Alcohol-free
Paraben-free
Petrolatum-free
Sulfate-free
Formaldehyde-free
No artificial fragrance
Cons
Tree To Tub Purifying Clay Mask is a deeply moisturizing clay mask. It is formulated with the finest natural ingredients like bamboo charcoal, mild bentonite, and kaolin clay. These ingredients trap all the impurities and environmental pollutants and remove blackheads. The mask also contains caprylic triglyceride from coconut oil that moisturizes and conditions sensitive skin. The hyaluronic acid in this mask soothes the skin. It is a humectant that reduces inflammation and redness and simultaneously hydrates the skin.
This product also contains ginseng and green tea that are anti-aging ingredients. They improve blood circulation, brighten the skin complexion, and restore damaged skin. The aloe vera, chamomile, and cucumber extracts in this mask provide intense hydration. The antioxidants from bitter orange and tea tree promote acne treatment, and the vitamin C and pumpkin enzymes help build collagen and maintain skin elasticity.
Key Ingredients
Ginseng green tea complex
Indian bentonite clay
Vitamin C
Hyaluronic acid
How To Use
After cleansing your face, apply this mask evenly all over it.
Rinse it off your face after 5 to 7 minutes.
Pros
Deeply unclogs the pores
Soothes inflamed skin
Moisturizes the skin
Repairs damaged skin
Boosts blood circulation
Brightens the skin
Vegan
Cruelty-free
Chemical-free
SLS-free
Paraben-free
Silicone-free
Gluten-free
Cons
Divulge Beauty Enzyme Face Mask is the first-ever water-activated enzyme mask. This face mask dissolves dead skin cells and treats clogged pores. It is an exfoliating face mask that gently loosens and removes dirt, oil, and dark spots. It hydrates and brightens your skin. This enzyme face mask is enriched with enzymes that work to shed skin cells and speed up the skin's natural exfoliation process. Oat kernel protein softens and moisturizes the skin, while alfalfa powder helps prevent dry skin and improves your complexion.
Key Ingredients
Oat kernel protein
Alfalfa powder
Enzymes
How To Use
Measure one scoop of enzyme powder and mix it with hot water to form a spreadable paste.
Rinse off the mask after 5-10 minutes with warm water.
Use this mask 2-3 times per week for the best results.
Pros
Removes dry, flaky skin
Clears blackheads
Unclogs dirt and oil from pores
Fixes uneven skin texture
Non-comedogenic
Non-irritating
Fragrance-free
Sulfate-free
Oil-free
Sulfate-free
Alcohol-free
Paraben-free
Cons
Mario Badescu Azulene Calming Mask is a clay mask infused with olive leaf extract, evening primrose, and vitamin E. These three ingredients protect the skin from environmental damage. Kaolin clay and wheat starch detoxify and clear clogged pores. It also absorbs excess oil and impurities in the pores. Its antibacterial properties protect the skin from breakouts. This nourishing mask exfoliates the skin as well. Its soothing chamomile formula reduces skin redness. This calming or non-hardening mask comforts irritated and very sensitive skin types.
Key Ingredients
Vitamin E
Evening primrose extract
Olive leaf extract
Kaolin clay
How To Use
Apply a thin layer of this face mask on clean, dry skin.
Avoid the under-eye area and wait for 15-20 minutes.
Rinse it off well with warm water.
Use this mask 2-3 times per week for best results.
Pros
Alleviates redness and irritation
Draws out impurities from the skin
Exfoliates the skin
Deeply cleanses the skin
Reduces inflammation
Cruelty-free
Cons
Differin Detox + Soothe 2 Step Face Mask is a dermatologist-tested treatment. In step one, hotflux opens the pores, while hectorite and kaolin clay remove excess oil and impurities and detoxify the skin. In step two, the cooling gel is formulated with allantoin and blue tansy oil that soothe the skin and minimize the appearance of redness and pores. Also, it helps retain the skin's natural moisture.
Key Ingredients
Allantoin
Kaolin clay
Hotflux
Hectorite
Blue tansy oil
How To Use
Apply step 1 to your face and wash it off after 3 minutes with water.
Apply step 2 and leave it on overnight.
Use this treatment up to 3 times per week for the best results.
Pros
Detoxifies the skin
Soothes the skin
Removes excess oil and impurities
Helps retain skin moisture
Minimizes the appearance of pores
Easy to use
Non-comedogenic
Dermatologist-tested
Paraben-free
Cons
Peter Thomas Roth Cucumber Gel Mask is an ultra-gentle gel face mask. It helps soothe, detoxify, and hydrate the skin. This gel mask is infused with botanical extracts of cucumber, papaya, chamomile, aloe vera, sugarcane, pineapple, orange, lemon, sugar maple, and bilberry. The key ingredients like cucumber extract have emollient properties that can nourish, soothe, hydrate, and de-puff your skin. The papaya enzymes help remove dead skin cells, reduce pigmentation, treat the signs of aging, and treat eczema and psoriasis. Chamomile and aloe vera extracts reduce itching, inflammation, and redness. They also promote skin cell turnover to speed up the healing process.
Key Ingredients
Cucumber extract
Papaya extract
Chamomile extract
How To Use
Apply the face mask to clean and dry skin.
Rinse it off with cool water after 10 minutes.
Use this gel mask 2-3 times per week for the best results.
Pros
Reduces inflammation
Hydrates the skin
Refreshing formula
Reduces skin puffiness
Detoxifies the skin
Cons
If you want to have blemish-free and smooth skin, try out the Honeyskin Turmeric Face Mask. The face mask is rich in antioxidants and helps with cell regeneration that reveals radiant and glowing skin. The formula of this mask is enriched with organic turmeric extract that reduces scarring and calms inflamed skin. Organic aloe vera offers hydration and bentonite clay exfoliates your skin and draws out impurities. Organic manuka honey treats hyperpigmentation. It also contains ginger root oil to help fade the appearance of scars. The mask helps to revive your skin and reveals a natural glow.
Key ingredients
Organic turmeric extract
Aloe vera
Bentonite clay
Ginger root oil
Organic manuka honey
Sweet citrus extract
Pros
Suitable for all skin types
Cruelty-free
Paraben-free
Free from toxic chemicals
Cons
Cetaphil Pro Dermacontrol Purifying Clay Mask is a creamy clay mask. This face mask is designed to purify and deep clean your pores. It is formulated with bentonite clay that draws out impurities and Amazonian kaolin clay that gently exfoliates the dead skin cells. Also, the apple fruit and cucumber seed extracts help maintain skin hydration and brighten your skin.
Key Ingredients
Bentonite clay
Amazonian kaolin clay
How To Use
Apply this mud mask to your clean, dry skin.
Leave it on for 5 to 10 minutes, then rinse it off with warm water.
This face mask can be used up to 3 times per week.
Pros
Removes pore-clogging impurities
Absorbs excess oil
Deeply cleanses the skin
Minimizes the appearance of pores
Improves skin tone
Dermatologist-recommended
Clinically tested
Hypoallergenic
Non-comedogenic
Easy to use
Fragrance-free
Cons
Face masks can be beneficial. But before you purchase one, you need to know what to look for to make a wise choice.
How To Choose A Face Mask For Sensitive Skin
If you have sensitive skin, you should consider some points before selecting a face mask. Here is a list of important points to keep in your mind.
1. Choose Gentle Formulas:
Opt for basic and gentle products and do not confuse your skin by using multiple products at once. Choose non-comedogenic, soothing, hydrating, chemical-free, and paraben-free formulas that do not damage your sensitive skin. The face mask should also contain gentle exfoliators like kaolin clay that unclogs pores and removes dirt and impurities from the skin.
2. Check The Ingredient List
It is one of the most important things to do while selecting a face mask for sensitive skin. Not all ingredients are suitable for sensitive skin. So, go for masks with natural botanical extracts with skin-soothing properties. Select a mask with cucumber, aloe vera extract, chamomile, or hyaluronic acid. They possess anti-inflammatory properties that calm down your irritated skin.
3. Avoid Masks With Harsh Chemicals
You should avoid facial masks with harsh ingredients like salicylic acid, sulfates, artificial fragrances, dyes, phthalates, alcohol, and anything that may dry and irritate your skin.
4. Always Do A patch Test
It is the best way to avoid any allergic reaction. Your skin may be more sensitive to many gentle ingredients as well. So, do a patch test before using any product. Apply the mask to a small area on your chin or neck and let it sit for about 20 minutes. Then, wash it off. If you notice any adverse reaction, like redness or itching, avoid that product.
Face masks can help reduce skin inflammation and redness and offer a soothing sensation. In the following section, we will discuss the benefits of applying a face mask to sensitive skin.
Benefits Of Applying A Face Mask To Sensitive Skin
Face masks remove dirt, impurities, and dead skin cells that are trapped in your pores. They can detoxify your skin and imparts a radiant glow to your skin.
Applying a face mask can make your skin look flawless. Opting for a mask that is suitable for your sensitive skin can give it a healthy appearance.
Face masks can help improve blood circulation. The scrubbing or peeling process stimulates the blood vessels underneath your skin. This, in turn, ensures an overall improvement in skin texture.
Applying a face mask relaxes and soothes your skin and reduces redness and inflammation. Masks formulated with essential oils can revitalize your skin.
That was our list of the 15 best face masks for sensitive skin available right now. We hope this article helps you find the best face mask for your sensitive skin. Pick your favorite one from this list and try it out to get smooth and healthy skin!
Why Trust StyleCraze?
Oyendrila Kanjilal, the author, is a certified skin care coach who is passionate about skin care and beauty products and the way they affect your skin. She knows what works best for you as per your age and skin type. Especially when it comes to sensitive skin, she makes sure you use nothing but the best. So she has painstakingly done all the research about the ingredients used in various face masks and how they may affect you over time to curate this list of the top 15 face masks for sensitive skin. When you select any of the products listed here, you can be sure to see and feel a visible difference.
Frequently Asked Questions
Are face masks bad for sensitive skin?
No. Face masks are good for sensitive skin. Most brands have face masks with skin-soothing, hydrating, calming, and repairing ingredients. They make your skin healthy and smooth without causing any irritation.
Are clay masks good for sensitive skin?
Yes. Clay masks are good for sensitive skin. They can stimulate blood circulation, absorb impurities, and exfoliate dead skin cells.
Which clay mask is best for sensitive skin?
A face mask made with kaolin clay is the best option for sensitive skin. In general, it is available in different colors like white, pink, red, and yellow. White kaolin clay is gentle on sensitive skin. Red kaolin clay absorbs impurities effectively, while other types of kaolin clay stimulate blood circulation and help in exfoliation.
Recommended Articles