13 Best Face Masks (2020) For Sensitive Skin – Reviews And Buying Guide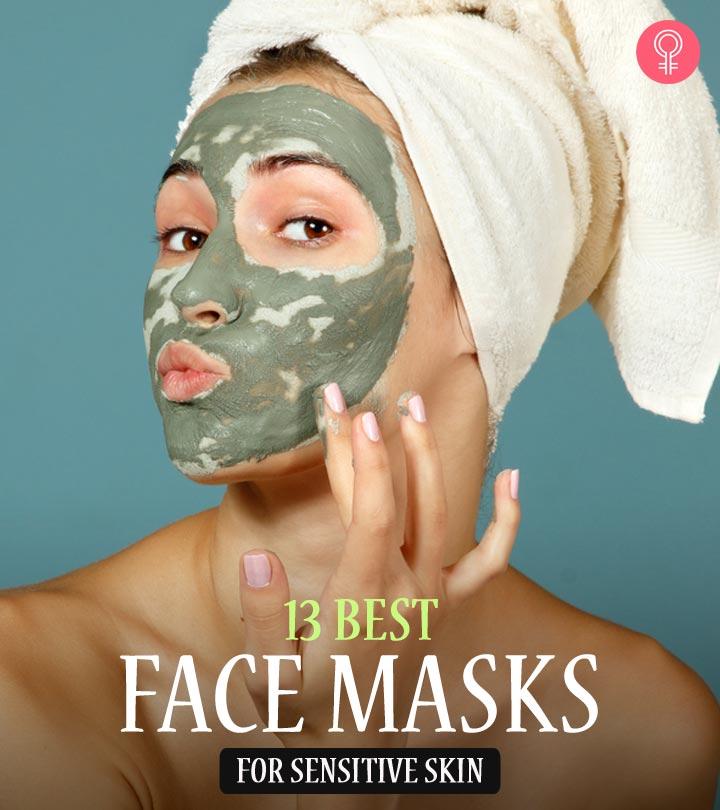 Face masks are important. They unclog pores, reduce inflammation, and hydrate the skin. But if you have sensitive skin, you need to be wary of what you use – because not all face masks are suitable for your skin type. To make your life easier, we have listed the 13 best face masks for sensitive skin. Take a look!
13 Best Face Masks For Sensitive Skin
This creamy luxurious clay mask is formulated with Yuzu lemon, seaweed, eucalyptus, red algae, and charcoal. The L'OREAL Paris clarifying mask contains activated charcoal that is a detoxifying and purifying ingredient. It provides a deep cleanse by trapping all the toxins and impurities, removing the dead cells, and making dull skin radiant. It has antibacterial properties that get rid of acne-producing bacteria and prevent breakouts and inflammatory lesions. The mask also relieves irritation, redness, and swelling.
Apply this creamy, non-drying face mask after your regular skin care routine. Leave it on for 10 to 15 minutes and then rinse.
Pros
Detoxifies skin
Clears pores
Traps environmental toxins
Brightens skin tone
Purifying and mattifying
Removes damaged skin debris
Unclogs pores
Cons
Leaves a chalky appearance.
Not suitable for dry skin.
The Tree to Tub Purifying Mask is formulated with the finest natural ingredients like bamboo charcoal, mild bentonite clay, and kaolin clay. These trap all the impurities and environmental pollutants and remove blackheads. The mask also contains caprylic triglyceride from coconut oil that moisturizes and conditions sensitive skin. The hyaluronic acid in the mask soothes sensitive skin. It is a humectant that reduces inflammation and redness and simultaneously hydrates the skin.
The product also contains ginseng and green tea that are anti-aging ingredients. These also improve blood circulation, brighten skin complexion, and restore damaged skin. The aloe vera, chamomile, and cucumber extracts in the mask provide intense hydration. The antioxidants from bitter orange and tea tree promote acne treatment, and the vitamin C and pumpkin enzymes help build collagen and maintain skin elasticity.
Pros
Safe ingredients
Eco-friendly
100% vegan formula
Deeply moisturizing
Deep pore decongestant
Non-irritant
Removes stubborn blackheads
Maintains skin pH
Contains antibacterial ingredients
Easy to apply
Cons
The Model Off Duty Age Reverse Mask has a creamy gel consistency. It is a non-drying formula perfect to detoxify, clarify, and deep cleanse the skin. It is a complex perfecting mask made with green tea, activated charcoal, hyaluronic acid, organic aloe leaf juice, olive fruit oil, jojoba seed oil, rooibos leaf extract, vitamin C, provitamin B5, and vitamin B3.
The green tea in the mask is a powerful antioxidant and anti-aging ingredient. It protects skin from oxidative damage. The vitamins E and B maintain skin elasticity and synthesize collagen. The activated charcoal unclogs pores, while the hyaluronic acid reduces fine lines and wrinkles.
Pros
100% vegan
Gluten-free formula
Non-GMO ingredients
Paraben-free
Sulfate-free
Phthalate-free
Best anti-aging formula
Non-toxic
Restores skin health
Fast-acting
Cons
The Peter Thomas Roth Cucumber Gel Mask helps soothe, hydrate, and detoxify dry, irritated, acne-prone skin. This ultra-gentle gel mask is made with botanical extracts of cucumber, papaya, chamomile, pineapple, sugar maple, sugarcane, orange, lemon, bilberry, and aloe vera.
Cucumber extract possesses hydrating and emollient properties that hydrate, soothe, and calm sensitive skin. The papaya enzymes help remove dead skin, clear pigmentation, reduce signs of aging, and aid in the treatment of eczema and psoriasis. Chamomile and aloe vera extracts have anti-itching and anti-inflammatory properties that reduce skin redness. They also aid in cell turnover to accelerate the healing process.
Pros
Natural formula
Soothes sun damage
Detox skin
Paraben-free
Sulfate-free
Phthalate-free
Reduces inflammation
Non-peeling formula
Cons
The Alya Skin Clay Mask is made with pink Australian clay, aloe vera, pomegranate, and witch hazel. Unlike other clay masks, the Australian pink clay with witch hazel provides the deepest level of cleansing by trapping all the impurities. The mask tightens skin pores and provides faster relief from dry, irritated skin. The antioxidant properties of pomegranate and aloe vera protect the skin from environmental toxins, reduce acne scars and pigmentation, and soothe inflammation and redness.
Pros
100% pure vegan formula
Cleanse and detox skin
Scented with rose petals
Safe for sensitive skin
Quick healing properties
Tightens pores
Smooth application
Moisturizes skin
Reduces pigmentation
Paraben-free
Sulfate-free
Provides relief from eczema and psoriasis
Cons
Contains certain harmful chemicals.
The Andalou Naturals Rose Water Mask is made using 1000 roses. It also contains a unique trio of alpine rose, apple, and grape stem cells that delivers essential hydration to the skin. The mask also has pomegranate, which is rich in antioxidants and neutralizes the effects of free radicals. It also protects the skin from environmental toxins, and its antibacterial properties are just apt for acne-prone skin. The hyaluronic acid and aloe vera help revive the skin's moisture and provide a protective barrier to the skin.
Pros
Made using fruit stem cell science
Non-GMO 100% vegan formula
Gluten-free
Organic ingredients
Pleasant smell
Cons
Thin consistency
May dry the skin out.
This is a clinically-tested and dermatologist-recommended brand. The Cetaphil Pro Dermacontrol Purifying Clay Mask helps exfoliate sensitive skin. It is a unique combination of bentonite and kaolin clays that open clogged pores, draw out excess oil, and squeeze out all the impurities. The apple fruit extract is packed with polyphenols and antioxidants that protect the skin from environmental damage. The age-defying ingredients in the mask correct fine lines and wrinkles. The cucumber seed extract is soothing, calming, and moisturizing to your skin.
Pros
Dermatologist recommended
Clinically-proven formula
Brightens the skin tone
Non-irritating formula
Non-comedogenic
Hypoallergenic
Easy to apply
Tightens pores
Cons
The First Aid Beauty Ultra Repair Instant Oatmeal Mask is a deeply hydrating solution for dehydrated and dull-looking skin. This oatmeal mask helps nourish, calm, and rejuvenate the skin in just 10 minutes. This soothing mask is a blend of two types of protective oats, namely colloidal oatmeal and Avena Sativa oat bran. These are skin-nourishing ingredients that prevent oxidative damage while providing hydration. This mask also contains shea butter and bisabolol that provide moisture and act as a protective skin barrier. This mask also helps in the treatment of eczema.
Pros
Paraben-free
Alcohol-free
Lanolin-free
Phthalate-free
Sulfate-free
Petrolatum-free
Propylene glycol-free
Mineral oil-free
No added artificial colors and fragrances
Allergy-tested formula
Nut-free
100% vegan ingredients
Easy to apply
Cons
The pūrlisse Blue Lotus Seed Mud Mask is a pure, safe, and gentle exfoliator for sensitive skin. This versatile mud mask and exfoliating scrub are made with blue lotus seed, white clay, bamboo, ginger, white tea, and mushroom extract. This effective 10-minute solution gently exfoliates your skin, opens clogged pores, and draws out the excess oil and impurities.
Blue lotus seed is a powerful antioxidant and anti-inflammatory agent that protects the skin from free radical damage. It also reduces skin rashes, irritation, and redness. The white clay clears pores and tightens them, while the ginger root detoxifies skin. The bamboo and mushroom extracts brighten the skin tone. White tea extract and rice bran water make the skin silky smooth.
Pros
100% vegan
Detoxifies skin
Tightens pores
Improves skin texture
Pure and safe ingredients
Paraben-free
Sulfate-free
Phthalate-free
Free of petrochemicals and propylene glycol
Hypoallergenic
Gentle and effective
Cons
None
The SkinCeuticals Phyto Corrective Masque is made with hyaluronic acid and herbal extracts that nourish sensitive skin. Hyaluronic acid is gentle on sensitive skin and soothes and hydrates irritated skin. This clinically proven formula restores the skin's natural moisture, radiance, and smoothness. The soothing botanicals like cucumber, thyme, and olive leaf extract comfort your skin. The calming peptides in the mask help reduce heat sensitivity. Applying this face mask 2-3 times in a week provides visible results. It can reduce redness by 20% and skin discomfort by 47%.
Pros
Clinically-proven formula
Rehydrates the skin
Soothes and brightens the skin
Locks in hydration
Cons
None
The REN Ultra Comforting Rescue Mask instantly reduces redness, irritation, itchiness, and inflammation of the skin. The white mushroom extract has antioxidant and anti-inflammatory properties that protect the skin from oxidative damage and promote skin healing. Panthenol, shea butter, and jojoba extract act as humectants. They penetrate skin and seal moisture. The vitamin E with the other essential oils maintain the skin's luster and reduce fine lines and wrinkles.
Pros
Easy to apply
Evens out the skin tone
Minimizes redness and inflammation
Soothes irritation
Hydrates the skin
Cons
None
The Herbivore Blue Tansy Clarity Mask is a blend of white willow bark (BHA), fruit enzymes (AHA), blue tansy oil, and aloe leaf that unclog pores, remove dead skin, and leave your skin feeling brighter. The white willow bark is a natural beta-hydroxy acid (BHA) that penetrates deep into the pores and removes all impurities. Fruit enzymes also are a natural source of alpha-hydroxy acids (AHA). These, along with salicylic acid, shed dead cells from the skin epidermis and leave the skin feeling smoother. The blue Tansy oil is high in azulene that possesses anti-inflammatory properties.
Pros
Clarifying facial mask
Offers smoother, brighter complexion
Phthalate-free
Paraben-free
100% vegan
Gluten-free
Cons
The Mario Badescu Azulene Calming Mask is a clay-based mask infused with olive leaf extract, evening primrose, and vitamin E. These three ingredients protect the skin from environmental damage. The kaolin clay in the mask detoxifies and clears clogged pores and absorbs excess oil. Its antibacterial properties protect the skin from breakouts. This nourishing mask is an excellent exfoliator as well. Its soothing chamomile formula alleviates skin redness and irritation.
Pros
Cruelty-free
Natural ingredients
Gentle exfoliator
Cleanses and unclogs pores
Clarifying mask
Calming face mask
Deep cleanses the skin
Best for dehydrated skin
Reduces inflammation
Cons
These are the top face masks specifically meant for sensitive skin. They help reduce skin inflammation and redness and offer a soothing sensation. In the following section, we will discuss the benefits of applying a face mask to sensitive skin.
Benefits Of Applying A Face Mask To Sensitive Skin
Applying a face mask provides skin relaxation and soothes skin redness and inflammation. Masks infused with essential oils revitalize the skin.
Face masks with clay and activated charcoal deeply cleanse pores, unclog them, and remove all dirt and impurities.
Masks with salicylic acid or glycolic acid help detoxify skin.
Face masks can also help stimulate blood circulation. The process of the mask drying on your skin, hardening, and eventually being peeled off leads to the expansion of blood vessels underneath your skin. This ensures an overall improvement in skin tone.
In the following section, we have discussed how to apply a face mask to sensitive skin. Take a look.
How To Apply Face Mask To Sensitive Skin
Start with a good cleanser for a basic skin care routine.
After cleansing your face, apply a thin film of the mask with a spatula. Leave it on for 10 to 15 minutes, and let it dry.
While removing the mask, do not rub or scrub it. Instead, use a soft cotton cloth soaked in clean, lukewarm water. Wipe the mask off your face using it. Follow by splashing cool water on your face.
Face masks can be beneficial. But before you purchase one, you need to know what to look for to make a wise choice.
How To Choose The Right Face Mask
Choose a chemical-free, paraben-free formula that does not damage your sensitive skin.
Natural botanical extracts can help in soothing and calming the skin. For sensitive skin, select a mask with hyaluronic acid, cucumber, aloe vera extract, and chamomile. These act as anti-inflammatory agents and soothe irritated skin.
The face mask should also contain gentle exfoliators like kaolin clay that unclogs pores, removes dirt, and detoxifies the skin.
Conclusion
Face masks are essential for skin health. But with sensitive skin, picking the right product could be a challenge. Most products tend to cause reactions on sensitive skin. However, this does not mean you cannot find the mask of your choice.
Pick the right mask from this list. Select a non-comedogenic, soothing, and hydrating formula to reduce inflammation and boost moisture levels. Make it a part of your regular skin care routine. Your skin will soon thank you for your decision!
Recommended Articles