13 Best Face Rollers To Banish Puffiness And Wrinkles – 2023
The most conventional way of uplifting your face to prevent it from sagging.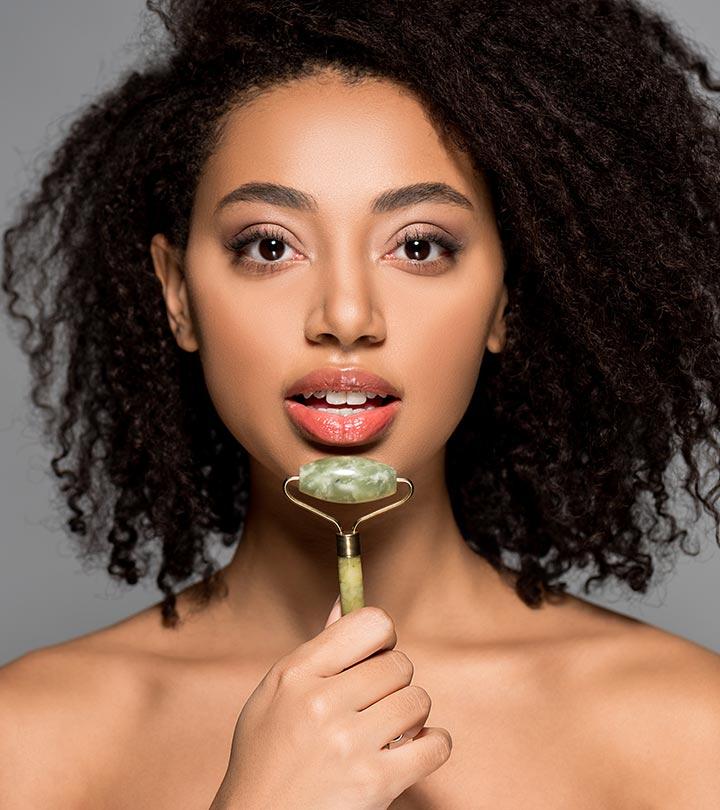 Fighting against morning puffiness along with trying to prevent fine lines or potential wrinkles can be a struggle for many. However, you can use the best face roller to avoid this daily struggle. Instead of trying every cream or lotion in the world to fix that problem, using facial rollers seems to be a convenient option. You may have heard the beautiful green jade rollers and rose quartz rollers taking the internet by storm due to their excellent therapeutic results. They originated in China and have been a part of the Asian skin care regimen for ages. The facial rollers not only calm your skin but also help in sculpting and uplifting your face, preventing sagging and puffy skin. "Always applying a serum or moisturizer before using a roller. Rolling or massaging the face after applying a topical product can help the product absorb into your skin," says Dr. Enrizza Factor, MD.
The best part is that they are easy to use and can be used irrespective of the weather conditions. So if you have had a tiring day or woke up late with a puffy face due to binge-watching your favorite series, these rollers may be your answer.
Scroll down to check out the 13 best face rollers.
Top 13 Best Face Rollers Of 2023 To De-Puff And Tone Skin
De-puff and tighten up with this flawless face roller made of authentic jade. Handcrafted and super-easy to use, it is a great tool to counter puffy under-eye areas and contour lines. From boosting collagen production, minimizing pores, stimulating elastin, to restoring your enviable jawline, this quaint-looking roller can be a blessing in disguise. And to top it all, you get a gua sha scraper with the set too. Yep, roll-on and feel gorgeous all day with this flawless contour facial roller!
Pros
Ultra-smooth surface
Sturdy and long-lasting
Decreases cell turnover
Relaxes tensed and tired skin
Improves elasticity and minimizes spots
Preps skin to absorb creams and lotions effectively
Suitable roller for face, eyes, nose, neck, and body
Cons
Price at the time of publication: $9.99
How about you kickstart your mornings with some ice therapy? Relieving, relaxing, and rejuvenating your mind, body, and skin, this cold face roller for face is a must-try for all. With a detachable head that you can place in the freezer, this roller not only alleviates tiredness and dullness but sunburns and redness too. Also, are you dealing with eye fatigue or face swelling? Then you will love this massager even more because it boosts blood circulation and relieves muscle tension too. Cool, isn't it? Watch this video for more information about the product.
Pros
Relieves migraine
Counters dryness and wrinkles
Minimizes pores and sculpts jawline
Suitable for all skin types
Easy to clean and portable
Ideal for reducing fever, pain, and minor injuries
Cons
May not stay cold for too long
May be too big to de-puff under-eye areas
Price at the time of publication: $18.99
OMG, this one vibrates! Yep, this quartz facial roller comes with a vibration feature to turn your morning massage into a mini spa session. Plus, the roller head is detachable, and the set also includes an eye press attachment to reduce dark circles and puffy eyes. A great tool to enjoy intense exfoliation and salon-like massages in the comforts of your home, it claims to boost circulation, increase collagen, plump wrinkles, and fine lines too. Also, did we tell you it is made of authentic rose quartz stone? Yep, do not skip it! This video helps you know more about the product.
Pros
Ultra-smooth stone surface
Tones and tightens skin
Reduces inflammation and dullness
Improves complexion and rejuvenates tired skin
Easy to use, clean, and store
Ideal for cold therapy and suitable for sensitive skin
Cons
Not ideal for deep tissue massages
Price at the time of publication: $9.78
Enjoy your massage session without letting the entire household know! Yep, this non-squeaky rose quartz roller for face is too chic to be missed. With the color adding a dash of elegance, this dual-sided roller will de-puff, tighten, and tone skin like a pro. Also, it claims to leave your skin plumped and dewy while boosting blood circulation, minimizing pores, and reducing fine lines and wrinkles. Want more? You can also use it for cold therapies!
Pros
Ultra-smooth surface
Improves complexion
Alleviates muscle tension
Minimizes the appearance of dark circles
Increases product absorption on the skin
Suitable to use on face, neck, body, eyes, and under-eye areas
Cons
Price at the time of publication: $15.19
From the Great Himalayas to your beauty kit, this 100% natural jade roller guarantees to heighten your natural glow with every use! Go on de-puff, tighten, and tone your complexion with this dual-sided tool that targets aging lines, pores, and dark circles on the skin. With a super-smooth surface and no chemicals or irritants to bother your skin, it effectively boosts blood circulation and reduces puffiness within seconds too. It is the best jade face roller and also, it's so handy that you can use this face roller on your way to work or during tea breaks as well!
Pros
Alleviates muscle strain
Encourages lymphatic flow
Plumps fine lines and wrinkles
Leaves skin tighter and younger-looking
Ideal for using on the face, cheeks, jawline, neck, forehead, and eyes
Cons
Price at the time of publication: $8.99
Too pretty to be missed— This delicate rose-pink quartz face roller will upscale your beauty collection instantly. Yep, get ready to meet some envy stares as you roll-on with this artistic piece to de-puff, lift and firm your skin within seconds. Soothing and relaxing your muscles whether you use it in the morning or EOD, it guarantees a spa-like treatment always. Yep, indulge and flaunt, ladies!
Pros
Suitable for cold therapy
Made of 100% authentic quartz stone
Restores youthful radiance
Tackles fine lines and wrinkles
Boosts blood and lymphatic circulation
Sturdy, noiseless, and ultra-smooth
Ideal for using on face, eyes, cheeks, neck, arms, etc.
Cons
May not stay cold for too long
Price at the time of publication: $6.98
Still, spending on those expensive facial treatments to tighten and uplift your skin? Stop, and get yourself this 3D massager and T-shape electric roller instead. Designed to boost your skin's metabolism, watch the rollers ease those wrinkles, fine lines, and puffiness like a charm with its unique structures. And that's not all; the high-frequency vibrating feature adds to the skin-tightening benefit and encourages tighter-looking skin too. Still, want to break the bank on those pricey salon trips? Check out this video to know more about this product.
Pros
Waterproof
Reduces dark circles
Eliminates toxins and uplifts skin
Relaxes and soothes tensed muscles
Preps skin for creams, moisturizers, and lotions
Relieves congestion and improves blood circulation
Cons
Not suitable for sensitive skin
Price at the time of publication: $18.99
After creating a stir in Japan with its skin-beautifying benefits, this radiance roller is ready to make its way into your daily routine! Featuring 30 massage stones infused with germanium powder, it claims to rebalance the bioelectric current of the skin that may be harmed due to sun rays or exposure to electronic gadgets. Besides this, it also targets aging lines, puffiness and improves the skin's elasticity as well. And that's not all; you can use this Japanese face roller hot or cold! Yep, know a trendy face roller better than this? Tell, we'll wait.
Pros
Enhances natural contour lines
Relieves muscle tension and tired skin
Leaves skin tighter and younger-looking
Boosts blood circulation and revitalizes skin
Lightweight, durable and portable
Suitable to use on cheeks, jawline, forehead, neck, etc.
It helps the skin absorb lotions, serums, and creams effectively.
Cons
Price at the time of publication: $26.83
9. Best For Dark Circles And Puffiness: Massage Ice Roller
To calm your skin, you must indulge in something cool like this ice roller made of stainless steel. Giving your skin the ultimate euphoric moment with every use, it is also a great tool to relieve stress, muscle tension, and tiredness. And given its stainless steel structure, it guarantees long-lasting and ultra-cooling effects so you don't have to re-freeze it often. Just what you need after a long tiring day, this cold roller for the face also alleviates muscle pain and promotes blood circulation. Give it a try!
Pros
Minimizes pores
Counters dark circles and puffiness
Lightweight, portable, and freezes quickly
Ideal for reducing inflammation, strain, and fatigue
Suitable to use on neck, face, eyes, and body
Cons
May be too big to use on under-eye areas
Price at the time of publication: $11.99
If you are looking for a microneedle face roller, then this medical-grade tool is a must-try for you. Recommended by dermatologists and made of stainless steel, this tool with 200 microneedles are sterile and also used by medical professionals. Pain-free, scar-free, and tear-free, all you need is light pressure to restore the natural and healthy radiance. And as far as its benefits are concerned, they are endless! From creating tiny and pain-free punctures on your skin to boost your original glow, it also exfoliates dead skin cells, improves elasticity, and plumps wrinkles effortlessly. Yep, get set rolling for happy skin y'all!
Pros
Non-invasive and safe
Rebuilds and rejuvenates dull skin
Reduces dark spots and acne scars
Enhances skin tone and ensures no discomfort
Stimulates skin to absorb products 200 times more effectively
Cons
Not suitable for very sensitive skin
Price at the time of publication: $12.97
This gel-made soft ice roller will make you go wow with every use, not kidding. Whether you want to de-puff every morning or alleviate tiredness every evening, it guarantees ultra-relaxing and soothing massages only. Also, swelling, stress, fatigue, and inflammation stand no chance against this cold therapy as it calms and rejuvenates skin with care. And unlike other ice rollers, this soothing roller guarantees to freeze quickly and provide a long-lasting cooling effect as well. Too cool to be missed, we think!
Pros
Tightens skin and shrinks pores
Lightweight, portable, and easy to clean
Ideal to use on forehead, cheeks, nose, jawline, neck, etc.
Cons
May be too big to use on under-eye areas
Price at the time of publication: $16.19
Don't mind spending on a premium product? Because we have these advanced stainless steel cryo sticks for you! More like age-defying rollers that stimulate the skin to uplift, plump, and look tighter, you can consider all those fine lines and wrinkles taken care of with this one. Also, are you a fan of cold therapy? Then let us tell you, the sticks are infused with a cooling gel so you can enjoy uninterrupted cold massage every day. Besides this, its unique design adapts and massages the face contours effectively. Need we say more?
Pros
Made of medical-grade material
De-puffs and shrinks pores
Relieves headaches and stress
Sculpts jawline and reduces inflammation
Improves complexion and boosts circulation
Suitable for neck, face, and body
Cons
Price at the time of publication: $21.99
How about adding some spiritual bliss to your massaging session? This facial roller with 100% amethyst stone will purify and cleanse away the negative influences. Guaranteeing a healing experience with every use, this dual-sided roller also targets puffiness, dark circles, and dullness effectively. Helping your skin to rejuvenate and restore the natural radiance, it also boosts circulation and encourages lymphatic drainage. Go, roll-on, heal and feel beautiful with this one, ladies!
Pros
Leaves skin tighter and toned
Fights wrinkles and fine lines
Non-squeaky, ultra-smooth, and lightweight
Ideal to use on eyes, forehead, nose, and under-eye areas
Cons
Not ideal for long cold massages
Price at the time of publication: $19.99
Yep, happy, relaxed, and beautiful skin is only a face roller away! There you go, those were the 13 best face rollers you must try this season. Do you need more assistance with choosing the best face roller? Or wondering how to use it? We've explained it all in our buying guide below.
Buying Guide:
How To Choose The Best Face Roller?
Look out for the following features in the roller before buying:
Stone type: Stone-made rollers may all look alike, but every stone has different benefits. For example, amethyst stone targets negative influences, whereas quartz stone relieves stress and purifies energy. So, inspect before you select a stone.
Durability: Some face rollers can be fragile and fall apart on applying pressure. Hence, you must read up on the product's durability and sturdiness, especially if you enjoy pressurized or deep tissue massages.
Multi-functional: Pick a facial roller that will cater to all your massaging needs. From toning contour lines, neck, under-eye areas to cold therapy, a multi-functional roller is always a better option.
Anti-aging benefits: Check if the jade roller can plump and uplift the skin effectively. Though most of the face rollers offer anti-aging benefits, some of them may only de-puff and tighten the skin.
Skin type: Lastly, if you are looking for a microneedle or metal roller, check if it is suitable for your skin type to avoid allergies or rashes.
How To Use A Face Roller?
It's easy! Here's a simple routine you can follow:
Cleanse your skin and apply a serum, moisturizer, or cream of your choice.
Now gently start rolling the face roller in an upward direction from the neck area.
Next, you can continue massaging in the upward direction on the jawline, cheeks, contour lines, and forehead to stimulate blood circulation and increase product absorption.
Why Trust StyleCraze?
Vaishnavi Kothuri, the author, enjoys skin care and has the lowdown on the face roller you should own for your beauty regimen. She compiled a comprehensive and detailed list of the top products after checking online reviews and user feedback. Face rollers stimulate blood circulation by massaging the skin and rejuvenating the skin. You can use them to reduce swelling and fluid buildup on your face.
Frequently Asked Questions
Are face rollers good for acne?
It depends on how you use it or the pressure applied while using it. A face roller mostly helps alleviate acne, but using it abrasively can cause friction on the skin and lead to acne in worse cases.
Are face rollers effective?
Absolutely! Face rollers are super-effective and can alleviate puffiness, reduce dark circles, boost microcirculation, and plump aging lines too.
Can a face roller slim your face?
No, but it can reduce the swelling or puffiness to make your face appear slimmer than before. Also, continuous use can tighten and tone your skin effectively.
Can you use a face roller every day?
Yes, you can use a face roller twice a day if need be. However, it is advisable to use it gently to avoid friction or rashes on your skin.
Do face rollers help with dark circles?
Yes, they do! If you are dealing with dark circles or under-eye discoloration, a face roller can de-puff and help lighten the spots with continuous use.
Which stone is the best for a face roller?
Rose quartz is the best stone for a face roller. It stimulates blood circulation, boosts collagen production, improves lymphatic drainage and skin elasticity, and eliminates toxins from the face.
Do face rollers reduce double chin?
Yes. Face rollers reduce lymphatic tension and sculpt your facial structure, improving the appearance of the double chin.
Recommended Articles