11 Best Face Mists Available In India
Achieve glowing skin with these effectively formulations that are worth the hype.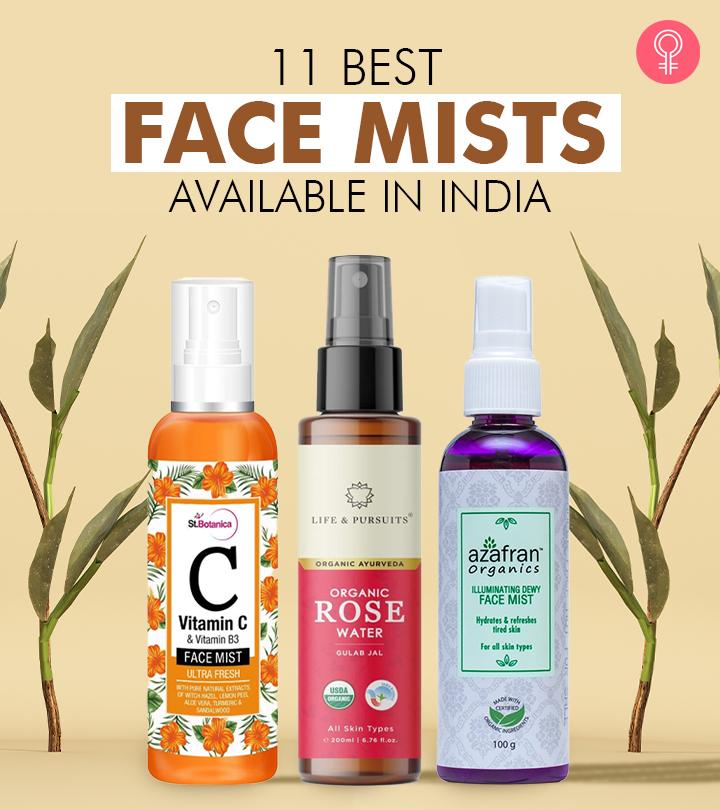 Are you looking for a quick and easy way to keep your skin refreshed? Try a face mist to re-energize and reinvigorate your tired-looking skin. Face mists, also known as makeup sprays or spring water sprays, are sourced from pure mineral water springs.
They are rich in minerals, antioxidants, and anti-inflammatory properties that soothe, hydrate, and moisturize the skin by maintaining optimum pH levels. They also help calm rosacea and dermatitis and help set your makeup. Check out our list of the 11 best face mists available in India. Scroll down to choose and add an instant dose of freshness to your skin!
11 Best Face Mists Avaialble In India
This refreshing and hydrating rosewater from Kama Ayurveda tones the skin, shrinks enlarged pores, and removes product buildup to prepare your skin for other skin care products and treatments. It is made from Kannauj roses using steam distillation to ensure its purity and hygiene.
Rose water's natural astringent properties restore and firm the skin by maintaining pH levels and tightening the pores. Lavanya deep cleanses and purifies the skin and reduces blemishes and acne. It makes your skin healthy and glowing. This face mist also contains licorice to keep your skin young-looking and coriander to cleanse your skin. Lodhra cleanses the micronutrient channel of the skin by purifying the blood.
Pros
Mild
Lightweight
Alcohol-free
Non-irritating
Cons
Price at the time of publication: ₹495
The Plum Green Tea Revitalizing Face Mist is a perfect solution to keep your skin fresh through all seasons. This cooling face mist revitalizes the skin by supplying essential nutrients. It balances excess oil production to keep your skin acne-free. It has antioxidant-rich green tea to fight acne and blemishes. The organic aloe juice soothes and hydrates the skin without making it sticky. Ginger root extracts protect the skin with antioxidants. You can use this face mist with your sunscreen and moisturizer.
Pros
Non-comedogenic
Paraben-free
Oil-free
SLS-free
Cruelty-free
Phthalate-free
Vegan
Mineral oil-free
Cons
Price at the time of publication: ₹10.99
This natural herbal face freshener from Khadi Naturalcontains mint and cucumber to rejuvenate your skin by removing dirt, impurities, and excess oil. It thoroughly cleanses pores without clogging them to reveal glowing and clean skin. It also contains active herbs like basil and neem to fight germs and give instant softness and freshness to the skin.
Pros
Refreshing scent
Value for money
Cons
Not suitable for sensitive skin.
Price at the time of publication: ₹190
The St.Botanica Vitamin C &Vitamin B3 Face Mist gently refreshes the skin to leave it bright, tight, and healthy-looking. The hydrating formula promotes glowing skin by improving its elasticity. It uses a safe and effective blend of skin-nourishing ingredients, like a stable form of vitamin C, to enhance the skin's youthfulness. This face mist contains aloe vera, vitamin B3, turmeric, cypress, and lemon peel that revitalize the skin and protects it from pollutants and environmental aggressors. It also fights free radical damage that causes early aging.
Pros
Dermatologicallytested
Refreshing scent
Non-greasy
Cruelty-free
Vegan
Paraben-free
SLS-free
Phthalate-free
Mineral oil-free
Cons
Price at the time of publication: ₹16.9
The Plum Grape Seed & Sea Buckthorn Nutri-Plenish Face Mist hydrates, replenishes, and refreshes the skin while preventing oiliness. It restores the skin's nutrients like vitamins, antioxidants, and minerals. This face mist contains essential fatty acids, grapeseed oil, and concentrated vitamin E to fade wrinkles, scars, and fine lines. The sea buckthorn, rich in antioxidants and vitamin C, protects the skin. Aloe vera soothes and calms the skin while healing wounds. The floral extracts of calendula, hibiscus, and edelweis sperk up your skin from within and maintain the skin tone.
Pros
VeganTravel-friendly
Paraben-free
Phthalate-free
Cruelty-free
Alcohol-free
Cons
Contains perfume/artificial scent.
Price at the time of publication: ₹274.55
The Life & Pursuits Organic Rose Water hydrates and rejuvenates the skin with natural rose hydrosol. The formula contains Himalayan Indian roses derived via steam distillation to keep the benefits intact. The balancing hydrosol penetrates deep into the skin to moisturize, hydrate, and brighten the skin and maintain its pH levels. This face mist prevents irritation, inflammation, and redness and imparts a natural glow. The rose hydrosol cleanses and tightens the skin pores. This daily Ayurvedic product is certified by USDA (USA) and India Organic.
Pros
Lightweight
Absorbed quickly
Vegan
Works as a makeup remover
Artificial scent-free
Artificial color-free
Cons
This Anti-Pollution Face Mist from Pollution Safe reverses skin damage caused due to pollutants. It contains rose water that has anti-inflammatory properties to prevent redness, irritation, acne, and dermatitis. The skin purifying and cleansing agents remove excess oil, dirt, and impurities from the skin without clogging pores. They also regenerate the skin cells to renew its texture.
The kiwi water, flooded with vitamin E, promotes skinrep air by healing cuts and abrasions. It also protects the skin from free radicals that cause premature aging. The botanical HerbaShield system contains horsetail, watercress, and nettle to create a protective shield on the face against damages. Aloe vera extract soothes inflamed skin, and green tea extracts provide anti-aging benefits.
Pros
Dermatologicallytested
Anti-aging
Non-sticky
Vegetarian
Cons
None
The Azafran Organics Illuminating Dewy Face Mist is packed with hydrating aloevera, antibiotic tulsi, healing chamomile extract, and soothing rose geranium. The hydrating formula prevents excessive oil production and imparts a dewy look. The AHA-rich fruit extracts remove dead skin cells to reveal brighter and glowing skin. The natural ingredients and organic oils nourish and soften the skin. They also balance, protect, tone, and hydrate the skin, shrink the pores, and leave a refreshing floral scent.
Pros
Non-drying
Absorbed quickly
Dewy finish
Alcohol-free
Paraben-free
Artificial fragrance-free
Cons
Sticky
May cause a burning sensation.
Price at the time of publication: ₹250
Discover the magic of traditional Ayurvedic formulations and essential oils derived via steam distillation with this Forest Essentials Facial Tonic Mist! The organic base oil is obtained from the first cold press of rose, marigold, bela, kewda, and saffron to keep the nutrients intact and provide impressive benefits.
This face mist contains saffron flower extracts that impart glow and radiance to the skin. The mogra flower oil restores skin moisture and softness, while the rose water works as a natural astringent to hydrate the skin and diminish fine lines. The marigold flower extracts are rich in flavonoids and antioxidants that help maintain overall skin health. This facial mist reduces the pore size to give you smooth and radiant skin.
Pros
Handmade
Pleasant scent
Paraben-free
Petrochemical-free
Cons
The Khadi Essentials Refreshing Pure Rose Face Mizzlenourishes and hydrates the skin on the go! It contains pure rose, rich in astringent and relaxant properties, to detox the skin. The purified water balances the skin's pH and moisture levels while providing gentle cleansing.
Rose petals soothe sensitive skin while actively moisturizing, firming, and toning it. Rose oil is packed with vitamins, minerals, and antioxidants that fade scars and moisturize dry skin. The antiseptic properties prevent acne and blemishes. The therapeutic and subtle aroma of this face mist relaxes the skin and senses. Its potent ingredients eliminate excess oil and reduce pore size to reveal smoother skin.
Pros
Blends well
Works as a makeup remover
Dermatologically tested
Preservative-free
Paraben-free
SLS-free
Cruelty-free
Cons
None
Price at the time of publication: ₹249
This Soothing Face Mist from Good Vibes contains nutrient-rich and skin-friendly ingredients that revive dull and tired-looking skin. The calming lavender scent soothes and uplifts the senses. The beneficial properties of lavender prevent inflammation and irritation to keep acne and breakouts at bay. This face mist imparts moisture to dry and dehydrated skin to refresh it.
Pros
Refreshing scent
Non-irritating
Sulfate-free
Paraben-free
Cons
None
Now that you know the best face mists for your skin, it's time to narrow down the things to keep in mind before buying a face mist.
How To Choose The Best Face Mists
Many facial mists are suitable for all skin types. But it is a great idea to choose the one that is crafted especially for your skin type. Silicone-free mists that do not clog pores are recommended for oily and acne-prone skin types. Hydrating mists containing ingredients like hyaluronic acid are suggested for dry skin. A balancing mist with anti-aging ingredients, antioxidants, and fatty acids is an ideal choice for normal to combination skin types. For sensitive skin, opt for mild and natural formulas.
A face mist that can lock or set makeup should is recommended for makeup users. Face mists containing hyaluronic acid work great to provide a smooth and dewy finish to your skin. If you are looking for a face mist that offers ant-aging benefits, look for one containing pearl extracts or hyaluronic acid.
These are the 11 best face mists in India to instantly hydrate and refresh your skin. Choose a suitable one for your skin type and give it an instant pick-me-up!
Frequently Asked Questions
What does a face mist do to your skin?
A facial mist hydrates, refreshes, and revitalizes the skin to prevent dryness and brighten it.
What is the difference between face mist and toner?
Toner helps in face cleansing and prepares it for the next moisturization step. In contrast, a face mist instantly hydrates and refreshes the skin.
How often should you use a face mist?
You can use a face mist twice a day. But if you feel your skin needs some on-the-go pampering, you can apply a face mist to refresh it instantly.
Is there any side effect of using a face mist?
Face mists instantly hydrate the skin. However, excessive use can lead to scaly skin.
Is it okay to use face mist after makeup application?
Yes, face mist can be used to set your makeup.
How do I use a face mist in my skincare routine?
Face mists are highly versatile and can fit into any part of your skincare routine. You can use it after cleansing to balance your skin or before applying moisturizer for better absorption of the products that follow. You can even use it at any time of the day to refresh your skin.
Can a face mist be used as a makeup setting spray?
A face mist can only change the finish of your makeup (dewy and glowy), but it may not set it like a setting spray will.
How should a face mist be stored and handled to maintain its effectiveness?
It is best to store your face mist away from the sun or in the refrigerator to make it last longer. Before use, shake the bottle and spray it over your face for instant hydration and coolness.
Recommended Articles