12 Best Face Moisturizers For Dry, Sensitive Skin In 2023
Your skin care routine is incomplete without hydrating formulations.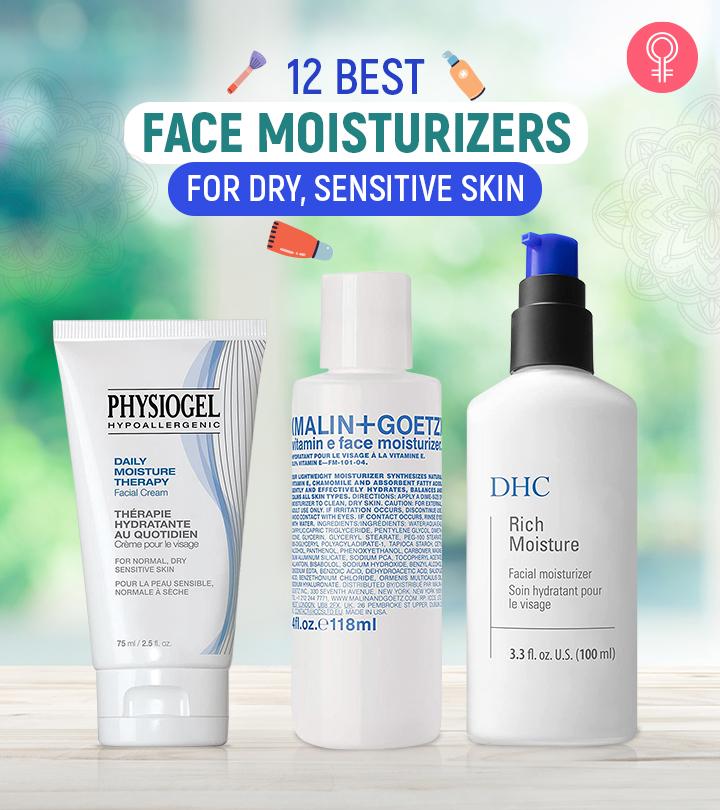 Moisturizing is an essential part of the skincare routine for those of us with dry and sensitive skin, especially during the cold winter. Applying the best face moisturizer for dry, sensitive skin gives it an extra serving of hydration and moisture that keeps it healthy, glowing, and protected from the harshness of the environment. Some moisturizers for dry skin also cater to other skin-related issues like acne, patchy skin, redness, etc. However, with so many creams available on the market, finding the right face moisturizer can be tricky. So, we have researched and curated this list of the 12 best face moisturizers for dry, sensitive skin. Scroll down and check them out!
12 Best Face Moisturizers For Dry and Sensitive Skin With Ultimate Guide
The all-day hydration formula from L'Oreal Paris formulated with Pro-Vitamin B5 offers intense hydration to the dehydrated skin and leaves the skin softer, healthier, and radiant. The Hydra-Renewal facial moisturizer can be used day and night, even under makeup. It is a dermatologist-recommended moisturizer for dry, sensitive skin. It does not contain comedogenic ingredients that clog the pores. It also helps in refining pores and wrinkles.
Key Ingredients: Glycerin, Shea butter,
Pros
Lightweight
Affordable
Paraben-free
Long-lasting moisturizer
Cons
Watery consistency
Strong fragrance
Price at the time of publication: $6.42
The EltaMD Intense Skincare Intense Moisturizer is a post-facial moisturizer that quickly melts into the skin and retains moisture for 12 hours. This moisturizer for sensitive, dry skin helps in soothing inflamed, flaky, and irritated skin. In addition, it helps in relieving skin problems caused due to certain medical conditions like diabetes. It also works well on cuts and sunburns.
Key Ingredients: Petrolatum
Pros
Fragrance-free
Preservative-free
Paraben-free
Pleasant fragrance
Dermatologically-tested
Cons
The Bioderma Hydrabio cream has a rich, creamy texture that penetrates smoothly into the skin and nourishes the skin from the inside. It effectively moisturizes highly dehydrated skin and protects your skin from aging. It restores skin radiance and acts as a makeup base as well. Including this moisturizer in the night routine for dry and sensitive skin will help instore the skin's healthy form.
Key Ingredients: Salicylic acid, Vitamin E
Pros
Pleasant natural scent
Lightweight
Non-comedogenic
Paraben-free
Cons
Price at the time of publication: $27.99
The GoodSkin Organics Face Moisturizer is a non-comedogenic natural formula that moisturizes the skin and fights and reverses the visible signs of aging, like fine lines and wrinkles. It contains several hydrating ingredients, including aloe vera, and shea butter. It even nourishes your skin and restores its youthful radiance. This ultra-gentle face moisturizer for dry, sensitive skin is non-greasy and suitable for all men and women.
Key Ingredients: Aloe Vera, Shea butter, Coconut Oil, Avocado
Pros
Lightweight
Chemical-free
Vegan
Unisex
Cons
None
Price at the time of publication: $24.25
The EraOrganics Complete+ Moisturizer works well on dry skin. It deeply moisturizes your skin until your skin gets rehydrated and looks soft. The rich anti-aging formula helps reverse the premature signs of aging and revitalizes the skin cells to promote firm skin. In addition, Manuka honey helps in retaining moisture. This advanced 20-in-1 formula is a complete solution for dull, dry, and dehydrated skin.
Key Ingredients: Manuka Honey, Ceramide Complex, Hyaluronic Acid, Protein Peptide Complex
Pros
Lightweight
Unisex
Anti-aging
Value for money
Silky smooth texture
Cons
None
The Malin + Goetz Vitamin E is a lightweight, quick-absorbing face moisturizer. The vitamin E and chamomile sink into your skin to nourish and balance your skin pH levels. As a result, it effectively helps fade aging spots and reverses the possible signs of aging. This 3-in-1 multi-use moisturizing formula is suitable for all skin types. This honest review on Youtube will help you understand this product even better.
Key Ingredients: Hyaluronic acid, Salicylic acid
Pros
Lightweight
Value for money
Unisex
Cruelty-free
Cons
The Rich Moisture from DHC is Japanese lightweight formula that provides long-lasting moisturization and is a perfect facial moisturizer for dry, sensitive skin. It contains potent ingredients that reduce radical damage and prevent the signs of aging from appearing on your skin. This formula is well-known for hydrating skin completely. It gently helps revitalize your skin and enhances your youthful appearance.
Key Ingredients: Butylene glycol, Squalane, Organic Olive Oil, Sodium Hyaluronate
Pros
Organic
Lightweight
Fragrance-free
No added colors
Cons
The Physiogel Hypoallergenic Daily Moisture Therapy Facial Cream is a rich triple-action formula that helps hydrate dry and sensitive skin. It promotes long-lasting moisture and prevents dryness. Its clinically proven formula locks in moisture for 72 hours. This face moisturizer gently repairs the skin and strengthens the skin's moisture barrier. As the name suggests, it has a hypoallergenic formula that makes it perfect for sensitive skin. To find out more about this product, check out this video here.
Key Ingredients: Shea butter, Ceramide, Glycerin, Squalane, Coconut oil
Pros
Hypoallergenic
Non-comedogenic
Fragrance-free
No-colorants
Dermatologically-tested
Cons
None
The award-winning face cream from Curél is infused with ceramides that help retain skin moisture. It has a light texture that gets readily absorbed into the deeper layers of the skin. It intensely moisturizes your skin to give you a healthy glow. The dermatologically-tested night cream reduces the visible signs of aging. The ceramide in the formula strengthens the skin's barrier that prevents further skin damage. Check out this video review to understand the product from a user's point of view.
Key Ingredients: Glycerin, Ceramides, Butylene glycol
Pros
Fragrance-free
Colorant-free
pH-balanced
Value for money
Cons
Contains alcohol, paraben
The L'ebe Calendula Soft Cream intensely hydrates dry, flaky skin and makes your skin soft and healthy. This non-sticky moisturizer is infused with calendula and works excellent on sensitive and rosacea-prone skin. It acts as an anti-aging cream that reverses the signs of aging like fine lines, dark spots, and wrinkles. On dry skin, it fights against photodamage caused due to sunlight and pollution. This product is completely non-comedogenic and is safe for people with sensitive skin.
Key Ingredients: Calendula, Shea Nut butter, Retinol, Benzoyl peroxide
Pros
100% natural ingredients
Fragrance-free
Value for money
Vegan
Suitable for acne-prone skin
Cons
The O'LINEAR Cosmetics Face Cream Smoothing is an anti-aging cream that deeply hydrates and nourishes your skin and fights against premature signs of aging. The ingredients in the moisturizer are lightweight and penetrate easily into the skin to improve skin elasticity. The shea butter helps retain moisture and increases the skin's firmness. This dermatologically tested moisturizer is safe to use on all skin types.
Key Ingredients: Argan oil, Vitamin C
Pros
Dermatology-tested
Lightweight
Suitable for all skin types
Vegan
Cons
None
The Vitamin E-infused anti-aging moisturizer from Enovvia provides smoother and glowing skin. This natural non-sticky formula quickly penetrates the skin and reduces the appearance of wrinkles. It is an everyday cream that helps rejuvenate the skin's health and appearance. This non-comedogenic formula helps restore the skin's pH levels and improves the skin's complexion.
Key Ingredients: Vitamin E, Squalane, Extracts of Aloe vera, Cucumber fruit, Apple fruit, Chamomile flower, and Lavender flower
Pros
Lightweight
Unscented
Natural
Non-greasy
Vegan
Cons
None
When you have the right face moisturizer in your hand, you can transform your dry skin into the beautiful, healthy skin you desire. The section below discusses how to pick a product that will meet your skin expectations.
Things To Consider Before Choosing The Best Face Moisturizer For Dry And Sensitive Skin
Ingredients: Dry skin needs oil-based moisturizers like olive oil, shea butter, coconut oil, etc. Sensitive skin needs moisturizers with soothing ingredients like chamomile that are not harsh on the skin. Avoid products that contain harsh ingredients like parabens, preservatives, artificial fragrances, etc.
Texture: The texture of a good moisturizer also plays an important role. Dry skin needs a heavier, creamier formula to lock in moisture. Consider not only the texture of the product but also how it feels on the skin after you apply it.
Longevity And Protection: Since dry skin is prone to moisture loss, you must find a formula with ingredients that lock in the moisture for a long time like hyaluronic acid and strengthens the skin barrier like ceramindes.
Face moisturizers provide you youthful, glowing skin. But if you find it challenging to narrow down the best one for you, the list above will surely help you. We have compared and reviewed several products to curate the list of best moisturizers for dry, sensitive skin. These face moisturizers have a lightweight texture and a non-greasy formula that leaves the skin soft and supple. However, if you have severely sensitive skin, a patch test is recommended to avoid unnecessary skin rashes.
Why Trust StyleCraze?
The author, Vaishnavi Kothuri, is a certified skin care couch. She loves trying out different skin care products. She curated this list of face moisturizers after researching carefully and checking hundreds of product reviews. Her well-researched article brings you the best moisturizing and nourishing products that are gentle and safe for dry sensitive skin. These face moisturizers are made of organic ingredients that have no side-effect.
Frequently Asked Questions
Is glycerin good for sensitive skin?
Yes, glycerin helps hydrate your skin and keeps sensitive or reactive skin moist for a long time.
Can I apply glycerin on my face daily?
Yes, glycerin is generally safe on the skin. However, never leave undiluted glycerin for too long as its thick viscous nature will attract dust and pollution to your face.
What foods should you avoid when treating sensitive skin?
Gluten, dairy, high-glycemic foods, soya, and wine may aggrevate rashes, hives, and inflammation. It is best to avoid those food items.
What practices should be avoided for keeping dry skin healthy?
• Avoid over-exfoliating your skin as it can make your skin even drier.
• Avoid products that contain glycolic acid or any other alcohol.
• Don't wash your face too often, and don't apply moisturizer to your skin without dampening your skin first.