10 Best Face Oils For Dry Skin To Brighten Up – 2022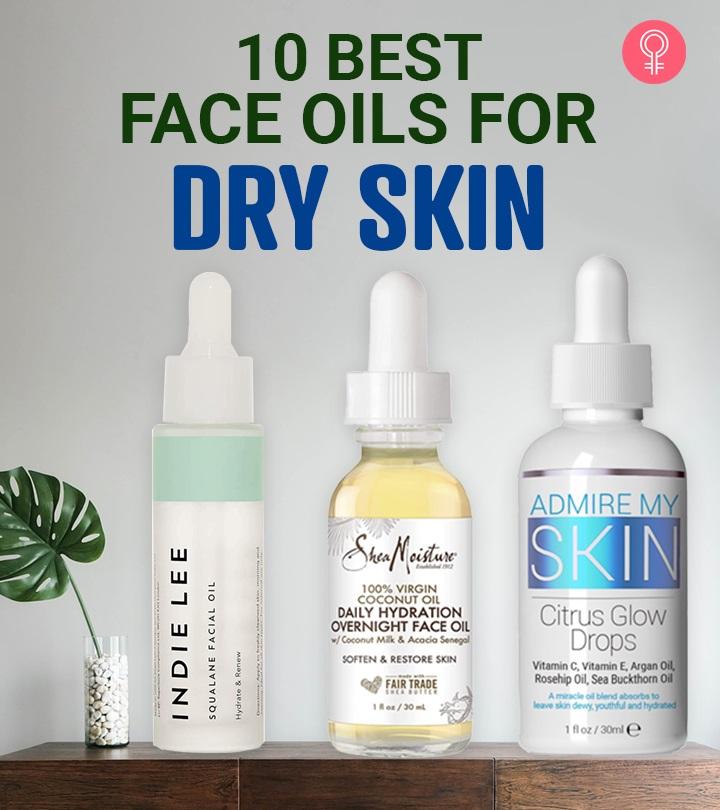 If nothing seems to relieve your dehydrated skin, you must get your hands on the best face oils for dry skin. Face oils have become an essential part of everyone's skincare routine today. They give a non-greasy, no-residue finish and seal moisture into the skin. Oils instantly brighten up your skin, target a few issues, and give the skin a radiating glow. Since every skin type has a different need, choosing an oil can be quite tricky. To help narrow down your search, we have got the 10 best face oils for dry skin. Have a look!
10 Best Face Oils For Dry Skin
The Admire My Skin Citrus Glow Drops is a non-comedogenic preparation made from all-natural ingredients. It provides intense hydration to the skin and unveils a youthful glow.
This facial oil is formulated with vitamins C and E, which are powerful antioxidants that protect the skin from harmful UV rays and brighten the skin tone. This non-comedogenic oil is packed with natural ingredients like argan oil, sea buckthorn oil, and rosehip oil to regulate sebum production, reduce scars, and enhance cell renewal. Mix this oil with foundation or use it directly to get healthy-looking, radiant skin.
Key Ingredients: Vitamin C, Vitamin E, Argan oil, Rosehip oil, Sunflower seed oil, and Sea buckthorn oil
Pros
100% natural
Non-comedogenic
Cruelty-free
Smells good
Cons
The Shea Moisture Over night Face Oil is formulated with coconut oil and coconut milk, which provide deep conditioning to soften and smoothen the skin. It is enriched with acacia senegal and kola nut extract that work overnight to boost blood circulation, tighten and firm skin, and reduce fine lines. It also contains shea butter that enhances collagen production and delivers intense moisturization. This face oil restores skin health and refines the skin tone to impart a wonderful glow.
Key Ingredients: Coconut oil, Shea butter, Vitamin E, Acacia senegal extract, Kola nut extract, and Castor seed oil
Pros
Lightweight
Paraben-free
Phthalate-free
Sulfate-free
Cruelty-free
Dye-free
Mineral-oil free
Cons
The Amara Oil Moisturizer is formulated with squalane, which contains antioxidants to fight free radical damage. It enhances collagen production and promotes detoxification to leave the skin healthy and vibrant. The oil mirrors the skin's natural sebum production to penetrate and protect its natural moisture barrier. This lightweight oil combats premature aging signs by eliminating fine lines and making the skin dewy, soft, and supple. It can be used directly or by blending it with moisturizer or makeup for long-lasting hydration.
Key Ingredients: Plant-derived squalane
Pros
Non-irritating
Non-comedogenic
Vegan
Paraben-free
Dye-free
Artificial fragrance-free
Cruelty-free
Cons
Greasy
Not suitable for sensitive skin.
The Facetory Weightless Facial Oil is a soothing beauty oil fortified with the goodness of oats and squalane extracts to balance the skin's oil production. It protects the natural barrier while delivering moisture and nutrients to the skin.
This face oil has anti-inflammatory and antioxidant properties that heal the skin and protect it against UV ray damage. The rice water helps hydrate the skin and shrinks enlarged pores for a smooth and clean appearance. This non-sticky oil has a light serum-like texture and helps fade age spots and brighten the skin tone.
Key Ingredients: Oats extract, Squalane oil, and Rice water
Pros
Lightweight
Non-sticky
Paraben-free
Sulfate-free
Ethanol-free
Artificial fragrance-free
Cruelty-free
Cons
Not suitable for sensitive skin.
The Yellow Bird Blue Tansy Face Oil is packed with vitamins, essential oils, and antioxidants to nourish and deeply hydrate your skin. The blue tansy and squalane work together to form a protective layer that locks in moisture and soothes dry, irritated skin. The jojoba and camellia oils have anti-inflammatory and antibacterial properties that keep the skin acne-free, healthy, and glowing. This non-comedogenic oil also has anti-aging benefits as it minimizes pore size and reduces fine lines by boosting collagen production. If you want to find out more about this product and its usage, make sure to check out this review on YouTube.
Key Ingredients: Blue tansy oil, Olive squalane oil, Camellia seed, Jojoba oil, Milk thistle, Abyssinian oil, Carrot seed oil, Frankincense essential oil, Lavender essential oil, Tea tree essential oil, Vitamin E, and Extra virgin olive oil
Pros
Non-comedogenic
Paraben-free
GMO-free
Soy-free
Cruelty-free
Gluten-free
Handmade
Cons
The Azure Rose Gold Facial Oil is enriched with 24K gold to stimulate collagen production and slow down signs of aging by firming up the skin and reducing fine lines. This beauty oil is formulated with a combination of essential oils and vitamin E that soothes, moisturizes, and instantly rejuvenates the skin. The non-comedogenic formula provides long-lasting moisturization, reduces redness, balances the skin tone, and protects the skin against free radicals to give it a radiant and youthful glow.
Key Ingredients: Rosa fruit oil, Rosehip oil, Gold, Squalane, Olive fruit oil, Argan oil, Grapefruit seed oil, Castor oil, and Vitamin E
Pros
Non-comedogenic
Hypoallergenic
Vegan
Non-GMO
Paraben-free
Phthalate-free
Cruelty-free
Filler-free
Cons
The Naked + Thriving Rejuvenate Restorative Facial Oil is enriched with organic botanicals packed with vitamins, anti-inflammatories, antioxidants, and fatty acids.This blend is fortified with essential oils extracted from argan and pomegranate seed, which fight free radical damage, restore skin elasticity, and have anti-aging properties. This face oil is also infused with other plant-sourced oils that hydrate and moisturize the skin without clogging the pores. For best results, leave the oil on overnight to awaken to refreshed and youthful skin.
Key Ingredients: Argan oil, Sea buckthorn oil, Chia seeds, Pomegranate seed oil, and Rosehip oil
Pros
All-natural
Smells good
Vegan
Cruelty-free
Synthetic-free
Gluten-free
Paraben-free
Phthalate-free
Filler-free
Cons
Not suitable for sensitive skin.
May cause itching.
The ElastaliftTea Tree Oil has antibacterial properties to address skin irritation and open pores while cleansing the skin of impurities. This oil is fortified with witch hazel, a natural astringent that soothes and calms the skin. It also contains vitamin E to reduce inflammation and encourage new cell regeneration to improve skin health. This quick-absorbing oil repairs dry, cracked skin, reduces acne scars, and evens out the skin tone. It restores the moisture balance to keep the skin soft and hydrated all day long.
Key Ingredients: Tea tree oil, Witch hazel, Vitamin E, Rice bran extract, Rosemary leaf extract, and Sunflower extract
Pros
Non-greasy
Absorbed quickly
Paraben-free
Sulfate-free
Cruelty-free
Vegan
Mineral-oil free
Dye-free
Formaldehyde-free
Triclosan-free
PEG-free
Cons
None
The Indie Lee Facial Oil is formulated with squalane oil, which mimics the skin's natural sebum, allowing it to be absorbed quickly into the dermis. It soothes and moisturizes the skin without leaving any greasy residue.
This non-comedogenic oil boosts elasticity, improves suppleness, reduces sunspots, and enhances the skin's ability to retain moisture. It also possesses antioxidant properties to protect skin from free radicals and everyday stressors and prevent premature aging. It eliminates redness and irritation and restores the skin tone to make the skin softer and brighter. If you need further convincing, check this YouTuber's review out.
Key Ingredients: 100% Squalane oil (olive derived)
Pros
Non-comedogenic
Paraben-free
Mineral oil-free
Sulfate-free
Synthetic fragrance-free
Petroleum-free
Phthalate-free
Phenoxyethanol-free
Formaldehyde-free
Non-GMO
Cruelty-free
Cons
The Herbivore Orchid Face Oil is a luxurious blend of orchid extract, jasmine sambac oil, and camellia oil that deeply nourishes and moisturizes the skin. This blend improves skin elasticity, protects it from free radical damage, and supplies essential vitamins and fatty acids to prevent premature aging.  This quick-absorbing oil is fortified with squalane to build the natural barrier and lock in moisture, restoring a youthful glow to dull and dry skin. The non-comedogenic oil is crafted with natural ingredients that restore the skin's health and give an instant glow.
Key Ingredients: Orchid extract, Jasmine sambac oil, Camellia oil, and Squalane
Pros
Non-comedogenic
Absorbed quickly
Vegan
Cruelty-free
Paraben-free
SLS-free
Phthalate-free
Chemical-free
Filler-free
Mineral oil-free
Petroleum-free
Cons
Why Trust Stylecraze
Shiboli Chakraborti, the author of this article, is a certified skin care expert who loves finding and reviewing the best skincare products and solutions. She recommends using face oil for dry skin as it can do wonders to hydrate and nourish the skin from within. To shortlist the top options available on the market, she exhaustively researched each product and its reviews on various platforms. These handpicked face oils are specially formulated for dry skin to seal moisture into the skin while being non-greasy and provide a no-residue finish and radiant glow.
Recommended Articles