8 Best Face Oils For Sensitive Skin – 2023
Nourish your sensitive skin with deep hydration to rejuvenate it from within.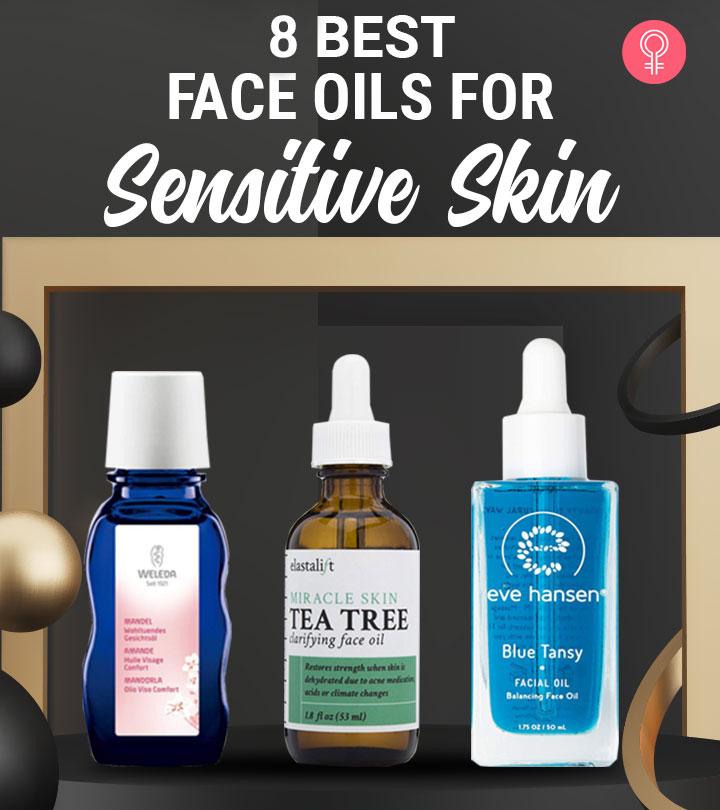 People with sensitive skin usually avoid applying face oils as they fear experiencing breakouts, allergies, redness, and dryness. To avoid this, try betting on the best face oil for sensitive skin and see the results for yourself. You will be surprised to see how effectively face oils can help check several skin concerns.
Face oils are good sources of nutrients, fatty acids, and substances that help prevent oxidative stress. In addition, their hydrating properties repair the skin's natural barrier and offer deep moisturization. As a result, the skin retains its natural oils and looks radiant and supple. If you are willing to include them in your skin care routine, we have listed the 8 best face oils that best suit sensitive skin. Keep scrolling to check them out.
8 Best Face Oils For Sensitive Skin
The Eve Hansen Blue Tansy Facial Oil Moisturizer has a hydrating formula that suits all skin types, including sensitive ones. It is infused with natural ingredients, such as rosehip oil, jojoba oil, grapeseed oil, blue tansy, turmeric, vitamin E, and squalane.
This antioxidant-rich facial oil balances the skin's natural oil production. The luxurious blend of ingredients offers soothing and calming effects to dry skin. It has a natural blue color derived from azulene, a key component found in blue tansy oil. The pleasant smell of azulene invigorates the mind.
Pros
Non-greasy
Anti-aging benefits
For day and night use
Vegan
Cruelty-free
Paraben-free
Sulfate-free
Phthalate-free
Cons
Unpleasant scent
May cause breakouts.
Price at the time of publication: $25.99
This oil from Weledais a beauty and body oil that de-stresses sensitive skin. It contains arnica's soothing properties that relieve fatigue and discomfort of the muscles. Wild rose oil provides hydration and smoothness to the skin and leaves it feeling soft and velvety. The sweet almond oil thoroughly hydrates and moisturizes the skin with its unsaturated fatty acids and linolenic acids. Daily use of this oil ensures protection of the skin's natural barrier. You can also add it to your bath water for a luxurious experience.
Pros
Dermatologist approved
Absorbed quickly
Suitable for infants and kids
Lightweight
Rosy scent
Cons
Price at the time of publication: $40.98
The Health Priority Natural Products Organic Vitamin E Oil is a lightweight natural oil infused with 100% organic oils. It is suitable for all skin types. It hydrates the skin and repairs damaged cells while promoting collagen and elastin, giving you healthier skin.
The non-sticky formula gets fast-absorbed and feels gentle and light on the skin. It reduces aging signs, wrinkles, fine lines, and under-eye circles. The oil is also effective for repairing stretch marks, acne, and surgical scars, which makes your skin clear and smooth. With regular usage, it rejuvenates the skin tone and texture for a youthful, glowing appearance.
Pros
Organic and natural
Non-greasy
Alcohol-free
Paraben-free
Available in both unscented and scented formulas
Cruelty-free
Cons
Might have a strong scent
Price at the time of publication: $19.09
The Amara Beauty Squalane Oil Weightless Moisturizer locks in moisture to hydrate your skin. The stable formula does not oxidize and mimics the skin's natural oils to make it soft and supple. The deeply penetrating formula hydrates the skin's innermost layers without leaving a greasy feeling.
It contains squalene that provides anti-aging benefits while replenishing the skin moisture. Use this oil daily to eliminate fine lines and wrinkles and get soft, glowing, and smooth skin. This weightless oil also helps in moisturizing the hair, lips, cuticles, hands, and feet. You can mix it with makeup products like a foundation for a hydrated and smooth finish.
Pros
Absorbed quickly
Non-comedogenic
Non-irritating
Vegan
Cruelty-free
Paraben-free
Dye-free
Fragrance-free
Cons
Price at the time of publication: $15.95
The Eminence Facial Recovery Oil provides moisturization to dry and dehydrated skin while fading the signs of aging. It can be used directly or with a moisturizing cream to clean clogged pores.
This hydrating skin oil is created with organic botanicals, such as rosemary, olive oil, and sesame oil, that help fade wrinkles, fine lines, and other aging signs. It is absorbed quickly and protects the skin from flaking and dry patches. The olive oil in the product hydrates and calms the skin. Sage leaf extracts are rich in antioxidants that rejuvenate the skin. Clary sage oil helps balance the skin's natural moisture barrier, while ylang-ylang cleanses and soothes the skin.
Pros
For day and night use
Soy-free
Nut-free
Gluten-free
Vegan
Cons
Unpleasant scent
May cause breakouts.
Price at the time of publication: $46.44
The Elastalift Miracle Skin Tea Tree Clarifying Face Oil works as a natural astringent to cleanse dry, oily, and sensitive skin types. It contains tea tree oil that fights issues like marks, redness, bumps, and blemishes while shrinking the pores. Witch hazel and vitamin E clarify the skin and leave it smooth and even-toned. The natural formula hydrates the skin and restores its strength to make it look healthy and radiant. You can combine this facial oil with your moisturizer to increase its hydration and moisturization capabilities.
Pros
Non-greasy
Quickly absorbed
Cruelty-free
Paraben-free
Sulfate-free
Talc-free
Mineral oil-free
PEG-free
Dye-free
Propylene glycol-free
Triclosan-free
Cons
Price at the time of publication: $12.84
The Indie Lee Squalane Facial Oil gives you soft and nourished skin with regular use. It uses safe and high-quality ingredients that deeply penetrate the skin to improve its elasticity and texture. This facial oil contains nourishing ingredients like squalane, derived from olive oil, to provide immense benefits to the skin without clogging the pores.
Pros
Quickly absorbed
Non-comedogenic
Non-greasy
Paraben-free
Mineral oil-free
Sulfate-free
GMO-free
Petroleum-free
No synthetic scents
Phthalate-free
Formaldehyde-free
Phenoxyethanol-free
Cons
Price at the time of publication: $14.0
The ROVECTIN Barrier Repair Face Oil has a protecting and repairing formula that nourishes the skin gently. It contains pure neroli oil, vitamin E, and plum seeds (rich in vitamins A, C, and E) extracts that hydrate the skin while providing soothing and anti-aging benefits. These potent ingredients work together to eliminate aging signs like wrinkles and fine lines without causing irritation.
You can also use this oil along with your moisturizer or foundation to increase their hydrating capabilities. It repairs the skin barrier and restores its natural moisture. The plant-based additives moisturize the skin by removing the toxins. Astaxanthin, the most potent antioxidant, reduces inflammation, combats free radicals, and promotes youthful-looking, even-toned skin. The silky shielding base supplies essential nutrients to the skin without feeling sticky or leaving any residue. Regular use of this oil can also help you get rid of dead skin cells.
Pros
Quickly absorbed
Lightweight
Dermatologically tested
Suitable for all age groups
Hypoallergenic
Non-greasy
Paraben-free
Mineral oil-free
No artificial colors
No artificial scents
Cons
Price at the time of publication: $30.0
Why Trust StyleCraze?
The author of this article, Shiboli Chakraborti, is a certified skin care coach. She advocates the use of face oils, specially designed for sensitive skin, to deal with several skin conditions. So that you know which products are worth investing in, she has meticulously researched multiple products and gone through various product reviews to curate this list of the best face oils for sensitive skin. The products recommended here are formulated with hypoallergenic ingredients and offer deep repair and hydration to the skin.
Frequently Asked Questions
Are face oils necessary?
Face oils are not necessary but they offer a long list of benefits like strengthening the skin barrier, moisturization, even complexion, regulated sebum production, reducing oiliness, skin brightening, anti-aging benefits, etc. to improve your overall skin health.
Can sensitive skin use a facial oil?
Yes, people with sensitive skin can use facial oils like the Weleda Almond Sensitive Care Calming Facial Oil, the Amara Beauty Squalane Oil Weightless Moisturizer, and the Rovectin Barrier Repair Face Oil. These have lightweight, non-comedogenic formulas that show great results on sensitive skin.
Can face oil dry out the skin?
No, face oils are moisturizing and help retain the natural moisture of the skin.
How long does it take for a face oil to get absorbed?
Around 15-20 minutes is enough for face oils to get absorbed into the skin.
Recommended Articles