10 Best Face Razors For Women That You Must Try – Stylecraze
Remove facial hair painlessly and smoothen your skin before an important party!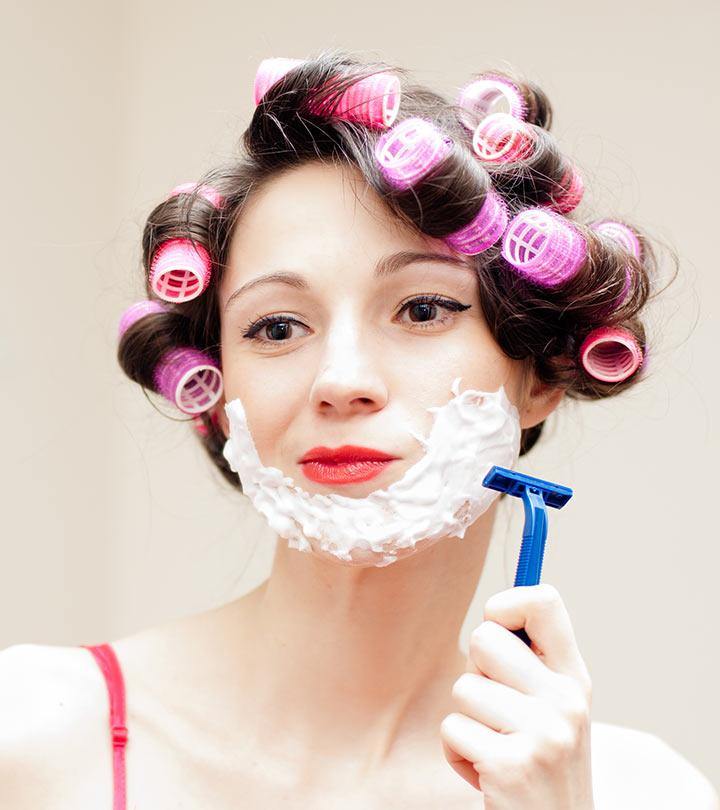 Shaving is a painless way for hair removal used by many women. However, shaving facial hair is tricky, and you need to use a razor that is not harsh on the skin. Luckily, there is a wide range of the best face razors for women that you can choose from. After all, shaving saves you a whole lot of time compared to tweezing or waxing. It also smoothens the skin and prepares it for makeup.
However, with so many options available, you may be stuck on which one to buy. We have compiled a list of the best facial razors suitable for women. Check them out and pick the one which suits your needs!
10 Best Facial Razors For Women
The Schick Silk Touch-Up Facial Razor helps you quickly shape your eyebrows and remove other fine hairs from your face. The razor can also be used to exfoliate and smoothen the skin gently. Its high-quality blades are designed with fine micro-guards that help protect the skin. The razor is slim yet portable, making it travel-friendly. You can soften the area with a lotion or a shaving cream before shaving.
Pros
Travel-friendly
Easy to use
Exfoliates skin
Micro-guards protect the skin
Cons
None
The BIC Soleil Disposable Razor has three sharp blades that contour perfectly to your facial curves and gives a long-lasting shave. The razor includes a lubricating strip of aloe vera and vitamin E. The strip moisturizes and soothes the skin while you shave. The razor is ideal for all skin types, including sensitive skin. It has textured rubber pads that allow one to use it easily. Its ergonomic design fits into the palm of your hand. The razor is portable and travel-friendly.
Pros
Travel-friendly
Easy to use
Contours to the face
Ideal for all skin types
Lubricating strip moisturizes the skin
Cons
The Solimo 5-Blade Razor comes with a lubricating strip that contains vitamin E. This strip helps reduce skin irritation. The razor is hypoallergenic and great for sensitive skin. Its double-coated blade works great to achieve a close shave.
Pros
Hypoallergenic
Ideal for sensitive skin
Easy to use
Lubrication strip reduces irritation
Suitable for a close shave
Cons
The Nylea Facial Razors will help you get rid of fine facial hairs and shape the eyebrows. A pack includes six razors. They are slim and portable. They have a non-slip pad that makes them easy to use. The razors are also ideal for sensitive skin. They also help exfoliate the skin.
Pros
Travel-friendly
Easy to use
Suitable for sensitive skin
Non-slip pad
Exfoliate skin
Cons
None
The Venus ComfortGlide Razor is designed to help achieve touchably smooth skin. The razor has a round head that contours to the shape of your body and face. It has three curve-hugging blades that remove fine hairs efficiently. It also includes a built-in moisture bar that lathers lightly for an incredible glide and a comfortable shave.
Pros
Moisturizing
Easy to use
Smoothens skin
Curve-hugging blades
Built-in moisture bar
Cons
The Kitsch Facial Hair Removers help remove unwanted facial hair and exfoliate facial skin. They also help shape your eyebrows. The razor blades are made from stainless steel that is safe for skin. They work great for everyday use. They come with a dermaplaning feature that makes your skin smoother and promotes stronger absorption of makeup products.
Pros
Easy to use
Exfoliate skin
Can help shape eyebrows
Stainless steel
Great for everyday use
Promote stronger absorption of makeup
Cons
None
The Gillette Daisy Women's Disposable Razors come in a pack of 18. Their thin blades glide on the skin comfortably. The razors include moisture-smooth strips that reduce skin irritation while shaving. The handles of the razors are designed for a secure grip.
Pros
Easy to use
Moisturizing
Reduce skin irritation
Secure grip
Cons
None
The Vertex Women Facial Razor is a great product to eliminate excess peach fuzz, fine facial hairs, and dead skin cells. The razor has a lightweight design and an ergonomic shape that offer a stable grip while shaving. The razor is safe for sensitive skin. It is vegan as well as hypoallergenic.
Pros
Vegan
Hypoallergenic
Travel-friendly
Lightweight
Easy to use
Stable grip
Removes dead skin cells
Cons
None
The joy Five-Bladed Facial Razor will give you a comfortable shaving experience. The razor has a non-slip handle that provides a firm grip. It also contains lubrastrip that helps smoothen the skin and reduces irritation. It comes with four razor blade refills.
Pros
Easy to use
Smoothens skin
Reduces skin irritation
Non-slip handle
Comes with four razor blade refills
Cons
None
The Kinepin Facial Razor helps shape your eyebrows and removes fine facial hairs. Its blades include a fine micro-guard that helps protect the skin while shaving. Its foldable design makes it easy to store or carry around. The razor has a non-slip design that provides a comfortable grip while shaving.
Pros
Easy to use
Travel-friendly
Micro-guard protects skin
Non-slip design
Cons
None
These are the 10 best facial razors for women. Though shaving is necessary for women, it does have its own benefits and disadvantages.
Benefits And Disadvantages Of Shaving
Benefits
Shaving helps make your skin soft and smooth. It also improves the texture of the skin by removing dead skin cells from the face.
Shaving is a gentler alternative to waxing or tweezing.
Shaving prepares your skin better for makeup application.
Disadvantages
Shaving can be risky for people with sensitive skin or those dealing with skin issues like rosacea.
For many, shaving can also result in acne and zits.
Using sharp blades on the face may result in cuts and injuries. Hence, proper care must be taken.
Shaving may sound intimidating. But it is just a gentler way of making your skin ready for makeup. It also is affordable. If you want to remove your facial hair, you sure can give shaving a try! Pick your favorite facial razor today.
Why Trust StyleCraze?
The author, Oyendrila Kanjilal, is a certified skin care coach and writes well-researched product reviews for StyleCraze. For this article, she extensively studied a wide range of facial razors available on the market to zero in on the products listed above. Besides, she also scrolled through hundreds of reviews posted by users on different online forums before coming up with this list. These easy-to-use razors are gentle on the skin, are travel-friendly, and help you get smoother skin, ideal for makeup.
Frequently Asked Questions
Is shaving your face good if you are a woman?
Yes, shaving is a quick, efficient, and affordable way of removing unwanted facial hair. It also exfoliates dead skin cells and keeps your skin clean.
What is the best way to remove hair from a woman's face?
Shaving, tweezing, at-home waxing, laser hair removal, or threading are some common ways of removing facial hair. Shaving is quick, easy, and a great way to remove hair for beginners. It is painless in comparison to tweezing which is time-consuming and may affect sensitive skin. At-home waxing is a costlier way to remove hair and takes more time than shaving or tweezing but gives more-lasting results. Laser hair removal is one of the costliest hair removal procedures but offers long-term results without pain. Threading removes unwanted facial hair but the process may bruise delicate and sensitive skin.
Which razor is the best for peach fuzz?
The sharp and swift blades of the Nylea Facial Razors are great for removing peach fuzz. These razors have long handles that help you adjust and shave your facial hair without any cuts or bleeds.
How often should a woman shave her face?
If you wish to exfoliate your skin, shave it once a week. For purposes of facial hair removal, you can shave it every other week.
Does a face razor increase hair growth?
No, shaving your facial hair with a razor does not increase hair growth. It does not change its thickness or color either.
At what age should a girl shave their face?
Girls can begin shaving their faces from the ages of 12 to 14. You can start shaving your face as you start seeing growth in your facial hair.
What should I apply after shaving your face?
After shaving your face, apply a soothing and non-alcoholic moisturizing cream or lotion to prevent excessive dryness.
Recommended Articles