Get Rid Of Blackheads Quickly With These Bestselling Face Scrubs – 2022
Bid a final goodbye to those dirty mounds on your face with these gentle scrubs.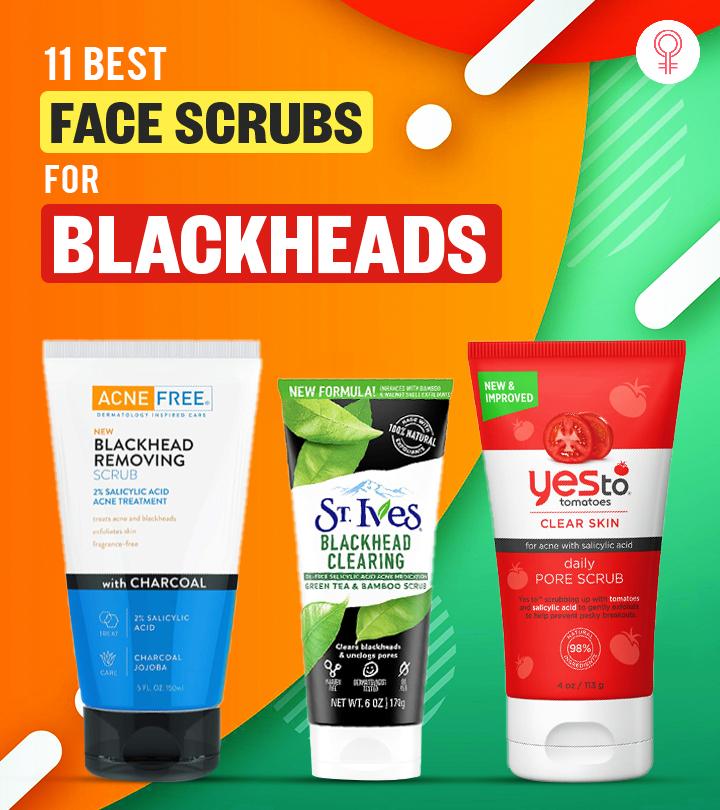 Your quest to find the best face scrubs for blackheads can be quite the task. Fret not; we have compiled the top products for you. These pesky black mounds of dirt are hard to conceal, so finding your soul-searching and bestselling face scrub is a must. Here are a bunch of suggestions that you can add to your weekly skin care regimen. Keep reading.
11 Best Face Scrubs For Blackheads
This facial scrub is made with 100% natural exfoliants derived from walnut shells and bamboo milled into a smooth powder to provide a deep cleanse. It also contains 1% salicylic acid, which helps clear the skin of blackheads and acne. This face scrub provides moderate exfoliation and helps clean pores, even out the skin tone, and impart softness and glow. Here's a video featuring a detailed review of the product.
Key Ingredients: Walnut shell, Bamboo, Green tea extracts, and Salicylic acid
Pros
Paraben-free
Cruelty-free
Oil-free
Dermatologist-tested
Non-comedogenic
Cons
May irritate sensitive skin.
Can dry the skin out.
The salicylic acid in the Acnefree Blackhead Removing Scrub is perfect for blackhead removal. It shrinks the pores and removes debris lodged deep in the skin. The natural jojoba oil present in this formula works to moisturize, soothe, and hydrate the skin, while the purifying charcoal helps draw out impurities. This product is recommended by dermatologists to treat acne and is said to be gentle enough for daily use.
Key Ingredients: Salicylic acid, Jojoba oil, and Charcoal
Pros
Gentle
Fragrance-free
Budget-friendly
Easy application
Cons
Dries out the skin.
Can cause breakouts in a few skin types.
The Blackhead Clearing Scrub from Clean & Clear contains unique active ingredients that help fight blackheads from its first use. The blackhead fighting ingredient in this scrub penetrates the pores to help clear impurities and prevent blackheads from forming. The special exfoliating microbeads immediately peel away dead cells and unclog the pores.
Key Ingredients: Salicylic acid, Witch hazel, and Glycerin
Pros
Quick action
Oil-free
Mild
Great for oily skin
Pleasant fragrance
Cons
Contains plastic microbeads.
The Yes To Tomatoes Daily Pore Scrub is a powerful acne-fighting facial scrub. It contains salicylic acid that combats acne and blemishes, while the tomatoes help unclog pores. The ground mango seeds and bamboo extracts in the pore scrub exfoliate the skin and clear out blackheads lodged deep inside the skin's surface. The blend of ginger root and bisabolol helps tone down redness and inflation caused due to physical exfoliation. This video will help you understand the product better.
Key Ingredients: Salicylic acid, Mango seed, Ginger root, and Bisabolol
Pros
Lightweight
99% natural
Paraben-free
Petroleum-free
SLS-free
Cruelty-free
Cons
Overpowering fragrance
May dry out the skin.
The Microdermabrasion Scrub by Botanic Tree is a high-end facial scrub that helps remove dead skin from the face, minimize large pores, reduce fine lines and acne scars with every wash. This organic exfoliant contains powerful Microderm crystals that deeply cleanse the pores to remove impurities, pollutants, and sebum and boost collagen production.
Key Ingredients: Japanese green tea, Sage, and Grapefruit
Pros
Pleasant fragrance
Ideal for dry skin
Sulfate-free
Paraben-free
Cruelty-free
Cons
Expensive
May irritate sensitive and acne-prone skin.
The Black Sugar Facial Scrub by Mizon is formulated with 35% black sugar powder that helps unclog the pores and make skin look bright and glowing. This exfoliating scrub gently melts away all the dirt and dead skin cells and leaves the skin hydrated and radiant. It is suitable for all skin types and can even be used as a lip scrub to brush away all the dead skin on your lips, making them look fuller.
Key Ingredients: Honey extract, Black sugar, Olive oil, Mango seed butter, Grapeseed oil, Meadowfoam seed oil, Sunflower seed oil, and Lemon fruit extracts
Pros
Pleasant fragrance
A little goes a long way
Easy application
Cons
Expensive
Does not wash off easily.
The SKINScrub by SKINovative is an amazing exfoliant created with a blend of the finest botanical bamboo stems. It stimulates active cell growth to reveal healthy and youthful skin. The original dual-action formula reduces scar wounds and rejuvenates mature and wrinkle-prone skin. This exfoliating scrub gently cleanses away excess facial oil, makeup, and surface impurities while keeping your skin naturally fresh and moisturized.
Key Ingredients: Lactic acid, Bamboo stem, Orange peel oil, and Vanilla planifolia fruit
Pros
Smells great
Cruelty-free
Suitable for all age groups
Non-drying
Cons
Can cause breakouts.
Leaves the face a bit greasy.
The Blackhead Eliminating Daily Scrub from Neutrogena is a gentle exfoliator for daily use. It contains 2% salicylic acid that deeply penetrates the pores and eliminates blackheads by removing the oil and dirt trapped inside without overtly drying the face. It also prevents blackheads from recurring, giving your face a squeaky-clean feeling.
Key Ingredients: Salicylic acid
Pros
No plastic microbeads
Ideal for oily skin
Pleasant fragrance
Can be used every day
Cons
The combination of salicylic acid and charcoal makes Epielle Charcoal Exfoliating Scrub a great exfoliator for daily use. The exfoliating beads in this scrub deeply cleanse and unclog the pores, giving you baby soft skin. This gentle yet effective exfoliator will leave your skin feeling smooth. It also prevents future acne breakouts. The gel-type charcoal formula cleanser absorbs impurities that are hidden in the pores of the skin. It helps control blackheads and maintains smooth and radiant skin.
Key Ingredients: Salicylic acid, Charcoal, Glycerin, Lavender extracts, Clary extracts, and Hyacinth extracts
Pros
Fast action
Cruelty-free
Brightens the skin
Suitable for oily skin
Cons
Overpowering scent
Can trigger acne
The C&C Blackhead Clearing Scrub from Clean and Clear is packed with salicylic acid that helps eliminate acne while gently exfoliating and lifting away dirt, oil, and dead skin. It also contains coffee, which smells divine and helps scrub away any harsh blackheads and dirt from your skin, leaving it smooth and fresh.
Key Ingredients: Salicylic acid, Coffee extracts, Sorbitol, and Menthol
Pros
Refreshing fragrance
Non-drying
Cruelty-free
Mineral oil-free
Gluten-free
Paraben-free
Soy-free
Sulfate-free
Synthetic color-free
No animal testing
Vegan
Cons
Can irritate sensitive skin.
The Triumph & Disaster Rock & Roll Natural Facial Scrub is a well-balanced scrub designed to provide deep and thorough exfoliation for your face and draw out all the grime and impurities. It uses naturally abrasive volcanic ash, special green clay, and kaolin clay to deliver an enjoyable facial scrub experience. This product contains the special green clay that fights blackheads. It is also naturally rich in iron, magnesium, and potassium, which nourish your skin. The unique natural fragrance called 'Smoke and Wood' ensures you have a refreshing experience.
Key Ingredients: Olive green clay, Salicylic acid, Volcanic ash, and Kaolin clay
Pros
Rinses away easily
Uniform consistency
A little goes a long way
Ideal for oily skin
Cons
Blackheads don't discriminate and are pretty hard to get rid of. The best way to prevent the recurrence of new ones is to invest in a good exfoliating face scrub. Try any of the face scrubs listed above to get rid of those pesky blackheads, rejuvenate your skin, and make it look brighter and healthier.
Why Trust Stylecraze?
The author of this article, Oyendrila Kanjilal, is a certified skin care coach. She curated this list of bestselling face scrubs that prevent blackheads after carefully researching multiple products and browsing online reviews. The shortlisted scrubs are gentle and effectively remove dirt from the skin. These face scrubs are budget-friendly, easy to use, and good for all skin type.
Frequently Asked Questions
Can a facial scrub remove blackheads?
Facial scrub with a percentage of exfoliators like salicylic acid, microbeads, or physical scrubs (ground walnut or bamboo particles) can effectively remove blackheads from your skin.
Do blackheads go away naturally?
Blackheads are a stubborn form of acne, which will eventually fade away over time. They may take months or even years to clear. Regular exfoliation of the skin can help reduce blackheads and prevent new ones from forming.
Do blackheads leave holes?
It is normal to have some holes on your skin after removing blackheads. It happens because the dirt and debris filling the pore are suddenly gone, leaving a small space. They will close up in a matter of a few weeks.
What happens if you do not remove blackheads?
Inflammation and scarring are typical results if you do not remove blackheads. Without proper treatment, blackheads may spread and turn your skin dull.
What causes blackheads all over the face?
Accumulation of sebum and dead skin cells in your hair follicles.
A buildup of bacteria in your skin.
Hormonal changes during menstruation and pregnancy.
Certain drugs like corticosteroids, lithium, or androgens.
How do dermatologists get rid of blackheads?
Dermatologists recommend microdermabrasion and chemical peels to eliminate clogged pores and blackheads. These treatments remove the upper layer and reveal brighter and clearer skin.
Can a coffee scrub remove blackheads?
Yes. Coffee scrub exfoliates the dead skin cells, dirt, and grime from your hair follicles and reveals fresh-looking skin.
Can toothpaste remove blackheads?
Yes. Toothpaste opens up your pores, removes bacteria, and exfoliates dirt while revealing glowing skin.
Do blackheads leave holes?
Yes. Initially, you may notice some holes in your skin after extracting blackheads. But slowly the area will naturally heal and become even.
At what age do blackheads go away?
Blackheads go away after the mid-20s. However, in some instances, they remain embedded and affect your skin texture during adulthood.
Recommended Articles