12 Best Face Scrubs For Sensitive Skin – Reviews & Buying Guide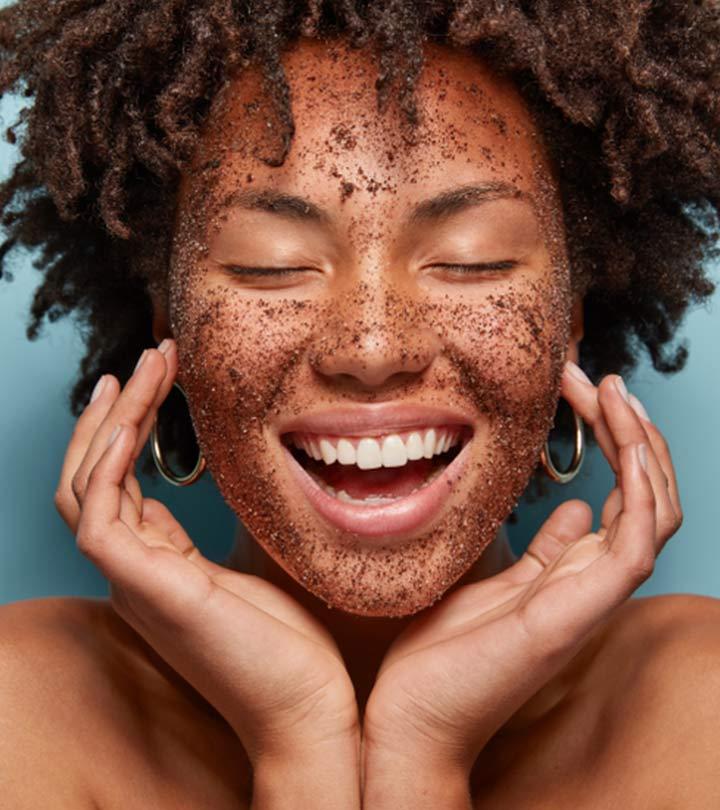 If you have been looking for the best face scrub for sensitive skin, we got you covered. While regular exfoliation helps keep your skin healthy and smooth, those with sensitive skin might find it hard to fight the right scrub that is gentle enough for their face. Scrubs and exfoliators come with small grainy particles that help get rid of the dirt and dead skin build-up. But, depending on the size and texture of these brains, some scrubs might seem too abrasive for sensitive skin. A good scrub for sensitive skin should be able to cleanse effectively while being mildly exfoliating and soothing as well. Sensitive skin can get scratched, irritated, and bruised easily, so you must take that extra care in choosing a scrub for yourself. Also, a scrub with natural oils and soothing ingredients would work to soothe your sensitive skin along with. Now, with the tons of options out there, shortlisting one for yourself may seem like finding a needle in the haystack! Fret not. If you are not sure which one to get, have a look at some of the best options listed below to help you decide better!
Top 11 Best Face Scrubs For Sensitive Skin Reviews Of 2022 Guide
Scrubs are usually meant to provide clear, smooth skin, but this scrub actually helps in skin brightening. This face scrub for oily, sensitive skin does a great job at deep cleansing of pores and gentle exfoliation which ultimately leads to brighter, healthier skin. Induced with sea kelp, lemon and French green clay, this scrub is super mild. Sea kelp softens the skin, lemon cleanses it deeply and brightens it whereas French green clay exfoliates and makes the skin smoother. Since the formula is free from harmful chemicals, it is considered one of the best face scrubs for sensitive skin. If you need more convincing, feel free to take a look at this YouTuber's video on the merits and demerits of the product.
Pro
Vegan
Cruelty-free
For all skin types
Paraben-free
Formaldehyde-free formula
Cons
Formula texture might feel rough to some
Looking for something that has turmeric as its main ingredient? Then this is the apt product for you. This facial scrub from Minimo is great at exfoliating the skin with the goodness of turmeric, cinnamon, and honey. Such organic ingredients make the skin exfoliation process harmless and highly beneficial. The herbal effect of this scrub helps buff away dark spots, pigmentation, and prevent acne. It doesn't clog pores and has a wonderful fragrance. This scrub works great for skin brightening as well.
Pro
Evens skin tone
Suits all skin types
Reduces blackheads
Does not make the skin oily
Cons
Might be too mild for some
Formulated with the goodness of aloe vera and jojoba oil, this product works as a gentle scrub for people with sensitive skin. Aloe vera helps soothe the skin and clear the pores gently whereas jojoba oil makes it smoother and softer. Without stripping the natural oils from the skin, this scrub makes it ready to glow. You can skip the full-fledged salon facial and replace it with this quick to use scrub for clean and supple skin. If you want a detailed review of the product, make sure to take a look at this video.
Pro
Soothes skin
Cleans skin
Cruelty-free
Removes dead skin
Cons
Fragrance might be strong for some
Nothing hydrates the skin better than cocoa butter. It is so nourishing in nature that the skin becomes smoother with every single use. Palmer's store has brought to you the goodness of cocoa butter, evening primrose, cocoa powder, and walnut shell altogether in this exfoliating facial scrub. With these fine ingredients, the exfoliation process becomes milder and better. This simple face scrub for sensitive skin aims at not just deep cleansing but in nourishing the skin to make it healthier. It is one of the best facial scrubs for sensitive skin and can be used 2-3 times a week.
Pro
Natural product
High quality
Gentle exfoliation
Safe for sensitive skin
Cons
Might be too mild for some
When looking for a scrub that takes care of everything from anti-aging to dullness, try this one from Touch. It is especially formulated with micro crystals and moisturizing cream to polish your skin and lend a youthful glow. These finely grounded crystals are generally used by dermatologists to provide deep exfoliation without any irritation. It also contains herbs like chamomile, green tea extracts, and aloe vera extracts that nurture the skin and protect it properly. You can replace your dull look with a youthful glow with the help of this facial scrub. Free from irritating acids and non comedogenic moisturizing ingredients, this is a great daily face scrub for sensitive skin.
Pro
No sulfates
No artificial coloring
No alcohol content
Safe for all skin types
Cons
Might be rough on skin if rubbed aggressively
An ultra-fine scrub that gently exfoliates and smoothes the skin texture is something that we all need. One such scrub is this one from La Roche-posay. It is one of the mildest scrubs and serves as a good face scrub for sensitive skin. Formulated with micro-beads and pumice, it gently scrubs off the dead skin and gives an even complexion. People who wish to get fresh, rejuvenated skin can use this product. This scrub is known for its quality of maintaining the natural pH balance of the skin.
Pro
Easy application
Soap-free formula
Alcohol-free formula
Removes dead skin cells
Cons
This foaming scrub from Skinfood is a unique micro-fine facial scrub that takes good care of the skin. It contains foam made with rice bran water that cleanses and exfoliates the skin gently. Rice bran water is known for its skin brightening abilities. This gentle face scrub for sensitive skin is a storehouse of proteins, vitamins, and minerals that nourish your skin to make it radiant. It is also a great healing support that regenerates skin, thus making it a potent acne-fighter. When looking for a multi-purpose beauty product that can clear your skin pores, remove dead skin cells and brighten up your skin, you should give this one a try. It suits all types of skin and gives clearer complexion.
Pro
Cleanses pores
Reduces dullness
Moisturising effects
Hypoallergenic product
Cons
Might feel drying when strongly scrubbed
This soothing scrub from Tatcha is exclusively formulated for sensitive skin. It involves non-abrasive exfoliation that is quite gentle and gives a smooth texture to the skin. Loaded with papaya enzymes and rice bran, this scrub cleanses skin without stripping off the natural oils. The product is formulated to enhance natural beauty without the use of any makeup. When used on a regular basis, it might reduce the appearance of wrinkles, hyperpigmentation, and even out skin tone. The unique part of this product is the use of Japanese wild rose that improves pore texture and clarifies skin.
Pro
Tightens pores
No mineral oil
Cruelty-free formula
Non-sensitizing formula
Cons
An exfoliating scrub that helps you reduce acne simply by clearing out pores is the need of every individual who faces breakouts. This natural exfoliator for sensitive skin is made of all good things that contribute towards making your skin healthy and glowing. Made of pumice and salicylic acid, this facial scrub cleanses the skin, reduces the dark spots and tackles wrinkles all at the same time. It contains nutrients derived from aloe vera and organic herbal infusions that hydrate the skin.
Pro
Deep cleanser
No harmful chemicals
Gentle for all skin types
For both men and women
Cons
No products found.
Simple smoothing facial scrub has no simple skin results. It shows significant results and gently exfoliates the skin. With added Pro-Vitamin B5 and Vitamin E, this scrub gives the much-needed nourishment to the skin and makes it brighter. The scrub contains rice granules which are gentle but effective towards skin exfoliation. When massaged in circular motions, this facial scrub removes dirt, oil, grime, and dead skin leaving smoother and healthier skin. You can use this scrub 2-3 times a week and add a beautiful glow to your dull skin.
Pro
Suits all skin types
No harsh irritants
Evens out skin texture
No artificial perfumes
Cons
Smell might not be pleasant to all
Juara Radiance Enzyme Scrub is a versatile product that cleanses, exfoliates, and brightens skin altogether. With this scrub you are just a step away from clear, glowing skin. Inspired by JAMU, the herbal healing tradition of Indonesia, this product aims at enhancing skin's beauty with herbal ingredients. This super nourishing scrub is formulated with turmeric, clove flower, Indian gooseberry, green tea extract, algae, apple enzyme, ginger, cinnamon, candlenut oil and jojoba oil. These unique ingredients contribute towards deep cleansing, pore-minimizing, and skin-refining. The herbal formula reduces the risk of allergies and makes it suitable enough for sensitive skin.
Pro
Easy-to-use
Brightens skin
Herbal product
Boosts radiance
Cons
So this was all about the best face scrubs for sensitive skin. Now that you are introduced to some of the top brands that have special scrub formulations for sensitive skin, we are providing you certain tips to keep in mind while choosing a face scrub for sensitive skin.
How To Choose a Face Scrub For Sensitive Skin?
You need to be careful before choosing a face scrub for sensitive skin. Follow the given tips before you buy a face scrub-
Read the ingredient list. Certain chemicals like parabens, alcohol are used in some face scrubs. These are really strong for sensitive skin and you must check their absence before buying a product.
Look for a mild scrub that does not exfoliate in a harsh manner.
A gentle scrub is usually induced with nourishing ingredients like jojoba oil, cocoa butter, aloe vera, etc. Check for these ingredients before buying a scrub.
You can even opt for a patch test before getting hands on a new scrub.
A good face scrub is usually gentle on the skin and really powerful as a cleanser. It scrubs off blackheads, whiteheads, and cleanses skin pores. Sensitive skin cannot take the high impact of chemicals and thus, requires a combination of mild yet effective ingredients. People with sensitive skin need to be extra careful when it comes to choosing a face scrub. In this article we have narrowed down the choices for your selection. Hope now you can choose the best face scrub for sensitive skin without much confusion.
Why Trust Stylecraze
A skincare enthusiast and a product reviewer, Vaishnavi Kothuri has handpicked and reviewed the top options in face scrub for sensitive skin for this article. She has taken into consideration customer reviews and ratings on online platforms and examined formulations of numerous products while reviewing these scrubs. The products she recommends here are formulated with gentle and non-irritating ingredients and deep cleanse the face without damaging or triggering sensitive skin.
Frequently Asked Questions
Are Scrubs Good For Sensitive Skin?
Yes, mild scrubs are good for sensitive skin.
Is Sugar Scrub Good For Sensitive Skin?
No sugar scrubs are not usually good for sensitive skin.
How Often Should I Use Face Scrub For Sensitive Skin?
You can use a face scrub for sensitive skin 2 to 3 times a week.
Is It Bad To Use A Face Scrub Everyday?
Yes, it is bad to use a face scrub everyday.
Recommended Articles: