13 Best Sheet Masks To Add To Your Daily Skin Care Routine – 2023
Give your face that radiant glow and nourishment with instant hydrating formulas.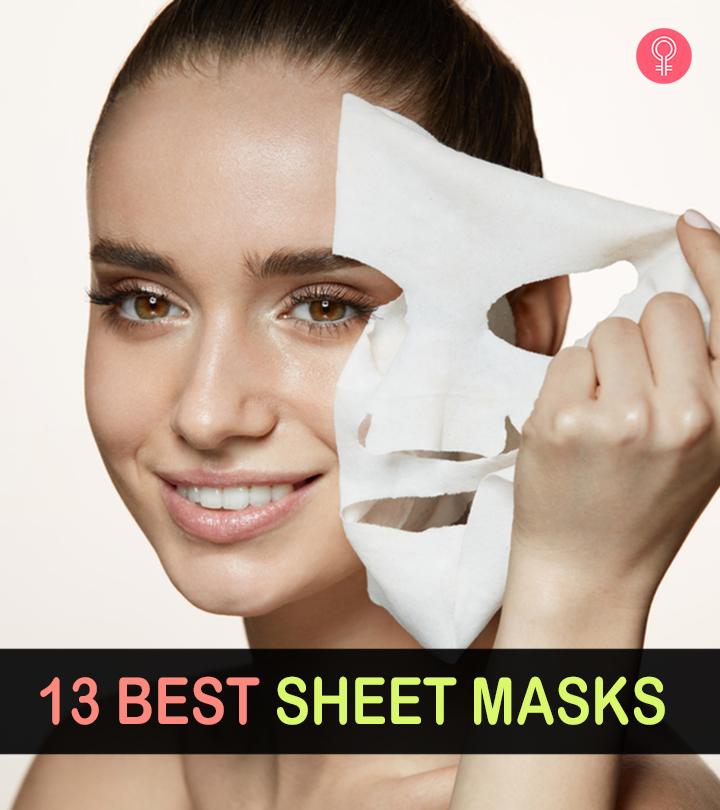 Facial sheet masks are an ideal way to instantly hydrate your skin, pamper it, and make it appear glowy. The best face sheet masks minimize diminishing wrinkles, black spots, and even skin tone. These sheet masks are carefully crafted with paper or cloth as its base. The thin sheets contain moisturizing ingredients that boost your facial skin providing a glowing complexion. Facial sheet masks are a faster and smoother way to maintain your skin. The sheets also make your skin soft and supple. Try out some of the 13 best sheet masks mentioned in our list and give your skin the TLC it deserves. Check them out below!
13 Best Sheet Masks Available Right Now
Shiseido Benefiance Pure Retinol Intensive Revitalizing Face Mask is the best hydrating face mask. This dermatologist-tested mask contains liquid retinol that delivers a larger amount of ingredients quickly and in a stable manner. This pure retinol face mask is infused with vitamin C, chlorella extract, and a collagen-fortifying compound that helps combat wrinkles, dryness, and dullness and impart a youthful radiance to your skin. It is formulated with hydroxyproline, a high-technology amino acid that improves the firmness of your skin. The hydrating moisture of this retinol sheet mask improves your skin texture. 
Pros
Revitalizes the skin
Dermatologist-tested
Hydrates the skin
Combats wrinkles, dryness, and dullness
Improves skin texture
Suitable for all skin types
Cons
Price at the time of publication: $48.99
BENTON Snail Bee High Content Mask is an all-in-one, multi-care sheet mask. This high-content mask is formulated with bee venom, snail secretion filtrate, Camellia sinensis leaf water, and botanical extracts that help improve your skin complexion. It nourishes your dry and damaged skin back to help. Other functional ingredients like arbutin and adenosine brighten your skin and remove wrinkles. This all-in-one sheet mask has a cooling effect. It lifts, moisturizes, hydrates, and smoothens your skin.
Pros
All-in-one formula
Cooling effect
Moisturizes the skin
Reduces wrinkles
Brightens the skin
Treats dry and damaged skin
Cons
Not suitable for sensitive skin
Price at the time of publication: $20.0
Dermal Korea Collagen Essence Full Face Sheet Masks Set consists of 16 different types of facial masks that help make your skin clear, elastic, and healthy. Each sheet is formulated with natural ingredients like green tea, cucumber, and aloe that deeply moisturize dry skin. The charcoal and bee venom masks brighten and clarify your skin. The royal jelly and gold masks are for skin revitalizing and nourishing. Some of these sheet masks are made with anti-aging formulas that reduce wrinkles and fine lines. This set of facial masks promotes the synthesis of collagen and elastin.
Pros
Moisturizes and soothes the skin
Anti-aging formula
Brightens the skin
Improves collagen production
Reduces the appearance of wrinkles and fine lines
Easy to use
Scented
Cruelty-free
Suitable for all skin types
Cons
May be abit harsh on your skin
Price at the time of publication: $11.99
Hada Labo Tokyo Anti-Aging Facial Sheet Mask is a fragrance-free cotton facial sheet mask. It is designed with hyaluronic acid, collagen, soy peptides, and vitamin E that boost hydration and restore the firmness and bounce of your skin. This soft single-use mask adheres perfectly to your facial contours for maximum coverage. It smoothens fine lines and is suitable for all skin types. You can check out this YouTuber's review of the product if you require more convincing.
Pros
Fragrance-free
100% cotton
Hydratesthe skin
Restores firmness
Smoothens fine lines
Paraben-free
Dye-free
No mineral oil
Suitable for all skin types
Cons
Price at the time of publication: $14.89
Rael Beauty Tea Tree Face Sheet Mask is an antioxidant-rich sheet mask for acne-prone skin. It is designed with natural bamboo fibers soaked in purifying ingredients. The tea tree oil in this face mask contains antioxidants that protect, purify, and soothe troubled skin with pigmentation. It is made with a skin-hugging technology that perfectly fits the contours of your face. It is formulated without parabens, alcohol, mineral oils, silicone, artificial fragrance, benzophenone, pigments, phenoxyethanol, PEG, and talc.
Pros
Antioxidant-rich formula
Fits the face perfectly
Suitable for acne-prone skin
Moisturizes the skin
Paraben-free
Nomineral oil
Scented
Cons
Price at the time of publication: $14.99
Masque BAR Pretty Animalz Cat Sheet Mask is a hydrating Korean face mask for women. This easy-to-peel-off face mask contains exfoliating essential oils that work as excellent pore refiners. It is formulated with lime, honeysuckle, and grapefruit extracts that help nourish and energize your face.
Pros
Easy to peel off
Energizes your skin
Suitable for all skin types
Cute design
Cons
Price at the time of publication: $19.99
U-NEED Korean Face Sheet Mask kit includes 10 different face masks – aloe, avocado, blueberry,  charcoal, collagen, cucumber, green tea, pomegranate, tea tree, and vitamin. Each sheet mask is formulated based on the fruits that help to keep the skin hydrated and healthy. This sheet mask effectively clears the skin, making it look younger, active, and radiant complexion. The masks come in individual sachets for easy accessibility. Overall, the masks are effective in soothing, firming, purifying, nourishing, refreshing, brightening, hydrating, and providing elasticity to the skin.
Pros
Cruelty-free
Eco-friendly
High absorption
No toxin
No paraben
Suitable for all skin types
Cons
Price at the time of publication: $58.99
Burt's Bees Hydrating Sheet Mask is a single-use natural face mask. It instantly moisturizes your skin, improves its texture, and cleanses dirt, oil, and makeup. This hydrating sheet mask is enriched with clary sage and a botanical blend of flowers that promote a healthy complexion. It is designed for all skin types and formulated without parabens, phthalates, and petrolatum. This dermatologist-tested face mask rejuvenates dry skin.
Pros
Instantly moisturizes the skin
Improves skin texture
Improves skin complexion
Dermatologist-tested
Easy to use
Paraben-free
Phthalate-free
Cons
Price at the time of publication: $14.34
Reduce facial dryness, redness, and blemishes with the Dr. Jart Soothing Hydra Solution. This mask is made of fine cellulose fiber that is non-irritating and feels comfortable on your face. Aquaxyl and xylitol infused in the mask prevent water loss by enhancing moisture retention. Also, aloe vera and phytoncides offer soothing relief to redness and sunburns. Additionally, the sheet removes impurities to keep your skin refreshed and radiant.
Pros
Paraben-free
Sulfate-free
Soothes your inflamed skin
Reduces blemishes for an even skin tone
Phthalate-free
Suitable for all skin types
Value for money
Pack of 5
Cons
None
Price at the time of publication: $13.8
Karuna Hydrating+ Face Mask is a clinically-proven natural fiber sheet mask. It is formulated with soybean and hyaluronic acid that help restore moisture to dry, dull, and dehydrated skin. This clinically proven face mask increases hydration by 39%, promotes elasticity, and replenishes your skin's moisture. The high-quality and biodegradable fibers retain the moisture and lock serum into the mask.
Pros
Restores moisture
Increases hydration
Improvesskin elasticity
Dermatologist-tested
Paraben-free
Phthalate-free
Nomineral oil
Cons
Unsatisfactory packaging
Not suitable for all skin types
Price at the time of publication: $28.0
TONYMOLY I'm Real Lavender Radiance Mask Sheet is a 3-layer pulp sheet. It is filled with natural ingredients and soaked in different types of enriched essences to give maximum hydration to your skin. It hydrates dry skin and transforms dull and tired skin into healthy, moisturized skin in as little as 20 minutes.
Pros
Provides maximum hydration
Moisturizes the skin
Soothes the skin
Rejuvenates dull skin
Scented
Cons
Price at the time of publication: $3.0
Talika Bio Enzymes Brightening Mask is a long-lasting illuminating sheet mask. This brightening face mask is made with biocellulose and natural ingredients. Its ultra-pure biotech material is made of nanofibres that are a result of the enzymatic fermentation of coconut water. The formula of this facial mask contains effective ingredients like vitamin B3, aloe vera extract, chamomile, and yarrow extract that moisturize and soothe the skin. It offers a second-skin effect during use and instantly illuminates the skin.
Pros
High quality
Long-lasting effects
Moisturizes the skin
Instant illumination
Cons
None
Price at the time of publication: $10.95
Eau Thermale Avene Soothing Sheet Mask is a biodegradable moisturizing and cooling full-face mask. It is formulated with sensitive cell technology and the soothing action of Avene Thermal Spring Water. This ultra-comfortable sheet mask contains a concentrated formula that revitalizesand soothesyour skin. It is easy to unfold and adheres to your face like a second skin.
Pros
Soothes the skin
Hypoallergenic
Non-comedogenic
Biodegradable
Easy to unfold
Suitable for sensitive skin
Paraben-free
Fragrance-free
Alcohol-free
Cons
None
Price at the time of publication: $9.5
Why Trust StyleCraze?
Shiboli Chakraborti, the author, is a certified skin care coach who advocates the importance of using sheet masks to get hydrated and glowing skin. She has carefully curated the list after going through multiple online reviews, and it includes some of her favorites too. She recommends using sheet masks because these are a quick way to make your skin smooth and supple and get a glowing complexion.
Frequently Asked Questions
Is sheet mask good for oily skin?
Yes. Most sheet masks hydrate and nourish the skin while combating dryness. They are enriched with exfoliating ingredients that keep oily skin healthy and shine-free. However, remember to choose a sheet mask based on your skin type to prevent breakouts and irritations.
Does sheet mask remove tan?
Yes, some sheet masks can help remove tan.
Can you leave a sheet mask on overnight?
No, never leave a sheet mask for more than 20 minutes. If left for longer, the sheet may start to dry out and absorb the serum from the face.
Can you use a sheet mask after moisturizing?
No. A moisturizer with thicker consistency may not allow the serum of the sheet mask to absorb into the skin. Hence, you should apply a moisturizer after using a sheet mask.
Can I use a sheet mask when I have pimples?
Yes, an antioxidant-rich product like the Rael Beauty Tea Tree sheet mask is suitable for acne-prone skin and helps soothe pimples.
How often do you use sheet masks?
You can use a sheet mask as often as you like. However, it is recommended to use two-three times a week.
Can I reuse a sheet mask?
No. Sheet masks are meant for single use only.
Should sheet masks be refrigerated?
Yes, you can refrigerate your sheet masks. It helps soothe and de-puff your skin.
Recommended Articles: