Best Face Tattoo Designs – Our Top 10
Face tattoos have been in existence for a long time. Many ancient tribes would tattoo their faces with colour to differentiate themselves. Face tattoos help individuals stand out and express their thoughts and interests. They show a bold and daring nature in an individual and are a means of self expression. Here are 10 face tattoo designs that you can try too.
The Best Face Tattoo Designs
1. To portray a continuous emotion:
Our faces, many a times have an expressionless look. To ensure this does not happen, you could tattoo your face with a particular emotion. This concept is based on a clown's continuous smile.
[ Read: Lip Tattoos ]
2. All colour tattoo:
A face tattoo design should be selected with immense care especially because it is on the most prominent part of your body. If an intricate tattoo is what you want, you could consider inking a tribal inspired design all across your face in various colours.
[ Read: Spider Tattoo Designs ]
3. To proclaim love and loyalty for your country:
Everyone is proud of where they are born. There are many ways to show your love for your country. But inking your face with your country's flag or name is definitely the most passionate way to express your loyalty to the country. This way people around you would know that you couldn't be happier in any place but your place of birth.
[ Read: Scorpion Tattoo Designs ]
4. To match the rest of your tattoos:
Many a times, face tattoos keep a link with the rest of an individual's tattoo. If you have a tattoo chain all through your body, you might consider inking your face with a continuing design. This would ensure your entire body is branded with art.
5. Gang tattoos:
Many gangs get face tattoos as a sign of unity. Your tattoo idea could be inspired from a gang tattoo. The tattoo could have an importance message written across your forehead or abstract designs all over your face.
6. African tribal tattoos:
In many African tribes, the tribesmen and women tattoo their faces. These tribal faces tattoos are a sign of cultural identity. In many tribes, when women achieve womanhood, they receive face tattoos. It is a sign of beauty and bravery.
7. To liven up your face:
Cute face tattoos liven up your face and makes it seem more friendly and fun.
8. Starry Eyes:
A starry eyes tattoo can be inked on the side of your eyes. This is a very interesting face tattoo to get and exhibits an artistic trend. You could get this face tattoo design done in black and white or add colour to it to liven it up.
9. To add a tribal look:
Face tattoos originated from tribes. You could get a Maori or amazigh inspired face tattoo. This would give your face a very tribal look. Innovative touches can also be added by adding colour or 3D effects.
[ Read: Tattoo Designs ]
10. Skeleton face tattoo:
You could tattoo your face to resemble a skeleton. This tattoo would be on the gothic side and could possibly scare away people. But it would definitely be a work of art and an interesting conversation starter.
So, are you ready to get these tattoo designs on face? Which one did you like the most? Share your thoughts with us through comments.
Give your idea ample time to test if you really want it inked, save the spot for a tattoo design that will not be regretted.
Image Source: 1 , 2 , 3 , 4 , 5 , 6 , 7 , 9 , 10

The following two tabs change content below.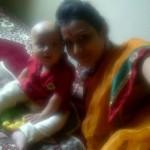 Latest posts by Khushboo Mehta (see all)