The 15 Best Face Washes For Acne, According To A Makeup Artist – 2023
One of these rejuvenating products is sure to become your favorite acne warrior.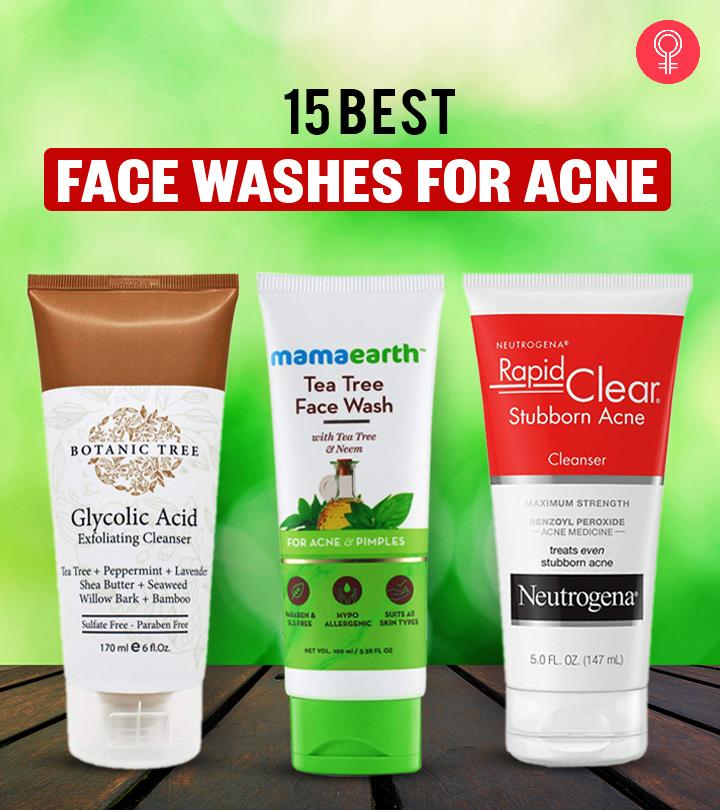 Acne-prone skin needs a little bit of special care. To start with, you must get your hands on the best face wash for acne. Dust, dirt, pollution, weather changes – you name it, and you face a sudden acne breakout! The right face wash can help curb it right at the first sign. Some face washes are enriched with acne-fighting ingredients like salicylic acid and glycolic acid that work on your acne gently and effectively. They usually also contain other natural ingredients like tea tree oil or neem extracts to help keep your skin acne-free for longer.
To help you get started, we have shortlisted the 15 best face washes for acne-prone skin for you to choose from. Check them out below!
How Does Acne Face Wash Work?
Cleansers that are specifically formulated for acne-prone skin contain ingredients that help fight acne such as benzoyl peroxide, salicylic acid, glycolic acid, and sodium sulfacetamide. These ingredients clear up your skin while cleaning it. They work by clearing clogged pores and reducing swelling and redness. They further exfoliate your skin and get rid of the bacteria that clog your hair follicles and cause breakouts.
Now, let's check out the 15 best face washes for acne!
The 15 Best Face Washes For Acne That Will Leave Your Skin Fresh
The Glycolic Acid Exfoliating Cleanser by Botanic Tree is specifically formulated for cystic acne-prone and oily skin. It is infused with 10% glycolic acid, bamboo, shea butter, tea tree oil, seaweed, willow bark, and peppermint extracts. These ingredients help remove excess sebum, oils, impurities, and makeup from your face without stripping away the natural moisture. Glycolic acid is an AHA exfoliator that penetrates your skin and brightens your complexion. The exfoliating acne cleanser further eliminates and lightens dark spots and hyperpigmentation. Tea tree, shea butter, and bamboo extracts unclog your pores, clear acne, reduce blemishes, and calm irritation and redness. This blemish-clearing cleanser also helps fade evident scars caused by hormonal acne and improve your skin's texture. The mild formula of the cleaner does not have any harmful chemicals that irritate or damage your skin. Need more information? Watch this video to make an informed decision about the product.
Pros
Removes dead skin
Paraben-free
Sulfate-free
Suitable for sensitive skin
Anti-aging properties
Cruelty-free
Smoothens the skin
Pleasant fragrance
Non-comedogenic
Value for money
Cons
The Rapid Clear Stubborn Acne Cleanser by Neutrogena is infused with 10% benzoyl peroxide. The potent formula of this face wash helps prevent breakouts while clearing acne. This redness-reducing facial cleanser diminishes the overall size of the pimples in just one day. Benzoyl peroxide is a gentle exfoliant that has antimicrobial properties that help unclog pores and fight the acne-causing bacteria. The tester's experience attests that the product delivers visible results. If you need further convincing, check out this YouTuber's review.
Pros
Dermatologist-recommended brand
Clinically-proven
Reduces dark spots
Does not dry out the skin
Prevents breakouts
Removes excess oil
Lathers well
Non-comedogenic
Value for money
Cons
Neutrogena Oil-Free Acne Wash Redness Soothing Facial Cleanser contains salicylic acid. It helps fight breakouts and clears visible redness due to acne. This face cleanser is infused with aloe vera and camomile, which calm irritation and clear your skin. The formula eliminates excess oil production by penetrating deep into the skin. It unclogs pores and removes dirt and impurities without stripping away your skin's moisture. The Clear Micro Technology used in this pore-clearing cleanser delivers visible results and boosts the benefits of salicylic acid to provide healthy-looking skin.
Pros
Reduces irritation
Clears redness
Soothes the skin
Prevents breakouts
Does not dry out the skin
Non-comedogenic
Value for money
Cons
Not suitable for sensitive skin
The Effaclar Medicated Gel Cleanser by La Roche-Posay is infused with salicylic acid and lipo hydroxy acid. Salicylic acid helps clear acne and breakouts. It also eliminates blackheads and whiteheads to reveal clearer skin. The lipo hydroxy acid in this purifying cleanser concentrates on the oily areas to gently exfoliate and remove any dirt or impurities. It also does not contain any harmful chemicals that irritate or aggravate your acne. This dermatologist-recommended hypoallergenic cleanser soothes your acne and makes you feel refreshed after every wash. You can check this video out if you need to know more about the product.
Pros
Removes dead skin
Reduces blackheads
Controls sebum production
Soothes redness
Clears blemishes
Dermatologist-tested
Clinically-tested
Paraben-free
Fragrance-free
Non-comedogenic
Allergy-tested
Gentle on the skin
Value for money
Cons
Differin Daily Deep Cleanser contains 5% benzoyl peroxide. It ensures less dryness and irritation and is the go-to daily cleanser for sensitive skin. This dual-action deep cleanser uses a micronized formula that penetrates deep into the skin and absorbs unwanted oil and controls sebum production. This acne-targeting cleanser repairs acne-prone skin by going after the acne-causing bacteria in the pores and reduces inflammation. It acts as a gentle moisturizer that keeps your skin hydrated and does not clog your pores. This results-driven cleanser provides a deep cleanse that won't strip off your skin and leave it dry. This means you get the clearer skin you want with no redness and irritation. This deep cleanser by Differin is dermatologist-tested and perfectly safe for daily use.
Pros
Absorbs excess sebum
Hydrating formula
Suitable for sensitive skin
Reduces redness
Reduces breakouts
Dermatologist-developed
Dermatologist-recommended
Cons
May cause itching
May cause peeling
The Oil-Free Acne Cleanser by Acne Free contains 2% benzoyl peroxide and is specifically formulated to eliminate mild to moderate acne. It helps treat breakouts, pimples, cystic acne, blackheads, and whiteheads. The micronized benzoyl peroxide in this clarifying cleanser penetrates into the pores, clears excess sebum and impurities, and helps fight the acne-causing bacteria. This cleanser is light and airy in texture and creates a gentle cleansing foam.
Pros
Doctor-recommended
Does not dry out the skin
Eliminates excess oil
Prevents breakouts
Lightweight
Mild formula
Value for money
Cons
The Neutrogena Oil-Free Acne Fighting Face Wash is formulated with 2% salicylic acid that successfully aids in treating acne. The product gently yet effectively cleanses clogged pores and buildup, thereby preventing unwanted breakouts. The oil-free formula is non-comedogenic and doesn't settle into the pores, which curbs acne formation without drying out the skin.
It leaves the skin feeling fresh and helps in controlling excess sebum production, which is one of the major causes of acne. It does not unnecessarily irritate the skin, thereby being a suitable option for sensitive skin types as well. For the ones who come under the category of combination skin to highly acne-prone, this product can be your sole solution for blemish-free, flawless skin.
Pros
Clinically-proven MicroClear technology
Non-comedogenic
Smooth creamy texture
Tackles breakouts
Gentle formula
Residue-free
Cleanses clogged pores
Cons
The Maximum Action Face Wash by Oxy Acne Medication is infused with benzoyl peroxide. The advanced formula of this face wash reduces acne and boosts skin regeneration to reveal healthy and clear skin. Benzoyl peroxide fights and kills the acne-causing bacteria that clogs your pores and aggravates breakouts. It further soothes irritation and leaves your skin feeling fresh. Both men and women can use this face cleanser.
Pros
Fight acne-causing bacteria
Soothes irritation
Refreshes the skin
Mild fragrance
Gentle on skin
Does not cause redness
Lathers well
Value for money
Cons
May dry out the skin
Contains parabens
The Detoxifying Charcoal Cleanser by Yes To Tomatoes is a gentle exfoliating cleanser formulated for acne-prone skin. It is infused with charcoal, salicylic acid, and tomato extracts. The salicylic acid in this cleanser helps unclog pores and prevents future breakouts. The charcoal mask detoxifies your skin and removes impurities, while the tomato extract gives your skin the much-needed antioxidants. This acne control facial cleanser also contains jojoba beads that gently scrub away excess oil, dirt, and impurities from your skin. This cleanser is made of 97% natural ingredients and does not contain any harmful chemicals that damage or irritate your skin. The reviewers have shared their satisfaction with this product, making it a rave among customers.
Pros
Dermatologist-tested
Unclogs pores
Softens the skin
Reduces blemishes
Vegan
Cruelty-free
SLS-free
Silicone-free
Paraben-free
Natural ingredients
Lathers well
Gentle on skin
Value for money
Cons
The Breakout Clearing Facial Cleanser by Neutralyze is infused with 2% salicylic acid, Nitrogen Boost Technology, and 1% mandelic acid. Both salicylic acid and mandelic acid are alpha hydroxy acids that exfoliate dead skin and help prevent any further breakouts. It helps clear black spots, blemishes, fine lines, wrinkles, and uneven skin tone. This facial cleanser helps fight against pimples, acne scars, cystic acne, blackheads, and whiteheads. The Nitrogen Boost Technology in this face wash contains the power of clinically-proven nitric oxide that helps in faster healing and reduces redness while improving your complexion. This acne preventing facial cleanser does not contain any harmful chemicals that damage or irritate your skin and can be used by both men and women. The product also comes with a 100% refund policy in case you are not satisfied with it.
Pros
Dermatologist-recommended
Prevents breakouts
Non-comedogenic
Unclogs pores
Clears acne scars
Lightens blemishes
Paraben-free
Sulfate-free
Cruelty-free
Fragrance-free
Value for money
Cons
Tree To Tub Soapberry For Face is a balancing facial cleanser. It has a pH of 5.5 that is gentle on your skin. It is infused with shea butter, aloe vera, acai, coconut, peppermint, and chamomile extracts that hydrate your skin while balancing its natural oils. This deep cleansing formula is naturally scented with peppermint that gives a soothing and refreshing feeling. It is free from harmful chemicals and does not damage or irritate your skin. The natural and refreshing acne cleanser can be used by anyone with any type of skin.
Pros
Clears acne
Fights blemishes
Hydrating formula
pH-balanced formula
Paraben-free
Dermatologist-tested
Cruelty-free
Artificial fragrance-free
Natural ingredients
Gentle on skin
Silicone-free
SLS-free
Gluten-free
DEA free
Sulfate-free
Vegan
Value for money
Cons
The BPO 5% Cleanser by PCA Skin is a facial cleanser formulated for acne-prone skin. It is infused with active ingredients such as phytic acid, benzoyl peroxide, and gluconolactone. Benzoyl peroxide is a soothing agent that penetrates deep into your pores and eliminates acne-causing bacteria. Gluconolactone is a hydrating ingredient that helps calm your acne and clears your complexion. Phytic acid gently exfoliates dead skin cells and impurities to prevent further breakouts. It also has natural ingredients like cucumber extracts, chamomile extracts, and nettle extracts that help soothe inflammation and makes you feel refreshed. The rave reviews testify to the efficacy of the product.
Pros
Exfoliates dead skin
Clears cystic acne
Quick results
Prevents breakouts
Tones the skin
Fragrance-free
Synthetic dye-free
Cruelty-free
Gentle on skin
Value for money
Cons
The EltaMD Foaming Facial Cleanser is a sensitive skin and acne-friendly face wash. It is a gentle-enzyme cleanser that has an oil-free, pH-balanced formula suitable for daily use to treat acne. The product is curated with bromelain enzymes that possess anti-inflammatory properties, thereby treating inflammation caused due to acne. The foaming nature of the face wash is gentle on the skin and effectively cleanses dead skin cells and dirt and grime.
Pros
Gentle foaming formula
Pleasant cucumber scent
Suitable for sensitive skin
Reduces inflammation
pH-balanced
Removes dead skin cells
Fragrance-free
Paraben-free
Oil-free
Non-comedogenic
Vegan
Cons
Consistency might be thick for some
The Medical Acne Face Wash by Dr Song contains 10% benzoyl peroxide. The micro benzoyl formula penetrates deep into your skin and clears excess sebum and acne. It further unclogs pores and helps soothe redness and inflammation. This acne buster face wash does not contain any harmful chemicals that damage or irritate your skin. The product also offers a 100-day money-back guarantee if you are not satisfied with it.
Pros
Prevents breakouts
Quick results
Long-lasting
Does not dry out the skin
Cruelty-free
Paraben-free
Sulfate-free
Phthalate-free
Gentle on skin
Value for money
Mild scent
Cons
Humane Acne Wash consists of 10% benzoyl peroxide that helps unclog pores, soothe inflammation, and fight acne-causing bacteria. It is a non-foaming cleanser that clears and prevents further breakouts. The gentle acne cleanser promotes cell regeneration and reduces the pain and irritation caused by acne. This face wash does not contain any harmful chemicals that damage or irritate your skin. Thus, it is the best face wash for sensitive-skinned individuals. The product also comes with a money-back guarantee if you are not satisfied with it.
Pros
Dermatologist-tested
Clears blemishes
Unclogs pores
Fights acne-causing bacteria
Alcohol-free
Paraben-free
Phthalate-free
Sulfate-free
Paraffin=free
Mineral oil-free
Color=free
Synthetic fragrance-free
Cruelty-free
DEA-free
Vegan
Value for money
Cons
Now that you know all about the best face washes for acne, let's check out what you need to know to pick the best one for your needs.
How To Choose The Right Face Wash For Your Skin?
Choose Acne-Combating Ingredients
There are a few ingredients that your acne face wash must contain for it to really work:
Salicylic acid works as an exfoliant. It helps to gently get rid of dead skin cells and unclogs pores.
Benzoyl peroxide has antimicrobial properties. It helps fight the bacteria present under the skin's pores. It also exfoliates the dead skin cells that clog pores.
Sulfur helps eliminate excess sebum and unclogs your pores. It also smoothens the skin surface and eliminates dead skin and impurities.
AHA promotes collagen production and also aids in removing excess sebum. It also has anti-aging properties and helps correct discoloration and hyperpigmentation.
Ingredients You Should Avoid
Few ingredients aggravate your acne instead of clearing it. Here are a few components you must avoid:
Alcohol helps remove excess oil from your skin, but it may irritate your skin, especially if you have acne.
Mineral oils are comedogenic and mask your skin, making your acne and breakouts worse.
Silicones clog your pores, aggravate acne, and cause irritation.
Sodium Lauryl Sulfate triggers breakouts and causes painful irritation. It strips away the natural oils from your face, making it dry and withered.
Choose A Face Wash That Suits Your Skin
Acne face washes generally work by clearing off excess sebum and contain a few chemicals for exfoliating. People with sensitive skin should prefer mild cleansers. Harsh chemicals can cause flakiness, itching, redness, and painful breakouts. Find an active ingredient that suits your skin type for the best results.
How To Wash Your Acne
Splash water on your face.
Take a pea-sized amount of a non-comedogenic, mild cleanser.
Gently rub the cleanser into your face in a circular motion using your fingertips.
Rinse it off with lukewarm water and pat dry.
You will not see an immediate change. Acne face washes take a while to work from within to control the breakouts.
How Often Should You Use An Acne Face Wash?
Excessive washing can dry out your delicate skin and make your acne worse. It is preferable if you wash your face using an acne face wash once in the morning and once at night. In case your face feels oily and sticky in the middle of the day, you can wash your face if needed.
Why Trust StyleCraze?
Our author, Shiboli Chakraborti, is a certified skin care coach who loves reviewing beauty products. She has curated this list of face washes for acne-prone skin after carefully researching ingredients and user reviews available on multiple trusted online forums. Her well-researched article ensures high-quality face washes that are suitable for sensitive skin. Not only do these face washes remove dead skin, but they also lather well, eliminate excess oil, and prevent breakouts.
Frequently Asked Questions
Does using face wash cause pimples?
No, face wash does not cause pimples. However, excessive and vigorous cleaning might dry the skin, resulting in pimples and breakouts.
Is it good to wash your face every day if you have acne?
Yes, washing your face daily helps remove dirt and pollutants from the skin, but washing too many times frequently might irritate your skin.
How often should you wash your face with acne wash?
Wash your face twice daily, once in the morning and once before bed.
How can I solve my acne naturally?
• Apply tea tree extract to the acne in creams, gels, or essential oils. However, always perform a patch test before using a new essential oil.
• Mix jojoba essential oil with a gel, cream, or clay face mask and apply it to acne. Alternatively, place a few drops of jojoba oil on a cotton pad and gently rub it over acne sores.
• Aloe vera is naturally antibacterial and anti-inflammatory. It may aid in reducing the appearance of acne and preventing breakouts.
• Apply a little honey to pimples with a clean finger or cotton pad. You can also incorporate honey into a face or body mask.
Recommended Articles
Best Face Washes And Cleansers For Acne Trusted By Skin Care Gurus
Best Drugstore Face Washes For Acne That Keep Breakouts At Bay
Best Recommended Daily Facial Cleansers
Best Oil-Free Salicylic Acid Cleansers To Reduce Acne