11 Best Face Cleansers For Combination Skin
Keep your skin free of oiliness and dryness and offer that much-needed balance!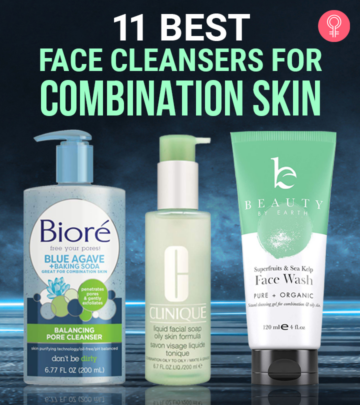 Maintaining a combination skin is meekly challenging as it is the togetherness of oily skin in the T-zone and dry skin in the cheeks. Usually, such skin is prone to clogged pores and accumulation of dirt. This is where the best face wash for combination skin comes to the rescue.
Using products specifically made for oily skin or dry skin may not give the desired result. For example, moisture-rich products may break your skin, while sebum-controlling can shed off the natural oils. So, you need a formula crafted to do it all in balance. In this article, we bring you a list of the 11 best face washes suitable for combination skin. Scroll down to grab a facial cleanser and get clean, healthy, and flawless skin!
11 Face Cleansers That Work Like A Charm On Combination Skin
The BIODERMA Sébium Foaming Gel gently cleanses your skin and normalizes sebum quality. It is made with an allergen-free Fluidactiv complex that doesn't strip away the natural oils and dry out combination skin. Active ingredients containing copper and zinc give the foaming gel a pleasant blue color. It also contains Ginkgo extract, fructooligosaccharides, and seaweed extract that increase your skin's tolerance and impermeability by tightening unclogged pores. Its dermo-patented technology protects your face against daily pollution and keeps it clear and supple.
Key Ingredients: Mannitol, Xylitol, Ginkgo biloba leaf extract, Fructooligosaccharides
Pros
Does not dry out the skin
Paraben-free
No residue
Soap-free
Can be used as shaving foam
Hypoallergenic
Refreshing scent
Cons
Expensive
Watery consistency
Price at the time of publication: $8.99
The Bioré Blue Agave + Baking Soda Balancing Pore Cleanser deeply cleans and naturally exfoliates your skin. It contains baking soda that clears clogged pores and gently removes impurities to reveal smooth, healthy-looking skin. This liquid face cleanser also removes dry, flaky, and dead skin by easily penetrating the skin pores. Its oil-free formula does not strip the natural oils off your face. Therefore, it suits combination skin the best. Also, it is dermatologically tested to be hypoallergenic and suitable for daily use. If you are still unsure, check out this honest review.
Key Ingredients: Agave leaf extract, Sorbitol, Jojoba esters, Sodium bicarbonate
Pros
Hypoallergenic
Dermatologist-tested
Prevents dryness and flaking
Lathers well
No residue
Cons
None
Price at the time of publication: $5.64
The Clinique Liquid Facial Soap forms a soft, non-drying lather to remove dirt and makeup that accumulates every day on combination skin. It loosens surface flakes and protects the skin's natural moisture balance. This quick-rinsing formula leaves your skin feeling clean, comfortable, and refreshed – and never taut or dry –because it is free of alcohol. It contains sucrose, aloe leaf juice, and menthol that condition and prep your face for the next steps of your skin care routine. This liquid facial soap is dermatologically-tested to be allergen-free. It is also free of parabens, phthalates, SLS, mineral oil, artificial fragrance, and dyes. It also comes in eco-friendly, recycled packaging. Click this video to learn more about the product.
Key Ingredients: Sucrose, Menthol, Aloe leaf juice
Pros
Softens the skin
Mineral oil-free
Gluten-free
SLS-free
Alcohol-free
No synthetic compounds
Phthalate-free
Dermatologist-developed
Fragrance-free
Sustainable packaging
Cons
None
Price at the time of publication: $21.49
This facial cleanser from Beauty By Earth is packed with super fruits like cranberry and acai  that leave your face feeling fresh and clean. Its lightweight formula gently clears makeup and dirt from the skin pores and spreads a lingering and refreshing fruity scent. It is enriched with aloe leaf juice, acai fruit oil, and extracts of pomegranate, cranberry, and green tea leaves to give you a boost of hydration. These nourishing ingredients naturally improve your complexion, restore radiance, and condition your skin for your makeup/skincare regimen. This organic face wash is free of parabens, synthetic compounds, and animal-origin products and has not been tested on animals.
Key Ingredients: Aloe leaf juice, Cranberry fruit extract, Acai fruit oil, Green tea leaf extract, Pomegranate extract, Olive oil
Pros
Gentle on the skin
Clears build-up
Preserves moisture balance
Paraben-free
Phthalate-free
No artificial fragrances
Cruelty-free
No residue
Cons
Price at the time of publication: $35.99
The Gentle Foaming Cleanser With Tamarind face wash from Clarins is as effective as soap and as gentle as a cream. It is a purifying facial cleanser that best suits combination or oily skin. It gently refines pores and mattifies the skin by clearing product build-up, dust, and excess sebum in the T-zone. Weak acids of the tamarind fruit, micro-pearls of Clarins' Anti-Pollution Complex, and ultramarines naturally and intensely purify the skin after each wash without disturbing the moisture and oil balance. With all the grime, dead cells, and stress washed off, this face wash reveals a clean, shine-free, supple, and well-rested complexion that lasts all day. Learn more about the product in this video.
Key Ingredients: Tamarind extract, Cottonseed extract, Baby's breath root extract, Clarins' Anti-Pollution Complex
Pros
Unclogs pores
Balances the natural moisture
Easy to rinse off
Non-drying formula
Clears makeup
Long-lasting results
Cons
Not suitable for acne-prone skin
Price at the time of publication: $29.98
The Hydrating Gel Cleanser from Glo Skin Beauty is formulated with hydrating ingredients that cleanse and brighten combination skin. With its light foaming action, this gentle yet effective formula helps maintain the moisture balance while exfoliating your skin. Exotic and nourishing extracts from Egyptian lotus, amaranth, moringa seeds, and sandalwood along with lactic acid bring out your natural, clear, and radiant complexion. These natural ingredients make this face wash safe for all ages and genders – especially pregnant women. It is also dermatologist-recommended as an allergen-free cleanser for sensitive skin or post-procedure care.
Key Ingredients: Amaranth protein, Egyptian lotus extract, Lactic acid, Sandalwood oil, Moringa seed extract
Pros
Allergen-free
Softens the skin
Safe for pregnant women
Soothes acne
Unscented formula
Long-lasting
Dermatologist-recommended
Cons
Price at the time of publication: $38.0
Tired of your oily T-zone? The Combination Skin Cleanser from Pevonia Botanica thoroughly washes away impurities and gently cleanses your oily T-zone. With a one-of-a-kind water-soluble and creamy formula, this weightless face wash rinses off easily and without any residue. It contains refreshing and rejuvenating antioxidant-rich extracts of rosemary, grapefruit, lemon, and hops. These active ingredients and vitamin E work on renewing your skin and reducing inflammation and other nagging concerns. With regular use, this face cleanser eliminates puffiness, pigmentation, and dullness to reveal bright and even-toned morning skin.
Key Ingredients: Grapefruit, Rosemary, Lemon, Hops extract, beta-Carotene
Pros
Lightweight
Water-soluble formula
No residue
Controls T-zone oiliness
Easy to washoff
Non-drying
Subtle fragrance
Long-lastingresults
Cons
The CALM Redness Relief Cleanser by Paula's Choice is a multi-action cleansing gel. It removes impurities and makeup while softening and calming combination skin. It is specially formulated with the most soothing ingredients that are gentle even on skin prone to rosacea and acne. This refreshing gel comforts inflamed or sensitive skin and brings down redness and blemishes. It washes off easily and effectively removes impurities, excess oil, and makeup. Moisture-restoring contents like meadowfoam seed oil, vitamin E, and allantoin ensure your skin is not left dry or tight after each wash.
Key Ingredients: Meadowfoam seed oil, Burdock extract, Vitamin-E, Aloe leaf juice, Calendula flower extract
Pros
Mild formula
Reduces redness
Does not make the skin feel stretchy
Suitable for sensitive skin
Removes excess oil
Soothes rosacea
Allergen-free
Lightweight
Cons
Price at the time of publication: $19.0
The Specific Beauty Daily Gentle Cleanser thoroughly yet gently removes dirt and oil from skin pores without disrupting the delicate skin barrier. Its ingredients penetrate deep into the skin to rejuvenate and brighten combination and oily skin. Soothing botanical extracts and salicylic acid work on areas of concern like blemishes, inflammation, pigmentation, and scars and minimize open pores. They refine the complexion and texture of sensitive skin to give a smooth, youthful, and air-brushed look. This dye-free and paraben-free face wash has a light, fresh fragrance and is perfect for anyone who is sensitive to strong scents.
Key Ingredients: Chamomile extract, Aloe leaf juice, Salicylic acid
Pros
Lightens dark spots and blemishes
Paraben-free
Brightens the skin
Hydroquinone-free
Fragrance-free
No synthetic dyes
Refreshing fragrance
Cons
Price at the time of publication: $13.99
The Mary Kay TimeWise Age Minimize 3D 4-In-1 Cleanser contains the proprietary, patent-pending Age Minimize 3D Complex along with highly-effective skin-renewing ingredients. These molecules remove complexion-dulling impurities and leave your skin feeling clean, exfoliated, and bright. This multitasking cleanser clears makeup without stripping away your skin's natural moisture and oils. It is dermatologist-tested and free of allergens, mineral oil, and synthetic fragrances. Since it is a non-comedogenic and anti-inflammatory formula, it is safe for use on acne-prone, inflamed, or treated skin.
Key Ingredients: Resveratrol, Vitamin-B3, Age-defying peptide
Pros
Offers mild exfoliation
Non-comedogenic
Fragrance-free
Mineral oil-free
Paraben-free
Dermatologist-tested
Cons
Price at the time of publication: $26.66
Enriched with Australian Eco-Harvest® tea tree oil and olive oil-based Castile soap, the Thoroughly Clean Face Wash by Desert Essence is a vegan winner. This daily face wash gently and thoroughly removes oil and impurities from combination or oily skin. It restores the natural oils on your face and brings clarity to blemish-prone skin. Soothing essential oils of lavender, tea tree, and calendula rejuvenate tired and damaged skin. With every wash, the antioxidant-rich extracts of awapuhi, blue cypress, chamomile, bladder wrack, and golden seal nourish, repair, and brighten the morning skin.
Key Ingredients: Coconut oil, Tea tree oil, Awapuhi root extract, Blue Cypress wood oil, Chamomile flower extract
Pros
Soothes itchy skin
Reduces open pores
Vegan
Non-GMO
Sulfate-free
No artificial dyes
Gluten-free
Cruelty-free
B-Corp certified
Cons
May irritate sensitive skin
Price at the time of publication: $22.88
Why Trust StyleCraze?
Oyendrila Kanjilal, a certified skincare coach, is an expert at reviewing skincare products. She applies her knowledge and expertise to understand the ingredients in beauty and skincare products and what they can do for the skin. She appreciates the challenges that combination skin type offers and advocates using face cleansers that have been designed specifically for it. After a thorough review and extensive research into the ingredients, she has shortlisted a handful of the best facial cleansers that work well for this skin type. The products she recommends can unclog pores in the T-zone without excessively drying out the other face areas as they have a balanced formulation.
Frequently Asked Questions
How often should you use a facewash for combination skin?
Use a face wash daily to wash the extra oil and sebum of your combination skin while balancing the moisture level.
Which ingredient is the best for combination skin?
Lactic acid is the best ingredient for combination skin. It hydrates the dry areas of your skin and balances the oil production in the oily areas.
How often should combination skin be washed?
Wash your combination skin twice daily to remove bacterial buildup, oil, and dirt.
Is it possible to change the combination skin to normal?
Yes. Combination skin can eventually develop the characteristics of normal skin type due to environmental factors, stress, age, and hormones. But, it does not change with skin care or treatments.
Recommended Articles
Best Face Washes For Sensitive Skin
Best Products For Combination Skin For Better Results
Best Cleansers For Oily Skin