11 Best Face Washes For Eczema (2023) – Reviews
Keep all concerns of eczema-prone skin at bay with these non-comedogenic face washes.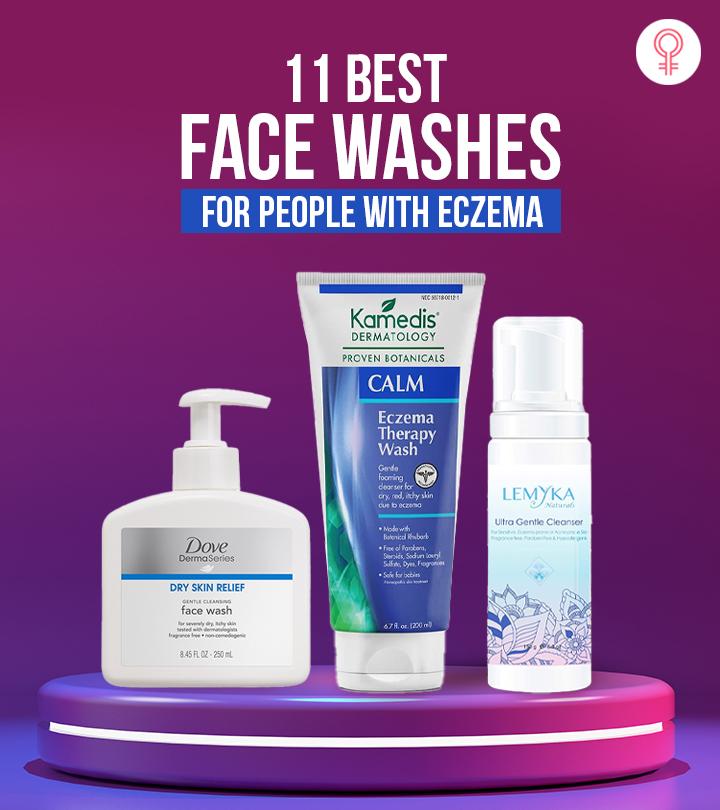 Indeed patchy and dry skin can be very difficult to deal with, and eczema takes the stress to a whole different level. It makes your skin flaky, triggers inflammation and redness, and causes itchiness. But if you have the best face wash for eczema in place, you can definitely let go of your worries. To help you choose the suitable one, we have prepared a list of the top 11 face washes for those who have eczema. Without further delay, go ahead and check it out.
11 Best Face Washes For People With Eczema
This super creamy cleanser by Neutrogena has a polyglycerin formula that binds oil and dirt to water and gently cleanses away impurities. The formula protects your skin barrier and keeps it hydrated. Thus, it is ideal for acne-prone, rosacea-prone, and eczema-prone skin. It also works wonders on dry and sensitive skin. With regular use, it will refine your pores and make your skin soft and supple.
Key Ingredients: Glycerin
Pros
Oil-free
Soap-free
Mild formula
Hypoallergenic
Non-comedogenic
Non-greasy
Cons
Price at the time of publication: $8.09
This hydrating plant-based all-in-one cleanser by Era Organics will soothe, hydrate, and restore your skin. Its gentle formula balances the pH level of the skin. It cleanses your skin thoroughly without stripping away its natural moisture. The aloe vera in the formula deeply hydrates and soothes irritation, while manuka honey boosts collagen production, improves cell regeneration, and locks in hydration. Vitamin E is a powerful skin healer that strengthens the skin barrier and protects it from free radical damage. Cehami extract gives you instant itch relief. These ingredients work together to soothe eczema, psoriasis, dryness, irritation and tackle signs of aging like wrinkles and fine lines. To know more about the nuances of Era Organics Cleanse + Restore Sensitive Skin Face + Body cleanser, click on this YouTube video.
Key Ingredients: Aloe vera, Manuka honey, Cehami, Vitamin E
Pros
Gentle on skin
Moisturizing
Organic ingredients
Paraben-free
Sulfate-free
Unscented
Alcohol-free
Mineral oil-free
Sulfate-free
Fragrance-free
Cruelty-free
Cons
Unpleasant scent
Expensive
Price at the time of publication: $27.87
This 2-in-1 cleanser contains gentle ingredients that soothe itchiness, redness, and flaking caused due to dryness and eczema. Its all-natural and non-toxic formula works wonders on sensitive skin. This plant-based product is made with ingredients like coconut and aloe vera that protect the moisture barrier and deeply hydrate the skin. It also contains pro-vitamin B5 that nourishes the skin and prevents free radical damage. The soothing combination of lavender and chamomile calms inflammations and gives a rejuvenating feeling. With regular use, this body and face wash heals and protects the skin from further eczema episodes.
Key Ingredients: Coconut, Palm, Aloe vera
Pros
pH-balanced
Non-toxic
Dermatologist-tested
Non-drying
All-natural ingredients
Ideal for children
Steroid-free
EWG rated
Accepted by NEA (National Eczema Association)
Cruelty-free
Phthalate-free
Paraben-free
PBA –free packing
Cons
May cause breakouts in some users
Price at the time of publication: $9.99
Soaps are notorious for drying out your skin, especially if you have skin conditions like psoriasis and eczema. But this all-natural soap by Marie Originals gives you relief your dry, flaky, and itchy skin. Powered with noni fruit powder, a natural anti-inflammatory component, this soap conditions and detoxifies your skin. It also aids in treating bumps, dry patches, and discoloration on the neck, face, and eyes with ease. The formula reduces redness and prevents any further breakouts. The herbal paste remedy is super gentle and safe for sensitive skin. The organic oat extracts and bentonite clay calm down any inflammation and give you instant relief. With regular use, the soap heals, softens, and tones your skin. It can be used on the face as well as the body.
Key Ingredients: Organic oat, Vegetable glycerin, Noni fruit, European natural clay
Pros
Gentle formula
Gluten-free
Paraben-free
Phthalate-free
SLS-free
No GMO
Unscented
Cruelty-free
Petroleum-free
Cons
Soap bar for personal use only; sharing can be unhygienic.
Price at the time of publication: $16.99
This advanced sulfate-free cleansing formula by SeboCalm thoroughly cleanses dryness-prone and sensitive skin. It gently removes impurities and its water-based formula effectively prevents acne, pimples, redness, blackheads, rosacea, dermatitis, and eczema. It is enriched with concentrated chamomile extract that soothes inflammation and redness. The cornmeal and coconut-based cleansers prevent irritations and effectively cleanses your skin, while seaweed extract preserves your skin's elasticity and deeply conditions it.
Key Ingredients: Concentrated chamomile extract, Cornmeal extract, Coconut extract, Seaweed
Pros
Vegan
Hypoallergenic
Lightweight
Dermatologically tested
Gentle formula
Non-comedogenic
Non-drying
Non-oily
Cruelty-free
Alcohol-free
SLS-free
Paraben-free
Sulfate-free
Cons
Price at the time of publication: $15.98
This gentle facial cleanser by LEMYKA is pH balanced to suit eczema-prone, sensitive, rosacea, and acne-prone skin. This daily cleanser can be used by people of all ages. The unique plant extracts in the formula remove excess oil, dirt, and makeup without causing any irritation. Although it deeply cleanses your skin, the formula does not strip off its natural moisture. Aloe vera and calendula extracts clarify blemishes, prevent breakouts, and calm down redness and inflammation. Panthenol and chamomile are rich in anti-inflammatory properties that heal and protect your skin, whereas algae promote elasticity and alleviate breakouts. This daily face wash will keep your skin clean, smooth, and soft.
Key Ingredients: Panthenol, Calendula, Chamomile, Aloe vera, Algae
Pros
Gentle on skin
Hypoallergenic
Vegan
Organic ingredients
Cruelty-free
GMO-free
Gluten-free
Petroleum-free
Sulfate-free
Paraben-free
Fragrance-free
Steroids-free
Phthalates-free
No artificial color
Cons
Price at the time of publication: $19.98
This face wash by Thyme Out is a 2-in-1 formula that can be used as a facial cleanser and a body wash. The organic formula instantly calms irritation, itchiness, and inflammation. This cleanser also effectively relieves irritation or rashes caused by bug bites and poison ivy. The all-natural formula consists of simple ingredients like coconut and apple juice that nourish and fortify your skin. It comes in an easy-to-pump bottle and is suitable for daily use.
Key Ingredients: Apple juice, Coconut
Pros
Gentle on skin
Non-irritating
Easy application
Foaming formula
Organic ingredients
Cons
Price at the time of publication: $19.99
This dermatologist-recommended face wash by Kamedis Dermatology can be used by adults and children alike. It provides you with long-lasting relief from eczema and dermatitis. The foaming cleanser gently cleanses your skin, strengthens your skin's natural barrier, and soothes irritations. It is enriched with ingredients like soapberry extracts, purslane, and Chinese rhubarb that have antifungal, antibacterial, and anti-inflammatory properties. These ingredients alleviate inflammation and act as natural cleansers.
Key Ingredients: Chinese Rhubarb, Purslane, Soapberry extract
Pros
Dermatologist recommended
Botanical ingredients
Foaming formula
Steroids-free
Fragrance-free
SLS-free
Paraben-free
Dyes-free
Cruelty-free
Safe for babies above 6 months of age
Suitable for adults
Cons
May not be effective on severely eczema-prone skin
Price at the time of publication: $9.9
Enriched with botanical extracts, this all-natural soap by Natrulo is ideal for acne-prone and dry skin. It has cocoa butter, coconut oil, olive oil, ground oat, and calendula to soothe and moisturize your skin. Cocoa butter and olive oil restore lost moisture, while coconut oil and calendula have anti-microbial and anti-bacterial properties to control breakouts. Ground oats exfoliate and combat inflammation. This soap is safe to use for dandruff, dermatitis, eczema, psoriasis, cradle cap, fungal infection, and diaper rash. This nutrient-enriched soap is safe for both adults and children. It reduces itching, scaling, irritation, flaking, and redness with ease.
Key Ingredients: Coconut oil, Olive oil, Cocoa butter, Ground oats, Calendula
Pros
Anti-inflammatory
Handmade
Anti-microbial
Easy to use
Paraben-free
Phthalates-free
SLS-free
GMO-free
Gluten-free
No artificial scent
Suitable for both adults and children
Cons
Bar soap, not ideal for sharing
Price at the time of publication: $12.99
Formulated and recommended by dermatologists, this facial cleanser by Cetaphil is a must-buy. It removes makeup, surface oils, and dirt without making your skin dry or tight. The castor oil in this cleanser hydrates your skin, while the glycerin locks in moisture. With regular use, you get super refreshed, clean, and flawless-looking skin. The cleanser is ideal for sensitive and oily skin, and works wonders on eczema-prone skin. Check out the review of the Cetaphil Daily Facial Cleanser for more information.
Key Ingredients: Glycerin, Panthenol, Hydrogenated castor oil.
Pros
Hypoallergenic
Non-comedogenic
Dermatologist-recommended
Cons
Price at the time of publication: $22.9
The DermaSeries Dry Skin Relief Face Wash by Dove is ideal for severely dry skin. This face wash provides long-lasting comfort from eczema, itching, psoriasis, and dryness. It gently cleanses your skin without stripping away its natural moisture. The formula replenishes the lost moisture in your skin and forms a protective barrier to prevent dryness. The amino silk proteins make your skin soft and supple. You can get visibly healthier skin after just 4 washes.
Key Ingredients: Biotin, Niacinamide, Panthenol, Ascorbic acid, Silk amino acid
Pros
Hypoallergenic
Creamy texture
Fragrance-free
Non-irritating
Dermatologist-recommended
Gentle formula
Non-drying
Cons
None
Price at the time of publication: $31.9
Eczema-prone skin deals with inflammation, redness, and itchiness if incorrect or harsh face wash and cleansers are used. A suitable face wash can reduce the irritation on the skin caused by eczema. There are a variety of formulas available in face washes for eczema, but you should consider some factors to pick the right one. So, here is a buying guide for you to choose the best face wash for eczema.
How To Pick The Right Face Wash For Eczema
Along with eczema, consider your skin type while choosing the best face wash. If you have dry skin, choose the face wash rich in hydrating ingredients and fatty acids. For oily skin, select face washes with salicylic acid, niacinamide, etc., to gently cleanse the skin and eliminate excess oil. If you have combination skin, choose the ultra-gentle cleanser that is fragrance-free, hypoallergenic, and has mild ingredients.
For eczema, you must choose gentle face washes with gentle and hydrating ingredients such as niacinamide, glycerin, salicylic acid, shea butter, prebiotics, and other non-comedogenic ingredients. You must avoid harsh face washes that include harmful chemicals such as drying alcohol, fragrances, propylene glycol, artificial colorants, GMOs, gluten, petroleum, sulfate, paraben, steroids, phthalates, mineral oils, and artificial colors.
Opt for a non-comedogenic, fuss-free, gentle formula in your face wash for eczema. Eczema-prone skin is sensitive, and a face wash should be devoid of any irritants that may trigger the condition. Avoid overly drying formulations in face wash. Instead, opt for hydrating, fragrance-free formulas. Face wash for eczema should also be safe, dermatologist-tested, and approved to avoid skin inflammation.
To select the best face wash for eczema, you can compare the reviews of different users and choose accordingly.
Why Trust StyleCraze?
The author, Shiboli Chakraborti, is a certified skin care coach, who has gone through in-depth reviews and customers' feedback to bring you a specially curated list of the best face cleansers for eczema-prone skin. These soap-free face washes are specially formulated with natural oils and skin-friendly ingredients that help it regain its natural oil and moisture balance while nourishing and cleansing your skin effectively.
Frequently Asked Questions
Which facial cleanser is good for eczema?
CeraVe is one of the most recommended skin care brands, especially for people experiencing eczema. It is a non-irritating, non-comedogenic, and certified skin care brand by the NEA (National Eczema Association).
Is salicylic acid good for eczema?
Yes. Salicylic acid is good for treating acne and eczema. It loosens the dry and scaly skin caused due to eczema, reduces clogged pores, and prevents acne breakouts.
Can I use essential oils for eczema?
No. Essential oils such as chamomile, tea tree, geranium, and clove oils can cause skin irritations and aggravate the symptoms of eczema.
What cleansers should you avoid if you have eczema?
People with eczema-prone skin must avoid retinol-based cleansers and ingredients like fragrances, urea, lanolin, essential oils, ethanol, and propylene glycol, as they dry out the skin and lead to redness, burning sensations, and flare-ups.
What laundry detergent should I use to clean my clothing if I have eczema?
It is better to use homemade laundry detergent from baking soda, borax, and washing soda. Chemical-based laundry detergents can worsen eczema.
Recommended Articles