12 Best Face Washes For Glowing Skin In India
Illuminating skin is just one step away with these face washes!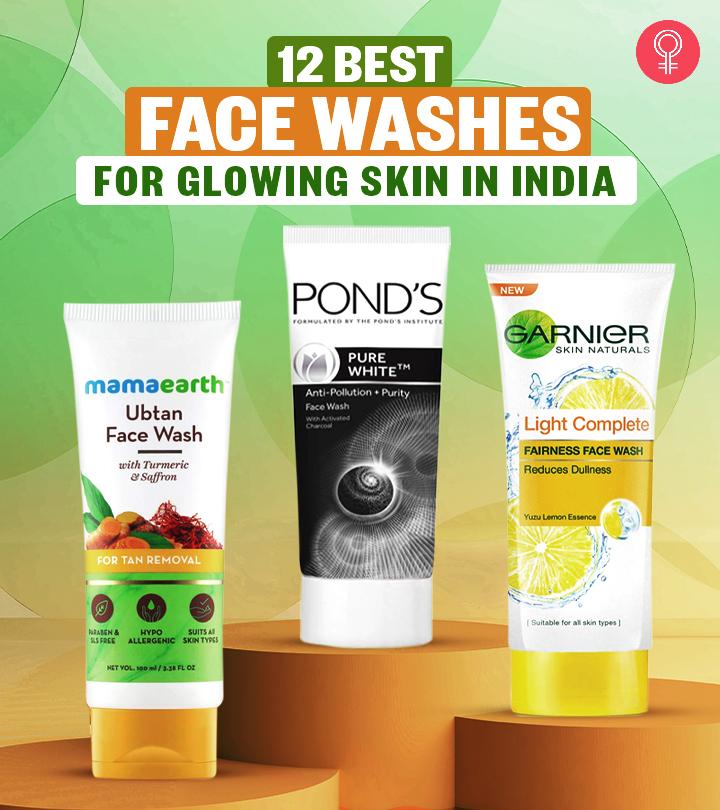 Did you know that the secret to clear and glowing skin lies in using the right face wash? Face washes remove makeup, excess oil, dirt, debris, and buildup on your face that can clog the pores and make your skin look dull. In this article, we have listed the 12 best face washes for glowing skin in India. Scroll down to check them out!
12 Best Face Washes For Glowing Skin In India– Reviews
The POND'S PURE WHITE Anti-Pollution + Purity Face Wash is gentle enough to work on all skin types. The unique formula features activated charcoal, vitamin B3, and bamboo charcoal that help unclog pores from deep within, giving your skin a clear and radiant glow. The ingredients draw out all the dirt, dust, and pollution from the pores, leaving the skin completely cleansed. This gray face wash has a creamy texture and washes off easily without drying the skin.
Key Ingredients: Bamboo charcoal, Vitamin B3, and Activated charcoal
Pros
Gentle
Lathers well
Deep cleaning
A little goes a long way
Cons
Not suitable for dry skin
The mamaearth Ubtan Face Wash gently exfoliates your skin to unveil its natural brightness. It contains licorice extract to repair sun damage, carrot seed oil to remove tan, and walnut beads to scrub off dead skin cells. Saffron and turmeric protect the skin from free radical damage and lighten it, while patchouli oil prevents wrinkles and imparts a pleasant fragrance to the product. This product is dermatologically tested, suitable for all skin types, and free of silicones and parabens, making it the best brightening face wash.
Key Ingredients: Carrot oil, Walnut beads,
Turmeric, Saffron, and Licorice extract
Pros
Sulfate-free
Phthalate-free
Silicone-free
Paraben-free
Dermatologically tested
Hypoallergenic
No artificial fragrance
Suitable for all skin types
Vegan
Cons
Price at the time of publication: ₹200.0
The LAKME Blush & Glow Face Wash will give your skin a stunning fruit-kissed glow. This refreshing face wash has fruit antioxidants and scrubbing beads to exfoliate and cleanse your skin of dirt and impurities. It is developed by Lakme Salon experts and enhanced with the goodness of strawberry extracts. This strawberry gel has a texture and fragrance that will make you feel rejuvenated instantly.
Key Ingredients: Strawberry extracts
Pros
Gentle
Refreshing scent
Affordable
Lathers well
Cons
The WOW SKIN SCIENCE Brightening Face Wash is fortified with vitamin C, mulberry and licorice extracts, along with lemon and orange essential oils. Vitamin C brightens the skin and prevents damage with its antioxidant properties. It also reduces fine lines and makes the skin look supple and youthful.
Mulberry and licorice extracts are powerful melanin blockers that help lighten pigmentation. Orange essential oil has anti-aging properties and stimulates the production of collagen, while lemon essential oil reduces excess oil and detoxes the skin. This face wash reduces the appearance of fine lines and improves skin texture.
Key Ingredients:Vitamin C, Lemon and Orange essential oils, Mulberry and Licorice extracts
Pros
Paraben-free
Silicone-free
Sulfate-free
Mineral oil-free
Dermatologically tested
Anti-aging
Cons
Not suitable for sensitive skin
This face wash from Garnier cleanses, clarifies, and brightens your skin. It is enriched with the brightening properties of Yuzu lemon that has a high concentration of vitamin C and is known for its exfoliating and antioxidant properties. Use this face wash daily to uncover a clear, radiant, and even complexion. This product is suitable for all skin types.
Key Ingredients: Yuzu lemon essence
Pros
Suitable for all skin types
Paraben-free
Refreshing smell
Value for money
Cons
Price at the time of publication: ₹160
The NIVEA Milk Delights Face Wash unclogs your pores while gently removing impurities caused by dirt, dust, and sweat. It is not harsh on the skin as it contains milk, which has a similar pH level to the skin. While saffron brightens your face and stimulates collagen production, milk acts as a natural cleanser and imparts a radiant glow to your skin.
Key Ingredients: Saffron and Milk
Pros
Gentle
Paraben-free
Value for money
Cons
Overwhelming floral fragrance
Price at the time of publication: ₹102
The kaya yOUTH Oxy-Infusion Face Wash has a micro-circulation complex to enhance oxygen supply to the skin cells. Oxygen is necessary for your skin health and to keep skin cells young. Over the years, the oxygen supply to your skin cells falls by nearly 25%. This face wash gives a boost of oxygen to the skin. It helps combat dark spots, patches, and dullness and is suitable for all skin types.
Key Ingredients: Niacinamide, Evodia fruit extract, and Coconut oil
Pros
Paraben-free
SLS-free
Suitable for all skin types
Value for money
Cons
The Pond's Mineral Clay Facial Foam is the most effective way to keep your skin oil-free all day long. It contains 100% Moroccan mineral clay, which sucks out all dirt and oil from deep within the pores to make your skin glowing and matte. The formula also contains Vitamin B3+ technology to smoothen and brighten your skin by stimulating the appearance of pure new skin cells. It is enriched with activated charcoal, which removes dead cells and gently exfoliates the skin.
Key Ingredients: Moroccan mineral clay and Vitamin B3
Pros
Paraben-free
Smells good
Mild
Deep cleansing
Value for money
Cons
The WHITEGLOW Active Skin Whitening + Oil Control Face Wash from LOTUS HERBALS gently cleanses your skin of grime and excess oil without drying it out. It contains burberry extracts that gently cleanse the dirt and pollutants from your skin and unclog the pores to make your skin radiant. They are also rich in vitamin C that delays the signs of aging. Green tea flushes out toxins, firms the skin, lightens the skin tone, and reduces under-eye dark circles. This face wash is specifically designed for combination and oily skin types.
Key Ingredients: Mulberry extracts, Milk enzyme, Green tea, and Burberry extracts
Pros
Anti-aging
Balances skin pH level
Safe for sensitive skin
Cons
The PHYTORx Deep Cleansing Face Wash from LOTUS contains potent organic ingredients that cleanse your skin without stripping its natural oils. The formula includes turmeric, basil, and thyme that make your skin healthy and blemish-free. The antiseptic properties of turmeric protect the skin from the daily damage of pollutants. Thyme is an antibacterial astringent and prevents acne. Basil offers HERBALS gently cleanses your skin and protects the skin against germs.
Key Ingredients: Thyme, Basil, and Turmeric
Pros
Suitable for all skin types
Organic formula
Preservative-free
No artificial fragrance or color
Cons
Price at the time of publication: ₹352
This face wash from Khadi MAURI keeps your skin fresh by gently removing excess oil, impurities, and dirt. It contains vitamin C that improves collagen production to give you firm and plump skin. Vitamin C also smooths out fine lines and wrinkles and lightens scars, age spots, and freckles. It inhibits melanin production and evens out the skin tone.
Key Ingredients: Vitamin C
Pros
Suitable for all skin types
All-natural
Paraben-free
No artificial fragrance
Cons
This face wash is loaded with the goodness of rich kiwi extracts to give your skin a daily dose of delightful fruity freshness. It is packed with fruit antioxidants and has beads that thoroughly cleanse your skin by washing away all impurities. The amazing texture and fragrance will keep you coming back for more.
Key Ingredients: Kiwi fruit extracts
Pros
Fruity scent
Value for money
Paraben-free
Sulfate-free
Cons
If you are wondering how to choose the best product out of the amazing options listed above, fret not – we have got you covered. Read ahead to know more.
How To Choose The Best Face Wash For Glowing Skin
Pick a face wash based on your skin type.
If you have oily skin, go for a face wash that contains clay, tea tree oil, and aloe vera to cleanse your pores and reduce sebum production. Avoid alcohol-based cleansers.
If you have sensitive or combination skin, go for one that is hypoallergenic and free of parabens, sulfates, and artificial fragrance.
For dry skin, go for a hypoallergenic face wash that contains natural oils and glycerin and is free of fragrance, alcohol, and chemicals.
For normal skin, use a deep cleansing face wash.
Cleansing is the first step to achieve flawless skin. Go through the points mentioned in our buying guide, take your pick from the above-listed face washes, and say hello to glowing skin.

Recommended Articles