The 10 Best Face Washes For Hormonal Acne – 2023
Invest your bucks in a non-comedogenic face wash to get acne-free, healthy skin.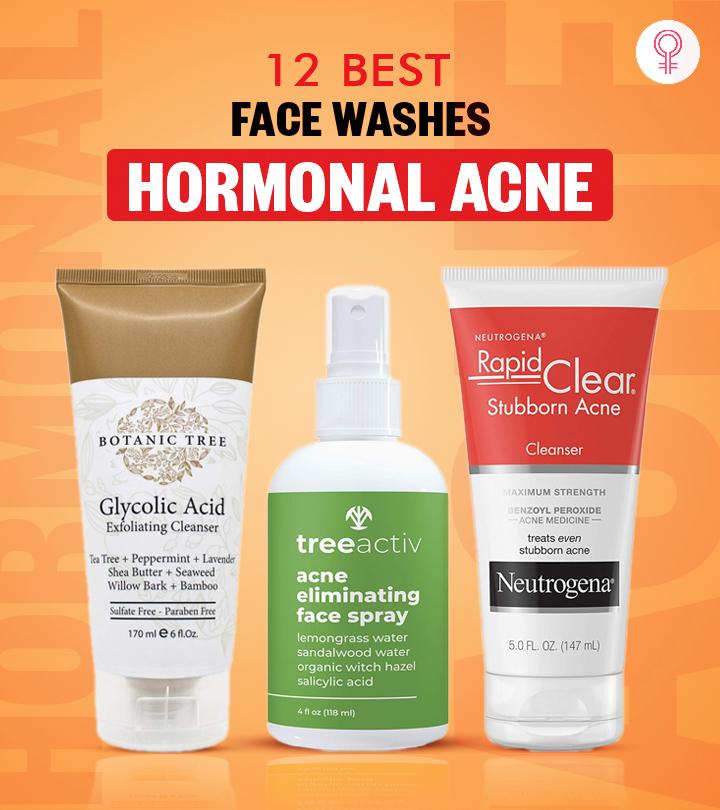 Cleansing the face is extremely important in order to remove makeup, excess debris, and impurities. Using the right product can make your skin look healthier and more hydrated. With the best face wash for hormonal acne in place, you can finally say goodbye to that stubborn and super annoying hormonal acne. Regular anti-acne face washes might not do a great job in terms of preventing your skin from the blemishes caused by hormonal acne. It requires special cleansers that can help balance the skin's pH and destroy harmful bacteria. Don't worry! Below we have made a list of the 10 most effective options that are worth trying.
10 Best Face Washes For Hormonal Acne
The Botanic Tree Glycolic Acid Exfoliating Cleanser helps treat cystic acne. It is enriched with 10% glycolic acid that removes excess oil, grime, and makeup residue. Organic bamboo, shea butter, and tea tree extract cleanse the pores. These ingredients also reduce acne breakouts, redness, and blemishes. This brightening face wash combats dark spots and hyperpigmentation. This deep-cleansing formula also exfoliates and brightens the skin, smoothening scars caused by hormonal acne. Check out this YouTuber's Review about Botanic Tree Glycolic Acid Exfoliating Cleanser
Pros
100% organic
Cruelty-free
Sulfate-free
Paraben-free
Cons
Not suitable for daily use.
Price at the time of publication: $22.9
The La Roche-Posay Effaclar Medicated Gel Cleanser contains 2% salicylic acid that prevents breakouts. The gentle, oil-controlling formula is clinically tested to reduce extra surface oil by up to 47%. Salicylic acid fights acne and removes blackheads. The exclusive micro-exfoliating Lipo Hydroxy Acid targets the oily areas of your skin and facilitates cell-by-cell removal of debris and dirt. Watch this YouTube video to learn more about the usage and practicality of this product.
Pros
Clinically tested
Oil-free
Paraben-free
Allergy-tested
Fragrance-free
Cons
None
Price at the time of publication: $15.19
The Belli Anti-Blemish Facial Wash treats hormonal acne and breakouts. It contains a rich blend of lactic acid, green tea, and cucumber extract. This purifying face wash is free of some common acne-fighting ingredients like glycolic acid, salicylic acid, and benzoyl peroxide that might dry out the skin. Lemon peel oil acts as a natural antibacterial agent that helps brighten the skin.
Pros
Non-drying
Allergy-tested
Paraben-free
Preservative-free
Gluten-free
Phthalate-free
No artificial dyes
No synthetic fragrances
Cons
Price at the time of publication: $19.99
The treeactiv Acne Eliminating Face Spray removes stubborn acne without irritating the skin. It contains lemongrass water, sandalwood water, witch hazel, jojoba oil, and salicylic acid that purify and brighten your skin, making it healthy. The gentle formula also contains thanaka extract that soothes and moisturizes the skin. Lactic acid exfoliates acne-prone skin without drying it out. This face wash is non-greasy and safe for pregnant women and breastfeeding moms.
Pros
Gentle formula
Absorbed easily
Non-greasy
Non-drying
Non-irritating
Paraben-free
Preservative-free
Gluten-free
Phthalate-free
No artificial dyes
Fragrance-free
Cons
None
Price at the time of publication: $19.95
The CLEARstem GENTLECLEAN Skin Cleanser is the perfect solution for people with sensitive skin or dry skin. The gentle formula cleanses and nourishes your skin while calming and refreshing it. The unique blend of natural ingredients, including sea buckthorn, chamomile, goldenseal, and vitamin C bioflavonoids, help protect your skin from environmental damage. The nourishing plant extracts and botanical oils help to reduce redness and inflammation and keep your skin healthy. This hydrating, mild cleanser is free of harsh detergents, soaps, and fragrances and does not leave your skin feeling dry.
Pros
Sulfate-free
Even tones the skin
Reduces redness.
Cruelty-free
Vegan
Gluten-free
Cons
None
Price at the time of publication: $38
The Keeva Organics Essential Oil Acne Face Wash is non-irritating and removes excess oil, impurities, and makeup from the pores to treat blemishes and breakouts. This face wash contains tea tree oil that disinfects the pores and eliminates whiteheads, blackheads, pimples, acne, and scars. The gentle formula keeps your skin clean and healthy.
Pros
Non-irritating
GMO-free
Gentle formula
Cruelty-free
Cons
None
Price at the time of publication: $21.96
The Farmacy Whipped Greens Face Wash is pH-balanced and free of oil and soap. It gently cleanses dirt, oil, and impurities without stripping your skin's natural oils. This cleanser is specially formulated with Moringa seed extract, green clay, papaya enzyme, and sodium PCA, leaving your skin refreshed and nourished.
Pros
Gentle formula
Suitable for combination and oily skin types
Paraben-free
Sulfate-free
Phthalate-free
No synthetic fragrances
Cruelty-free
Vegan
pH-balanced
Cons
Price at the time of publication: $25.2
Pamper your acne-prone skin with the Peach Slices Acne Clarifying Cleanser. It contains 2% salicylic acid that helps clear and prevent breakouts while exfoliating the skin and decongesting pores. The lightweight formula gently smoothens the skin and reduces redness and uneven skin tone. This clarifying product is sulfate-free and cruelty-free, keeping the skin feeling at best. So, start your skin care routine with this acne-clarifying cleanser and enjoy healthy-looking skin.
Pros
Gentle formula
Exfoliate the skin
Suitable for all skin types
Sulfate-free
Cruelty-free
Cons
None
Price at the time of publication: $10.99
The Neutrogena Rapid Clear Stubborn Acne Cleanser is enriched with 10% benzoyl peroxide that fights acne and prevents future breakouts. It reduces redness and makes your skin healthy. The gentle, acne-control formula removes surface oil and controls shine without drying out the skin. To understand the functionality better, check out the product review by this YouTuber.
Pros
Controls oil
Non-comedogenic
Gentle formula
Suitable for daily use
Cons
Price at the time of publication: $54.99
The PCA skin bpo5% Cleanser eliminates skin impurities and prevents future breakouts. It is formulated with 5% benzoyl peroxide and gluconolactone that penetrates the pores and moisturizes the skin. The botanical extracts with antibacterial properties help soothe acne-prone skin. The aloe, cucumber, nettle, and chamomile extracts calm inflammation. This cleanser exfoliates your skin and keeps it refreshed.
Pros
Soothes inflammation
Cruelty-free
No artificial fragrances
No synthetic dyes
Cons
Price at the time of publication: $40.0
Now that you are aware of the best face washes for hormonal acne, keep the points listed below in mind before buying one.
How To Choose The Best Face Wash For Hormonal Acne:
Buying Guide
Determine The Type Of Acne: Acne can be classified into four types: pimples, whiteheads, blackheads, and cystic acne. To pick the right face wash, first, determine your acne type.
Check The Ingredients: One of the main reasons for acne is the accumulation of dirt and oil in the pores. This leads to pore-clogging and causes acne. Your anti-acne face wash must contain ingredients that help unclog the pores and prevent breakouts. Look for a pore-clearing product that contains salicylic acid, tea tree oil, or aloe vera. These ingredients with antibacterial properties help kill acne-causing bacteria and purify your skin.
Go For A Gentle Formula: Face washes for acne can be harsh on the skin due to the presence of pore cleansing ingredients. Your skin can become dry, swollen, or irritated during the removal of excess sebum. Hence, pick a foaming face wash that is non-drying and non-irritating. Plus, look for dermatologist-recommended cleansers to avoid skin itchiness and irritations.
Hormonal acne develops in women due to hormonal fluctuations during puberty, menstruation, and menopause. The following factors can trigger hormonal acne breakouts.
Why Does Hormonal Acne Happen?
Menstruation: Before the onset of the menstrual cycle, your estrogen and progesterone levels drop. This leads to excess oil secretion from the sebaceous glands, resulting in clogged pores and acne breakouts.
Menopause: Menopause reduces estrogen levels and increases the levels of testosterone (1). The change in your hormones makes your skin break out, leading to acne.
Puberty: During puberty, there is an androgen rush in our body, which stimulates sebum production. Overproduction of sebum causes hormonal acne.
Polycystic Ovarian Syndrome (PCOS): PCOS is characterized by high androgen levels, menstrual irregularities, and small cysts on ovaries. It occurs when high levels of androgen disrupt estrogen and progesterone production in a womans body. This condition can make the skin oily and cause hormonal acne.
Does hormonal acne appear like any other acne? Find it out in the next section.
What Does Hormonal Acne Look Like?
Hormonal acne can take different forms on different skin types. It can be painful and occur in the form of pimples, blackheads, or whiteheads. Some people get spots without any heads underneath the skin. These are called cystic acne they are difficult to remove and leave stubborn marks on the skin.
Read on to learn about which age group is most affected by hormonal acne.
Who Does Hormonal Acne Affect?
Hormonal acne can affect adults of any age, but it is prevalent in women. Factors like puberty, pregnancy, menstruation, and menopause can cause hormonal acne breakouts. Although miscategorized as an adolescent disorder, acne studies reveal that the mean age of presentation for treatment is 24 years. Almost 10% of visits occur when patients are between 35 and 44 years of age. Genetics and gender are essential factors for acne.
In a study conducted on 200 patients with postadolescent acne, 50% of patients reported at least one first-degree family relative with acne. When it comes to gender, acne is significantly higher among women than men across all age groups (2).
Why Trust StyleCraze?
Oyendrila Kanjilal, the author, is a certified skin care coach. She knows what works best for you as per your age and skin type. She has painstakingly done all the research about the ingredients used in various face washes and how they may affect you over time to curate this list of the top 10 face washes for hormonal acne-prone skin. These face washes not only help calm and clear your skin but also help maintain the natural oil and moisture balance of your skin. Select any of the products listed here to see and feel a visible difference for yourself.
Frequently Asked Questions
How do I know if I have hormonal acne?
Hormonal acne occurs due to fluctuations in hormones during puberty, pregnancy, menstruation, and menopause.
How do I balance my hormones?
Hormones can be balanced by exercising, following the right diet, and de-stressing yourself.
How often should I wash my face?
You can wash your face 2-3 times a day. Use an oil-free cleanser that does not clog your pores and prevents further breakouts.
Why am I getting hormonal acne all of a sudden?
A sudden hormonal change in your body can increase the amount of oil production in your skin leading to acne breakouts.
Does face wash help manage hormonal acne?
Yes, face wash can help balance the pH of your skin and destroy harmful bacteria.
Sources
Recommended Articles
Best Face Washes For Acne
Best Face Washes And Cleansers For Acne Trusted By Skin Care Gurus
Best Products To Get Rid Of Hormonal Acne
Best Drugstore Face Washes For Acne That Keeps Breakouts At Bay
Best Acne Treatment Products For Every Kind Of Acne