The 9 Best Face Washes For Rosacea To Soothe Your Skin – 2022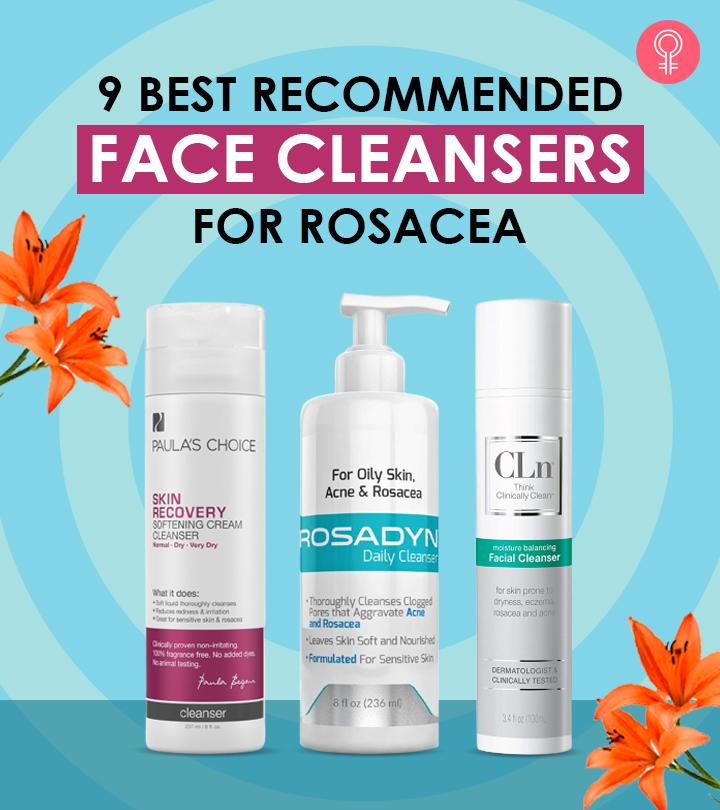 If your skin is rosacea-prone, you sure are extra cautious before choosing or using any product of your choice. Rosacea skin deserves proper skin cleaning, and it all begins with the best face wash for rosacea. It is a gentle formula specifically formulated for rosacea symptoms. It doesn't aggravate rosacea breakouts or flare-ups, doesn't clog pores, preventing dirt, bacteria, or sebum accumulation. To help you, we have got you the 9 best face washes for rosacea. Scroll down to make your best pick.
9 Best Face Washes For Rosacea
Neutrogena Ultra Gentle Hydrating Cleanser is a mild, creamy, non-comedogenic formula that cleanses the skin of dirt, sebum, bacteria, and dead cells. It clears the skin and reduces acne, rosacea, eczema, and other skin problems. This cleanser is enriched with polyglycerin that nourishes the skin. It is formulated with minimum ingredients to protect and hydrated the skin.
This cleanser is suitable for sensitive skin and leaves the skin moisturized and naturally supple. It has no irritating essential oils and removes makeup gently from dry skin.
Key Ingredients: Polyglyceryl-10 laurate
Pros
Mild
Hypoallergenic
Smells good
Dermatologist-approved
Oil-free
Soap-free
Fragrance-free
Paraben-free
Dye-free
Cons
The Cleanse + Restore face and body wash from Era Organics is a reparative skincare product. It is enriched with aloe vera and manuka honey, which heal, nourish, moisturize, and rejuvenate the skin. The plant-based formula is hypoallergenic and pH-balanced for optimum skin health.
This face wash also contains cehami extract that has antimicrobial, analgesic, anti-irritation, and cellular regeneration properties. Vitamin E heals and protects the skin and repairs the skin barrier. The formula gently cleanses the skin while providing deep moisturization. It reduces acne and breakouts and helps treat eczema, psoriasis, rosacea, shingles, and dermatitis.
Key Ingredients: Aloe vera, Manuka honey, Cehami extract, and Vitamin E
Pros
Natural
pH-balanced
Smells good
Paraben-free
Sulfate-free
No harsh chemicals
Vegan
Dye-free
Perfume-free
Cruelty-free
Cons
The Skin Recovery Softening Cream Cleanser from PAULA'S CHOICE is a rich, creamy formula that cleanses the skin without stripping its natural oils to leave it feeling softer and smoother. It reduces redness and dullness by gently conditioning dry skin. This cleanser is ideal for sensitive skin prone to eczema, rosacea, and other skin problems. It contains chamomile extract that soothes the skin and reduces redness while the gentle cleansing agents get rid of sebum, dirt, and makeup. The hydrating formula softens the skin to improve overall glow and suppleness.
Key Ingredients: Chamomile extract
Pros
Gentle
Fragrance-free
Paraben-free
Creamy texture
Eco-friendly
Cons
The SeboCalm Facial Cleansing Soap For Sensitive Skin is a rich, non-oily, and gentle purifying gel that removes dirt, blemishes, and irritation. The unique plant combination includes coconut and cornmeal that cleanse the skin without drying it out. Seaweed conditions the skin and preserves its elasticity, while the concentrated chamomile extract soothes the affected red areas. This lightweight, pH-balancing, and water-based face wash protects the skin cells and leaves the face feeling fresh, soft, and smooth.
Key Ingredients: Seaweed, Concentrated chamomile extract, Cornmeal, and Coconut
Pros
Gentle
Dermatologist-approved
Hypoallergenic
Non-comedogenic
Lightweight
Vegan
SLS-free
Paraben free Alcohol-free
Cruelty-free
Cons
The pHat 5.5 Rosacea Wash is a natural and gentle formula enriched with organic ingredients such as aloe vera, manuka honey, cehami, plumeria, olive, coconut, and hemp seed oils that reveal clean and healthy skin.
It gently exfoliates the skin, removes dead skin cells without stripping the natural oils off your skin. It soothes skin irritations, promotes healing, and smoothes skin while calming irritation. It also hydrates and moisturizes the skin for healthy and balanced skin. It is free from harsh chemicals, making it safe for the skin.
 Key Ingredients: Manuka Honey
Pros
Paraben-free
Fragrance-free
Sulfate-free
Cruelty-free
Cons
Smell might be bothersome for some
The CLn Moisture Balancing Facial Cleanser is suitable for skin prone to eczema, acne, dryness, rosacea, and other skin problems. The gentle formula is designed to soothe the skin and reduce redness and irritation. It minimizes tightness caused by drying topical acne medications. The gel is formulated with glycerin and other skin conditioners that maintain moisture balance. Regular use of the product smoothens the skin texture and reveals healthier layers.
Key Ingredients: Sodium hypochlorite, Glycerin, And Skin conditioners
Pros
Mild
Dermatologist-approved
Hypoallergenic
Steroid-free
Antibiotic-free
Paraben-free
Triclosan-free
Fragrance-free Cruelty-free
Cons
None
The Ultra Gentle Cleanser from LEMYKA Naturals is a plant-based, biodegradable cleansing formula. It is derived from cane sugar and coconut oil that eliminate grease and dirt without stripping the skin's natural oils. This face wash does not make the skin dry or feel irritated. It is suitable for sensitive and acne-prone skin and heals skin rashes, eczema, and rosacea.
This cleanser removes bacteria, dirt, sebum, and makeup with a creamy foam. It is enriched with calendula, aloe vera, and panthenol. Aloe vera and calendula calm and ease dry skin, redness, blemishes, and breakouts. Panthenol has anti-inflammatory properties that soothe red skin and enhance skin hydration and elasticity. This product soothes inflamed skin, bumps, and pimples and keeps the skin smooth and soft.
Key Ingredients: Aloe vera, Calendula, and Panthenol
Pros
Gentle
Non-irritating
Hypoallergenic
All natural ingredients
Vegan
Toxin-free
Paraben-free
Steroid-free
Phthalate-free
Sulfate-free
Gluten-free
GMO-free
Petrolatum-free
Artificial color-free
Artificial fragrance-free
Cruelty-free
Cons
None
The ROSADYN Gel Cleanser is formulated for oily and sensitive skin types to cleanse clogged pores and dry spots that might breed rosacea and acne pustules. It contains organic honey, which has antiseptic, antibacterial, and antioxidant properties and acts as a natural exfoliator. It softens the skin, restores the oil balance, and reduces inflammation.
This cleanser also contains organic aloe leaf juice that has antifungal and cell-regenerative properties to soothe rosacea breakouts, heal blemishes, and soften the skin. The organic oat extract hydrates the skin and strengthens its barrier to help it retain water. The organic lavender flower water tones the skin and reduces pore size. It also has antioxidant, antiseptic, and anti-inflammatory properties, which make it beneficial for rosacea-prone skin.
Key Ingredients: Organic honey, Organic aloe leaf juice, Organic oat extract, and Organic lavender flower water
Pros
Paraben-free
Phthalate-free
Gentle
Cons
None
The Ovante Facial Wash is primarily formulated for rosacea redness control. This daily cleanser moisturizes and softens the skin texture. It controls rosacea breakouts with healthy botanical ingredients like lemongrass, horsetail bark extracts, birch leaves, and vitamins B3, B5, and E for. These natural botanicals do not dry out the skin or cause irritation. This face wash penetrates the pores and removes makeup, dead skin, and oil.
Key Ingredients: Lemongrass, Horsetail bark and Birch leaves extracts, and Vitamins B3, B5, and E
Pros
Gentle
Non-comedogenic
Hypoallergenic
Fragrance-free
Alcohol-free
Cons
None
Face washes are a crucial part of your daily skincare regimen. But if you have rosacea, consider these factors while buying one.
Things To Consider Before Buying A Face Wash For Rosacea
Non-drying: Pick a cleanser with moisturizing properties as sensitive and dry skin types need deep hydration. Over-drying agents tighten the skin and pull out its essential oils.
Natural Ingredients: It is best to stick to natural botanical ingredients as chemicals can be harsh on the skin, causing irritation, burning, and allergic reactions. Ingredients like aloe vera, tea tree oil, chamomile, and oats extracts have soothing properties that reduce redness and calm the stressed facial skin.
Sunscreen: The sun's harmful UVA/UVB rays and heat can aggravate redness and irritation. Choose a cleanser that forms a protective barrier on the skin to prevent dehydration and sun damage.
pH Balance: Pick a face wash that is pH-balanced to prevent skin infections and damage that disturb the natural pH balance of the skin.
Gentle: Choose a gentle cleanser that will lightly exfoliate the skin and unclog the pores. It should remove the dirt, sebum, and dry skin from the face without stripping its natural moisture.
Why Trust StyleCraze?
Shiboli Chakraborti, the author, is a certified skin care coach with a deep interest in skin health-related issues. People with rosacea-prone skin need to be extra careful while choosing their skin care products, especially face washes. So, she created this list of the best face washes for rosacea after thorough research. She also sifted several user reviews on trusted online forums to handpick the safest, most gentle, and skin-friendly options on the market.
Recommended Articles