6 Best Face Washes For Seborrheic Dermatitis – 2022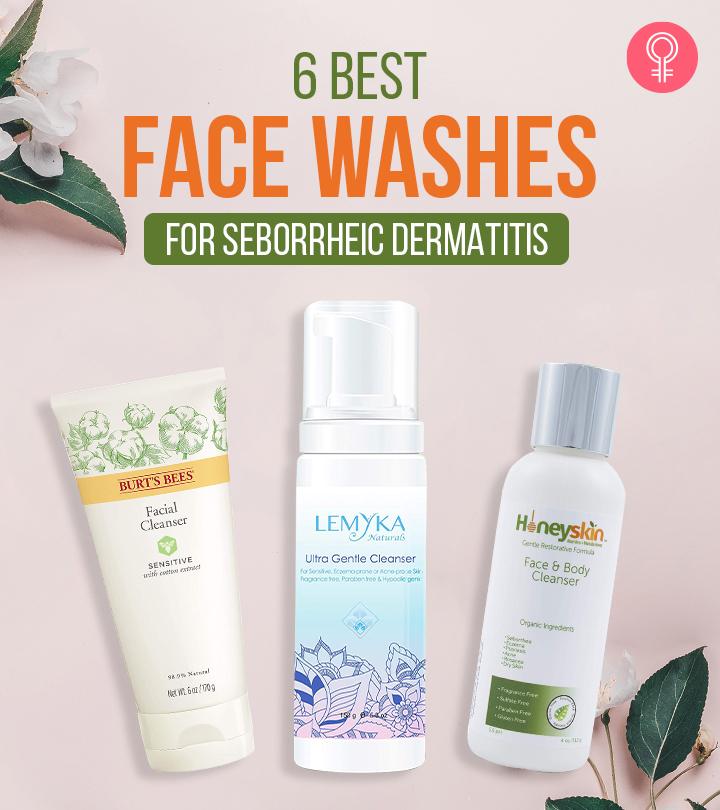 If you notice flaky white patches on your skin along with itchiness, it is probably seborrheic dermatitis. However, using the best face wash for seborrheic dermatitis can offer relief. Using face washes that are medically formulated can be a good solution to this fungal skin infection caused by a fungus known as Malassezia.
If you are looking for the best product to suit your skin, we have curated a list for you. Scroll down and take a look at the 6 best face washes for seborrheic dermatitis available online.
6 Best Face Washes For Seborrheic Dermatitis
The SeboCalm Facial Cleansing Soap effectively removes dirt and makeup and reduces blemishes without any skin irritation. The oil-free formula contains concentrated chamomile extract, seaweed, cornmeal, and coconut that bind moisture to your skin and keep it healthy. This face wash helps soothe redness, itchiness, and acne-prone skin. It treats pimples, blackheads, rosacea, seborrheic dermatitis, and eczema.
Pros
Lightweight
Non-comedogenic
Vegan
Cruelty-free
Hypoallergenic
Sulfate-free
Paraben-free
Alcohol-free
Suitable for sensitive skin types
Dermatologist recommended
Cons
This Seborrheic Dermatitis Wash by pH at 5.5 maintains the pH balance of your skin. It contains manuka honey that treats eczema, psoriasis, and seborrheic dermatitis. Aloe vera moisturizes and soothes irritated skin. Coconut oil smoothens the skin and protects it from UV rays, and cehami prevents skin inflammation. This face wash also reduces redness, swelling, and itchiness.
Pros
Cruelty-free
Vegan
Sulfate-free
Paraben-free
Gluten-free
Cons
None
The Dr.Witch Soothing Face+Body Wash leaves the skin feeling soft and moisturized. The mild formula contains vegetable-based cleansers and anti-inflammatory botanicals. White willow bark extract, a natural source of salicylic acid, helps exfoliate the skin and reduces acne, breakouts, and blemishes.
Hempseed oil keeps the skin supple and moisturized while treating rosacea, psoriasis, seborrheic dermatitis, and eczema. Aloe vera stimulates epidermal growth and prevent scarring and burns. Chamomile soothes irritated skin and diminishes dark and age spots, and acne scars. This face wash prevents itchiness, dryness, flaking, and redness, eliminating harmful fungus and bacteria
Pros
pH-balanced
Gentle
Fragrance-free
Sulfate-free
Phosphate-free
Vegan
Cruelty-free
Suitable for all skin types
Suitable for men, women, and teens
Cons
None
The Honey Skin Face & Body Cleanser is formulated with manuka honey, coconut oil, cassava root, aloe vera, hyaluronic acid, and Australian cehami. Manuka honey treats inflammation, coconut oil promotes cell growth, and cassava root reduces scarring. Aloe vera hydrates the skin, hyaluronic acid protects the skin from UV damage, and Australian cehami soothes irritated skin. The gentle formula deep cleanses your skin and retains its natural oils. It also prevents aging signs and reduces the appearance of dark spots and acne marks.
Pros
pH-balanced
Hypoallergenic
Non-irritating
Suitable for daily use
Sulfate-free
Gluten-free
Paraben-free
Fragrance-free
Cruelty-free
Cons
The LEMYKA Naturals Ultra Gentle Cleanser offers thorough cleansing without irritating your skin. It contains panthenol, aloe vera, chamomile, calendula, and algae. Aloe vera and calendula prevent dry skin and rednes, and clear blemishes and breakouts, while panthenol hydrates the skin and enhances skin elasticity. This face wash removes dirt, sweat, bacteria, excessive oil, blackheads, and makeup. It soothes rashes, bumps, pimples, and inflamed skin and keeps your skin clean, smooth, and soft.
Pros
Hypoallergenic
pH-balanced
Phthalate-free
Sulfate-free
Paraben-free
Gluten-free
Steroid-free
Petrolatum-free
Non-GMO
No artificial colors
Fragrance-free
Vegan
Cruelty-free
Cons
None
The Burt's Bees Facial Cleanser removes dirt, oil, and makeup without causing redness and irritation. It is infused with rice extract, cotton extract, and aloe vera that soothe and moisturize the skin without clogging the pores. It was awarded the National Eczema Association Seal of Acceptance.
Pros
Clinically proven
Dermatologist-tested
Hypoallergenic
Suitable for sensitive skin
Cons
Now that you know about the best face washes for seborrheic dermatitis, consider these factors before purchasing one to make the ideal choice.
Factors To Consider While Choosing The Best Face Wash For Seborrheic Dermatitis
Choose One With Soothing Ingredients
Choose a face wash with ingredients that help soothe your skin. Moisturizing and soothing elements help neutralize the adverse effect of cleansing on your irritated skin. Look for aloe vera, coconut oil, and tea tree oil in your face wash. These ingredients prevent dryness, soothe inflammation, and reduce itchiness.
Go For A pH-Balanced Face Wash
Use a facial cleanser with a pH close to your skin's natural level. High pH levels can disrupt the natural balance of your skin and cause acne, dryness, and sensitivity.
Seborrheic dermatitis is a chronic skin condition characterized by redness and flakiness. However, it can be treated with the right skin care products. The face washes on our list deeply cleanse your skin without irritating it. They are gentle on your skin and help reduce itchiness and inflammation. Scroll up and pick a face wash that is best-suited for your skin.
Why Trust StyleCraze?
Oyendrila Kanjilal, the author of this article, is a certified skin care coach. She believes in bringing the best of the best to her readers. To do that, she has gone through product formulations on the websites and combed through several reviews online to bring you the list of the top face washes for seborrheic dermatitis. These products are recommended by dermatologists and contain natural ingredients that provide relief to the skin.
Frequently Asked Questions
How do I know that I have seborrheic dermatitis?
Seborrheic dermatitis is characterized by inflamed, itchy skin on 'seborrheic' areas like the scalp, around the nose, between the eyebrows, the chest, and the genital parts. You will know that you have seborrheic dermatitis if you find dry, flaky skin in these areas.
How should I cleanse the face during a seborrheic dermatitis flare?
Cleanse your face once or twice a day with a gentle cleanser and lukewarm water.
Recommended Articles
The following two tabs change content below.