16 Best Face Washes For Summer Available In India
Give your stressed skin the care it needs with these gentle, refreshing cleansers.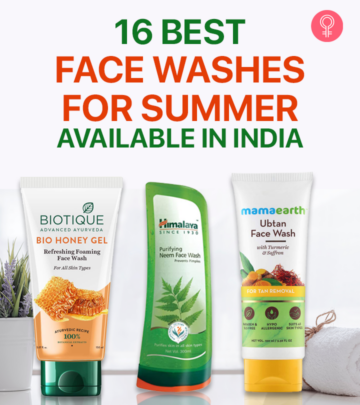 Looking for a face wash that cleanses away summer sweat and oiliness? Try a summer-friendly face wash that is formulated with deep pore-purifying properties. These products can cleanse impurities and remove toxins while being gentle on the skin at the same time. These face washes effectively get rid of pimples, acne, blemishes, and other skin problems that crop up during the summer. Check out our list of the best face washes for summer in India that give you perfect-looking skin despite the soaring temperature.
16 Best Face Wash For Summer Available In India
The Himalaya Neem Face Wash is a gentle cleanser for acne-prone skin. It washes away toxins, dust particles, and impurities and controls excess sebum, leaving the face clean and pimple-free. Neem is a powerful natural herb known for its antibacterial, antifungal, and antiseptic properties. It has been traditionally used in Ayurvedic medicines to get rid of common skin infections. Turmeric, a natural antibiotic, is a powerful healer known to brighten the face and prevent acne and pimple breakouts. It fades skin imperfections like fine lines, crow's feet, dark spots, scars, marks, and blemishes.
Key Ingredients: Neem and Turmeric
Pros
Clinically proven
Reduces breakouts
Hypoallergenic
Imparts a healthy glow
Evens out the skin tone
Boosts skin elasticity
Combats bacterial infections
Soap-free
Cruelty-free
Cons
Price at the time of publication: ₹213.5
Mamaearth Ubtan Face Wash is the best face wash for summer, especially for dry skin. This dermatologically tested formula effectively removes tan and sunburn and heals sun-damaged skin. The active ingredients like turmeric, saffron, and coconut oil cleanse dirt, dust, and pollutants and brighten the complexion. Antioxidant-rich ingredients – turmeric and saffron – combat breakouts and brighten the skin tone. Carrot seed oil promotes skin elasticity and brightens the skin, while tiny walnut beads gently exfoliate built-up dirt, dead skin cells, and toxins. This face wash is an ideal choice for summers as it refreshes the skin and restores its natural glow.
Key Ingredients: Turmeric, Saffron, Coconut Oil, Carrot Seed Oil, and Walnut Beads
Pros
Improves skin texture
Enhances skin tone
Dermatologist-tested
Cruelty-free
Hypoallergenic
Paraben-free
Sulfate-free
Mineral oil-free
Artificial color-free
Toxin-free
Cons
Price at the time of publication: ₹200.0
This face wash from Biotique is a 100% Ayurvedic formula that effectively cleanses the skin and dissolves makeup, dirt, and impurities. The ingredients like bio-honey, wild turmeric, and arjun tree bark extracts nourish and refresh the skin. These ingredients are widely used in Ayurveda for healing several skin remedies. While honey and arjun bark soothe skin inflammation, redness, puffiness, and irritation to heal the skin faster, turmeric and neem reduce acne breakouts, scars, and marks, brighten the skin, and heal wounds and inflammation. The ritha and ananas fruit extracts nourish and restore lost moisture. The blend is gentle and ideal for sensitive skin.
Key Ingredients: Bio Honey, Wild Turmeric, Neem Bark, Ritha Fruit Pulp, Ananas Fruit extracts, and Arjun tree bark extracts
Pros
Soap-free gel
Formulated by skin care experts
Brightens the skin
Moisturizing cleanser
Value for money
Cons
Price at the time of publication: ₹123
Pond's Detox Anti-Pollution + Purity Facewash is a deep cleansing formula for squeaky-clean skin. It contains activated charcoal that removes all major pollutants in the environment – gaseous toxins, pollution particles, traffic pollutants, and skin-damaging free radicals. The creamy formula traps and dissolves impurities, keeping skin pure, clean, and healthy. Myristic acid and glycerin soften the skin and lock in moisture, giving it a smoother texture.
Key Ingredients: Activated charcoal, Myristic acid, and Glycerin
Pros
Brightens the skin
Controls sebum production
Balances pH level of the skin
Adds glow to the face
Reduces blemish
Cons
Price at the time of publication: ₹165
Say 'hello' to bright and beautiful skin with the Garnier Bright Complete Face Wash. This face wash, infused with citrusy Yuzu lemon essence, is a must-have skin care product for the summer months. The formula effectively works its magic by cleansing, clarifying, and brightening the skin and removing dullness from the face. Yuzu lemons are rich in antioxidants and vitamin C that improve elasticity and boost collagen production to heal your skin faster. Glycerin attracts moisture from the environment and retains the skin's natural hydration. It helps cleanse the face without stripping it of its natural oils and nutrients.
Key Ingredients: Lemon fruit extract, Citrus junos fruit extract, and Glycerin
Pros
Brightens the skin
Improves skin elasticity
Sweet citric fragrance
Cons
Price at the time of publication: ₹160
During summers, you may experience a surge in acne and other related problems in your skin. This non-greasy face wash from Neutrogena is infused with salicylic acid that can help you. Salicylic acid cleanses and unclogs pores, reduces excess sebum production, and dissolves dead skin cells. It is effective in killing microbes and reducing acne and pimple breakouts. The Micro Clear Technology exfoliates the skin and removes dead skin cells, makeup, and dirt residue. In this face wash, the aloe vera leaf extracts get rid of suntan, soothe sunburn and inflamed skin, and speed up wound healing and second-degree burns. The product is gentle on the skin and balances its pH to maintain skin health. The face cleanser is suitable for oily and acne-prone skin.
Key Ingredients: 2% Salicylic acid, Aloe vera extract, Anthemis nobilis flower extract, and Chamomilla flower extract
Pros
Exfoliates the skin
Gentle on the skin
Clinically-tested
Oil-free
Non-comedogenic
Dermatologist-tested
Prevents breakouts
Soothes irritated skin
Cons
Price at the time of publication: ₹638
The Bio Neem Purifying Face Wash from Biotique is a potent cleanser formulated according to Ayurveda. The face wash brings together several healing and nourishing ingredients like purifying neem, ashwagandha root, and kulanjan. While neem disinfects microbial infections and prevents breakouts, ashwagandha root boosts the production of the natural oils in the body, making the skin soft, supple, and glowing. Antioxidant-rich kulanjan improves skin complexion. Ritha and honey effectively manage skin disorders like eczema, psoriasis, dermatitis, and acne.
Key Ingredients: Neem bark, Honey, Ashwagandha root, Kulanjan rhizome, Ritha fruit, and Honey
Pros
Rich lather
Unclogs pores
Detoxifies skin
Promotes collagen production
Soap-free
Paraben-free
Alcohol-free
Cons
Price at the time of publication: ₹175
This face wash from Himalaya is designed to eliminate the excess oil and greasiness from your face. It helps maintain clear skin, prevent acne, and bacterial growth in the sweltering heat. The formula contains a blend of lemon and honey. Lemon is a natural astringent known for its deep cleansing and skin purifying capabilities. Honey is an elixir for the skin as it tightens the pores, improves complexion, evens out the skin tone, fades blemishes, scars, marks, and dark spots, and prevents premature aging. The blend of antioxidants and vitamin C forms a protective shield over the skin, fighting off free radicals and environmental pollutants that damage the skin.
Key Ingredients: Lemon and Honey
Pros
Tightens the skin
Improves skin elasticity
Oil-free finish
Chemical-free
Hydrating formula
Mildly scented
Soap-free
Cons
Price at the time of publication: ₹164
The Lakme Blush And Glow Face Wash enriched with kiwi fruit extracts give you flawless, youthful skin. Kiwi, which is rich in vitamin C, strengthens the skin's barrier and fights off free radicals. This fruity ingredient has the uncanny ability to make your skin smooth, supple, and hydrated. Additionally, it blocks out the harmful UV rays and pollutants, fights off oxidative stress, and prevents premature aging. The soft microbeads glide gently and seamlessly across the skin to exfoliate the surface.
Key Ingredients: Kiwi extracts
Pros
Refreshes the face
Mild exfoliant
Sweet fragrance
Improves skin texture
Cons
Price at the time of publication: ₹181
The Bella Vita Organic C-Glow Face Wash is a deep pore cleansing and brightening face wash. It contains vitamin C, sandalwood, honey, coffee, neem, and lemon. Both lemon and neem cleanse the pores and forms a protective layer one the skin, combating microbes and preventing acne and pimples. Sandalwood brightens the skin, clears suntan, and reduces hyperpigmentation, dark spots, blemishes, dark circles, and other skin imperfections. Honey and coffee exfoliate and tone the skin to bring out its natural beauty. This face wash has a sweet, refreshing fragrance and keeps your skin healthy, glowing, and youthful with every wash, making it perfect for summers.
Key Ingredients: Vitamin C, Sandalwood, Honey, Coffee, Neem, and Lemon
Pros
Oil control
Controls acne
Reduces tan
Brightens the skin
Tightens the skin
Reduces dark spots
Sulfate-free
Paraben-free
Cons
Price at the time of publication: ₹174.3
This is an activated charcoal-based face wash that deeply cleanses and exfoliates the skin. The activated charcoal traps the dirt, dust, impurities, and pollutants on the skin and flushes them out. Tea tree oil disinfects and soothes the skin and is a powerful exterminator of bacteria and fungi that cause skin infections. Aloe vera helps to restore lost moisture and relieves any inflammation. The bottle comes with a built-in silicon brush that exfoliates dead skin cells and rejuvenates the skin without a mess.
Key Ingredients: Activated charcoal, Tea tree oil, Aloe vera extracts, Vitamin B5, and Vitamin E.
Pros
Contains natural actives
Brightens the skin
Prevents skin aging
Rich lather
Dermatologically tested
Balances sebum
100% vegan
Gluten-free
Cruelty-free
Silicone-free
Sulfate-free
Paraben-free
Cons
May cause excessive dryness
Price at the time of publication: ₹295
Nivea Purifying Face Wash's microbead formula is infused with ocean algae extracts and hydra IQ that cleanse and hydrate the skin. The vitamin- and mineral-rich ingredients nourish your skin and reduce excess sebum while revitalizing it. Ocean algae and hydra IQ reverse skin aging, banishing wrinkles, fine lines, blemishes, dark spots, and suntans. It protects against free radicals that prevent melanin production. Microbeads are suspended in the gel to exfoliate dead skin cells and dirt from the pores. The cleanser is ideal for combination and oily skin.
Key Ingredients: Ocean algae and Hydra IQ
Pros
Oil-free formula
Unclogs pores
Controls sebum production
Revitalizes the skin
Maintains pH balance of the skin
Dermatologically approved
Cons
Price at the time of publication: ₹134
Give your dull and dehydrated skin a boost of vitamin C this summer with this gentle foaming face wash from St. Botanica. It is infused with vitamin C and other antioxidants that protect your skin against breakouts, boost collagen production, and combat early signs of aging and dullness. Aloe vera and cypress oil moisturize the skin, improving overall health and promoting clearer and tan-free skin. Turmeric improves skin tone and reduces skin breakouts, while licorice extract promotes skin radiance. The product comes with a built-in brush that lets you exfoliate and scrub out dead cells, dirt, and grease with ease.
Key Ingredients: Vitamin C, Turmeric, Aloe vera, Cypress oil, and Licorice extract
Pros
Eliminates dead skin
Brightens skin tone
Purifies the pores
Hydrating formula
Dermatologically tested
Reverses signs of aging
Paraben-free
Silicone-free
Sulfate-free
Mineral oil-free
Cruelty-free
Vegan
Cons
Price at the time of publication: ₹349
Summer heat can take a toll on your skin, leading to several skin issues. But with this clinically proven aloe vera face wash from Himalaya, you can say 'goodbye' to your skin woes permanently. It is undoubtedly one of the best face washes in India for summers. The formula is rich in enzymes, polysaccharides, and other nutrients that intensely moisturize and soothe the skin.
The hydrating ingredients like aloe vera and cucumber refresh your skin without stripping the natural oil off the face. Antioxidant-rich aloe vera softens, moisturizes, and nourishes the skin, giving it a smoother, healthier texture. Cucumber cools and pampers the skin, refreshing it against inflammation, redness, and itchiness, while vitamin E improves cell functions and gives the skin a radiant finish.
Key Ingredients: Aloe vera, Cucumber Extracts, and Vitamin E
Pros
Herbal formulation
Soap-free
Non-drying
Lathers well
Budget-friendly
Cons
Contains ammonia
Sticky texture
Price at the time of publication: ₹157
Mamaearth Tea Tree Foaming Face Wash is perfect for fighting off summer-related skin issues like acne, pimples, itching, and excess sebum production. This formula is loaded with antibacterial ingredients like tea tree, salicylic acid, and neem that are highly potent and remove dirt and grime without stripping off the natural oil from the skin. Tea tree and salicylic acid remove excess oil and dirt from the pores, tone the skin, and reduce blemishes and blackheads. The antibacterial neem leaves purify and cleanse the toxins, while lavender oil adds a pleasant fragrance with aromatherapy benefits.
Key Ingredients: Tea tree oil, Salicylic Acid, and Neem
Pros
Natural ingredients
Dermatologically tested
Reduces acne
Moisturizing formula
Soothes inflammation
Paraben-free
SLS-free
Toxin-free
Cruelty-free
Sulfate-free
Color-free
Preservative-free
Cons
Price at the time of publication: ₹338
Khadi Mauri Herbal Anti Tan Papaya Face Wash is prepared with pure, fresh, and organic ingredients. This is the best herbal face wash for summer in India as it is enriched with a blend of papaya and neem that gives you healthy and glowing skin. Its key ingredient, papaya, gently exfoliates the skin, gets rid of tan and sunburn, and protects it against UV rays and dark circles. Neem purifies the skin and combats acne, blemishes, and hyperpigmentation. The herbal blend controls the sebum production, while giving you rejuvenated and radiant skin. The citrus fragrance of orange and basil invigorate your mood.
Key Ingredients: Papaya and Neem
Pros
Removes tan
Controls oil
Clears hyperpigmentation
Moisturizes the skin
Brightens the skin
Paraben-free
Sulfate-free
BPA-free
Artificial fragrance-free
Cons
Summer face washes hydrate and soothe your skin from the summer heat. Here are some other things to remember before buying a face wash.
How To Choose The Best Face Wash For Summer
Skin Type
Your skin type is one of the first factors that you need to pay attention while buying a skin care product. Assess and analyze your skin type and choose a summer face wash based on it. A formula that is inappropriate for your skin type can damage it and strip off the natural nutrients of the skin.
Natural Ingredients
It is always safe to choose a face wash that contains natural ingredients. Most summer-friendly face washes have natural and organic fruit, flower, leaf, and plant extracts. They are gentle on the skin and get absorbed easily, infusing essential vitamins and minerals into your skin. As facial skin is soft and sensitive, it can become prone to damage without the right ingredients.
Cleanses Effectively
A good face wash should thoroughly cleanse sweat, dirt, oil, dust, and pollutants from the skin. These products must control excess oil and maintain the pH balance of the skin.
Non-Reactive
Check whether the product or any of the ingredients can cause a reaction to your skin. Check if it is non-comedogenic and hypoallergenic on the product label before buying it. A top-quality face wash protects and enhances the texture, elasticity, and skin condition, giving it a radiant charm.
These are the best face washes for summer in India that restore the lost nutrients to your skin. These formulas hydrate and nourish your skin with long-lasting results. Add these face washes to your skin care kit to give your skin a fresh, natural glow.
Frequently Asked Questions
Are there any face washes recommended for sensitive skin during the summer season?
The Neutrogena Oil-Free Acne Wash has a dermatologically-tested, non-comedogenic formula that is enriched with aloe vera, anthemis nobilis flower, and chamomile extract, making it gentle and suitable for sensitive skin.
Are there any Indian summer face washes with anti-tan or skin-brightening properties?
The Mamaearth Ubtan, Biotique Bio Honey Gel, Pond's Pure Detox, Garnier Skin Naturals' Bright Complete, Bella Vita Organic C-Glow, WOW Activated Charcoal, St. Botanica Vitamin C, and Khadi Mauri Anti-Tan face wash offer skin-brightening benefits.
Are there any face washes recommended for deep cleansing or exfoliation during the summer season?
The Mamaearth Ubtan with its walnut beads, Neutrogena Oil-free with its micro clear technology, Lakme Blush and Glow's microbeads, Bella Vita Organic's coffee extracts, WOW Activated Charcoal's silicon brush, Nivea's microbeads, and St. Botanica's built-in brush are products that offer a deep cleansing and thorough exfoliating experience during the summer.
Are the recommended face washes suitable for both morning and evening use?
Yes, the above listed face washes have effective formulas, suitable for both morning and evening use.
What face washes are for individuals with acne scars or hyperpigmentation during the summer?
The Bella Vita Organic C-Glow, Khadi Mauri Anti-Tan, Himalaya Oil-Clear, Biotique Bio Honey Gel, and Himalaya Purifying Neem Face washes are specially formulated to clear acne scars, blemishes, and hyperpigmentation issues.
Recommended Articles