13 Best Face Washes For Teenagers Available In India
End your skin woes and get healthy, glowing skin with these fantastic cleansers.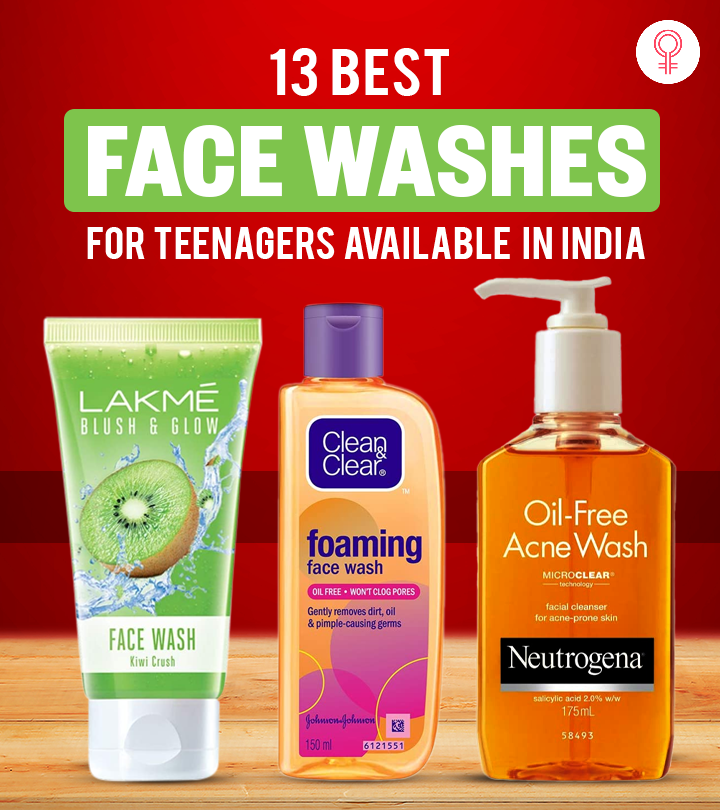 Are you on a look out for a face wash that gently cleanses teen age skin? Choose a face wash that is specially formulated for effectively cleaning dirt, dust, and impurities without irritating sensitive skin. A good face wash will not strip the skin of its natural oils or cause redness or irritation. Face wash for teenagers should be free of harsh chemicals and mild on the skin. Here's a list of the 13 best face washes for teenagers that leaves your skin feeling fresh, healthy and clean.
Top Picks
13 Best Face Washes For Teenagers In India
This face wash from Himalaya is an herbal formula that combines the antibacterial and antifungal properties of neem and turmeric. Neem has antibacterial properties that purify the skin by getting rid of skin damaging bacteria. Turmeric improves the overall skin tone and controls acne breakouts. This product effectively cleanses impurities, dirt, and dead skin buildup from the skin. It is one of the best face washes for teenagers in India and works well for all skin types, especially acne-prone skin.
Key Ingredients: Neem and Turmeric extracts
Pros
Gentle
Soap-free
Non-drying
Natural herbal ingredients
Suitable for acne-prone skin
Cons
The Aroma Magic Face Wash is infused with organically grown strawberries that deeply nourish the skin. It gently cleanses the skin of dirt, dust, makeup, and pollutants while purifying and hydrating it. The face wash also contains soy milk extracts that soften and nourish the skin and make it supple. This product comes with aromatherapy properties with its natural blend of rose, geranium, and ylang-ylang essential oils. The exfoliating microbeads deeply cleanse the pores.
Key Ingredients: Strawberries, Soy milk extracts, Rose oil, Geranium oil, and Ylang-ylang essential oil
Pros
Smells good
100% vegetarian
Cruelty-free
Soap-free
Paraben-free
Artificial color-free
Artificial fragrance-free
Cons
Price at the time of publication: ₹15.24
This non-comedogenic face wash from Clean and Clear is oil-free and gentle on the skin. It contains myristic acid that effectively removes dirt, excess oil, dust, pollutants, and 99.8% pimple and acne-causing germs without making your skin dry. The fatty acids in this face wash hydrate your skin and keep it youthful.
This product also contains lauric acid that prevents the recurrence of pimples on young skin. It is also effective in soothing psoriasis and speeds up skin healing. The pure formula effectively solves all common skin problems. It is suitable for normal to oily skin types and is one of the best face washes for teenage skin.
Key Ingredients: Myristic acid, Lauric acid, and Glycerin
Pros
Smells good
Non-drying
Non-comedogenic
Affordable
Cons
The Mamaearth face wash is packed with powerful properties of tea tree oil and neem. It helps clear bacterial and fungal infections that cause acne, pimples, and other skin problems. The neem in the formula purifies the skin and prevents breakouts, while tea tree oil gets rid of the excess oil and balances the pH levels to leave your skin feeling fresh and smooth. It also contains aloe vera that hydrates the skin, soothes redness and irritation, and prevents inflammation. Lavender oil kills bacteria and helps heal damaged and acne-prone skin. This face wash contains natural ingredients that impart radiance to your skin.
Key Ingredients: Tea tree oil, Neem, Aloe vera leaf extracts, and Lavender oil
Pros
Hypoallergenic
Non-drying
Natural ingredients
Paraben-free
SLS-free
Phthalate-free
Silicone-free
Artificial color-free
Cons
Might cause breakouts in sensitive skin.
Price at the time of publication: ₹9.98
This face wash from Pond's contains activated charcoal that pulls out dirt, excess oil, and impurities from the pores to leave you with glowing skin. Its innovative formula helps get rid of gaseous pollutants, pollution particles, traffic-related pollutants, and free radicals from the skin. It also detoxifies the skin and leaves it clear, fresh, and clean. With every application, this face wash for teenagers reduces blemishes, acne, scars, marks, and dark spots.
Key ingredients: Activated charcoal
Pros
Smells good
Lathers well
A little goes a long way
Imparts glow
Cons
This face wash from Plum contains green tea extracts that control sebum production and reduce acne. It detoxifies the pores and prevents common skin woes. The face wash also contains glycolic acid that gently gets rid of dead cells to make your skin soft and smooth. The naturally soft cellulose beads in the formula exfoliate and deeply cleanse the pores without damaging the skin. This face makes your skin look healthy and radiant.
Key ingredients: Green tea extracts and Glycolic acid
Pros
Gentle
Smells good
Lathers well
Non-drying
100% vegan
Paraben-free
SLS-free
Silicone-free
Phthalate-free
Cons
Not suitable for sensitive skin.
Price at the time of publication: ₹236.0
The Neutrogena face wash is formulated with Micro Clear Technology that cleanses your skin of the minutest traces of dust, dirt, oil, and grime. It easily breaks through clogged pores and dissolves built-up sebum. This face wash helps you get rid of acne, pimples, blackheads, and skin infections.
The product contains 2% salicylic acid that easily removes dirt and makeup while effectively cleansing the skin. It also reduces the pore size, tones the skin, and prevents redness. The formula is also enriched with aloe vera that hydrates and soothes the skin and chamomile that nourishes and brightens the skin and delays aging. This non-comedogenic face wash deeply cleanses your skin without overdrying it.
Key Ingredients: 2% salicylic acid, Aloe vera leaf extract, and Chamomile flower extract
Pros
Oil-free
Gentle
Non-drying
Non-comedogenic
Dermatologically tested
Cons
Not suitable for sensitive skin.
This face wash from Wow brings together powerful cleansing and healing ingredients in a bottle. The Ubtan foaming face wash is made with chickpea flour, turmeric, saffron, almond extracts, rose water, and sandalwood oil that cleanse and restore the skin.
Chickpea flour is rich in zinc and helps in getting rid of dead skin cells and fine hair. The almond extracts are loaded with antioxidants and vitamin E that form a protective shield over the skin to fight free radicals that damage the skin. Turmeric and saffron have antifungal, antibacterial, and healing properties that brightens the skin and remove tan. Rosewater soothes irritated skin and decreases acne, while sandalwood oil has anti-inflammatory, antimicrobial, anti-acne, and anti-tanning properties. It pampers the skin and also makes it fragrant. This face wash comes with an inbuilt brush that deeply cleanses the pores and gently exfoliates the skin.
Key Ingredients: Chickpea flour, Turmeric, Saffron, Almond extract, Rose water, and Sandalwood oil
Pros
Mild scent
Richly foaming
Dermatologically tested
Comes with a built-in brush
Paraben-free
Sulfate-free
Silicone-free
Cons
This face wash from Himalaya is specially crafted with handpicked ingredients that deeply cleanse the face without drying out the skin. It contains lemon and honey to cleanse, heal, and take care of the skin. Lemon is a natural cleanser with astringent and cooling properties, while honey has antibacterial and antiseptic properties. It locks in moisture, lightens the skin tone, and reduces acne. This face wash for teenage skin clears out excess oil and sebum, preventing the accumulation of dirt and blackhead formation.
Key Ingredients: Lemon and Honey
Pros
Soap-free
Mildly scented
Gentle
Lathers well
Suits all skin types
Cons
Price at the time of publication: ₹20
This face wash from Lakme brings the freshness of 100% real kiwi extracts to your skin. Kiwi is rich in antioxidants that enhance skin texture, tone, and elasticity. This face wash is soothing, making it perfect for use during scorching summers. The soft cleansing beads deeply exfoliate the pores to cleanse your skin. The special blend adds a natural blush and radiance to your skin and leaves a burst of delicious fruity fragrance.
Key Ingredients: Kiwi extracts
Pros
Refreshing scent
Gentle
Refreshing
Lathers well
Cons
The Morpheme Remedies face wash has an herbal formula that clears the skin of bacteria, oil, and dirt. It contains neem that has antiseptic and antibacterial properties that heal the skin. The basil extracts in the formula clarify the skin and keep it refreshed and energized.
While tea tree oil reduces inflammation and redness, rosewater and aloe vera gel soothe the skin, leaving it moisturized and supple. This face wash also contains lemon oil that clarifies and deeply cleanses the skin to get rid of the toughest of dirt trapped in the pores. Menthol and cucumber extracts are infused into the face wash to impart a soothing and cooling effect.
Key Ingredients: Neem, Tea tree oil, Basil extracts, Aloe vera gel, Vitamin E, Rosewater, Lemon oil, Menthol, and Cucumber extracts
Pros
Smells good
Imparts glow
Non-drying
Paraben-free
Sulfate-free
Mineral oil-free
Cruelty-free
Cons
Price at the time of publication: ₹16.2
This face wash from Joy is infused with Active Fruit Boosters that lighten the skin and impart a healthy natural glow. The lemon extracts in the formula get rid of dirt with ease and reduce the appearance of scars, marks, and blemishes. They also absorb excess oil and toxins from the pores and eliminate them to even out the skin tone. The citric acid dissolves blackheads and targets them at the root. The antibacterial agents in the formula protect the skin from sun damage and prevent further breakouts.
Key Ingredients: Lemon extracts and Active Fruit Boosters
Pros
Clear ingredients
Smells good
Lathers well
Alcohol-free
Paraben-free
Phthalate-free
Cruelty-free
Petrolatum-free
Dermatologically tested
Safe for sensitive skin
No plastic microbeads
Cons
Enriched with the energizing power of luscious fresh blueberries, this Himalaya face wash helps treat oily and acne-prone skin. Blueberries are loaded with vitamin C and anthocyanin that help repair and heal damaged skin, build collagen, enhance elasticity, and improve skin texture. This face wash also contains natural beads that gently exfoliate the skin to get rid of impurities, dirt, and pollutants. It also reduces the appearance of blemishes and dark spots and leaves your skin feeling soft, healthy, and fresh.
Key Ingredients: Blueberries
Pros
Natural ingredients
Gentle
Pleasant fragrance
Cons
Now that you know about the best face washes for teenagers, here are a few pointers to help you choose the most suitable one for you.
How To Choose The Best Face Wash For Teenagers
Teenagers have sensitive skin that is prone to acne and pimple breakouts. Choose ingredients that are mild and gentle on the skin. Avoid ingredients that may cause an allergy. Some ingredients can cause itchiness, irritation, rashes, redness, and inflammation. The safest option is to opt for natural and organic face washes that do not dry out the skin. These natural formulas are highly nourishing, moisturizing, and hydrating. Stay away from harsh chemicals like sulfates, parabens, phthalates, and mineral oils.
It is important to choose a face wash that is suitable for your teenager's skin type. Every skin type is different, and what is mild on normal skin can irritate sensitive skin types. Always invest in a high-quality face wash that ensures the best results.
Pick a face wash that can also take care of common skin problems. If your teen is dealing with acne and pimples, choose a face wash with powerful antibacterial and antifungal ingredients like neem, basil, or turmeric.
Overall, the face wash should cleanse the skin without damaging it or stripping its natural oils. Choose gentle formulas that do not dry out the skin or cause breakouts and other skin problems.
Face washes for teenagers help control oiliness and acne breakouts. The formulas dissolve and clear dead skin cells and impurities from deep within the pores. Keep their skin care routine simple yet effective by choosing any of the products listed above.

Recommended Articles