15 Best Washes For Winter Available In India
Keep your skin healthy and glowing in the cold climate with nourishing facial cleansers.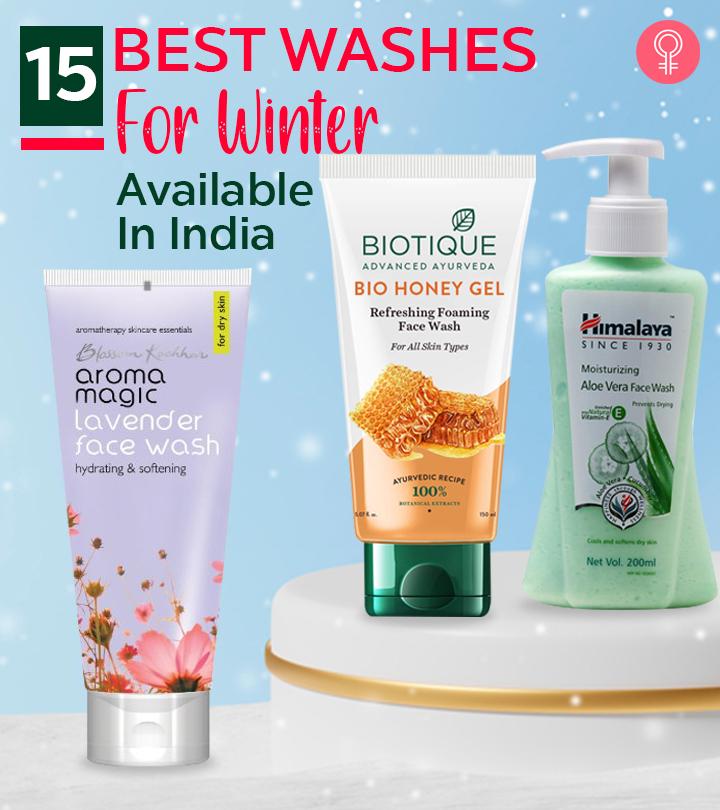 Whether you like it or not, winter brings you the unsolicited gift of parched and lifeless skin. Your face, no matter how well you moisturize it, sometimes lacks the supple bounce of a youthful skin that blesses you all summer long. What you don't realize is that your face wash is the culprit here. It does a little too much of the 'cleansing' and strips your skin off moisture. To prevent this, you need a face wash that is more hydrating and swap it with your summertime cleanser that might be drying for the colder months.
Choosing the right cleanser can do wonders for your skin's appearance. It prepares the skin for a more effective skincare routine by cleaning away any dirt and grime that dulls our glow. But more importantly, it moisturizes with hydrating ingredients that help your skin achieve clean radiant appearance from within. We have rounded up a list of 15 wonderful face washes that help relieve dryness and clean while they hydrate. Scroll ahead and check out the best face wash for winters.
15 Best Face Washes For Winter In India
The do-it-all formula of the Aroma Magic Lavendar face wash gently removes all impurities while retaining moisture in the skin. It comes packed with the power of shea butter for deep nourishment and stays flake-free in winters. The lavender and orange extract help restore free radical damage to make your skin supple and smooth. Rose essential oil helps keep irritation at bay.
Key Ingredients: Lavander, Orange, Rose
Pros
Refreshing fragrance
Soap-free
Paraben-free
Alcohol-free
No artificial fragrance
Gentle formula
Cons
None
Designed to bring on your most radiant glow, the Biotique Bio Honey refreshing foaming face wash is a soap-free formula enriched with the goodness of nature. It combines the power of extracts from the arjun tree, euphoria plant, and wild turmeric for a deep pore-cleansing action. It maintains the hydration of your skin, making it ideal for the winters. It makes the skin visibly cleaner with a blend of vitamins and minerals that give it an enviable glow.
Key Ingredients: Arjun Tree (Terminalia Arjuna)
Pros
Soap-free
Suits sensitive skin
Ayurvedic extracts
Fresher appearance
Cons
Spiked with the soothing blend of aloe vera and cucumber, the Himalaya's Moisturizing aloe face wash works wonderfully to give you a fresher appearance. The face wash replenishes the skin to hold more moisture for supple, non-stretched skin. It combats irritation and flakiness with the cooling properties of its ingredients. Ideal for the winter months, this moisturizing gel wash is rich in enzymes, polysaccharides, and nutrients for an ultra-hydrating treatment that helps skin come alive. Pick this one up to enjoy nourished skin all year long.
Key Ingredients: Aloe Vera Extract, Cucumber Extract
Pros
Suitable for all skin types
Mild and non-foaming
Budget-friendly
Cons
None
If gentle cleansing had a face, it would be the Cetaphil Gentle Skin Cleanser, like its name rightfully asserts. This cleanser cleans without disturbing the skin's moisture barrier and makes the skin smooth and baby soft. It removes dirt and oil that clog the pores to help you achieve an even-toned, healthy-looking complexion. It detoxifies the skin with its deep cleansing action. It is one of the best cleansers to use during winter.
Key Ingredients: Cetyl Alcohol, Propylene Glycol
Pros
Highly skin-friendly
pH-balanced
Mild cleansing action
Unscented
Soap-free
Non-comedogenic
Cons
Trusted to be an effective face wash for skin-woes like acne, the Mamaearth Tea tree natural face wash is an ingenious blend of performing ingredients. It comes laced with tea tree and lavender oil with an added punch of neem leaf extract. All these ingredients are anti-inflammatory and anti-microbial and act in combination to prevent irritation or infection that might occur due to skin dryness or chapness. It makes your face clean, fresh, and radiant. Aloe vera is added to the formula to retexturize the skin and to help reduce excess oil.
Key Ingredients: Tea tree and Lavander
Pros
No harmful chemicals
Natural anti-bacterial
Anti-inflammatory
Ideal for normal and dry skin
Oil-free
SLS-free
Paraben-free
Silicone-free
Phthalate-free
Artificial color-free
Cons
None
Price at the time of publication: ₹9.98
This Mamaearth Vitamin C face wash will amp up your skincare routine from the first step with its skin brightening and illuminating properties. The Vitamin C and turmeric blend imparts a stunning glow to the face. It also boosts collagen for speeding up the natural skin renewal process. While brightening and removing dullness, the face wash also controls excess oil and cleanses deeply with a mild moisturizing effect. It even keeps skin safe from free radical damage. Its skin-portecting and cell-regenerating formula is extra beneficial during the dry winter months.
Key Ingredients: Turmeric, Vitamin C
Pros
Herbal turmeric scent
SLS-free
Sulfate-free
Mineral oil-free
Paraben-free
Cons
None
Price at the time of publication: ₹359
This star performer from Nivea is an ultra-hydrating, deeply nourishing cream cleanser. Its formula contains milk which is a natural cleanser that helps to remove dirt and impurities from the skin. It is also powered with honey which is not only a natural moisturizer, but it also helps to lock the moisture in the skin for many hours. It makes for an ideal facewash for the moisture-stripping winds of winter.
Key Ingredients: Honey, Milk
Pros
Natural ectracts
Skin-friendly
Soap-free
pH-balanced
Cons
None
The refreshing Himalaya Natural Glow Face Wash gently buffs away the debris for a radiant and thoroughly cleansed face. It is enriched with Kashmiri kesar to impart a subtle glow to your skin. With its complexion-clearing properties, kesar enhances the natural shine and gives you an even-toned skin with regular use. The formula also incorporates pomegranate for nourishment, mint for cooling, and cucumber for a refreshing feel-good factor. When the cold hits your skin stealing its natural flush and making it dull, use this kesar-based formula to bring back your natural glow.
Key Ingredients: Kashmiri kesar
Pros
Suitable for all skin types
Organic ingredients
Soap-free
Cons
Crafted to bring on the best glow to your face, the Lotus Herbals Jobobawash leaves the skin feeling recharged and prepped for the next steps of your skincare regime. It contains active Milli capsules for a burst of energy and Vitamin E for antioxidant support. Jojoba is a potent active ingredient for conditioning the skin and acts as a humectant. With avocado in the blend, the wash helps skin retain moisture and feel buttery all day long. To sweep away the mask of impurities that darkens your complexion, opt for this ultra-nourishing wash with its power-packed ingredients.
Key Ingredients: Milli capsules, Vitamin E
Pros
Enriching formula
Potent active ingredients
Natural ingredients
Suitable for all skin types
Cons
Texture may not be agreeable to some
Ever enjoyed a mini-professional treatment that regenerated skin at a deep level? With the mCaffeine Naked Detox Green Tea Face Wash, you can experience a deep detox at home. It gently whisks away all dirt, makeup, and impurities for fresh, bright, and happy skin. Green tea has anti-inflammatory properties, and it prevents damge by free radicals. The addition of vitamin C makes the skin bright and fights sunspots. Hyaluronic acid helps seal in moisture and hydrate while you wash, making it a wise choice for winter days.
Key Ingredients: Green Tea, Hyaluronic Acid
Pros
SLS and SLES-free
Silicone-free
Paraben-free
Suitable for all skin types
Cruelty-free
Dermatologically tested
FDA-approved
Cons
Might irritate sensitive skin
The Moms Co. Natural Vita Rich face wash softens and restores skin's moisture barrier. It cleans and conditions with agents like hyaluronic acid and vitamin B5 that lock moisture back into the skin for a hydrated feel. Vitamin C helps improve elasticity in the skin and reverses damage from the sun. Niacinamide repairs the skin deeply. Acne sufferers find relief because of witch hazel in the formula that helps fight acne-causing bacteria. This is truly a do-it-all formula.
Key Ingredients: Vitamin C, Vitamin B3, Pro vitamin B5
Pros
Natural extracts
Mineral oil-free
Made Safe certified
Sulfate-free
Paraben-free
DEA/TEA-free
Synthetic fragrance-free
Cons
May irritate sensitive skin
The WOW Skin Science Aloe Vera Face Wash deeply cleans your face and strips it completely of dirt and impurities without disturbing the skin's moisture balance. Supple skin is now within your reach with this antioxidant-rich face wash. It tones and combats hyperpigmentation with pro vitamin B5 and cucumber to give your skin an even tone.  For winters, consider this unique blend for firm, nourished skin.
Key Ingredients: Aloe Vera Extract, Green Tea Extract, Cucumber, Calendula
Pros
Paraben-free
Silicone-free
Color-free
Dermatologically tested
Cons
None
Forests Essentials Mashobra Honey, Lemon and Rosewater Cleanser performs wonderfully to tone and hydrate while it cleanses. While honey moisturizes and buffs away all impurities, the lemon essential oil tones and uplifts the appearance while removing dead skin cells and eliminating excess sebum. Steam-distilled rose water effectively rehydrates and tightens the pores with its astringent action. The Ayurvedic blend doesn't shy away from packing in ingredients that regenerate. The royal jelly extract is healing and stimulates collagen production, while the vitamin E treatment is loaded with antioxidants.
Key Ingredients: Mashobra Honey, Lemon, Rosewater
Pros
Sulfate-free
Paraben-free
Petrochemical-free
Ayurvedic blend
Suitable for normal to dry skin
Eco-friendly
Cons
May be stripping for some
Plum Hello Aloe skin lovely face wash is a gentle cleanser packed with the goodness of aloe that gives you squeaky clean yet soft face. It also soothes the skin after sun exposure. The cleanser is a cocoamidopropyl betaine-based face wash that is mild (even for a baby's skin) but cleanses the skin effectively. This formula is hydrating for the skin as well.
Key Ingredients: Aloe Vera
Pros
Rich lather
Soap-free
SLS-free
Paraben-free
Phthalate-free
Cruelty-free
Cons
If hydration and cleansing could blend in a deep revival formula, the WOW skin science green tea wash would easily take the cake. Give your skin a health boost with the enriching blend of aloe vera, pro-vitamin B5, vitamin E, and the very potent green tea. This cleanser washes away the dirt and grime without disturbing the moisture mantle of the skin. It replenishes your complexion and resolves skin patchiness by delivering a jolt of antioxidants to the skin. It also helps minimize fine-lines and age spots amongst its other benefits. Use it during the dry, pro-aging days of the winter to preserve the youthfulness of your skin.
Key Ingredients: Aloe Vera, Green Tea, Vitamin B5, Vitamin E
Pros
Sulfate-free
Silicone-free
Paraben-free
Revives glow
Ergonomic scrubbing brush design
Cons
May not suit acne-prone skin
How To Select The Best Face Washes For Winter
1. Skin type
If you have dry skin, your face wash should be gentle and rich in fatty acids and humectants. Formulas containing hydrolyzed wheat, honey, and rice proteins help seal in moisture for longer. Medium to oily skin types can choose from a purifying but hydrating blend that cleans deeply but isn't too aggressive.
2. Formula
Opting for more stripping, gel-based cleansers that do not contain a nourishing ingredient is definitely a bad idea. Choose from either a cream or lotion formula or a fuss-free gel with a nourishing blend of ingredients. These elements support the lipid barrier of the skin and replenish the moisture loss.
3. Moisturizing Ingredient List
Check for labels that contain ingredients like hyluronic acid that draws water into the skin. Milk and honey are other good ingredients for hydrating, soothing dryness, and making the skin supple.
Fighting dryness and flaking becomes easy with the right product in your cabinet. We believe that the best face wash for a winter season should contain the right ingredients for nourishing the skin and leave you with a supple and radiant face. To achieve that supple, glowing, blemish-free appearance in winters, choose from the many options of skin cleansers we have curated.

Recommended Articles