15 Best Face Washes For Sensitive Skin To Try In 2023
Wash your face with these foamy formulas to feel refreshed and glow from within.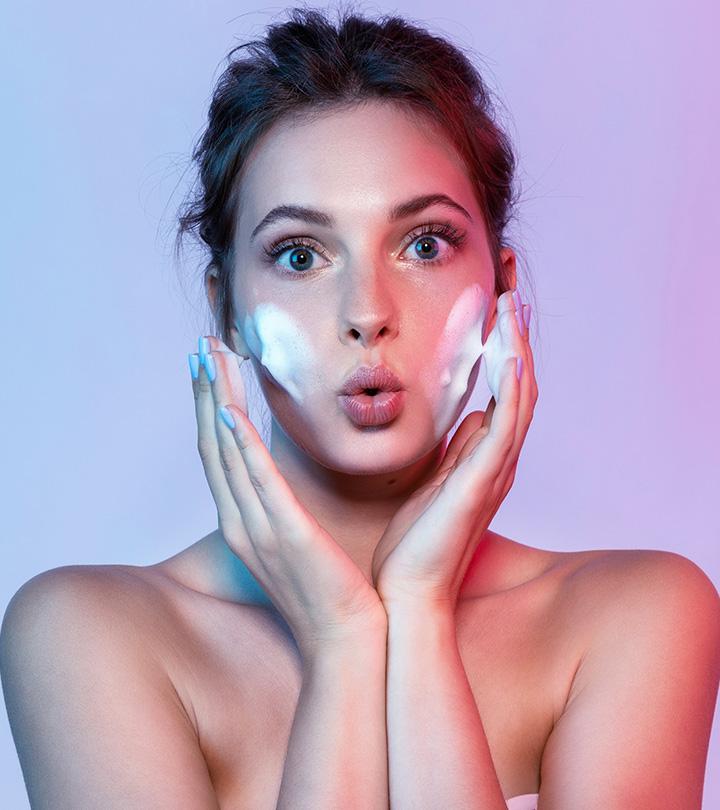 Sensitive skin is more prone to irritation, and sometimes it even reacts to the most gentle products. If you have sensitive skin, you know how difficult it is to find a suitable face wash. But having the best face wash for your sensitive skin can solve half of your skin woes. And it is important to choose the products specially formulated with the right ingredients suitable for your skin type.
Always look for formulas free from sulfates, dyes, fragrances, and parabens. These ingredients can irritate sensitive skin and cause itching, breakouts, and inflammation. Instead, select the face wash that provides long-lasting hydration, helps to remove all impurities, dirt, and excess oil from your face, and imparts a refreshing feel and glow to the skin. Scroll through this article if you are looking for a perfect face wash for your sensitive skin. We have listed the 15 best face washes for sensitive skin below. Swipe up.
15 Best Face Washes For Sensitive Skin
Perhaps the best face wash for sensitive skin, here is a quick way to prevent exposing your skin to multiple products for various purposes. You now have a dermatologist-recommended face wash that cleanses your face and moisturizes and removes all your makeup without clogging your pores. The Cetaphil Gentle Skin Cleanser boasts hydrating properties and is pH balanced. This soothing face cleanser maintains the skin's moisture balance and prevents dryness. It is hypoallergenic, so you do not have to worry about any skin reactions.
Pros
Fragrance-free
Cleans face without stripping oil
Dermatologist-recommended
Lightweight
Long-lasting
Soap-free
Suitable for all skin types
Cons
Contains sulfate and parabens.
It's time to get rid of your blemishes and breakouts and embrace youthful and flawless skin. The InstaNatural Vitamin C Cleanser exfoliates your skin, allows it to cleanse itself, and makes you look radiant and fresh. This product has anti-aging effects and diminishes wrinkles, fine lines, and dark circles. This mild skin care product is a blend of vitamin C, green tea and aloe vera, all of which work towards keeping your skin nourished and hydrated. The sensitive skin cleanser helps in keeping your skin bright and hydrated.
Pros
Suitable for sensitive skin types
Cruelty-free
Chemical-free face wash for sensitive skin
Mild citrus aroma
Cons
Some may find the consistency runny.
Have you spent hours looking for a product that is suitable for your sensitive skin?  And finding a product that can make your skin glow and remain hydrated all day is like looking for a needle on a haystack. However, the Burt's Bees Face Cleanser is perhaps the only face wash you will ever need. It is gentle on the skin and gives it a smooth and soothing look. This dermatologist-tested cleanser prevents your skin from redness and has the infusion of aloe vera and rice extracts that enhance the product's nourishing ability without clogging your pores.
Pros
Dermatologist-recommended
Fragrance-free
Irritation-free
Soap-free
Soothes irritated skin
Removes makeup
Cons
Some may find the coconut scent slightly overpowering.
Here is an oil-free, non-comedogenic product that helps remove dirt, makeup, and oil without drying or stripping your skin of its natural oils. This product is suitable for those with acne-prone skin as it is quite a gentle formula. This mild face wash for sensitive skin will help in keeping your skin hydrated, clean, and smooth all day long. It works well for those with eczema, ichthyosis, psoriasis, and winter itch. Give this cream cleanser with a gentle scent a shot and get that rejuvenated look that you have always wanted. You can also check this YouTube video for a complete idea about the product.
Pros
Gluten, paraben. and sulfate-free
Betaine and formaldehyde-free
Free of amines and amides
Fragrance and dye-free
Soap-free
Dermatologist-tested
Cons
Might not be suitable for oily skin.
As the name implies, the Neutrogena Hydro Boost Hydrating Cleansing Gel is an incredibly hydrating formula with hyaluronic acid that increases your skin's moisture level. This product cleans your skin and gives you a smooth and silky look, making you feel refreshed. You can easily get rid of accumulated impurities without stripping your skin. This Neutrogena hydrating face cleanser works well for sensitive skin as it does not clog your pores hence prevents your skin from getting damaged. To see the tester's experience for a thorough understanding of the product and its benefits, take a look at this review on YouTube.
Pros
Lightweight
Soap-free and oil-free
No parabens
Hypoallergenic
Dermatologist-recommended brand
Cons
May not be best suited for dry skin
The La Roche-Posay Laboratoire Dermatologique is one of the best dermatologist-recommended face cleansers for sensitive skin as this product has hydrating, antioxidizing, and soothing properties. This product contains niacinamide that soothes your skin and maintains its pH balance and natural protective barrier. It also contains glycerin, which acts as a moisturizer along with the infusion of soothing ceramides. It helps gently remove makeup, dirt, and impurities. This moisturizing face wash is infused with prebiotic thermal water that further enhances the nourishing properties of this cleanser.
Pros
Oil-free
Non-comedogenic
Suitable for sensitive skin
No parabens
Soap and fragrance-free
Sulfate-free
Allergy-tested
Dermatologist-tested
Cons
Lift away dirt, makeup, and other unwanted accumulations from your face with a little help from the Aveeno Ultra-Calming Foaming Cleanser that deeply cleanses your skin. It might just become your new favorite face wash. This nourishing face cleanser helps reduce the signs of aging by diminishing the appearance of fine lines and wrinkles. It can make your skin feel calm and hydrated without causing any irritation. This product has a lightweight formula that feels silky smooth. The anti oxidizing property of chamomile helps in reducing redness and appearance of blemishes on your face.
Pros
Fragrance and soap-free
Hypoallergenic
Non-comedogenic
Dermatologist-recommended
Suitable for sensitive skin
Cons
Bid goodbye to dull and damaged skin and make way for the Proactiv MD Deep Cleansing Face Wash that can lift your skin and brighten it. Get a refreshed and nourished look with this cleanser that removes debris and dirt accumulated in your pores and prevents your pores from getting clogged. This gentle and effective face cleanser offers an exfoliating effect to your skin, which helps eliminate debris and dead skin cells. It contains hyaluronic acid and benzoyl peroxide that helps in hydrating your skin and keeping it nourished. A gentle massage of this cleanser and a splash of water is all you need to look fresh and young instantly.
Pros
Suitable for all skin types
Non-medicated
Non-comedogenic
Unscented
Softer-looking complexion
Cons
As it contains menthol, some may feel a tingling sensation.
The Garnier SkinActive Gentle Sulfate-Free Cleanser is one of the best face wash cleansers for sensitive skin. It can get rid of dirt, makeup, and oil by gently cleansing the skin and keeping it hydrated and soft. This fragrance-free cleanser is paraben-free, sulfate-free, oil-free, soap-free,and alcohol. You will no longer see breakouts, blemishes, acne on your skin with this incredible sulfate-free face wash. Try this face cleanser tested by dermatologists for a refreshed and glowing skin.
Pros
Dermatology-recommended face wash
Safe for all skin types
Ophthalmologist-tested
Non-comedogenic
Rich in glycerin
Cost-effective
Cons
May not be easy to rinse off
Your skin deserves to be pampered and given extra care and the best way to start the day is with a gentle facial cleanser. Looking for recommendations? Try the Clean & Clear Foaming Facial Cleanser that actively worlds towards acne prevention and breakouts. It gets rid of impurities and dirt accumulated on your skin without leaving any residue. This skin-friendly face wash can be rinsed off easily, you can also remove your makeup without any hassle and is suitable for all skin types.
Pros
Effectively removes makeup
Suitable for all skin types
Inexpensive
Oil-free
Sensitive facial wash
Cons
It's time to remove all the impurities and dirt that have been accumulating on your skin and you have been struggling to get rid of. The Simple Sensitive Micellar Cleansing Water cleanses and hydrates your skin by unclogging your pores and removing makeup and pollutants. This product helps in tightening your skin and providing it with complete purification and nourishment. This hypoallergenic face wash has ingredients that are skin-friendly hence you can use it without any worries. It is formulated with triple purified water, vitamin B3 and C, and the infusion of hexylene glycol.
Pros
No parabens or sulfates
Mineral oil-free
No perfume or dye
Suitable for all skin types
Cruelty-free
Non- comedogenic
Cons
Might not be suitable for makeup removal
It's time to detoxify your skin and provide it with a clean, purified, and balanced look. It is infused with shea extract and has the essence of captelae and purifying milk that provides extra nourishment to your skin, keeping it hydrated and smooth. This easy-to-use and gentle product protects your skin from external factors, keeping it damage-free, while helping strengthen the skin's moisture barrier. In a particle anti-adherence test, the product showed a proven efficacy of 72% against pollutant particles.
Pros
Paraben-free
Dermatologically-tested
Alcohol-free face wash for sensitive skin
pH-balanced formula
Allergy-tested
Suitable for sensitive skin
Cons
May not be suitable for dry skin
Here is the easiest and most effective way to get clean and clear skin without spending emptying out your pockets. This product is a gentle cleansing option that works effortlessly on your skin and helps in soothing it and making it soft. This no-rinse cleanser is ideal for those who have hypersensitive-skin. It is time to make your skin feel calm and purified by removing dirt and providing a soothing effect in return. This product also helps in restoring the skin's barrier by strengthening it. You can now easily remove your makeup without relying on several cotton balls and products to get rid of it.
Pros
Soap-free
No parabens
No oil, soy, or gluten added
No fragrance or dye
Cons
May not be suitable for oily skin
One of the best hydrating cleansers in the market, it not just purifies your skin but also helps you fight several skin-related issues. This Dermalogica Ultracalming Cleanser helps prevent breakouts, reduces signs of aging, and has anti-inflammatory properties. This professional-grade product also helps soothe your skin and provides you a fresh feeling every day.  This calming face cleanser does not leave any residue behind nor does it cause any irritation or redness. It has a balanced pH and strengthens the protective barrier of your skin. It is easy to apply, lather, and rinses off easily.
Pros
Gluten-free
Vegan
Cruelty-free
Paraben-free
No artificial dye or fragrance
Cons
May not remove makeup effectively
Try this anti-bacterial face cleanser that is ideal for daily use and works efficiently on sensitive skin. This delicate skin care option helps in deeply cleansing your skin by removing dirt, impurities and makeup, hence purifying it. It also unclogs your pores and keeps the skin feeling fresh without any irritation. This anti-inflammatory cleanser is infused with shea butter coconut, aloe vera, chamomile, and acai that help keep your skin soft, nourished, and clean.
Pros
Vegan
Cruelty-free
Unscented
No harsh chemicals
Gluten-free
Suitable for sensitive skin
pH-balanced
Cons
Some may find the consistency slightly runny
Now that we've looked at the 15 best face washes for sensitive skin, here is a buying guide for you to understand which is the best face wash for sensitive skin and how to use it.
How To Choose A Face Wash For Your Skin Type
The primary functions of a face wash include cleaning your face and removing dirt, oil, and dead cells. Different products are made for different skin types, hence, you need to identify which face wash is the most suitable for you. Here are a few things you must keep in mind when buying a face wash for yourself.
Dry skin
If you have dehydrated skin and your face not only requires a product that cleanses your face, but it should also consist of moisturizing ingredients like aloe vera, hyaluronic acid, lanolin and AHAs that can make your skin smooth and soft.
Oily skin
The ideal face wash for someone with oily skin should include aloe vera and tea tree oil, both mild ingredients that balance oil production and support the skin's clarity. Remember, it shouldn't leave your skin feeling dry and tight afterwards. Avoid cleansers that contain alcohol as if may cause further irritation.
Acne-prone skin

If you have acne-prone skin, wash your face twice a day with a salicylic acid-based cleanser. Salicylic acid unclogs the pores and gets rid of excess oil.
Sensitive or combination skin
Both sensitive skin and combination skin benefit from an ultra-gentle cleanser. Look for a face wash that is fragrance-free, hypoallergenic, paraben-free and soap-free that won't irritate your skin. Micellar waters are the best for this skin type. It is always wise to actively look for an antibacterial face wash for sensitive skin.
Licensed esthetician Olunife Ofomata says, "Knowing which ingredients your skin is sensitive to can help you make better choices when shopping for skincare and beauty products, especially face washes. It is also important to do a patch test on any new product before applying it all over your face. This will help to ensure that there won't be any adverse reactions or irritations caused by a certain ingredients."
How To Use A Face Wash For Sensitive Skin
Here are the steps you must follow to wash your face with a cleanser:
Step 1: Wet your face with warm or cool water
Step 2: Apply a small amount of cleanser on your face and massage it in a circular motion for 1-2 minutes. This helps in improving blood circulation and allows different types of ingredients to penetrate well into your skin.
Step 3: Wash your face with water, avoid hot water as it can damage sensitive skin.
Step 4: Pat dry with a soft towel.
Step 5: Apply a moisturizer that suits your skin, and you are good to go!
Why Trust StyleCraze?
The author of this article, Krati Darak, understands that you can't just use any face wash if you have sensitive skin. Some face washes leave your skin dry, red and inflamed. She recommends using the above-mentioned face washes for sensitive skin to avoid irritating the skin. She spent an inordinate amount of time researching and investigating products and their reviews and selected these products based on skin-friendliness, fragrance, texture, and more.
Frequently Asked Questions
What kind of face wash is good for normal skin?
For normal skin, choose hypoallergenic face washes free of alcohol or toxic chemicals.
How often should you wash sensitive skin?
Wash sensitive skin with hypoallergenic products at least twice a day.
How can I identify my skin type?
You can identify your skin type by checking your skin thoroughly. Generally speaking, If your skin appears shiny, it is likely oily. If your skin appears flaky, it is dry. If your T-zone is shiny but the other areas of your skin appear dry, you have combination skin. If your skin seems hydrated but not oily, you have normal skin.
Can I wash my face with just water?
Yes, but using face washes and cleansers specific to your skin type and needs may help you with your skin-related concerns better.
How long should I wash my face?
Wash your face thoroughly for 30 seconds to a minute to thoroughly remove oil, sebum, dirt, and impurities. Knowing which ingredients your skin is sensitive to can help you make better choices when shopping for skincare and beauty products. It is also important to do a patch test on any new product before applying it all over your face. This will help to ensure that there won't be any adverse reactions or irritations caused by a certain ingredient. Try not to use more than one new item at a time so that it is easier to identify which product might be causing the reaction.