10 Best Face Washes To Use With A Clarisonic For Flawless Skin
Get rid of excess oil, blemishes, dullness, and breakouts with these cleansing gels.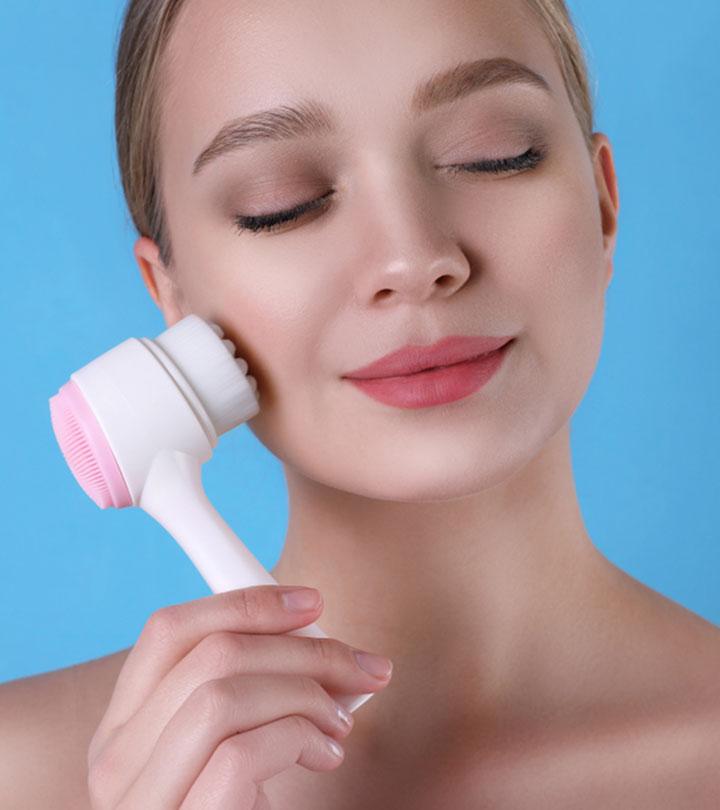 Skin issues often pay their visit when we have to go somewhere or attend a big event. And all your plans to flaunt flawless, healthy, radiant, and clear skin just disappear into thin air. That is why you should try the best face wash to use with Clarisonic to get clear and soft skin. When used with skin-cleaning products, a Clarisonic boosts the effect of the product and improves blood circulation. So be it dark circles, oiliness, acne, or dry skin, you can manage your skin issues to an extent with this product.
So, how does Clarisonic help manage these skin care woes? It is a cleaning brush that can prevent sudden acne and skin breakouts. Yes, it is that perfect solution you have been looking for all these years, and you don't have to worry about those sudden mood swings of your skin anymore. However, not all face washes may give you the best results when used with the device. Don't worry. Scroll through this article to check out the 10 best face washes you can use with Clarisonic and reap their maximum benefit.
Top 10 Best Face Washes To Use With A Clarisonic
Top Picks
Pros
Non-comedogenic
Non-irritating
Fragrance-free
No harsh chemicals
No microbeads
Cons
It may not be suitable for dry skin.
Price at the time of publication: $9.82
Pros
Vegan
Cruelty-free
Paraben-free
No artificial fragrance
Refined skin texture
Suitable for sensitive skin
Affordable
Cons
The scent may be too pungent for some.
Price at the time of publication: $7.0
Pros
Cruelty-free
Lightweight
Protects from sun damage
Healthier skin
Anti-aging properties
Cons
Some may be allergic to the dandelion extracts present in the formula.
Price at the time of publication: $15.99
Have you tried every skin care remedy you could ever find, only to find out that it doesn't work? If yes, we are certain that you are afraid to experiment any further. However, we urge you to take that leap of faith and give this face wash for acne-prone skin a chance. This face wash is everything you need to get rid of dull and damaged skin. It is a non-medicated face wash that does not allow any dirt or debris to build up. Get softer and smoother-looking skin with this amazing product that fights against your acne and deeply cleanses it without causing any irritation.
Pros
Ideal for sensitive skin
Helps to unclog pores
Brightens the skin
Prevents dryness
Refreshing minty scent
Cons
Some may find the formula slightly waxy.
Price at the time of publication: $30.0
Pros
Prevents acne and breakouts
Reduces fine lines and wrinkles
Prevents clogging of pores
Hydrating
Anti-aging
Reduces skin discoloration
Cons
It may take a long time to show results.
Price at the time of publication: $19.97
Pros
Sulfate-free
Paraben-free
Anti-inflammatory
Anti-aging
Oil-free
Non-drying
Exfoliates the skin
Cons
It may not be best suited for extremely sensitive skin.
Price at the time of publication: $18.95
Pros
Removes dead skin buildup
Refreshes and cools the skin
Gets rid of impurities and dirt
Cruelty-free
Paraben-free
No dyes or artificial fragrances
Cons
Price at the time of publication: $28.8
Pros
Organic formula
Maintains pH balance
Sulfate-free
Paraben-free
Phthalate-free
Formaldehyde-free
Cruelty-free
Vegan
Cons
Price at the time of publication: $64.0
Pros
Fragrance-free
Sulfate-free
Reduces redness and irritation
Eliminates fine lines and wrinkles
Makes skin look younger
Cons
Might not prevent dryness.
Price at the time of publication: $14.49
Pros
Paraben-free
Sulfate-free
Cruelty-free
Gentle to the skin
Hydrates the skin
Soap-free
Cons
It may not be suitable for oily skin.
Price at the time of publication: $22.48
Here is a buying guide to help you understand the right use of a face wash with the help of a Clarisonic. This guide will make it easy for you to choose the best face wash that is suitable for your skin type.
How To Choose The Best Face Wash To Use With A Clarisonic?
You can choose the right face wash for your skin based on the skin type and your needs.
Hence, here are the various options for you, based on your skin type:
Oily skin
Your skin needs a timely purification and the pores should always be unclogged to avoid oiliness. Hence, it is advisable to use a cleansing gel such as the Clarisonic Refreshing Gel Facial Cleanser that will help you get rid of excess oil and impurities without robbing the essential oils from your skin. This product will also help in reducing an unwanted shine on your face.
Acne-prone skin
You must try the instanatural Glycolic Acid Facial Cleanser if you wish to achieve clear skin. The essence of lemon, apple, sugarcane, chamomile and vitamin E will allow your skin to feel refreshed and clean.
Anti-aging
We all wish to get rid of the wrinkles on our faces. We want to look young, so if you are one of us, you should try the TruSkin Vitamin C Facial Cleanser and It Cosmetics Confidence In A Cleanser for flawless results.
Dry skin
Look for a formula that provides ample hydration and keeps the skin moisturized. The ProactivMD Exfoliating face wash will help in removing all the impurities from your face to leave it soft and smooth.
Sensitive skin
It becomes a challenge to find the perfect face wash if you have sensitive skin. But you don't have to worry when you have the DERMA E Sensitive Skin Cleanser which has the greatness of chamomile and green tea that offer healing and soothing benefits.
Why Trust Stylecraze?
Vaishnavi Kothuri is a skin care writer, and in this post she has presented a list of the best face washes to use with clarisonic. As the face is extremely sensitive, she has deeply researched each ingredient used in these products. Her recommendations are supported by experts from the skin care industry and this list contains highly trustworthy information.
Frequently Asked Questions
Can you use any cleanser with Clarisonic?
Yes, you can use the above-mentioned cleansers with Clarisonic as it enhances the effectiveness of the product.
Can you use Clarisonic with just water?
It is a cleaning tool and it will do a good job even when you use it with water.
Is it okay to use Clarisonic every day?
Clarisonic with soft brushes can be used twice a day, however, if you have sensitive skin it is advisable to use it once a day.
Is the Clarisonic an exfoliator?
No, it is not an exfoliator. Clarisonic helps in deep cleaning your face.
Does Clarisonic damage skin?
Yes, if used very frequently and incorrectly, a Clarisonic can cause skin damage and lead to premature aging as well.