21 Best Face Washes & Cleansers Of 2023, According To An Esthetician
Wash away the dirt and grime of the day without disturbing your skin's natural balance.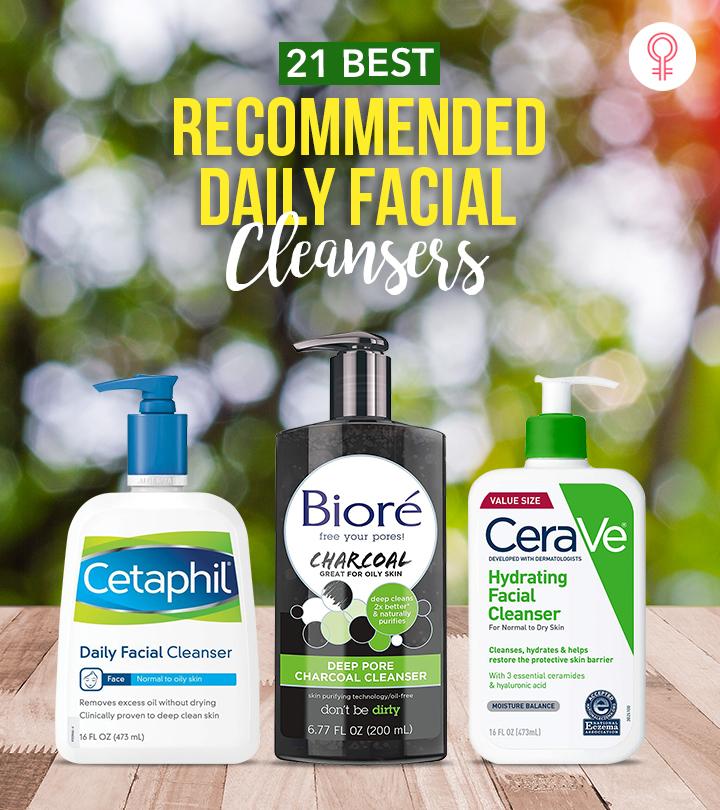 Your face is like a battleground, indeed, exposed to makeup, impurities, and pollutants. So you must try the best skin cleansing products available in the market. A product that can combat clogged pores, discoloration, breakouts and can nourish, moisturize, and cleanse your skin is what needs to be your best friend. So, go ahead and check out our list of the 21 best-selling face washes that are perfect for all skin types, curated after carefully examining several formulations and reviews, for verified results.
21 Best Face Washes & Cleansers Of 2023 For All Skin Types
The CeraVe Hydrating Facial Cleanser is a non-foaming formula for normal to dry skin types. This top-rated face wash has a lotion-like consistency, which gently removes oil, dirt, and makeup without dehydrating the skin.
The MVE technology releases moisturizing ingredients continuously into the skin, providing 24-hour hydration and nourishment. This face wash contains ceramides that restore the skin's natural barrier and improve skin texture. Hyaluronic acid attracts and binds moisture to the skin surface. This video takes you through this product's details and the reviewer's experience with the product.
Skin Type: Dry
Pros
Gentle
Non-comedogenic
Non-irritating
Non-drying
Fragrance-free
Paraben-free
Vegan
Dermatologically tested
Accepted by the National Eczema Association
Cons
May cause a burning sensation.
The Cetaphil Daily Facial Cleanser is a clinically-proven gentle face cleanser that efficiently removes makeup, dirt, and excess oil from the skin surface. It preserves the natural moisture barrier of the skin and deeply cleanses clogged pores without stripping the skin of essential oils. This dermatologist-tested face wash is suitable for oily, normal, and sensitive skin types. It moisturizes the skin without leaving a tight or dry feeling. For a more detailed review of this product and the tester's experience, here's a video.
Skin Type: Oily and Sensitive
Pros
Mild Non-comedogenic
Non-irritating
Hypoallergenic
Aluminum-free
Dermatologist recommended
Cons
The Elizabeth Mott Sure Thing! Vitamin C Cleanser deeply cleanses the skin while also providing nourishment and hydration. This cleanser helps remove makeup and impurities while also leaving the skin feeling soft and refreshed. It brightens the skin, reduces the appearance of dark spots, fine lines, and wrinkles, and protects the skin from environmental damage. The gentle formula helps improve the overall appearance and health of the skin with effective face cleansing. This cleanser can be a great option for those looking to add a powerful antioxidant to their skincare routine and achieve a brighter, more even-toned complexion.
Skin Type: All Skin Types
Pros
Cruelty-free
Vegan
Non-irritating
Non-drying
Gentle on skin
Lathers well
Ideal for daily use
Refreshing
Cons
None
The Bioré Deep Pore Charcoal Cleanser creates a white foam that gently purifies and refreshes your skin. The unique Japanese skin purifying technology provides superior cleansing without stripping the skin of its natural moisture. Its cleansing molecules target oil, dirt, and impurities without irritating the skin. Charcoal has magnetic powers that pull out oil and other impurities from deep within the skin's layers, offering deep pore cleansing and unclogging pores. It also prevents bacteria, blackheads, pimples, blemishes, and other skin problems.
Skin Type: Oily
Pros
Oil-free
Non-comedogenic
Dermatologist-tested
Vegan
Cruelty-free
Cons
This natural face wash from WOW is infused with the goodness of organic apple cider vinegar that balances sebum and controls acne. The sensitive skin cleanser also contains aloe vera that offers natural hydration and restores the skin's pH balance, while pro-vitamin B5 empowers the skin's lipid structure. This purifying face wash clears dirt, impurities, oil, makeup, pollutants, and dead cells from the skin's surface. The soft silicone bristle brush gently exfoliates the skin and controls blackheads, pimples, acne, and other facial breakouts.
Skin Type: Oily, Combination, Sensitive, Dry, and Normal
Pros
Built-in brush
Contains 100% natural actives
Paraben-free
Sulfate-free
Silicone-free
Mineral-oil-free
Color-free
Cons
If you have sensitive skin, the BURT'S BEES Facial Cleanser is just right for you; it is a clinically-proven formula that is extremely gentle. This face wash is formulated with 99% natural ingredients that give you the smoothest and healthy-looking skin. The formula is gentle on delicate skin while removing dirt, oil, impurities, and makeup. It is infused with softening cotton extract and aloe vera, which preserve moisture and protect the skin against pollutants and irritants.
Skin Type: Sensitive
Pros
99% natural
Hypoallergenic
Gentle
Dermatologist-tested
Soap-free
Accepted by the National Eczema Association
Paraben-free
Phthalate-free
Petrolatum-free
SLS-free
Fragrance-free
Cons
This acne-fighting cleanser from VANICREAM has a gentle, non-comedogenic formula that cleanses your face of dirt, makeup, oil, and impurities without drying it. This results-driven face wash is suitable for sensitive, acne-prone, and dry skin caused by psoriasis, eczema, and ichthyosis. It is formulated without any harsh chemicals and leaves the skin soft, clean, and rejuvenated.
Skin Type: Acne-prone and Sensitive
Pros
Non-comedogenic
Soap-free
Dermatologist-tested
Dye-free
Fragrance-free
Sulfate-free
Lanolin-free
Paraben-free
Formaldehyde-free
Cocamidopropyl betaine-free
Gluten-free
Cons
The NEUTROGENA Fresh Foaming Cleanser deep cleanses the face and gets rid of dirt, excess oil, waterproof makeup, and other impurities. The oil control face wash helps prevent the clogging of pores and bacterial growth. The hypoallergenic formula leaves no residue on the skin and imparts a squeaky clean after-feel. It contains glycerin, which moisturizes and softens the skin. This face wash is gentle around the delicate eye areas and causes no stinging or irritation.
Skin Type: Sensitive
Pros
Non-comedogenic
Dermatologist-tested
Safe for sensitive eyes
Hypoallergenic
Oil-free
Soap-free
Alcohol-free
Cons
The Toleriane Purifying Cleanser is a hydrating cleanser that has a foaming gel texture that removes makeup, dirt, and excess oils. It helps retain the skin's natural moisture and maintains its pH and natural protective barrier. This dermatologist-recommended face wash is formulated with ceramide-3, which is present naturally in the skin. The prebiotic thermal water and niacinamide have antioxidant properties that hydrate and soothe the skin. Glycerin naturally draws moisture to the skin, keeping it hydrated and supple.
Skin Type: Normal and Oily
Pros
Non-comedogenic
Allergy-tested
Dermatologist-tested
Sensitive skin tested
Soap-free
Paraben-free
Sulfate-free
Oil-free
Fragrance-free
Cons
This face wash from THE FACE SHOP is one of the best brightening face cleanser, infused with natural rice water that brightens and smoothens the skin. The milky-white rice water was a traditional beauty treatment among the royal women in Korean dynastic kingdoms. It is enriched with vitamins A, B, and E and minerals that cleanse and nourish the skin without irritating it. This face wash also contains the antioxidant-rich moringa oil that moisturizes the skin and soapwort that is a gentle cleanser. It soothes and softens the skin, evens out the skin tone, and gives it a glass-like appearance.
Skin Type: Oily, Combination, Dry, and Normal
Pros
Contains natural ingredients
Paraben-free
Mineral oil-free
Tar-free
Talc-free
Paraffin-free
Polyacrylamide-free
Cons
Contains SLS
Leaves a white chalky film
The Brightening Face Wash from Himalaya is a soap-free daily cleanser. It is formulated with licorice and white dammer that awaken dull skin and enhance the complexion. Saffron evens and brightens the skin tone. Cucumber soothes irritation and redness, while pomegranate nourishes the skin. This face wash reduces dark spots and imparts a healthy glow to the skin.
Skin Type: Oily, Combination, Dry, and Normal
Pros
Dermatologically tested
Phthalate-free
SLS-free
SLES-free
Paraben-free
Cruelty-free
Cons
The DIFFERIN Daily Deep Cleanser offers deep cleansing with minimum redness and irritation. It delivers a dual-action treatment with a micronized formula that seeps into the pores and absorbs the excess oil while simultaneously moisturizing the skin without clogging the pores. This face wash contains 5% benzoyl peroxide to treat acne and cleanses sensitive skin without stripping its natural oils.
Skin Type: Sensitive
Pros
Dermatologically tested
Paraben-free
Reduces acne
Cons
proactiv brings you a comprehensive therapy for sensitive and acne-prone skin. This exfoliating face wash is infused with micronized benzoyl peroxide that penetrates deep into the pores and destroys acne-causing bacteria to prevent fresh breakouts. It also contains hyaluronic acid that moisturizes and maintains the skin's hydration level and chamomile that soothes and calms the skin. The tiny exfoliating beads lift away dead skin cells and impurities to prevent pore clogging.
Skin Type: Oily, Combination, Sensitive, and Dry
Pros
Dermatologist-tested
Clears acne
Improves skin tone and texture
Cons
This anti-aging face wash scrub from OLAY provides deep cleansing and gentle exfoliation to the skin. The detoxifying cleanser infused with amino peptides and exfoliators increase cell turnover and reduce pore appearance.
The lathering gel formula polishes away dead and dull skin, revealing smooth and bright skin. It provides a refreshed base for further skin care products. The hydrated silica and minute skin polishers do not scratch the skin layers, minimizing over-scrubbing and damage due to exfoliation. Glycerin fortifies the skin's moisture barrier for a youthful appearance.
Skin Type: Mature
Pros
Anti-aging
Gentle
Value for money
Cons
The PACIFICA Sea Foam Face Wash is an anti-aging formula powered by advanced marine phytonutrients. It is an effective makeup remover face wash and also eliminates impurities, dirt, and excess oil, thus making your skin feel refreshed. It is infused with skin-loving ingredients like coconut oil, coconut water, white tea, and sea algae, which offer deep cleansing and balance the skin's pH and oil content. The soft foaming formula smells of fresh coconut and suits all skin types.
Skin Type: All
Pros
Smells good
Vegan
Cruelty-free
Sulfate-free
Paraben-free
Phthalates-free
SLS-free
Mineral oil-free
Cons
The TruSkin Daily Facial Cleanser has vitamin C to repair damaged skin and vitamin E to protect the skin from free radical damage. Ingredients like olive oil, rosehip oil, and aloe vera provide nourishment and have anti-aging properties, while tea tree oil prevents breakouts.
The skin-friendly ingredients of this herbal face cleanser combat fine lines, wrinkles, dark spots, and sun spots, making your skin brighter and fresher. This face wash refines skin tone and texture by promoting hydration, collagen production, and radiance. It clears the skin of all dirt and debris without stripping it of its natural oils.
Skin Type: Oily, Combination, Sensitive, Dry, and Normal
Pros
Lightweight
Gentle
Sulfate-free
Paraben-free
Alcohol-free
Cruelty-free
Vegan
PEG-free
Clinically tested
Dermatologist-tested
Cons
This daily facial cleanser from Aveeno is a mild formula that helps remove makeup, oil, and dirt and unclogs pores. It is rich in antioxidants that wash away 99% of skin impurities that cause aging signs. This face wash secures the skin's moisture barrier and keeps the face hydrated and protected. The nourishing formula is rich in blackberry extracts that reduce the visible signs of collagen and elastin loss.
Skin Type: Mature
Pros
Non-comedogenic
Anti-aging
Gentle
Dermatologically tested
Smells good
Cons
The eltaMD Foaming Facial Cleanser contains a blend of amino acids and enzymes that washes off makeup, pollutants, and dirt from the pores, leaving the skin feeling clean, refreshed, and toned. Bromelain reduces inflammation and gets rid of dead skin cells to make the skin smooth. The self-foaming technology lifts dirt, eliminates free radicals, and prevents oxidation. The micro-massaging bubbles infuse oxygen into the skin with every wash.
Skin Type: Oily and Sensitive
Pros
Gentle
Oil-free
pH-balanced
Sensitivity-free
Dermatologically tested
Cons
The Paula's Choice Resist Perfectly Balanced Foaming Cleanser is a gentle exfoliating cleanser that removes dirt, impurities, and makeup. The nourishing formula contains aloe vera and sunflower seed oil to moisturize the skin without leaving it tight or dry. The hyaluronic acid in the clinically-proven formula hydrates and clears the skin of age lines, wrinkles, and redness, thus keeping it smooth and clear. The foaming cleanser has shown proven efficacy in reducing irritation. Furthermore, it creates a light lather, and reduces pore size and cleanses the skin for a refreshed feeling. The skin-restoring ceramides protect the natural skin barrier and strengthen the skin surface.
Skin Type: All skin types
Pros
pH balanced
Sulfate-free
Paraben-free
Phthalates-free
Cruelty-free
Vegan
Cons
None
This is an all-in-one gel foaming formula that can be used daily. It contains micelles that work like magnets to capture dirt, makeup, oils, and other impurities from the pores without excessive scrubbing. The fragrance-free cleanser does not dry the skin out and is suitable for all skin types. It refreshes your skin without leaving any residue.
Skin Type: All
Pros
Gentle
Non-comedogenic
Dermatologically tested
Oil-free
Sulfate-free
Fragrance-free
Paraben-free
Alcohol-free
Cons
This face wash from CHRISTINA MOSS NATURALS is made of natural ingredients that clean and soothe the skin. The non-oily, non-drying formula is infused with rosemary extract that protects the skin cells from free radical damage and offers a minty fresh fragrance.
It also contains olive fruit oil, which treats damage caused by UV rays. Its antioxidant properties also deep cleanse the pores and reduce acne. Aloe vera soothes the skin with its calming and anti-inflammatory properties, while coconut oil increases circulation and moisturizes the skin.
Skin Type: Oily, Combination, Dry, and Normal
Pros
Hypoallergenic
SLS-free
SLES-free
Propylene glycol-free
Paraben-free
Sulfate-free
Dye-free
Synthetic fragrance-free
BPA-free
Cruelty-free
Cons
The first step of every skincare regimen is washing your face! Finding that perfect face wash to deeply cleanse your skin and allow you to work with a clean canvas is important. However, not all cleansers are made equal, and you must find your best match based on your skin type. Here are a few things to keep in mind before making a buying a facial cleanser online or at a beauty shop.
What You Need To Know Before Buying A Face Wash/ Cleanser
Choose a cleanser that is right for your skin type. If you don't, it could worsen your skin condition or damage the skin barrier. For instance, if you have dry skin, go for a deeply hydrating, oil-based, or creamy, pH-balanced face wash. On the other hand, those with oily skin should opt for a foaming cleanser to eliminate excess sebum and dirt from the skin. Finally, for sensitive skin, opt for a scientifically formulated lightweight, gel-based cleanser.
Choose cleansers that don't have parabens, formaldehyde, Cocamidopropyl betaine, sulfates, SLS, mineral oils, petrolatum, or phthalate, all bad chemicals for your skin. Avoid anything with silicone, lanolin, or aluminum in it. It's better to go as natural as you can. Additionally, don't use cleansers with alcohol in them. They dry out your skin and damage your skin's barrier. Instead, opt for pH-balanced products that help maintain your skin's health. Always opt for dermatologist-tested products over regular ones.
If you wear makeup and use loads of sunscreen daily, make sure to use an oil-based cleanser to take everything off before bed. If you have acne, look for an exfoliating face wash. If you have dry or sensitive skin, opt for a gentle cleanser.
Even if you don't have skin problems, it's always smart to choose fragrance-free products. Instead, opt for products that have a natural fragrance or don't have any scent at all.
Why Trust StyleCraze?
Shiboli Chakraborti, the author of this article, is a certified skin care coach. She has thoroughly researched and read many online customer reviews on trusted online platforms to compile the list of best face washes. She checked the brand websites to go through the ingredients and other information. The products included in the list cleanse your skin without drying and causing any damage.
Frequently Asked Questions
Is it good to use face wash daily?
Yes. A face wash is meant to cleanse your skin and get rid of dirt and debris. Some people may only need to cleanse once at night if they are dry or alipidic (produce minimal oil). In such skin types, over-cleansing can damage the moisture barrier and create acne flares and/or sensitivity.
Is face wash good for skin?
Face wash is one of the most important steps in your skin care routine. It does the job of washing away dirt, oil, and grime from your face that accumulates on a daily basis. Cleansing should be done every night before bed to avoid clogged pores, but also to not transfer debris to your pillowcase that can cause skin issues.
Is it OK to wash your face with just water?
Yes. If you have very dry skin, you can wash your face with just water in the morning. However, you should use a face wash at night to get rid of makeup, excess oil, and dirt from your face.
What to apply after washing your face?
You can apply a toner after washing your face to balance the skin's pH and prep your skin for better product absorption.
How many times do I use face wash in a day?
You can wash your face with a face wash twice a day.
Can I wash my face with soap?
Traditional body soaps can be too harsh for skin on the face. It is likely the skin will feel extremely dry and tight due to being stripped of its protective barrier, leaving it feeling uncomfortable and vulnerable to irritants and bacteria. A face wash, on the other hand, is regarded as gentler than soap. Face washes are designed specifically for your face while keeping your skin's pH in mind.
How long should I wash my face?
You can wash your face anywhere around 45 seconds to a minute.
Recommended Articles
Best Natural Face Washes For Skin That Is Healthy And Radiant
Best Anti-Aging Face Washes And Cleansers To Keep Wrinkles At Bay
Best Paraben-Free Face Washes For Every Skin Type
Best Foaming Face Washes