10 Best Face Washes For Blackheads (2021)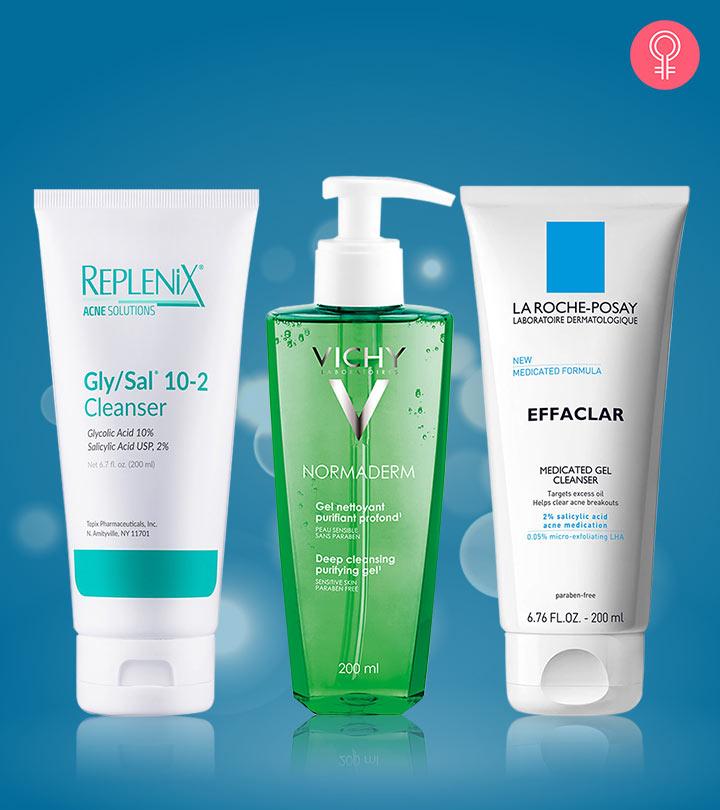 Blackheads are what my worst nightmares are made of. And yours too, I'm sure. Isn't that why you're here? Call it the wrath of the skin care gods or our unhealthy lifestyles, but when it comes to fighting blackheads, all our best efforts are often wasted. Even if you do manage to get rid of those ugly bumps, they keep coming back with a vengeance. Did you know the trick to winning over blackheads lies in your face wash? Yes, you read that right. Here are 10 of the best face washes for blackheads that you must check out immediately!
Top 10 Face Washes For Blackheads
Product Claims
Biore Charcoal Acne Clearing Cleanser deep cleans, penetrates pores, and absorbs excess oil from oily skin without irritating it or stripping away its moisture. Charcoal, known for its oil-absorbing properties, works with acne-fighting salicylic acid and skin-purifying technology in this cleanser to treat existing acne and prevent future breakouts by deep cleansing your pores. The result is quick freedom from blackheads, clogged pores, blemishes, and excess oil.
Pros
Suitable for oily skin
Ideal for daily use
Removes excess oil
Helps treat acne
No greasy residue
Oil-free formula
Dermatologist-tested
Paraben-free
Travel-friendly packaging
Pleasant fragrance
Cons
Similar Products

Product Claims
Body Merry Glycolic Acid Exfoliating Cleanser contains 2.5% glycolic acid, willow bark, and jojoba beads that alleviate clogged pores and get rid of dead skin, dirt, and oil build-up. Its formula also contains kojic acid, and the plant-based oils in it nourish and moisturize your skin while getting rid of excess grime. This gentle face wash works to effectively reduce age spots, dark spots, sun spots, and other forms of discoloration while helping with acne, acne scars, and premature aging.
Pros
Suitable for most skin types
Provides gentle exfoliation
Mild fragrance
Removes excess oil
Reduces blackheads
Non-drying
No added perfume
Cruelty-free
Hygienic packaging
Cons
May increase your skin's sensitivity to the sun
Similar Products

Product Claims
COSRX Low pH Good Morning Gel Cleanser is formulated using purified botanical ingredients that soothe, refresh, and soften your skin without stripping it of essential moisture. This mildly acidic, gel-based cleanser is highly effective in cleansing excess sebum without irritating or drying out your skin. The BHA (Betaine Salicylate) in it helps gently wash away all the impurities on your skin, and tea tree oil soothes irritated skin.
Pros
Suitable for all skin types
Gentle on sensitive skin
Ideal for daily use
SLS-free
Paraben-free
Low pH formula
Non-drying
Long-lasting
Travel-friendly packaging
Cons
May cause breakouts
May leave behind a sticky residue
Similar Products

Product Claims
ArtNaturals Clarifying Face Wash contains natural fatty acids that deep clean and exfoliate your skin without causing redness, flaking, or drying. It also contains aloe vera and extracts of cucumber and seaweed that soothe inflamed skin and promote healing. Its natural acids penetrate deep into your skin to clean out pores and coax it back to health. This face wash provides the much needed deep cleansing and exfoliation of dirt and oil, which can lead to blackheads and cysts.
Pros
Suitable for oily and acne-prone skin
Ideal for daily use
Non-drying
Travel-friendly packaging
Paraben-free
Sulfate-free
Gluten-free
Cruelty-free
Cons
Contains added fragrance
May cause breakouts
Similar Products

Product Claims
Paula's Choice Clear Pore Normalizing Cleanser has a gel texture formula that cleanses skin gently without causing any irritation. It is formulated with salicylic acid that effectively dissolves pore-clogging impurities, preventing blackheads and breakouts. It removes dirt, excess oil, and makeup, while arginine calms down redness and irritation. Moreover, the pro-vitamin B5 in the formula absorbs moisture from the air to keep your skin intensely hydrated. It also even tones your skin, leaving it fresh and radiant. It is suitable for all skin types, including sensitive skin.
Pros
Suitable for all skin types
Cruelty-free
Paraben-free
Fragrance-free
100% Recyclable
Cons
May dry out your skin
Similar Products

Product Claims
La Roche-Posay Effaclar Medicated Gel Cleanser is a medicated acne face wash formulated with salicylic acid. It targets excess oil, pimples, blackheads, and whiteheads to give you clear skin. It is clinically tested to reduce excess surface oil by up to 47%. Its exclusive micro-exfoliating Lipo Hydroxy Acid targets oily areas on the skin surface to provide precise cell-by-cell removal of debris and dirt.
Pros
Suitable for daily use
Gentle on sensitive skin
Oil-free
Fragrance-free
Paraben-free
Allergy-tested
Dermatologist-tested
Cons
Contains SLES
May dry out your skin
May cause breakouts
Product Claims
Replenix Acne Solutions Gly/Sal 10-2 Cleanser pairs 10% glycolic acid with 2% salicylic acid to help clear acne from sensitive skin. The Gly-Sal acne treatment removes dead skin cells, unclogs pores, and regulates oil production without drying out your skin. This exfoliating cleanser gently cleanses your skin and removes build-up, keeping your complexion free of breakouts, blemishes, and other signs of acne. The soothing green tea in it protects your skin from free radicals while calming irritation.
Pros
Helps control oil
Exfoliates well
Removes surface oils
Paraben-free
Sulfate-free
Oil-free
Non-comedogenic
Cons
May cause dryness
May cause peeling
May irritate sensitive skin
Product Claims
NeoStrata Foaming Glycolic Wash is a powerful foaming facial cleanser for experienced glycolic acid users who prefer deep cleansing without irritation. The 18% glycolic acid in this formula smoothens the appearance of fine lines and wrinkles while lactobionic acid diminishes lines and wrinkles and smoothens skin texture. Regular usage of this face wash reduces pore size, fights blemishes, and gives you even-toned skin.
Pros
Suitable for all skin types
Unclogs pores
Soap-free
Fragrance-free
pH-balanced
Dermatologist-recommended
Cons
Contains parabens
May cause breakouts
May cause peeling
Product Claims
Pure Biology Facial Cleanser is  formulated with botanical extracts and natural essential oils. The blend has sage, dil, lemon peel, rosemary, and lemongrass oil to deeply clean your pores to prevent acne and blackhead formation.  They also brighten up your complexion without stripping off the skin's natural moisture. The sodium hyaluronate in the formula hydrates the skin, leaving it balanced and healthy. It reduces inflammation and dark spots, and tightens fine lines for a youthful skin tone with its FisionWrinkleFix technology. It is suitable for all skin types and comes in an easy pump dispenser bottle.
Pros
Suitable for all skin types
Paraben-free
GMO-free
Cruelty-free
Cons
Product Claims
Clarins One-Step Gentle Exfoliating Cleanser strips away dead cells, impurities, and makeup to leave you with smooth and radiant skin. The orange extract in this face wash softens and refreshes your skin and renews its radiance. Moringa seed extract purifies and refines your skin while preserving its natural moisture balance. The gentle silica microbeads give clogged pores a breather and uncover a blackhead-free complexion.
Pros
Suitable for all skin types
Gentle on sensitive skin
Travel-friendly packaging
Pleasant fragrance
Non-drying
Cons
May not be suitable for daily use
May be too harsh for some skin types
Not too effective at removing makeup
Does not exfoliate well
[ Also Try – Cetaphil Daily Facial Cleanser ]
These are the 10 best anti-blackhead face washes in the market right now. I hope this list gave you some hope and you have added your favorites to your shopping cart by now. Go ahead and give these face washes a chance and see the difference for yourself. And, do remember to share your experiences with us in the comments section below.
Recommended Articles