16 Best Face Washes For Oily Skin In India – 2023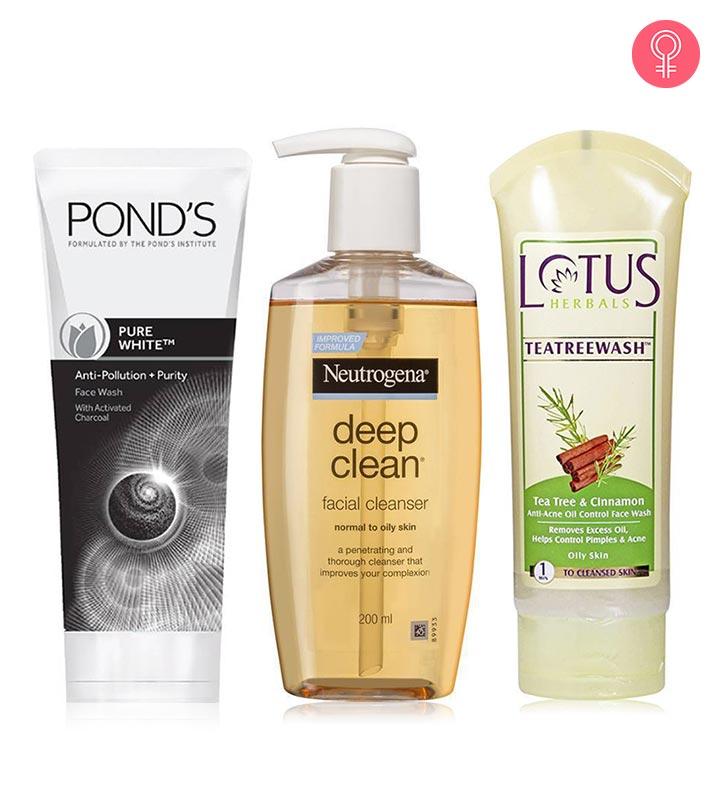 It is important to adopt a good cleansing-toning-moisturizing routine if you want to maintain your youthful glow forever. This routine is even more critical for people with oily skin. This is why investing in a good face wash is necessary. You should pick something that controls oiliness without overdrying the skin. Here, we have listed 16 best face washes for oily skin that can help you fight the grease. Read on.
Top 16 Face Washes For Oily Skin
Product Claims
Himalaya Herbals Purifying Neem Face Wash has an herbal formula and is the best face wash for oily skin. It removes the excess oil and impurities that clog your pores. It contains neem and turmeric that prevent future acne. Neem has antibacterial properties while turmeric is a natural antiseptic. It evens out your skin tone and gives you soft and clear skin.
Pros
Ideal for pimple-prone skin
Gentle on sensitive skin
Mild enough for daily use
Non-drying
Soap-free formula
Hypoallergenic
Travel-friendly packaging
Paraben-free
Refreshing fragrance
Cons
Product Claims
Neutrogena Deep Clean Facial Cleanser gently pampers your skin and makes it soft, supple, and healthy. This face wash cleanses your pores by dissolving dirt, grime, oil, and makeup. It also removes dead skin cells to give you a naturally glowing and radiant complexion. This is the best cleanser for oily skin as you can use it daily for refreshed skin, without having to worry about clogged pores.
Pros
Ideal for daily use
Gentle on sensitive skin
Removes makeup effectively
Non-drying
Non-comedogenic
Dermatologist-tested
Oil-free
Alcohol-free
Paraben-free
Cons
Product Claims
St. Botanica Vitamin C Gentle Foaming Brightening Face Wash is an antioxidant-rich foaming face wash. It brightens, nourishes, and protects the skin. It contains vitamin C, aloe vera juice, cypress oil, and licorice and turmeric extracts. This face wash protects your skin from free radical damage, restores your complexion, boosts collagen production, and makes your skin healthier. It also soothes irritation and moisturizes the skin.
Pros
Removes impurities
Promotes a clearer and brighter complexion
Maintains the skin's moisture
Sulfate-free
Paraben-free
No mineral oil
No harmful chemicals
Cruelty-free
Cons
Not suitable for acne-prone skin
4. Olay Regenerist Advanced Anti-Ageing Revitalizing Cream Cleanser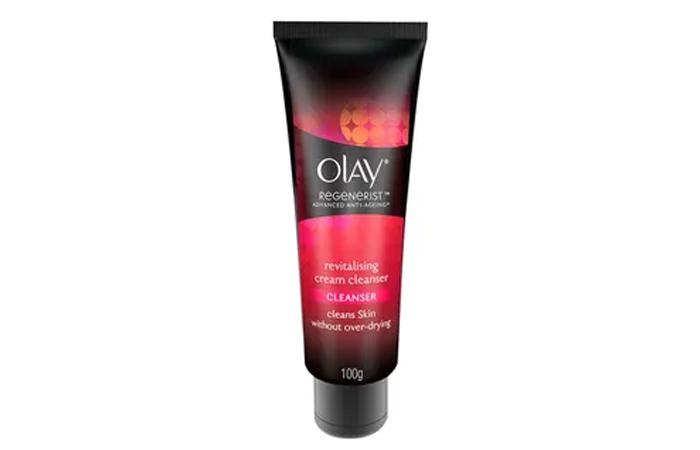 Olay Regenerist Advanced Cream Face Wash Cleanser helps to repair the skin by speeding up the natural regeneration of skin cells. In addition to the exclusive, advanced ingredients with cleansing properties contained in it, it has oxygenated dermabeads that will exfoliate the skin surface. Being a cream cleanser is that it also has detoxifying properties. With active anti-aging components such as Vitamin E and green tea extracts, it also helps to ease the signs of aging on the face.
Pros:
Cleanses the skin deeply
Exfoliates the skin to remove damaged cells and impurities
Revitalizes skin cells to improve brightness and glow
Repairs the outer epidermal layers to make the skin look younger
Detoxifies the skin with oxygenated derma beads
Locks in moisture by strengthening the moisture barrier

Product Claims
Mamaearth Charcoal Face Wash has activated charcoal, clay, and coffee as the core ingredients. This face wash is specially formulated to cleanse deeply, reduce excess oil, and eliminate toxins for a glowing skin. Activated charcoal helps remove impurities from the pores and maintain a natural skin tone without irritating or drying the skin. Coffee and clay provide gentle exfoliation to remove excess sebum, deposits, and everyday grime from the skin's surface. The result is refreshed and healthy skin with a radiant glow.
Pros
Natural ingredients
Hypoallergenic
Paraben-free
SLS-free
Suitable for all skin types
Cruelty-free
Cons
Sensitive skin may experience rash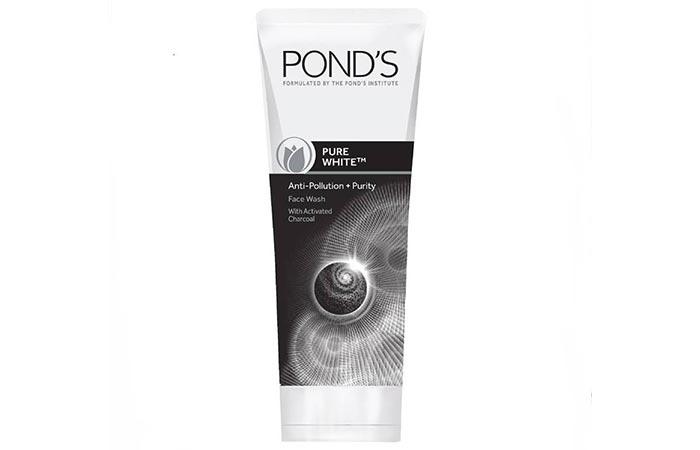 Product Claims
This revolutionary face wash from Pond's contains activated charcoal that eliminates all traces of pollution, dirt, and makeup from your skin to leave it pure and glowing. It reveals your natural radiance by removing dead skin cells from the surface and going deeper to clean out all other impurities in your skin. Activated charcoal is known to act as a magnet that sucks out pollution, dirt, and dust.
Pros
Gentle on sensitive skin
Ideal for daily use
Controls oil for several hours
No greasy residue
Non-drying
Paraben-free
Travel-friendly packaging
Cons
May cause breakouts
Expensive
Product Claims
Clean & Clear Foaming Face Wash is specially designed to cleanse your skin thoroughly, remove excess oil, control shine, and prevent pimples. It lathers well and removes dirt, grime, and makeup effectively. Its liquid formula cleanses your skin deeply without causing dryness. Regular usage gives you a healthy and glowing complexion.
Pros
Gentle on sensitive skin
Ideal for daily use
Alcohol-free
Non-drying
Travel-friendly packaging
Affordable
Cons
Contains parabens
Contains added fragrance
Product Claims
Aroma Magic Neem and Tea Tree Face Wash is made with an Ayurvedic disinfecting formula to cure acne. Neem rids your skin of bacteria while removing excess sebum and impurities. This face wash maintains your skin's oil balance with rose petal extracts. The added vitamins in it help lighten scars and blemishes and improve your skin tone. It also contains a blend of tea tree and lavender essential oils that prevents blackheads and soothes skin irritation.
Pros
Paraben-free
Soap-free
Alcohol-free
Fragrance-free
Cruelty-free
No artificial coloring
Travel-friendly packaging
Cons
May cause breakouts
May dry out skin
Product Claims
Lotus Herbals Tea Tree And Cinnamon Anti-Acne Oil Control Face Wash controls acne and reduces excess oil without leaving behind any pore-clogging residue. It also regulates sebum production, reduces dry patches, and hydrates your skin. The cinnamon in it acts as a natural cleanser that removes dead skin cells and improves blood circulation to make you look fresh and youthful.
Pros
Can also be used as a mild scrub
Non-drying
Ideal for daily use
Travel-friendly packaging
Pleasant fragrance
Affordable
Cons
Contains parabens
Not effective at removing makeup
Product Claims
Nivea Milk Delights Face Wash is specially formulated with the goodness of besan and milk. Besan or gram flour effectively absorbs excess oil from the skin and gives it a natural mattifying effect. Milk, a natural and gentle cleanser, removes dirt and excess sebum without stripping the skin of its natural oils. This face wash imparts a natural radiance and can be used daily.
Pros
Gentle formula
pH-balanced
Irritation-free
Oil-free
Travel-friendly container
Cons
Product Claims
Himalaya Herbals Purifying Neem Foaming Face Wash is a mild herbal formula that cleanses your skin deeply by removing impurities and excess oil. Unlike soap, foam does not leave your skin feeling stretched or dry. The antibacterial properties of neem kill bacteria while turmeric controls acne and pimples. Regular use of this face wash gives you refreshingly soft, clear, and supple skin.
Pros
Ideal for daily use
Gentle on sensitive skin
Soap-free formula
Paraben-free
Travel-friendly packaging
Non-drying
Cons
Contains added fragrance
Not effective on cystic acne
Price at the time of publication: ₹168.0
Product Claims
Plum Green Tea Pore Cleansing Face Wash is formulated especially for oily and combination skin types. It cleanses your skin gently yet thoroughly to remove excess oil and prevent blocked pores – the primary cause of acne. This foaming cleanser is gentle on your skin and does not dry it out. The cellulose beads act as a gentle scrub and offer mild exfoliation.
Pros
No parabens, phthalates, and SLS
Vegan
Cruelty-free
Travel-friendly packaging
Refreshing fragrance
Cons
Expensive
May irritate sensitive skin
May cause dryness
Price at the time of publication: ₹236.0
Product Claims
Oriflame Love Nature Tea Tree Cleansing Gel effectively cleanses oily skin with the power of tea tree essential oil. The water-based gel face wash removes impurities, makeup, and excess sebum, helping to prevent blemishes without overdrying your skin. It keeps your face oil-free and heals pimples while preventing future acne breakouts. You can also use it as a makeup remover after a long day.
Pros
Controls oil for several hours
Ideal for daily use
Paraben-free
Non-drying
Travel-friendly packaging
Cons
Contains SLES
Added fragrance
Expensive
Product Claims
MCaffeine Naked & Raw Coffee Face Wash gives your face the daily boost of clean freshness. The deep cleansing formula is enriched with pure Arabica coffee and exotic white waterlily. These skin-purifying ingredients clarify your skin, regenerate skin cells, reduce cellulite, soothe irritated skin, fight acne and pimples, and prevent them from coming back.
Pros
Clinically tested
Refreshing fragrance
SLS- and-paraben-free
Cruelty-free
Travel-friendly packaging
Cons
Expensive
May cause breakouts
May cause dryness
Product Claims
Himalaya Herbals Oil Clear Lemon face wash is a soap-free, herbal formulation that gently cleanses your face and removes excess oil. The lemon extract in this face wash acts as an astringent and cooling agent. Honey has deep cleansing properties that help eliminate dirt and grime without making your skin feel dry or stretched. It also helps fade freckles and age spots and removes blackheads.
Pros
Ideal for daily use
Non-drying
Paraben-free
Soap-free
Travel-friendly packaging
Cons
May cause breakouts
Non-organic
May leave an oily residue
Product Claims
Cetaphil Oily Skin Cleanser replenishes skin lipids and moisturizes the skin. It removes excess oil from the skin without drying it out. The gentle foaming action rinses easily and does not leave behind any residue that can clog pores or irritate skin. This face wash also helps eliminate dirt and makeup to give you fresh skin that doesn't feel tight.
Pros
Hypoallergenic
Ideal for daily use
Soap-free
Non-comedogenic
Cons
Contains SLES
Contains added fragrance
May irritate sensitive skin
Expensive
These are some of the best face washes for oily skin to keep it fresh and oil-free. Listed below are a few things to keep in mind before you purchase any of them.
Things To Consider When Buying A Face Wash For Oily Skin
Check the ingredient before buying a face wash. Opt for face washes that contain natural ingredients like tea tree oil, papaya, and aloe vera. They help balance the oil and have a calming effect. Also, check for ingredients like AHA and BHA. They have an exfoliating effect on the skin and prevent acne. Avoid soap-based formulas as they might dry out your skin and cause tightness. Also, buy a face wash that does not contain parabens and SLS.
Synthetic fragrances may cause skin irritation, redness, and rashes. So, avoid any face wash that includes parfum or fragrance on their ingredients list.
The best face wash for oily skin is one that is clinically tested and dermatologically approved. This reduces the risk of skin irritation.
User reviews help you get an idea about the product and how it performs. If you are unsure about any product, check the reviews to evaluate its pros and cons.
These are the best face washes for oily skin. Which of these would you try for a shine-free complexion? Let us know about your favorites in the comments below.