16 Best Cleansers and Face Washes for Sensitive Skin – 2020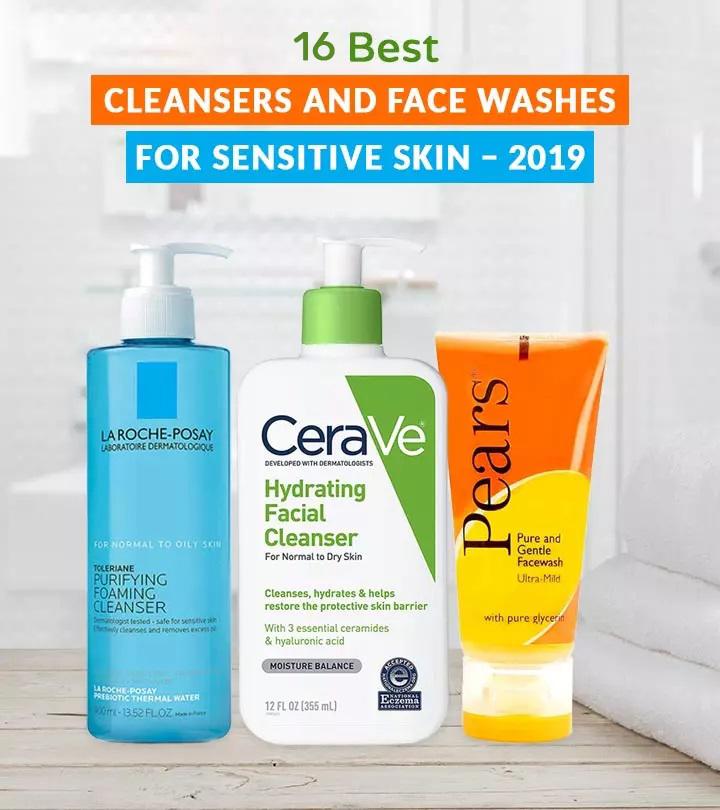 Sensitive skin reacts to almost any product – especially when you don't know which ingredients are suitable for it. Thankfully, almost all major brands have face washes that are specifically meant for such skin types. Here, we have listed the best face washes that will not irritate or sting your sensitive skin or cause breakouts. Check them out.
Best Face Washes For Sensitive Skin
Product Claims
If you like Ayurvedic and herbal products, you will love this cleanser from Kama Ayurveda. It is lightweight and ultra gentle on your skin. It has a foaming formula that cleanses impurities and excess oil from your face and restores moisture. It provides intense hydration and protects your skin from the effects of environmental irritants.
Pros
Contains herbal ingredients
Contains cold-pressed aloe vera juice
Contains certified organic ingredients
100% natural
Dermatologically tested
Anti-inflammatory
No artificial fragrance
No petrochemicals
Paraben-free
No urea
Cons
None
Product Claims
This extremely mild cleanser gives your skin the much-needed love and care. It keeps your skin hydrated, does not irritate it, and has a heavenly fragrance that also invigorates your senses. It contains aloe vera extracts that have a calming and soothing effect on your skin. Also, the brand gives away 1% of every sale for saving the environment!
Pros
Soap-free
SLS-free
No harmful and drying chemicals
Paraben-free
Phthalate-free
Cruelty-free (PETA-certified)
100% vegan
Cons
None
Product Claims
St. Botanica Vitamin C Gentle Foaming Brightening Face Wash is rich in antioxidants. It is formulated with aloe vera juice and cypress oil. Vitamin C protects the skin from free radical damage and gently removes dirt and impurities. It restores the natural glow of the skin and boosts collagen production to make it look plump, youthful, and healthier. Cypress oil and aloe vera juice hydrate, moisturize, and soothe irritated skin. This foaming formula is perfect for sensitive, oily, dry, combination, and acne-prone skin. It rejuvenates the skin and leaves it feeling refreshed, soft, and nourished.
Pros
Antioxidant formula
Moisturizes the skin
Cleanses dirt and impurities
Boosts collagen production
Soothes irritated skin
Make the skin look plump, youthful, and healthy
Restores skin's natural glow
Makes the skin soft and supple
Does not dry out the skin
Suitable for sensitive, oily, dry, combination, and acne-prone skin
Cons
None
Product Claims
This extremely gentle cleanser by one of the most preferred brands, Neutrogena, is developed with patented technology. It gently cleanses your skin, without leaving any residue, and makes it baby soft. It doesn't contain skin irritants and is suitable for eczema, atopic dermatitis, acne, and rosacea-prone skin types.
Pros
Soap-free
Developed with dermatologists
Dye-free
Hypoallergenic
Non-comedogenic
Contains glycerin
Cons
[ Also Read – Neutrogena Deep Clean Facial Cleanser Benefits ]
Product Claims
This daily face wash clears makeup, dirt, and other impurities from your face. It has a refreshing gel-based formula that doesn't strip the natural oil of your skin. It has a foaming formula that leaves your skin feeling refreshed after a long tiring day.
Pros
Dermatologist-tested
Contains La Roche-Posay prebiotic thermal water
Contains ceramide-3
Contains niacinamide
Paraben-free
Fragrance-free
Oil-free
Cons
Product Claims
Deep thorough cleansing is the first step toward loving your skin, and this face wash can help you with that. The SebaMed Cleansing Foam contains panthenol that clears bacteria from your skin, removes traces of dirt and makeup, and helps maintain the pH of your skin.
Pros
Suitable for acne-prone skin (inflamed forms of acne)
Clinically tested
pH balanced
Paraben-free
SLS-free
Phthalate-free
Cons
None
Product Claims
If you have oily, acne-prone, and sensitive skin, this cleanser is for you. It contains zinc PCA, an active ingredient that prevents your skin from drying out. This product has a hydrating formula that maintains the moisture balance, clears dead skin cells, and does not irritate your skin.
Pros
Contains clinically proven actives
Dermatologically tested
Non-comedogenic
Paraben-free
Mineral oil-free
Sulfate-free
Affordable
Cons
None
Product Claims
This is a gentle cleanser suitable for those with sensitive skin. It penetrates deep into the skin to moisturize and nourish it. It contains ceramides and hyaluronic acid that keep your skin moisturized and soft.
Pros
Developed by dermatologists
Non-comedogenic
Non-irritating
Fragrance-free
Accepted by the National Eczema Association
Cons
Product Claims
This ultra-mild facial cleanser is what you need for clear and healthy skin. It doesn't contain any harsh chemicals that could irritate your skin. It has a non-drying formula. A little bit of the product is enough to work up a mild lather that leaves your skin squeaky clean.
Pros
Fragrance-free
Oil-free
Hypoallergenic
Non-comedogenic
Contains glycerin
Cons
Contains artificial color
Product Claims
It is an effective yet gentle skin cleanser that can also be used by kids. You can use it on your face as well as body. It has a soap-free formula and doesn't cause dryness.
Pros
Dermatologist recommended
No artificial and masking fragrance
Oil-free
SLS-free
Paraben-free 
Cons
Product Claims
Although it is meant for normal to dry skin, if you have sensitive and rosacea-prone skin, this cleanser can help. Itcontains soothing ingredients that remove makeup, dirt, and all impurities from your skin. It eases redness and promotes healthy skin.
Pros
pH adjusted
Hydrating
Fragrance-free
Cruelty-free
Non-irritating
Sustainable ingredients
Cons
Product Claims
This is one of the most popular dermatologist-recommended face cleansers for people with sensitive and problematic skin.  It has a mild and non-irritating formula that gently cleanses your face without causing excessive dryness. It doesn't leave any residue on your skin and does not clog your pores.
Pros
Dermatologist recommended
Soap-free
Fragrance-free
pH-balanced
Non-comedogenic
Cons
Contains parabens
Contains SLS
[ Also Read – Review of Cetaphil Gentle Skin Cleanser ]
Product Claims
This face wash is formulated with Calming Feverfew, which is a botanical extract related to chamomile. It keeps your skin calm, reduces redness, and is gentle enough for daily use. It cleans dirt, oil, and makeup from your face without irritating it.
Pros
Soap-free
Fragrance-free
Non-comedogenic
Hypoallergenic
Cons
Contains parabens
Contains PEG-16
Product Claims
If you have super sensitive skin, this face wash is ideal for you. It has a hypoallergenic formula and is suitable for daily use. It doesn't cause any irritation or burning sensation and is extremely mild. It cleanses your sensitive skin gently without stripping its natural protective oils.
Pros
Developed by dermatologists
Soap-free formula
No artificial fragrance
Cons
Contains Diazolidinyl urea (formaldehyde-releasing preservative)
Product Claims
Pears is one of the most trusted names in the skincare industry. This face wash claims to contain nourishing milk proteins that keep your skin soft and supple. It is enriched with glycerin that soothes your skin and doesn't let it feel dry and itchy.
Pros
Soap-free
Recommended by doctors
Mild-fragrance
Cons
Product Claims
This gentle and hydrating cleanser is suitable for dry and sensitive skin. It has a foaming formula that forms a rich lather and cleanses your skin.  It doesn't leave any soapy residue on your skin and makes it feel soft and refreshed.
Pros
Dermatologist recommended
Soap-free
Non-comedogenic
Fragrance-free
Cons
Contains Imidazolidinyl Urea (formaldehyde-releasing preservative)
Contains SLS
Now that you know which are the best cleansers for sensitive skin, let us guide you through some vital points to consider before buying one.
Things To Consider When Buying A Cleanser For Sensitive Skin
Look for a cleanser with a dense and creamy texture and soothing ingredients like witch hazel, willow bark, or aloe vera for sensitive skin. Such ingredients help in balancing the pH and preventing skin irritation without making your skin dry. It is recommended to stay away from harsh ingredients that can cause damage to sensitive skin. Avoid opting for soap-based cleansers as they have alkaline properties and can dehydrate the skin.
A cleanser with mild exfoliants is a great choice as it helps in removing excess dirt and impurities. A cleanser with soft particles like microbeads or peach pits is also recommended. Additionally, do not buy cleansers with artificial fragrances as they can cause itching and rashes on sensitive skin.
A product is labeled as safe to use on sensitive skin if it meets all the quality standards. Therefore, make it a point to always check the label. Any product that is dermatologically approved or clinically tested is safe to use.
Facial cleansers for sensitive skin come in different price ranges. You can get any suitable cleanser within your budget, but it does not mean that you should go for any random brand. Always invest in a brand you have heard of and is trusted.
Facial cleansers mainly come in two types of packaging, i.e., pump bottle and tube. You can opt for either packaging as per your convenience. However, it is recommended to go for a pump bottle as it dispenses only the required amount of cleanser. Moreover, consider buying a small bottle or tube to start with and opt for a bigger pack next time if you are happy with the results.
[ Also Try: Himalaya Fresh Start Oil Clear Blueberry Face Wash ]
Sensitive skin gets irritated easily when its protective barrier is continuously disturbed. Hence, you should use products that will not damage the protective barrier and leave it vulnerable to environmental triggers. These cleansers have the necessary ingredients to take care of your skin. Try them and share your feedback with us in the comments section below.
Recommended Articles
The following two tabs change content below.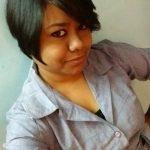 Latest posts by Ramona Sinha (see all)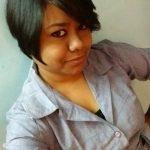 Ramona Sinha
Ramona is a journalist-turned-content writer. She holds a Master's degree in English Literature and has been writing for the digital world for over five years. She specializes in writing for Skin Care. She has done a certificate course titled 'Dermatology: Trip To The Skin', offered by Novosibirsk State University. She believes that beauty begins with a good skin care regimen and is on a mission to eliminate all toxins from her routine. She helps and guides readers in selecting products and ingredients specific to their skin type/issue. When Ramona is not working, her books and passion for music, good food, and traveling keep her busy.