15 Best Facial Cleansing Brushes To Refresh Your Skin – 2023
Massage your face using these tools to keep away the dirt and pollution off your face.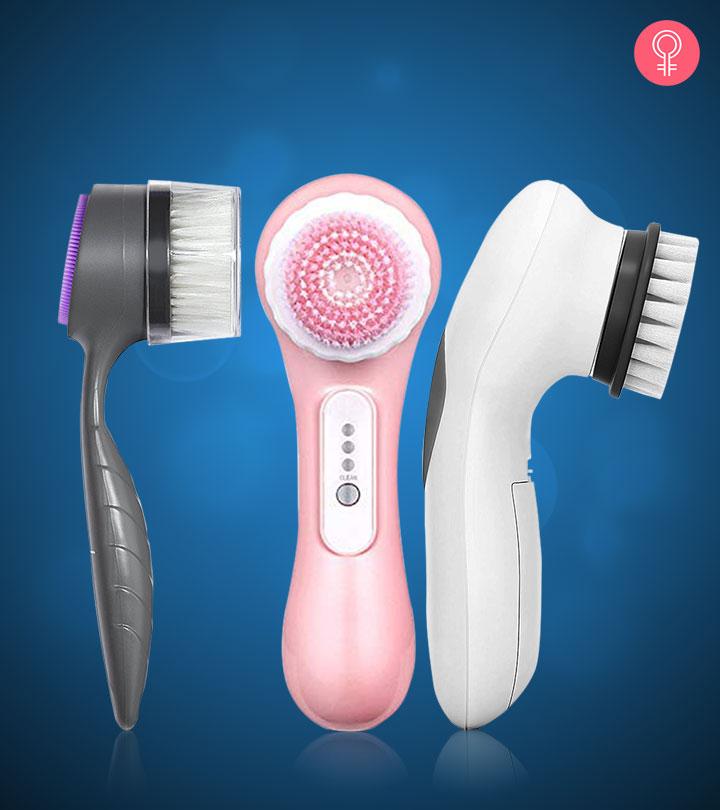 The world is now full of extreme pollution levels, and washcloths or facial cleansers these days aren't enough to deeply cleanse the skin. Using scrub every day is also not a good option as it is very harsh for the skin. To gently cleanse your skin, you need the best facial cleansing brush. They exfoliate your skin without causing harm by stimulating its surface. These cleansing brushes will do it all, from speeding up the cell renewal process to getting rid of pollutants from the skin. Valerie Aparovich, a certified cosmetologist-aesthetician, biochemist, and Science Team Lead at OnSkin, says, "A cleansing brush is an excellent skincare assistant providing the skin with deep purification and safe exfoliation. But it also helps to reach several more beauty goals. While cleansing, you perform a gentle facial massage that can improve your skin relief, reduce puffiness, and refine your general skin condition. The brushes boost blood circulation, relieve muscle tension, and promote better absorption of cosmetic products you apply after. They remove excess sebum and gently exfoliate the skin, helping it to appear clean, fresh, and radiant." We have listed the best ones by considering people's experiences and expert recommendations to help you get your hands on the perfect one.
Top 15 Facial Cleansing Brushes of 2023
Product Claims
This cleaning brush is one of the top-rated cleaning brushes. Its patented oscillation technology gently exfoliates your skin and delivers a deep cleansing experience without any irritation or friction. It is dermatologist-approved for gentleness and safe for sensitive skin. The device performs 6 times more efficiently than manual cleansing. In addition, it helps prevent blackhead formation and renews and smoothes your skin. This is compatible to run with all Clarisonic devices, and you can further customize your skin routine by downloading its app. Have a look at this video to learn more about the product from the reviewer's experience.
Pros
Dermatologist-recommended
Water-resistant design
Long-lasting battery
2 sensitive modes and 1 smart mode
2-year warranty
Cons
Price at the time of publication: $226
Product Claims
TheraFace PRO – Handheld Facial Massage Device provides six massage options. It uses microcurrents of electricity on the face to stimulate the facial muscles and enhance the production of collagen. It also improves blood circulation, which reveals healthy and radiant skin. The professional-grade massage tool offers an LED light treatment that combats signs of aging, while the percussive therapy relaxes jaw muscles, temples, and neck, and alleviates pain in these areas. The microcurrent ring brightens, gently stimulates, firms, and tightens the skin around the face and neck, and improves skin texture and tone and contours of muscles. The LED red and infrared light therapy reduces fine lines and wrinkles. The cold therapy from the Cold Ring attachment decreases puffiness under the eyes. The all-in-one tool reduces facial discomfort and pain, rejuvenates the skin, and stimulates circulations. It is clinically verified to make the skin firmer and improve its appearance.
Pros
6-in-1 massage options
Fights signs of aging
Contours of facial muscles
Multiple combinations of uses
Sturdy
Cons
Price at the time of publication: $399
Product Claims
This dermatologically approved brush by Olay offers deep and thorough cleansing along with exfoliation. It works on two settings – high and low – so you can easily adjust the speed. The cleanser system is designed based on clinically proven results. The best thing about this product is that it is affordable and gives results similar to many expensive cleansing brushes. Here is an informative video that tells you more about the product and the tester's experience using it.
Pros
Water-resistant
Suitable for all skin types
Comes with an exfoliating renewal cleanser
Cons
Not very durable replaceable brush
Price at the time of publication: $88.88
The Michael Todd Beauty Soniclear Facial Cleansing Brush has a facial cleansing brush head and an infusion head that gently removes dead skin and impurities from the face. The deep cleansing from the brush makes your face feel refreshed, soft, clean, and healthy. The brush has multi-speed functions to prevent wrinkles, and fine lines while reducing products and sebum buildup in the pores, and smoothening the rougher areas. The face brush contains buffed bristles that gently exfoliate and minimizes blackheads. The gentle brush makes it suitable for use twice a day. The automatic timer on the brush beeps every 20 seconds to remind you to move the brush around the face for an efficient cleaning process.
Pros
2-in-1 infusion head and facial cleansing brush head
3 Speeds
Waterproof
Dermatologist-recommended
Automatic Timer
Gentle exfoliation
Serum infusion
Cons
Price at the time of publication: $119
The Buttah Skin by Dorion Renaud Buttah Vibe Brush delivers 10,000 sonic pulsations per minute to gently exfoliate and remove dirt, oil, and makeup from the skin and revitalizes dull skin. This clinically-proven cleansing brush is made of medical-grade, antimicrobial silicone, has two-speed modes, and is designed for melanin-rich skin tones. The oval shape of the brush fits perfectly into your hands and its flexible and ultra-soft silicone-cleansing micronodule follows your face contours around your nose, mouth, and eyes, and areas that are hard to reach and clean. The pulsating, rotating brush enhances self-care routines and its gentle nodules allow it to be used every two days. Its pulsations boost blood circulation, which improves skin elasticity and firmness.

Pros
Upto 10,000 sonic pulsations per minute
Gently exfoliates
Ultra-soft and flexible micronodules
Lightweight
Ergonomic design
Soft-mold
Cons
Price at the time of publication: $54
The EZBASICS Facial Cleansing Brush has a new, upgraded Sonic Cleansing Technology that gives you clean and beautiful skin. It has a lightweight and waterproof design that makes it ideal for in-shower use. It gives your skin a deep cleanse while minimizes pore appearance and unclogs dirt, oil, and makeup residue. This compact facial cleansing brush has 5 adjustable intensities. It is made from highly durable, hypoallergenic silicone, which makes it even more hygienic. It has a handy, oval-shaped design that makes it convenient to carry around. It takes 3 hours to get fully charged and you can use it 200 times.
Pros
Gentle on skin
Lightweight
5 adjustable intensities
Durable
Designed with hypoallergenic silicone
Easy to carry and use
Suitable for all skin types
Cons
None
Price at the time of publication: $26.99
This Alder New York Cleansing Facial Brush contains over 1.25 million vegan nylon bristles that are super soft and effective in clearing your face of impurities and oil. Deep cleansing using the brush reveals healthy-looking and radiant skin, boosts blood circulation, and relieves muscle tension. Use the brush with your daily face cleanser to increase its effectiveness. The brush comes with a sleek storage stand and an easy-to-hold handle that gives you comfort and control.
Pros
Nylon bristles
Ergonomic design
Suitable for daily use
Compact design
Travel-friendly
Cons
Price at the time of publication: $27.99
Product Claims
This battery-operated brush has shown clinically proven results in successfully removing makeup 85% better than doing it manually with your hands. It comes with adjustable two-speed modes, and its silky soft bristles are sensitive skin-friendly. It leaves your skin feeling baby soft with every use.
Pros
Suitable for all skin types (including sensitive skin)
Clinically tested for allergy and skin irritancy
Dermatologist-tested
Comes with two replacement brush heads and batteries
Cons
Price at the time of publication: $39.77
9.
Best For Beginners:
PMD Clean
Product Claims
Want a mini-facial? PMD Clean is all you need. It is clinically examined and confirmed to reduce blackheads, blemishes, and pores. If you are a beginner, try out this silicone brush made with SonicGlow technology that delivers 7000 vibrations in 1 minute to stimulate your skin. Put your favorite serum or moisturizer on the brush head and watch this glow-enhancing brush help them get absorbed deeply into your skin. It has adjustable vibrating modes for massaging your skin.
Pros
Waterproof
Hypoallergenic
Odor-resistant
Made with ultra-hygienic silicone
Suitable for beginners and all skin types
Cons
Helps more in product absorption than in cleansing the skin.
Price at the time of publication: $99.0
The FreeBreath Facial Cleansing Brush gives you clear and beautiful sin. It has three advanced cleaning speeds — gentle, daily, and deep. The brush has advanced IPX7 waterproof technology that allows it to be used in the bathroom while in the shower. The high-capacity rechargeable battery can run for 15-20 days on 2-3 hours of charge. To remove makeup, choose a foam brush head; for delicate cleaning, choose a silicon brush head; and to remove dead skin, use two soft bristle brush heads. However, the pumice stone in the design is not for use on the face. It helps remove dead skin cells from your soles. It is the best gift for any skin care enthusiast!
Pros
3 advanced cleaning speeds
Advanced IPX7 waterproof technology
High-capacity USB rechargeable battery
Long-lasting
5 brush heads
Cons
May not be suitable for sensitive skin
Price at the time of publication: $34.94
The Vanity Planet Raedia Facial Cleansing Brush comes with 4 non-irritating brush heads designed to exfoliate your skin gently without irritating it. The dual-speed spin brush is suitable for all skin types, including sensitive skin. It offers 2 speed settings for gentle and deeper exfoliation. The ergonomic brush has a non-slip handle. It is also water-resistant, making it easily usable in the shower. It is clinically proven to display visible results in detoxifying the skin, reducing breakouts, and offering clearer skin.
Pros
 4 brush heads
 Water-resistant
 Travel-friendly
 Dual speed spin brush
 Suitable for all skin types
Cons
May not handle cleansing of deeper dirt
Price at the time of publication: $45.95
The ReFa CLEAR– Face Brush gently unclogs pores and removes residue from the face without any skin damage or friction. The professional-grade 3D Sonic Ion Technology of the brush combined with the contouring brush head and horizontal and vertical sonic vibrations gently pulls out dirt, makeup residue, grime, and impurities embedded deep within the pores to the surface of the skin to provide unparalleled cleansing. The bristles tip of the brush features ultra-fine tips of varying lengths that reach fine ridges and uneven surfaces of the face to provide deep cleaning without stripping your face of natural oils. The makeup-removal brush has 3 modes, soft, clean, and deep mode to suits every user's needs.
Pros
Waterproof
Three brush modes
Ultra-fine bristle tip
3D Sonic Technology
Suitable for all skin types
Cons
May not handle cleansing of deeper dirt
Price at the time of publication: $225
The EcoTools Deep Cleansing Facial brush is a perfect exfoliation tool for your travel skin care routine. Its soft bristles gently cleanse your skin and deftly remove dead skin, oil, and other impurities. It comes with a storage cap that prevents the brush from getting dirty when not in use. The brush's compact design makes it easy to use and carry around when you are on the go. What's more, is that the product comes in a variety of colors that you can choose from.
Pros
Suitable for different skin types
Made from recycled materials
Dermatologist-tested
Travel-friendly
Vegan
Cons
Too soft for deep pore cleansing.
Price at the time of publication: $5.99
The Naturopathica Facial Cleansing Brush with super-soft nylon bristles is designed to provide gentle cleaning for all skin types. It easily sloughs off dirt and dead skin cells and improves subcutaneous blood circulation and lymphatic drainage giving your skin a healthy and youthful glow. For effective exfoliation, apply a mild cleanser on your face and neck, dip the brush in water, and massage your skin using short, upward strokes.
Pros
Easy to use
Long-lasting
Soft nylon bristles
Cruelty-free
Cons
May feel rough on sensitive skin
Price at the time of publication: $34
The Finishing Touch Flawless Cleanse Face Scrubber and Cleanser gives you soft, radiant skin ready for all your subsequent skin care steps. It has an ultra-hygienic silicone head with four modes of cleaning: gentle cleansing, deep cleansing, pulsating, and massage. You can customize the level from low to high for loosening impurities to increase blood circulation and impart color to your clearer complexion. The anti-bacterial silicone head of the brush does not spread harmful bacteria to your skin.
Pros
Hygienic silicone head
4 cleaning modes
Waterproof
Dermatologist-approved
Rechargeable
Cons
Price at the time of publication: $15
Why Trust StyleCraze?
The author of this post, Krati Darak, is a certified skin care coach. After thorough research of many different product websites, she recommends these facial cleansing brushes to help you get soft, supple skin. In addition, these brushes speed up the cell renewal process and gently cleanse the skin.
Frequently Asked Questions
Is facial cleansing brushes good for your skin?
Yes. Facial cleansing pore-clearing brushes exfoliate the skin and remove dirt and grime from the pores. They also stimulate the skin renewal process and brighten the skin.
Do dermatologists recommend face brushes?
Yes. Dermatologists recommend face cleansing brushes as they gently exfoliate the skin. Also, these hygienic tools are easy to maintain, favored by many skin specialists.
Is facial cleansing brushes good for acne prevention?
Yes. Facial cleansing brushes exfoliate the skin, promoting cleaner pores and preventing acne breakouts.
Is it okay to use a facial brush every day?
No. Skip using a facial brush daily to avoid irritating and over-drying the skin. Also, regular usage may turn your skin texture uneven.
Do facial brushes really work?
Yes. Facial brushes remove the dead skin cells, dirt, and grime from your face and reveal the hidden glow. They boost blood circulation and promote skin regeneration.
How often should I clean my facial brush?
Clean your facial brush every one to two weeks, depending on how frequently you use it.
Do cleansing brushes help with blackheads?
Yes. Cleansing brushes remove dirt, grime, dead skin cells, and excess sebum. This further reduces blackheads formation.
Can I use a silicone face brush every day?
No. Although silicone brushes are gentle, use them not more than thrice weekly to prevent irritating the skin and disrupting its pH level.
Recommended Articles: