15 Best Facial Cleansing Brushes Of 2021 To Buy Right Now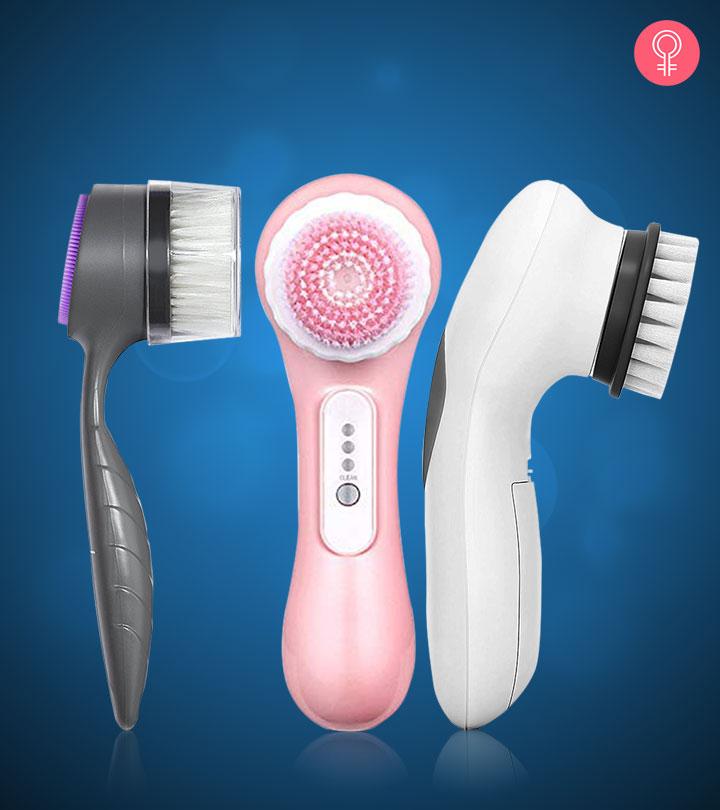 Every day, your face is exposed to excess pollution and dirt. Considering the skyrocketing pollution levels in this day and age, even your facial cleanser and washcloth are not enough to cleanse your face thoroughly. You also can't use a scrub every day as it is too harsh for your skin. What's the way out then? Enter the facial cleansing brush.
A face cleansing brush stimulates the skin surface and offers gentle yet thorough exfoliation. It also speeds up your cell renewal process. The best thing about these brushes is that you can find one to suit every skin type. Here is a list of the best facial cleansing brushes for all skin types available on the market right now.
Top 15 Facial Cleansing Brushes of 2021
Product Claims
This is one of the top-rated brushes. The bristles of this brush are incredibly soft and gentle and remove all traces of dirt, makeup, and oil effectively. With its oscillation technology, it can deliver about 300 micro massage movements to your face within a minute.
Pros
One-touch button
Easy to use
Two cleansing modes
Guided timer
Comes with a charging stand
Suitable for all skin types (including sensitive skin)
Cons
Product Claims
This brush has long bristles that feel delightful on your skin. It does not oscillate, but vibrates to stimulate your skin. It offers thorough cleansing and is exceptionally gentle on the face. It claims to clean your skin pores thoroughly and make them appear smaller.
Pros
Gentle on skin
Water-resistant
Developed by doctors
Suitable for all skin types (including acne-prone skin)
Cons
Product Claims
This brush by Olay offers deep and thorough cleansing along with exfoliation. It works on two settings – high and low – so you can easily adjust the speed. The best thing about this product is that it is affordable and gives results similar to many expensive cleansing brushes.
Pros
Water-resistant
Suitable for all skin types (including sensitive skin)
Comes with an exfoliating renewal cleanser
Cons
Not very durable replaceable brush
Product Claims
Clinique's Sonic System has customized brushes depending on the needs of your skin. It comes with the original brush that is suitable for all skin types and gentle on the skin. This original brush has a tapered head that can reach the toughest areas on your face (like the fold on the sides of your nostrils) to cleanse thoroughly.
Pros
30-second timer to avoid over-scrubbing
Developed by dermatologists
Suitable for all skin types
Cons
Product Claims
The silicone material of Foreo Luna 2 Anti-Aging Facial Massager is what sets it apart from other facial brushes. It is extremely gentle, non-abrasive, and easy to clean. It also lasts longer than many other facial brushes. It comes with eight adjustable intensities for a thorough, customized cleansing. It delivers about 8,000 sonic pulsations to your face in just a minute.
Pros
Comes in different sizes
Durable
Travel-friendly
Suitable for all skin types (including sensitive and acne-prone skin)
Cons
Product Claims
This is an all-in-one facial care system that comes with seven different face brushes (short and long bristles, latex sponge, makeup sponge, rolling massager, pumice pad, and latex sponge) to meet all your skin needs. Therefore, you don't to spend more money on other products. It provides gentle yet deep cleansing and leaves your skin looking visibly brighter.
Pros
Suitable for all skin types (even sensitive skin)
Value for money
Cons
Product Claims
MiroPure Sonic Rechargeable Facial Brush has a specially designed 3D movement brush head that gently removes blackheads and whiteheads from your skin and helps minimize clogged skin pores. The brush follows your facial contours to give you a delightful facial experience. It has three speed modes that not only stimulate your skin but also get rid of all dirt, oil, and makeup.
Pros
100% waterproof
Travel-friendly
Lifetime guarantee
Cons
Product Claims
This is a battery-powered brush that claims to remove makeup 85% better than your hands. It comes with adjustable two-speed modes, and its silky soft bristles are not harsh on the skin. It leaves your skin feeling baby soft with every use.
Pros
Suitable for all skin types (including sensitive skin)
Clinically tested for allergy and skin irritancy
Dermatologist-tested
Comes with two replacement brush heads and batteries
Cons
Product Claims
Want a mini-facial every day? PMD Clean is all you need. If you are a beginner, try out this silicone brush made with SonicGlow technology that delivers 7000 vibrations in 1 minute to stimulate your skin. Put your favorite serum or moisturizer on the brush head and watch this brush help them get absorbed deeply into your skin. It has adjustable modes for massaging your skin.
Pros
Waterproof
Hypoallergenic
Odor-resistant
Made with ultra-hygienic silicone
Suitable for beginners and all skin types
Cons
Helps more in product absorption than in cleansing the skin.
Product Claims
Skylab Schon The Perfect Face Brush is not an electronic facial brush. You need to operate it manually. This dual-faced brush has soft exfoliating bristles on one side and a silicone pad on the other. This makes cleaning the contours of your face a lot easier.
Pros
Non-slip ergonomic design
Suitable for all skin types (even sensitive skin)
Phthalate-free
Lead-free
BPA-free
Cons
Difficult to clean the base of the bristles
Product Claims
Liberex Sonic Facial Cleansing Brush looks like a cute little egg and comes with 3 brush heads that are designed to exfoliate your skin gently without irritating it. It is soft and comfortable on the skin, and its ultrasonic vibration technology gets deep into your skin pores and removes dirt, dead skin cells, oil, and traces of makeup.
Pros
Waterproof
Fast wireless charging
Auto-timer
Suitable for all skin types (especially sensitive, problematic, and thin skin)
Automatic shut down
Cons
Product Claims
At first glance, it may look like an oval makeup blender. But, this wonder facial brush is one of the most advanced and innovative ways of thoroughly cleansing your face. It has above 2000 antimicrobial touchpoints that give you healthy and acne-free skin. It offers 15 vibration speeds, ranging 1500 to 7000 times per minute. Due to its design, it can easily reach every corner of your face.
Pros
100% organic, food-grade silicone
Portable
Lightweight
Automatic shut off
Cons
Product Claims
This electric facial cleanser works best at removing dead skin cells, dust, and makeup to give you noticeably clearer skin. It has two brush sets that move clockwise and anticlockwise and rotate up and down to cleanse your skin thoroughly. It comes with a soft brush and a silicone brush and is suitable for normal to sensitive skin types.
Pros
Waterproof
Easy to use
Travel-friendly
Charges quickly
Cons
Replacement brush heads could be hard to find (based on user reviews).
Product Claims
This is a facial and body cleansing brush that offers 5 different vibration speeds, so you can easily adjust the intensity of your massage. It is made with super soft and skin-friendly food-grade silicone and is rechargeable. When fully charged, the brush can go on for about an hour.
Pros
Waterproof
Easy to clean
Best suited for oily, dry, and sensitive skin
Cons
Product Claims
HOEE Facial Cleansing Brush has everything you are looking for in a cleansing brush. It is gentle and does not hurt your skin. It also offers three different speeds, exfoliates, and is rechargeable. What more can you ask for? Moreover, it comes in a beautiful pink shade and is extremely convenient to use.
Pros
Cons
Who doesn't want Insta-worthy skin? I sure do! So, step up your skin care game with these facial cleansing brushes. Give one a try, and I am sure it will change your facial cleansing routine forever!
Have any questions about facial cleansing brushes? Drop them in the comments section below, and we will get back to you.
Recommended Articles: