The 10 Best Facial Epilators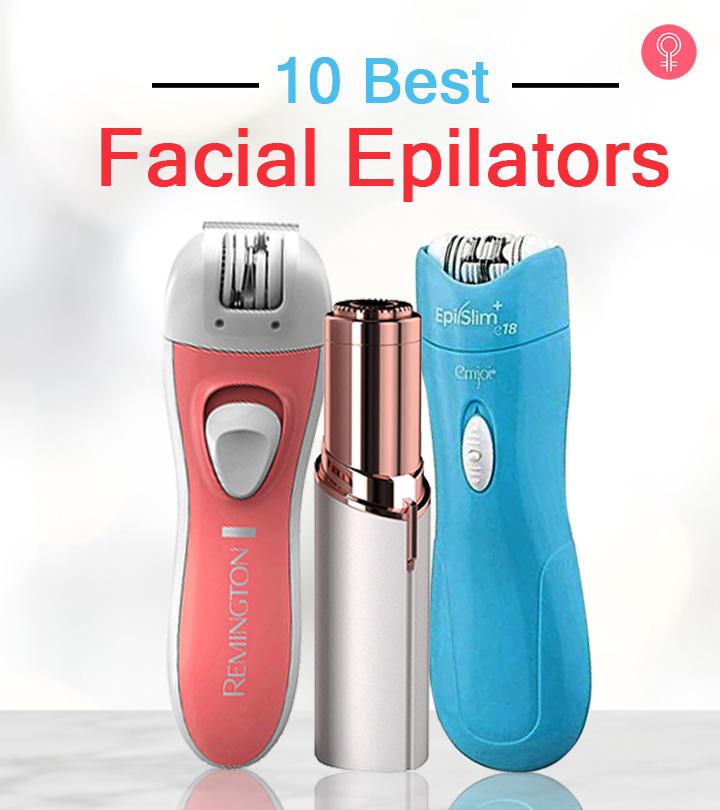 Unwanted facial and body hair can be a hassle. What is more troublesome is the process of removing it. While shaving and waxing appear to be the obvious solutions, they can be time-consuming and tedious. Moreover, these methods may also result in skin discoloration and allergic reactions. But there is another method that will spare you the trouble and ease out the whole process. We are talking about using epilators. These are devices that remove hairs from their roots and keep them at bay for long periods. In this post, we have compiled a list of the top 10 epilators available online. Take a peek!
The 10 Best Facial Epilators
The Philips Beauty Satinelle Essential Epilator can efficiently remove the shortest hair strands (up to a length of 0.5 millimeter) from the roots. It has a corded design that can be used non-stop on dry skin. It can pick up more hairs on the first pass.
It comes with two speed settings for optimal control. The lower speed setting with an efficiency cap attachment is used for more delicate and hard to reach areas of the body. The epilation head is easy to remove and can be cleaned with water for optimal hygiene. This total body hair removal system will keep the skin smooth for weeks. The device is round and fits in the palm of your hand. Its size makes it travel-friendly.
Pros
Travel-friendly
Durable
Affordable
Easy to use
Easy to clean
2 speed settings
Cons
None
The Gillette Venus Face Perfection Women's Hair Remover has an extra-slim head with 10 micro-openings that can remove the finest hairs (0.02) with absolute precision. Its compact design allows absolute control and accuracy around small spaces to remove facial hair gently.
This device can remove hair from delicate areas, like the chin, upper lip, forehead, and between the eyebrows. The epilator is powered by batteries and can be taken anywhere. This device can give you up to four weeks of salon-smooth skin.
Pros
Travel-friendly
Affordable
Easy to use
Good for sensitive skin
Battery-powered
Gives 4 weeks of smooth skin
Cons
May not work for a long period
The Braun Epilator comes with a cup shape design. It has two extra attachments that give more flexibility to the hair removal process. It can also be used as an exfoliation brush and massage pad. The efficiency cap ensures maximum skin contact and a precision cap allows the epilator to easily fit into smaller areas.
The epilator also has a shaver head and trimmer cap that turns it into a fully functional shaver and trimmer. The deep massage that comes with the epilator may stimulate blood circulation, which, in turn, improves skin appearance. It is battery-operated.
Pros
Easy to use
Can be used in dry and wet state
Battery-operated
Washable
Good for sensitive skin
Cons
The attachment heads may break after few uses
Low battery life
The Remington Smooth & Silky Facial Epilator comes with six automatic tweezers that can quickly and gently remove unwanted hair. It has a compact design that ensures precise hair removal. The device is cordless that makes it convenient for traveling.
It comes with a protective cap and cleaning brush. The protective cap can be used to guard the epilator head during storage and travel. The cleaning brush can be used to remove hair from the epilator's tweezers.
Pros
Travel-friendly
Easy to clean and use
Battery operated
6 automatic tweezers for efficient hair removal
Cons
May cause breakouts after use
The Emjoi Epi Slim Epilator is a compact hair remover that contains 18 tweezers. These remove facial hairs from the root that are as short as 0.3 mm. The epilator has a patented 3 disc system that makes it comfortable to remove hair. The result lasts up to six weeks.
It comes with the Erase Glide technology that makes the epilator glide back and forth (or in a circular motion) for a smooth hair removal experience. The epilator is battery-operated and portable. It also comes with a cleaning brush that makes it easy to clean the device.
Pros
Travel-friendly
Easy to use and clean
18 tweezers for super-efficient cleaning
Patented 3 disc system for comfortable hair removal
Erase Glide technology for smooth usage
Cons
The Finishing Touch Women's Hair Remover is a discreet and portable epilator. It removes facial hair instantly and painlessly without any redness or irritation. It can be used every day. The epilator can be used on the lips, chin, and cheeks.
It is equipped with Butterfly Technology that ensures the blade from the device does not touch the facial skin. The technology erases hair by microscopically paring it down through a spinning head. The device is suitable for all skin types and skin tones. It comes with a 18 karat gold-plated cap, is battery-operated, and includes a built-in light. The epilator is dermatologist-recommended and hypoallergenic.
Pros
Hypoallergenic
Dermatologist-recommended
Butterfly Technology for safer hair removal
Comes with a built-in light
Suitable for all skin types and skin tones
Easy to use
Travel-friendly
Cons
May break down after multiple uses
The Watolt Hair Epilator is ideal for full body hair removal. It comes with a razor, shaver, epilator, and a callus head that makes it easy to remove hair from every part of the body. The shaver and razor head is good to remove hair from the surface of the skin and is ideal to remove facial hair and hair from sensitive parts of the body. The epilator head pulls out hair from the roots and its repeated usage may reduce unwanted hair growth.
Another added advantage is the callus head that smoothens the heel of the foot by removing dead skin. It is lightweight, portable, and travel-friendly. The device comes with a UV sterilized head and does not cause any allergic reaction after its use. The heads are detachable and also washable.
Pros
Hypoallergenic/comes with a UV sterilized head
Travel-friendly
Value for money
Comes with a callus head for use on heels
Easy to use and clean
Cons
May stop working after multiple uses
The Bellabe Facial Hair Remover has a unique spring design that allows you to remove hair painlessly. The spring grips the facial hair easily and the results last up to four weeks. It works well for any kind of hair.
The device is made of hypoallergenic, medical-grade, ultra strong carbon steel. It is small, discreet, and easy to carry around. The epilator is specifically designed for women with sensitive skin. It is quality tested by the A2LA Laboratory Accreditation Program to ensure safety compliance.
Pros
Travel-friendly
Good for sensitive skin
Hypoallergenic
Medical-grade
Quality-tested by the A2LA Program
Easy to use and clean
Cons
Does not work for thick facial hair
This epilator is made of high quality stainless steel. It is durable and flexible and can remove unwanted facial hair easily. The device removes facial hair from the root without breakage. It is affordable, and the results last up to six weeks.
When the hair grows back after its removal, it is thinner and less coarse, making the facial hair less noticeable. The epilator is small, portable, and travel-friendly.
Pros
Travel-friendly
Affordable
Made of high-quality stainless steel
Easy to use and clean
Cons
The Epiwand Facial Hair Remover is designed to remove facial hair from the cheeks, chin, neck, and the upper lip. It removes facial hair from the root. The results last up to four weeks, and when the hair grows back, it is thinner. The Epiwand threading tool is suitable for all skin types. It is tiny and portable and ideal for traveling.
Pros
Travel-friendly
Affordable
Good for sensitive skin
Easy to use and clean
Cons
May not work on thick hair
There are a few factors you must consider before going for an epilator. The following buying guide can help you. 
How To Choose A Facial Epilator For Women – A Buying Guide
Type – There are three types of epilators on the market – spring type, tweezers, and rotating disc. The tweezer type is the most popular of all. This type is more modernized, more effective, and less painful.
Battery/Corded – Corded epilators are powerful and reliable. However, a battery operated epilator is more convenient and portable. You need to pick one depending on your requirement.
Speed – An epilator that offers multiple speeds is a good one. It will give a customized experience, depending on your hair type and comfort levels.
Unwanted facial hair is a challenge for women. While laser treatments can be expensive, and options like waxing could hurt the skin, epilators are an inexpensive and safer solution. They are also portable and easy to use. Pick an epilator that suits your needs, and you will never have to worry about unwanted hair again!
Expert's Answers For Readers' Questions
Do facial epilators make hair grow back thicker?
No, a facial epilator will not make hair grow back thicker. As the epilator removes the hair from the root, hair grows back finer.
How often should you epilate your face?
An epilator should be used once a fortnight. However, epilating regularly will increase your pain endurance, and your overall hair growth reduces over time.
Does epilation cause stubble?
No, epilation does not cause stubble.
Is epilating better than waxing?
Epilating gives the same result as waxing. However, using an epilator will spare you the time and the pain.
Recommended Articles