The 15 Best Facial Essences For Plump And Glowing Skin
Keep your skin feeling well moisturized with affordable skin care products.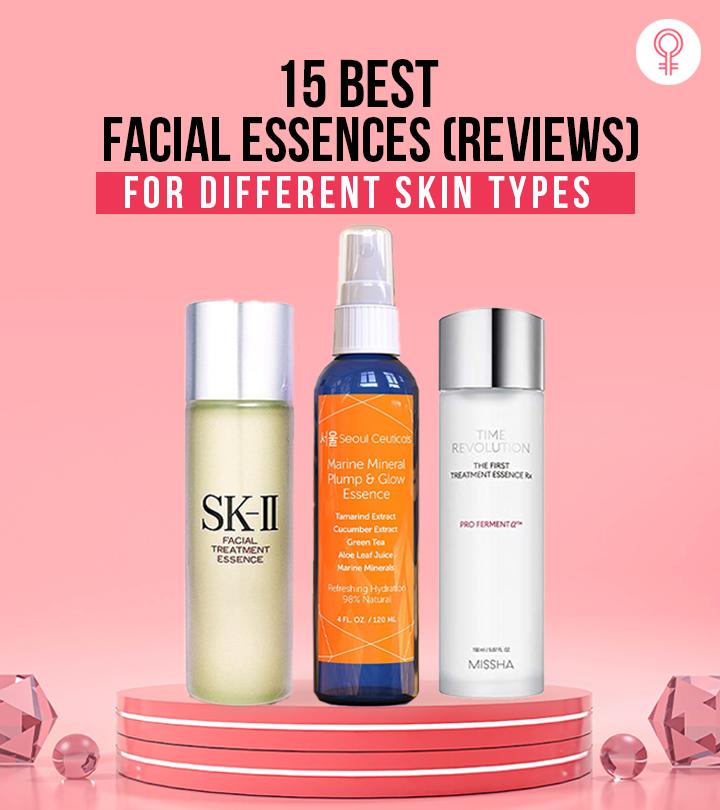 If your skin feels dehydrated, this article is here to help. Today, we are going to talk about the best facial essences for different skin types because essence is going to be your best friend from now on. It can hydrate your skin and make it ready for further skincare rituals. It penetrates deep into the skin epidermis as it consists of low molecular weight and does not feel heavy or greasy on the skin. Below is a list of the 15 most effective options available in the market. So, go ahead and give this piece a read to pick the most suitable one for yourself.
15 Best Facial Essences For Different Skin Types
The snail essence from COSRX is made with 96.3% snail secretion filtrate that promises to keep the skin's moisture intact all day long. Snail mucin is rich in hyaluronic acid that replenishes the lost moisture in the skin and keeps it healthy and plump. The glycolic acid present in it stimulates collagen production and reduces fine lines and wrinkles. If you have dull and dry skin, this essence is a true gift. It feels light on the skin and absorbs quickly with just a couple of taps. The essence glides effortlessly on your skin and leaves it plump and revived.
Key Ingredients: Snail mucin
Pros
 Lightweight
 100% natural
 Hypoallergenic
 Dermatologist-tested
 Cruelty-free
 Paraben-free
 Sulfate-free
 Phthalate-free
Cons·
The Seoul Ceuticals Marine Mineral Plump & Glow Essence is formulated with 98% naturally derived ingredients. It includes tamarind extract, Japanese green tea, aloe vera, cucumber extract, and marine minerals.
Tamarind is rich in AHA, which exfoliates the skin, unclogs the pores, and reduces fine lines and wrinkles. Green tea and aloe vera are rich in antioxidants that hydrate the skin and restore moisture. The cucumber extracts revitalize the skin, and the marine minerals strengthen the skin tissues and stimulate blood flow. This essence adds a beautiful dewy glow to your skin.
Key Ingredients: Tamarind extract, Cucumber extract, Green tea, Aloe vera, and Marine minerals
Pros
 Lightweight
 Absorbed quickly
 Natural ingredients
 Mild scent
 Non-comedogenic
 Maintains pH balance
 Cruelty-free
Cons
Rediscover youthful skin with the Pyunkang Yul Essence Toner. It is enriched with 91.3% milk vetch root extract, rich in antioxidants like isoflavonoids that make the skin firmer and increase its elasticity by reducing free radical damage. The essence is dermatologically tested and has a gel-like consistency that is non-greasy and absorbed while hydrating the skin. The formula includes natural and minimum ingredients that make it ideal for sensitive skin. Here's an honest review of the product.
Key Ingredients: Milk vetch root extract
Pros
 Lightweight
 Dermatologically tested
 Non-sticky
Alcohol-free
 Fragrance -free
 Essential oil-free
 Cruelty-free
Cons
The Real Ferment Micro Essence by Neogen Dermalogy is formulated with 90% skin-compatible and naturally fermented ingredients that give instant hydration, rejuvenate dull skin, and reduce wrinkles. It contains bifida ferment lysate, saccharomyces ferment filtrate, and rice ferment filtrate that help increase skin elasticity and strengthen the barrier against unwanted irritants. The betula alba juice in the formula has antioxidant and antiseptic properties that moisturize, brighten, and plump up the skin instantly. The essence is absorbed into the skin instantly without being greasy and forms the best base for the makeup routine. Here's a video featuring a detailed review of the product.
Key Ingredients: Bifida ferment lysate, Saccharomyces ferment filtrate, and Rice ferment filtrate
Pros
 Absorbed quickly
 Non-greasy
 Lightweight
 Alcohol-free
 Fragrance-free
Cons
 Not suitable for oily skin
The Missha Time Revolution The First Treatment Essence Rx is a holy grail for super dry and sensitive skin. The 4th generation essence contains cica enzyme fermentation, which provides 2x times more hydration and balances the moisture content in the skin.
The pearl reef and rice extracts in the essence remove dead cells, increase collagen production, and lighten the skin tone by reducing blemishes. The yeast in the formula enhances and smoothens the skin texture. It also has artemisia that contains 100% mugwort, known for its anti-inflammatory properties that improve skin texture and exfoliate and brighten the skin. The essence is instantly absorbed by the skin and helps in decreasing skin sensitivity by improving its resistance.
Key Ingredients: Cica enzyme, Pearl reef, Rice extracts, and Yeast
Pros
 Lightweight
 Absorbed instantly
 Smells good
 Suitable for sensitive skin
Cons
The Olay Mist Face Ultimate Hydration Essence energizes and revitalizes tired and dull skin instantly. It is formulated with bergamot extract and vitamin C to brighten the skin and hydrate it deep into the epidermis. It also contains vitamin B3 that regenerates cells and exfoliates the skin, giving it a bright and youthful glow. The skin gets instant hydration with this handy face mist essence. The botanical ingredients and natural fragrance make it perfect for all skin types.
Key Ingredients: Vitamin C
Pros
 Natural ingredients
 Non-sticky
 Lightweight
 Travel-friendly
Cons
 Might not suit sensitive skin
The Banila Co Dear Hydration Intense Essence instantly quenches dehydrated and dull skin with its water gel formulation. It has ingredients like fermented lotus flower water, which revitalizes the skin and gives a radiant complexion. It is also enriched with a blend of natural ingredients like neem leaf, bamboo, peppermint, and basil that have antioxidant and anti-inflammatory properties. The essence boosts the skin's ability fight free radicals, nourishes it, and improves the skin tone by reducing pigmentation. It comes in a tinted pink clear bottle with a pump dispenser and a cover.
Key Ingredients: Fermented lotus flower water
Pros
 Natural ingredients
 Pleasant fragrance
 Non-sticky
 Paraben-free
 Sulfate-free
 Phthalate-free
 Mineral oil-free
Cons
 Not suitable for acne-prone skin
The Hanskin Real complexion Hyaluron Essence offers 5-in-1 benefits – moisturizing, adding glow, boosting, balancing, and softening the skin. It is enriched with hyaluronic acid to provide intense hydration that lasts all day long. It also contains zostera marina extract, which firms the skin and boosts its moisture-retaining function. The elastin and collagen in the formula reduce wrinkles and fine lines over time while increasing skin elasticity.
Key Ingredients: Zostera marina extract and Hyaluronic acid
Pros
 Lightweight
 Mild fragrance
 Absorbed quickly
 Paraben-free
 Alcohol-free
 PEG-free
 Mineral oil-free
 Fragrance-free
 Chlorphenesin-free
 Benzophenone 8 -free
Cons
 Not suitable for acne-prone skin
The Etude House Moistfull Collagen Essence is clinically tested for sensitive skin. It is infused with 78.5% hydrolyzed collagen that keeps your skin moisturized and bouncy. The essence is enriched with white lupin that rejuvenates the outer layer of the skin and boosts collagen and elastin production to make it smooth and wrinkle-free. The baobab oil in the formula retains the lost moisture and delivers long-lasting protection from drying while making your skin soft and plump. The essence glides effortlessly on the skin without being greasy.
Key Ingredients: Hydrolyzed collagen and White lupin
Pros
 Non-comedogenic
 Non-sticky
 Mild fragrance
 Mineral oil-free
 Polyacrylamide-free
 Imidazolidinyl-free
 Urea-free
 Triethanolamine-free
 Tar color-free·
 PEG surfactant-free
 Mineral oil-free
Cons
 Less quantity for the price
The Caudalie Paris Vinoperfect Concentrated Brightening Essence is powered by antioxidants that give you brighter and illuminated skin tone. It contains glycolic acid that stimulates collagen production, reducing fine lines and wrinkles and improving skin texture. The white peony in the formula exfoliates and brightens the skin, while the organic grape water hydrates and soothes the skin, making it radiant and smooth. The essence has a natural orange blossom fragrance that invigorates your senses.
Key Ingredients: Glycolic acid and Peony extract
Pros
 Lightweight
 Vegan
 Paraben-free
 Mineral oil-free
 Paraffin-free
 Phthalate-free
 SLS-free
 Phenoxyethanol-free
Cons
This bestseller essence from SK-II smoothens the skin and refines its texture. It is enriched with 90% pitera essence that contains vitamins, amino acids, minerals, and organic acids. These ingredients absorb quickly into the skin and increase its elasticity. As a result, your skin feels smooth, plumped, hydrated, and even-toned. It is recommended to use twice a day for visible results in 28 days.
Key Ingredients: Pitera essence
Pros
 Lightweight
 Absorbed quickly
 Non-greasy
Cons
 Less quantity for the price
The Donginbi 1899 Single Essence has an antioxidant-rich formula that offers clear, smooth, and shiny skin. It is enriched with red ginseng extract that acts as a natural skin balancer with anti-inflammatory and antioxidant properties. Ginseng increases blood circulation and boosts collagen production. It also reduces fine lines and wrinkles while hydrating and revitalizing the skin. The essence provides long-lasting moisturization and leaves you with firm, clear skin.
Key Ingredients: Ginseng extract
Pros
 Long-lasting
 100% natural ingredients
 Absorbed quickly
 Light fragrance
 Lightweight
Cons
The Chok Chok Green Tea Watery Essence by TonyMoly is suitable for all skin types and has soothing and revitalizing properties. It is enriched with 80% green tea extract, known for its antioxidant and hydrating properties. The lemon seed oil infused in the formula contains linoleic acid and oleic acid that rejuvenate your skin and soothe inflammation. The essence also contains rosewood oil that improves blood circulation and regenerates skin tissues to make it firmer. It moisturizes the skin, making it smooth, plump, and supple.
Key Ingredients: Green tea ferment extract
Pros
 Lightweight
 Natural ingredients
 Mild fragrance
Cruelty-free
Cons
The Belif Hungarian Water Essence is a holy grail for dehydrated skin. It contains a Hungarian water-based solution, which replenishes the skin's lost moisture, making it feel fresh and revitalized. This formula is also enriched with a blend of apothecary herbs, such as rosemary and lavender, which act as antioxidants to reduce acne, lighten the skin tone, and relieve inflammation. The essence is lightweight and offers long-lasting hydration.
Key Ingredients: Hungarian water, Rosemary, and Lavender
Pros
 Long-lasting
 Lightweight
 Non-sticky
 Ideal for sensitive skin
 Natural ingredients
 Paraben-free
 Sulfate-free
 Phthalate-free
 Mineral oil-free
 Synthetic fragrance-free
 Synthetic dye-free
 Synthetic preservative-free
 Cruelty-free
Cons
None
This essence from Amorepacific is a complete solution for dryness, dullness, wrinkles, and uneven texture. It is a blend of six natural herbs and hand-picked green tea as key ingredients. The green tea leaves are fermented for 100 days to reach optimal strength, protect the skin from environmental stress, and improve skin elasticity.
Key Ingredients: Korean green tea
Pros
 Absorbed quickly
 Non-sticky
 Lightweight
 Botanical ingredients
 Vegan
 Sulfate-free
 Paraben-free
 Formaldehyde-free
 Phthalate-free
 Mineral oil-free
 Retinyl palmitate-free
 Oxybenzone-free
 Coal tar-free
 Triclosan-free
 Triclocarban-free
 Cruelty-free
Cons
 Expensive for the quantity
Now, let's take a look at what are the benefits of using facial essences on your skin.
What Are The Benefits Of Using Facial Essence?
Many confuse facial essence with facial serum. Essence is a water-based formula that includes active ingredients, which aid in better absorption of the moisturizer into the skin. As a result, it improves skin health, balances the skin's pH, keeps the epidermis smooth and soft, and hydrates dull skin.
Serum is more concentrated and is applied after essence. It targets skin concerns like aging, breakouts, acne, etc., while essence focuses more on hydrating the skin.
The common ingredients included in facial essences are listed below.
Best Facial Essence Ingredients
 Water: Keeps your skin hydrated and acts as a base.
 Glycerin: Locks moisture in the skin.
 Hyaluronic Acid: Moisturizes the skin and keeps it plump.
 Botanical Plant Extracts: Have antioxidant and anti-inflammatory properties.
 Fermented Yeast: Provides UV protection.
 Vitamins, Minerals, And Lipids: Nourish the skin cells.
Essence offers thorough hydration to dull and dehydrated skin. Read the following section to find out how to apply it to your face.
How Do You Apply The Essence To Your Face?
You can use essence twice a day to keep your skin hydrated. You can also apply it over makeup to rehydrate the skin and keep it refreshed. It is the best travel buddy as it replenishes the lost hydration instantly. Here's how you can use it:
 Step 1: Cleanse your face neatly with a good cleanser.
 Step 2: Apply the toner to your face in a tapping motion.
 Step 3: Take the essence onto your fingertip and pat it gently onto your skin. Be careful not to drag.
 Step 4: Follow up with serum or moisturizer and your regular makeup routine.
Wondering whether an essence would work on your skin? Scroll down to find out.
Are Facial Essences Safe For Everyone And All Skin Types?
Most skin essences are safe and suit all skin types. Pick a suitable one based on your specific skin concern and sensitivity. Read the ingredients label carefully to avoid reactions and breakouts. Lightweight textures are perfect for oily skin, while the hydrating formulas are beneficial for dry and tired skin.
There are various factors to be considered during choosing the best facial essence – and they are discussed below.
How To Choose The Best Facial Essence
Analyze your skin type and pick the right essence accordingly to pamper your skin. For instance, if you have dull and dry skin, you go for Caudalie Vinoperfect Concentrated Brightening Glycolic Essence as it is meant for treating dullness. For oily skin, go for essences that are oil-free. Avoid probiotic or fermented ingredients. For sensitive skin and redness, look for essences infused with green tea. Avoid alcohol-based and heavily scented essences since they might irritate the skin. If you are looking for the best essence for hyperpigmentation, look for ingredients like vitamin C, licorice root extract, or niacinamide.
Many ingredients can cause allergic reactions, irritate, or even damage your skin. While choosing an essence, it is best to steer clear of parabens, alcohols, and phthalates. If you have very sensitive skin, it is also best to stay away from a few natural ingredients that can be irritating like witch hazel.
With many exciting skin care benefits like hydration, brightening, moisturizing, improved elasticity, treating acne and hyperpigmentation and very few cons, essences are worth buying. You can include them in your daily routine to replenish and rejuvenate the skin and bring back its lost glow. Take your pick from the above list and say hello to glowing skin.
Why Trust StyleCraze?
The author of this article, Shiboli Chakraborti, is a certified skin care coach. She has conducted in-depth research on different facial essences and gone through the brand websites to understand their formulations before compiling the list of the best ones for her readers. She has also considered several skin types and requirements. These products can hydrate your skin and do not feel heavy on the skin.
Frequently Asked Questions
Is facial essence good for acne?
Yes. COSRX Advanced Snail 96 Mucin Power Essence is perfect for acne-prone skin.
Which is better: essence or serum?
Serums contain more active ingredients than essences and penetrate the skin to get the work done. While essence hydrates your skin and preps it skin to absorb serum and moisturizer better, serum helps address different skin concerns.
Do you need both toner and essence?
The toner clears the dead skin and impurities from the skin while essences provide hydration. You can either use both or prefer essence over toner.
What is the difference between essence and moisturizer?
Essences are very light on the skin, while moisturizers are a little heavy.
Can I use essence every day?
Yes! You can use essence twice every day.
Does facial essence work?
Yes! Face essences help the skin a great deal by restoring its natural moisture.
Recommended Articles: