15 Best Facial Hair Removal Products For Women – Top Picks Of 2023
Remove unwanted facial hair to enjoy a better skin care routine with these products.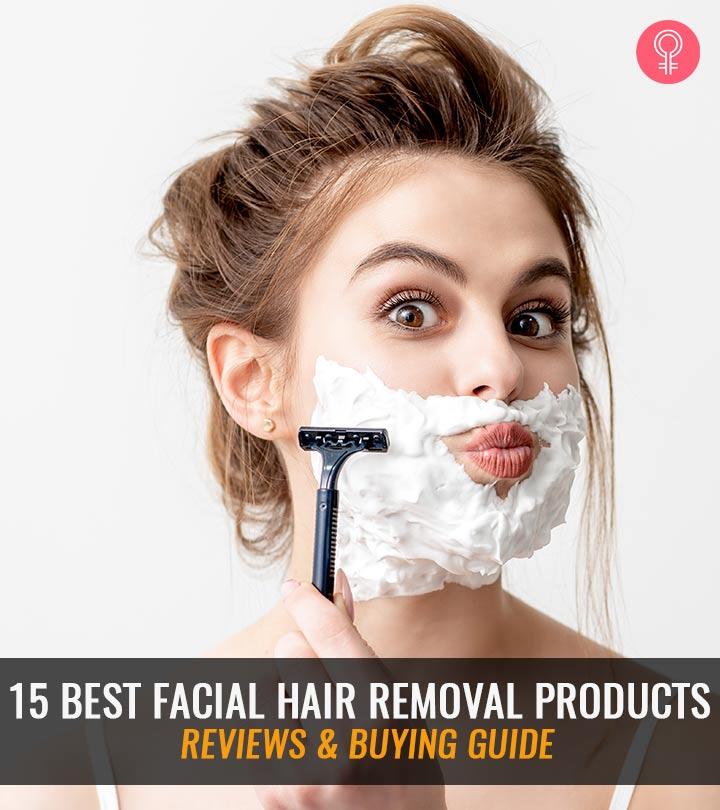 While having hair on your face is natural and normal, some of us enjoy a hairless canvas for better makeup and skincare. So for all those out there, you can use some of the best facial hair removal products to get rid of the strands. Wax strips, hair removal creams, and razors— the choices are endless, and they are all affordable. Take a look at our list of facial hair removal products for women for more information!
15 Best Facial Hair Removal Products
The Finishing Touch Flawless Hair Remover is a battery-run device that gently removes facial hair without any discomfort. This pen-like device is lightweight and best for delicate areas like the lips, chin, and cheeks.
It is developed with Butterfly Technology that removes even the smallest hair with the spinning head. This hair remover is dermatologist-approved and has a built-in LED light to help you examine the area properly. It does not irritate the skin, is easy to clean, and safe for all skin types.
Pros
Lightweight
Easy to use
Includes cleaning brush
Easy one-button operation
Dermatologist-approved
Compact
Cons
Doesn't remove hair from the root
Price at the time of publication: $19.99
The Schick Silk Touch-Up Retouche can remove fine facial hairs and shape your eyebrows. This is a set of three facial razors with high-quality blades. Each blade has fine micro guards to prevent cuts.
This dermaplaning tool exfoliates dead skin cells as you shave the peach fuzz. It is portable and easy to carry and comes with a protective cover for the blade. Before you use the razor, it is best to soften the skin with a lotion or shaving cream. It is suitable for all skin types. However, avoid it if you have active acne on your face.
Pros
Durable
Easy to use
Precision shaving
Portable
Cons
Price at the time of publication: $5.67
The Panasonic Woman's Compact Facial Hair Trimmer has a smooth pivoting head that follows your face contour for a close trim.
It has a round tip and hypoallergenic, stainless steel blades that trim with care.
The product comes with two eyebrow trimming combs. The sleek wand design of the trimmer is easy to grip and use. This compact, travel-friendly trimmer is powered by one AAA battery.
Pros
Battery operated
Hypoallergenic blades
Great for sensitive skin
Close trimming
Micro-fine blades
Long-lasting
Lightweight
Cons
Blades cannot be replaced.
Price at the time of publication: $23.99
The Reazeal Eyebrow Hair Remover has a precision hair removal tip with dual-edge blades to trim eyebrows without any discomfort. The device is lightweight, compact, and powered by a rechargeable Ni-Cd AAA battery that can be charged through a USB cable. This hair trimmer can also be used on your face, lips, chin, and nose. It is safe for all skin types and does not cause redness, irritation, and cuts.
Pros
Rechargeable battery
Sturdy
Painless
Compact
Cons
Price at the time of publication: $19.99
The Tweezerman Slant Tweezer has a stainless steel body and baked enamel finish. The tip of the tweezer is slanted at a 25° angle to work against the brow bone. The tips are hand-filed and aligned to ensure it latches firmly for seamless hair plucking from the root. The tension between the two tweezer arms is calibrated for ideal control, comfort, and precision. It is available in multiple colors.
Pros
Lightweight
Long-lasting
Portable
Affordable
Not tested on animals
Cons
Price at the time of publication: $15.2
The Conair Facial Hair Trimming System is a battery-operated, multi-use trimmer. It has five attachment heads- rotary shaver, eyebrow comb, eyebrow trimmer, head-to-toe trimmer, and detail comb. The trimmer is designed with stainless steel blades that glide on your face removing excess hair and delivering smooth skin. It also features hypoallergenic foils that prevent any nicks and irritation while trimming. This compact personal-use trimmer is battery-operated and compatible with wet and dry skin.
Pros
Painless
Contains five attachment heads
Compatible with wet and dry skin
Easy to store
Travel-friendly
Cons
Price at the time of publication: $15.99
The REM Spring Facial Hair Remover removes facial hair from the roots, giving you smooth skin. This facial hair remover has a stainless steel body and allows 360° movement. It is durable, safe for the skin, and comes with a pink travel pouch. To use it, just twist and glide it on your face.
Pros
Long-lasting
Lightweight
Ease of maintenance
One year warranty
100% sanitizable
Cons
Price at the time of publication: $19.95
The Nad's Facial Wax Strips are best for the lip area, chin, and jawline. These ready-to-use wax strips have a flexible weave that hugs your face contour to remove even the finest hair, making the entire process easier. Each strip contains a blend of shea butter and beeswax and is suitable for facial hair removal for sensitive skin. One box contains 24 wax strips and four post-wax calming oil wipes.
Pros
Affordable
Easy to use
Hypoallergenic
Cons
Price at the time of publication: $9.98
The Tria Hair Removal Laser uses powerful Diode Laser Technology to eliminate hair most safely. This is an FDA-cleared device that targets the pigments in the hair follicles to disable them. It offers control and precision to target each follicle at the deepest level to minimize hair growth. The device is safe for the eyes as the laser is not as intense as the ones used by professionals.
This laser device can be used on the face and any other body part and offers a painless experience. However, it is not suitable for all skin tones, especially medium brown to dark brown or black skin tones. It is also not ideal for those who have red, blonde, white, or gray hair. Check the list of compatible skin tones and hair colors before buying.
Note: Always consult a dermatologist before using a laser device.
Pros
Portable
Durable
Safe
FDA-certified
60-day money-back guarantee
Cons
Price at the time of publication: $499.0
The Olay Hair Removal Cream is perfect for removing medium to coarse facial hair. This is one of the best facial hair removal cream that removes hair in just 8 minutes without irritating the skin. The kit contains a skin guarding balm. You have to apply the balm on the target area and then apply the hair removing cream over it. The balm protects the skin and preps it for the process. It is suitable for all skin types. However, do a patch test before using it to avoid allergic reactions.
Pros
Affordable
Dermatologist-tested
Safe to use
Cons
Strong chemical fragrance
Price at the time of publication: $199.99
The Dorco Tinkle Eyebrow Razor is ideal for shaping your eyebrow and can be used for removing facial hair and trimming the bikini line. This precision razor has stainless steel blades and comes with a safety cover to protect the blades. It is ideal for beginners as it is easy to maneuver. This razor has a non-slip grip, lightweight design, and is suitable for all skin types. One pack contains a set of three razors.
Pros
Affordable
Colorful designs
Ease to use
Safety cover
Cons
Price at the time of publication: $5.45
The Michael Todd Sonicsmooth is a dermaplaning tool that works on Sonic Technology and has multiple benefits. This tool removes unwanted facial hair, exfoliate dead skin cells, and improve skin texture.
It has three speed settings and works at 15,000 movements per minute to give you professional level smooth skin. This dermaplaning tool runs for 3 hours on a single charge. The kit includes a pre-treatment cleanser and post-treatment serum, plug charger, and wireless charging/storage cradle.
Pros
Affordable
Portable
Slim design
Safe for all skin types
Cons
Price at the time of publication: $119.0
The Gillette Venus Face Perfection is a precision facial hair remover that promises four weeks of salon-smooth skin. The facial hair remover has a slim head with 10 micro openings that remove fine hair with precision.
This battery-powered device is easy to maneuver and perfect for delicate areas like the lips, chin, eyebrows, and forehead. It makes 200 plucking motions per second and has a practical, elegant, and compact design. This tool is safe for all skin types.
Pros
Ease to maintain
Lightweight
Compact
Cons
Price at the time of publication: $59.99
The Tweezerman Smooth Finish Facial Hair Remover has a twisted coil design that grabs each hair strand as you move it along your skin. Its stainless steel body is durable, compact, and easy to use. This tool is perfect for the face and neck and is available in multiple colors. You also get a Tweezerette with the product for quick brow touch-ups.
Pros
Durable
Long-lasting
Corrosion-resistant
Easy to use
Cons
Price at the time of publication: $16.95
The Nad's Facial Hair Removal Cream is specially formulated for the delicate lip and chin area. It contains almond and calendula oils that soothe and soften the skin. This cream dissolves the hair just below the skin surface to give you results that last for at least a week. The tube has an angled tip for easy application. It takes just four minutes to remove every trace of hair and peach fuzz from your face. The kit also includes a soothing face balm. This cream is safe for all skin types.
Pros
Easy to use
Quick results
Safe for all skin types
Safe to use
Cons
Does not work on thick hair
Price at the time of publication: $7.02
These are the best facial hair removing products that you can buy online. You can pick any of them, depending on your skin type and ease of use. However, before choosing one, there are a few factors to be considered.
Factors To Consider Before Buying A Facial Hair Removal Product
Facial hair removing products may not suit all skin types. You may develop redness, itchiness, and allergic reactions. Always check the packaging for the manufacturer's instructions. If it is a cream or wax strip, check the ingredients to prevent any allergic reaction. Avoid anything that contains harmful chemicals. If possible, use devices like tweezers and epilators to avoid adverse reactions.
Different people have different types of facial hair. It can be fine or coarse. Pick your hair removal tool depending on your facial hair type. Creams usually do not work on thick and coarse hair. In that case, epilators, wax strips, and devices that pluck the hair are the best options.
Whether you have picked wax strips, epilators, or tweezers, if you are unsure about using them, here is a guide for you.
How To Use A Facial Hair Removal Product
Warm the strip by rubbing it between the palms for 15 seconds.
Separate the strip and expose the wax layer.
Place the strip on the desired area.
Pull the wax strip against the direction of hair growth.
Clean up the excess wax.
Apply a moisturizer.
Apply an even layer of hair removal cream on your skin. Do not rub.
Leave the cream for five minutes or as per the manufacturer's instructions.
Wipe the cream with a wet cloth.
Wash your skin thoroughly and pat dry with a towel.
Hair Remover Machines (Epilators)
Gently move the machine in circular motions on the target area.
Use the device in the direction of the hair growth for the best possible results.
Rinse and clean the skin area after hair removal.
The Bottom Line
Why Trust StyleCraze?
The author, Shiboli Chakraborti, is a certified skin care coach who loves trying out different beauty products. For this article, she has carefully researched facial hair removal products and analyzed user feedback to curate this list. Her recommended products are lightweight, easy to use, and dermatologist approved. She believes that these products are a must-have if you're keen on removing your facial hair with precision.
Frequently Asked Questions
What is the safest way for a woman to remove facial hair?
The safest ways for a woman to remove facial hair are shaving, threading, tweezing, and at-home waxing.
Does female facial hair get thicker with age?
No. However, female facial hair may get thicker due to hormonal changes, weight gain, and pregnancy.
Does plucking chin hair make it grow more?
Yes, plucking your chin hair may cause more regrowth of thick hair.
Does removing facial hair make it worse?
No. Shaving your facial hair does not make it worse, but repeated plucking and threading may cause your hair to grow back thicker and coarser.
Can I apply hair removing cream to remove my facial hair?
Yes. You can use hair removal or depilatory creams specially made for sensitive areas like the face and bikini lines to remove facial hair. However, perform a patch test before committing to a hair removal cream to ensure the formula is suitable for your skin type.
Recommended Articles